Which came first, the kernel or the grape? Some of the oldest evidence of corn being popped comes from South America, with the Aztec "popcorn dance" said to have been taking place when Cortes arrived in Mexico in 1519. He later ordered the large scale plantation of vineyards to top up his depleted wine stocks from Europe, so it's feasible that popcorn and wine pairing has had a long tradition dating back to the days of the conquistadors! Whatever the origin, anyone that's ever witnessed Scandal's Olivia Pope enjoying her favourite snack knows that matching popcorn and wine is a serious business.
A whole grain no less, vegan-friendly and gluten-free, popcorn is practically a superfood, which means the wines you choose to match with popcorn now need to be pretty special too, it turns out. Here are some suggestions for our favourite kinds of popcorn…

Plain popcorn wine match: Chenin Blanc or unoaked Chardonnay
Plain popcorn is the original skinny snack with around 30 calories and less than one gram of fat for a small cup of plain, air-popped popcorn.  It's an enormously versatile food with gentle yeasty flavours and creaminess but without any extremes of flavour make it very wine-friendly. In this relationship though, it's best not to overwhelm your innocent, unadorned popcorn with tannin from red wine or strong grassy flavours from astringent white wine. Try something fruity and round but not too oaked or powerful. We suggest an unoaked South African Chenin Blanc or a soft and peachy Chardonnay from Macon in Burgundy.
Salted popcorn wine match: Sauvignon Blanc or Bacchus
Goats Cheese and Sancerre. Oysters and Champagne. If you've never wondered why these are such timeless matches, you could put it down to the tempestuous marriage of saltiness and acidity. Salt will sooth the effect of raciest of acidity in wine while the savoury saltiness in the popcorn will be lifted in turn by the fresh citrus flavours in the wine. The moreish nature of salty snacks means you could enjoy almost any wine as you reach for another handful of salted popcorn but fresh, zesty styles will work hard for you here. A zippy, crowd-pleasing Sauvignon Blanc is the go-to here but more intrepid tasters might want to look up England's own rising star grape variety and pour a glass of Bacchus, with its aromas of fresh blossom and cut grass, often with a teeny touch of sweetness which will cut the salt beautifully.
Sweet and salty popcorn wine match: Rosé Champagne
Combining both sweet and salty popcorn is a pairing for only the most daring popcorn thrill-seekers, happy to take a chance on each mouthful. The kernel to kernel gamble of sweet or salty flavours needs a confident wine choice such as Rosé champagne. The ripe strawberry flavours, nuttiness and hint of spice in a premium pink fizz will complement and mirror the savoury and sweet flavours in the popcorn.
Buttered popcorn wine match: Oaked Chardonnay or Viognier
The round, creamy flavours of buttered popcorn need to be matched with something of equal weight and richness. You need a weighty, round, buttery white, preferably with some oak. Try a rich,  oaked white Burgundy from Pouilly fuissé with its creamy, hazelnut characters; the perfect foil for picking out similar layers of flavour in our popcorn. Otherwise, you could go for a weighty, blossom-scented viognier. A Condrieu is a delightful match if you're really serious about what you're doing! For a new world alternative, look to new Zealand for Australia for something citrussy and peachy gem with a generous ladle of creaminess and spice.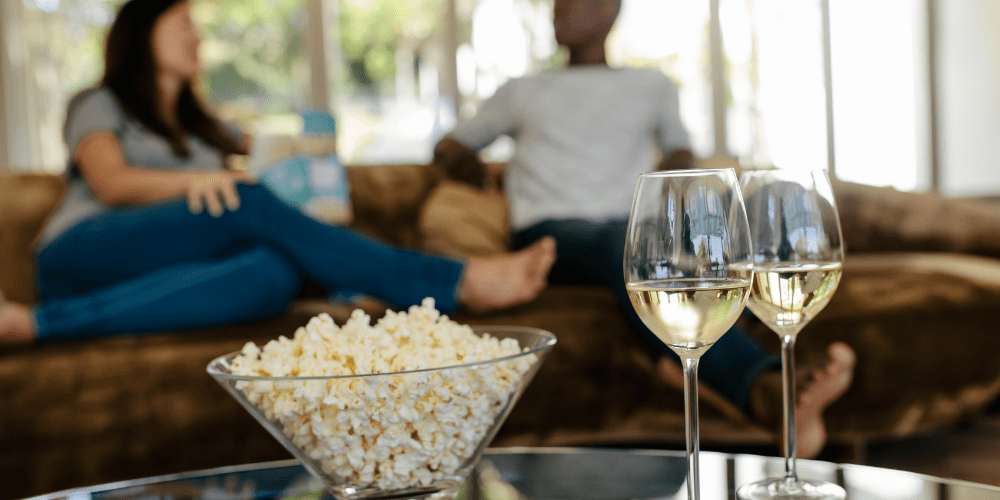 Caramel popcorn wine match: Extra dry Prosecco
With all the bite of the savoury styles but with a naughty extra crunch of honeyed sweetness, caramel-flavoured is the ultimate in popcorn indulgence. While you could go straight to a dessert wine here, there's also an argument that party-time in a bowl needs to be paired with the same level of festivity in the glass. Contrary to what the name implies, "Extra Dry" Prosecco carries a slightly higher level of sweetness, so will add more snap, crackle and (quite literally) pop to this magical duo without the popcorn's sweetness overwhelming the wine.
Chocolate-dipped popcorn wine match: Malbec
A more sultry, chocolate-flavoured popcorn will need a similarly smooth operator to pair with. We recommend seeking out the brambly forest fruits and silky vanilla flavours of a Rioja Reserva or match darker chocolate flavours with a Malbec.

Savoury suggestions
The explosion of gourmet EVERYTHING has led to endless choices for aficionados of the fluffy stuff:  Pinot Noir fans should seek out truffle-flavoured or cheesy popcorn for an indulgence of umami. Heat-seekers looking for a match for chilli-based popcorn seasoning could ramp up the heat with a spicy red like a Syrah, whereas the more feint-hearted would be better of cooling off the spice with an off-dry Riesling.
Food for thought? The popcorn aisles of luxury food retailers and department stores have been transformed into treasure troves of flavour delights, so get out there and try your own combinations! Popcorn dance optional.