Wine holidays to the Douro Valley is a must for wine lovers, whether you're a fan of Port in particular or Portuguese wines in general, and to explore the Douro Valley by train is a not to be missed experience. More than 2,000 years of winemaking have shaped this UNESCO World Heritage Site into a unique, vine-terraced destination dotted with wineries that welcome visitors with attractive tasting rooms, dining and accommodation options. However, driving a car along the narrow, winding roads that make their way up the dizzyingly steep slopes is not for everyone. So why not discover how to do the Douro Valley by train and meanwhile take amazing wine tours? A direct line runs up the valley, starting from Porto's São Bento station in the city centre and ending near the Spanish border at Pocinho. The towns of Régua and Pinhão make good stopping off points along the way with plenty of opportunities to do wine tasting. Make the most of your Douro Valley wine holiday when you travel by train!
If you'd like to personally coordinate your trip to the Douro Valley, including travel by train, get in touch with our Douro Valley experts now.
Enquire with our Tailor-made Team
Before you board the train to the Douro Valley, take time to explore the city of Porto (Oporto to locals).  This is where Port wine took its name back in the 17th century, but today you can see more recent versions of the flat-bottomed boats known as rabelos that used to make the river journey down the Douro, bringing barrels of wine to be aged before shipping.
There are many Port visitor centres on the south bank at Vila Nova de Gaia, and taking a tour is a great way to get a grounding in Port production before heading upstream. One of the best is Taylor's, a fully renovated, 300-year-old lodge which reopened in 2016.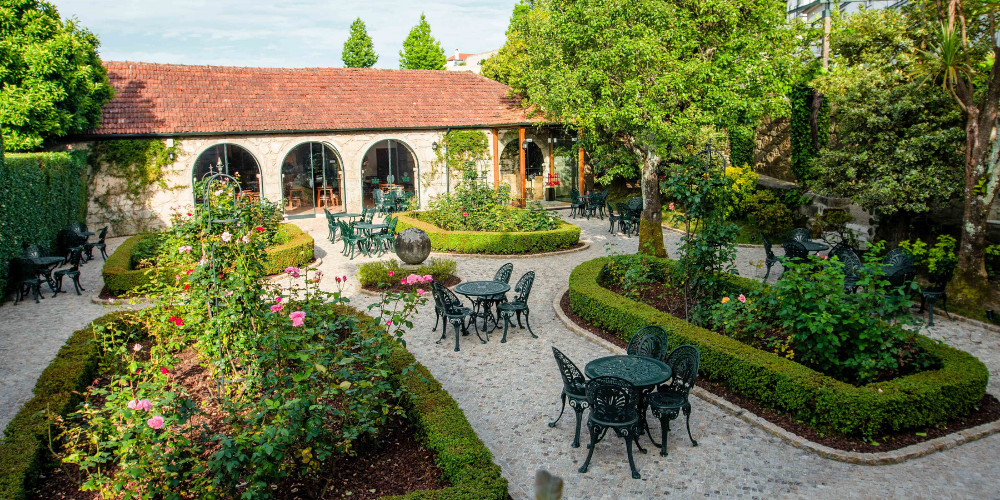 Not only a working cellar (1,500 casks of Port rest here) but also a modern museum, it offers an interactive, self-guided audio tour and guided Port tastings. You can learn about soils, grapes and winemaking, as well as how to decant and enjoy Port.

Worth of notice is also the Poças' visitor center where you will have a unique journey through Poças' 100 years with an opportunity to find out more about the history of the Douro Demarcated Region and to learn where and how Port wine is produced.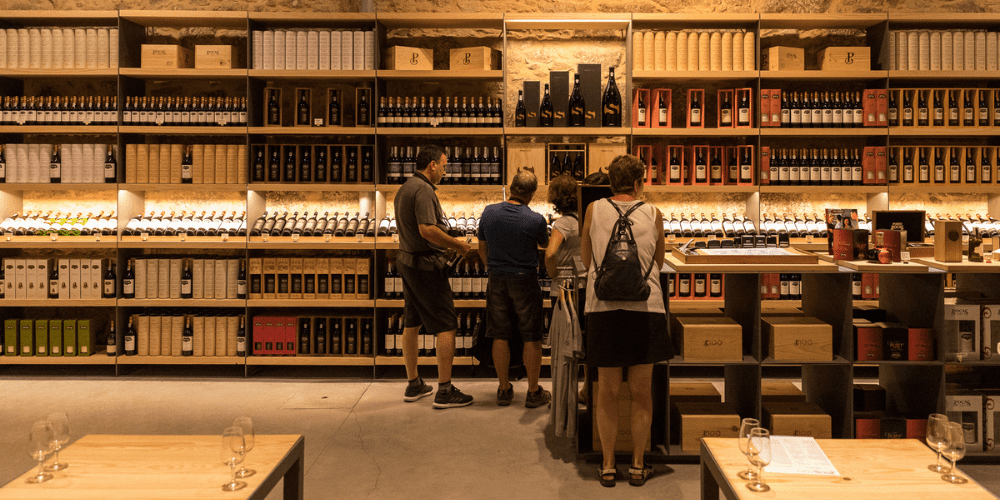 In the cellar are stored more than 800 casks, where Poças' "golden boys" (Tawnies and Colheitas) are breathing and aging for years. The Old Tawny Ports have built Poças' reputation but DOC Douro wines have been proving their own quality over the last 30 years.

Afterwards, head upstairs to the five-star Yeatman Hotel and enjoy a dry Chip White Port and tonic on the veranda (the shelving structure is reminiscent of the Douro's terraced vineyards and it offers excellent views of Porto's terracotta roof tops), or splurge on a meal at Barão Fladgate restaurant, which has a spectacular location in the grounds of Taylor's Port cellars.
One of the best ways to discover Porto is by taking a guided food walking tour. It will give you the rare opportunity to tantalise your tastebuds with northern Portuguese flavours, explore narrow cobble streets and meet the locals that bring Porto's gastronomy to life. From just £154, $210 and €185 – find out more here.
To discover the north side of the river, catch the rabelo ferry service from the old Croft bottling plant: three minutes and €3.00 will get you to the very heart of the city. Visit one of the wine bars, serving petiscos (tapas) and wine by the glass (Wine Quay Bar is a good example). Before heading, suitably restored, for historic São Bento station and the start of your Douro valley train journey.
No need to make reservations; trains for the Douro Valley leave regularly and tickets are reasonably priced (the trip from Porto to the end of the line at Pocinho costs less than €14 one way). Sit on the right-hand side of the train to make the most of the river views.
For those of you wishing to opt for a different way to visit the Douro Valley you can choose to hop on board a boat in Porto which will sail you down the river and take you to two wineries, and there's even a wine tasting on board! From £45, $62 and €55 – find out more here.
Porto to Régua in the Douro Valley
A couple of hours down the line on your train journey from Porto is Régua: jump off here to visit Quinta do Vallado. The vibe at this leading Douro valley wine hotel is casual chic. Tucked up on a hillside a short taxi ride out of town, it boasts a new cellar (built in 2009) and a recently-added, stylish contemporary wing with 13 super-comfortable rooms. The white leather bath pillows, bright orange pool towels and complementary glass of white Port on arrival are nice touches.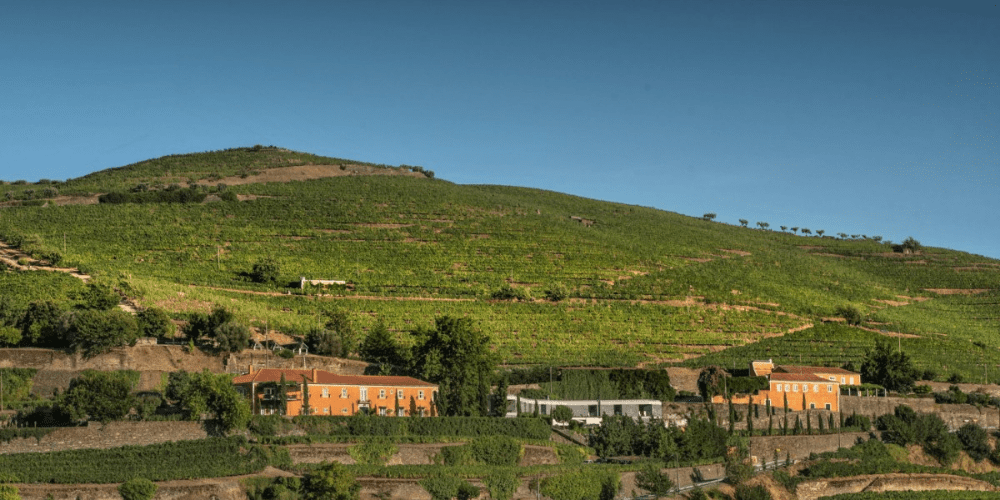 Photo credit: Quinta do Vallado
The hotel and its grounds provide plenty of cool, airy spaces, and a spacious, designer-furnished lounge offers free coffee, grapes and small snacks as well as an excellent selection of wine books and magazines to browse. Wine lovers will not want to miss the guided winery visit and wine tasting (free for hotel guests) which includes Vallado's Riserva Field Blend, a wine made from 40 grape varieties.

Alternatively, borrow a bicycle and ride down to the town, take a picnic basket and stroll through the surrounding vineyards, or simply relax by the pool that looks onto the terraced vines across the river for a picture-perfect Douro Valley wine holiday. Hotel guests and outside visitors alike can dine here too (advance booking for the set dinner with wines is required but there's also short, accessibly-priced menu of tasty bar snacks).
In the town of Régua itself is the Museo do Douro, which provides a helpful grounding on the Douro Valley and its wine industry (a useful starting point for Port newbies). The entry fee includes a glass of Port which can be sipped while admiring the river views from the museum's terrace.
After this, head for Castas & Pratos, an upmarket restaurant handily located in a renovated siding next to the railway station. Savour the carefully-prepared cuisine, extensive wine selection and air-con before boarding the train and heading on to Pinhão.
Alternatively, if you're visiting between June and October, take a trip back in time by riding the Douro valley steam train. The route follows the river banks between Régua and Tua, stopping at Pinhão, and although it's not cheap, this is a great way to see unique vineyard landscapes from the comfort of a historic carriage hauled by a 1925 steam engine, no less.
Arriving by train in Pinhão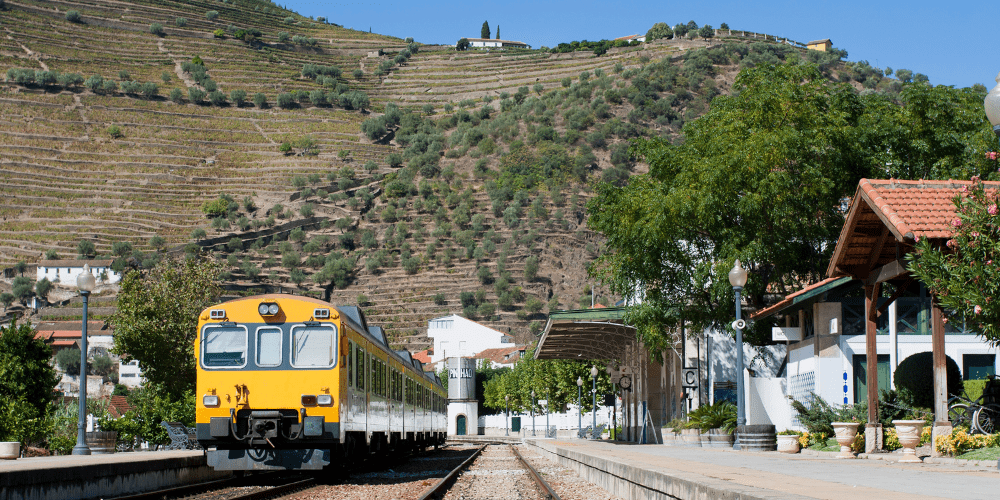 Half an hour by train and 120 kilometres up the Douro Valley from Régua, Pinhão is surrounded by Port vineyards and makes a good base for wine tours. Step outside the train station (admire its blue and yellow tiles depicting harvest scenes) and straight across the platform into the Vintage House Hotel. Reopened in 2016 after an extensive makeover, this handsome, five-star hotel has an ideal location on the waterfront, 43 rooms and suites with river views, and international, well-heeled clients (it's owned by Taylor's, who have plans afoot to transform Pinhão and put it on the wine tourism map). Rooms start from around £169, $231 and €203.

Down in centre of Pinhão there are yet more wine tasting options. At Quinta da Roêda, wine fans visiting at harvest time can stomp grapes by foot in traditional Douro style, with a guided vineyard tour and tasting of three Croft Ports (Let us help you book in advance), or for savvy service and well-priced wine tastings paired with plates of cheese, ham, almonds and chocolate, head over to Quinta do Bomfim, which is a five-minute walk from the train station (contact us to help you book).
From Pinhão, the train runs another 35 kilometres further along the banks of the Douro River into the Douro Superior area, and on to the end of the line at Pocinho, a small, rather quiet town with little to recommend it. However, the views along the Pinhão–Pocinho stretch are special, so it's worth making the 90-minute journey if you have the time.
The train is a wonderful way to see the Douro Valley and explore wineries. However, if you'd like to opt to explore it by river we recommend embarking on a full-day tour including a visit to the famous Mateus Palace, a traditional Portuguese lunch, a cruise on a rabelo boat, and wine tastings at amazing wineries.

---
Now that you've learnt how to do the Douro Valley by train, want to see what else you could get up to there and in Porto? Check out our full list of wine and food tours here. For more information on traditional food, wine styles and places to shop and eat, check out our free Douro wine travel guide!