Sun, Sea, Scenery, and Seriously Luxurious Wine.
Nestled half way up the east coast of New Zealand's North Island lies Hawke's Bay, home to some of the highest-end wine produced in New Zealand. From award-winning Bordeaux blends to some of the best Syrah you haven't tried yet, and all available from highly invested cellar doors and winery restaurants, this is a must visit region for wine lovers.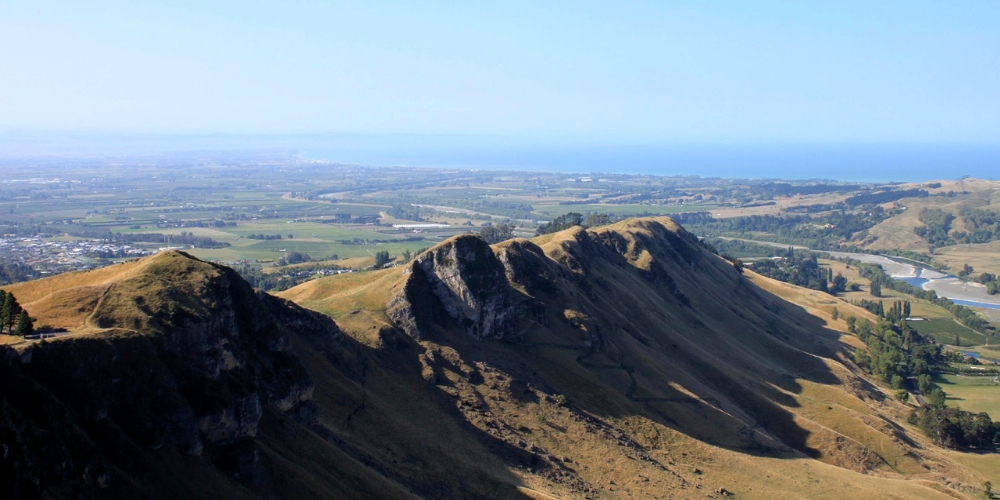 The glorious view from the summit of Te Mata Peak (Photo credit: Mike Turner)
Much more than that, however, its twin urban hubs of Hastings and Napier offer culture vultures some fabulous artworks, some of the best Art Deco architecture in the world, and access to the wonderful Maori culture. That's all before you've even tried the fabulous food on offer from the restaurants and popular food markets available on a weekly basis throughout the year.
With some of New Zealand's most picturesque peaks, walking and biking trails, and miles of unspoiled coastline, Hawke's Bay offers the complete package as a holiday destination.
Wine Highlights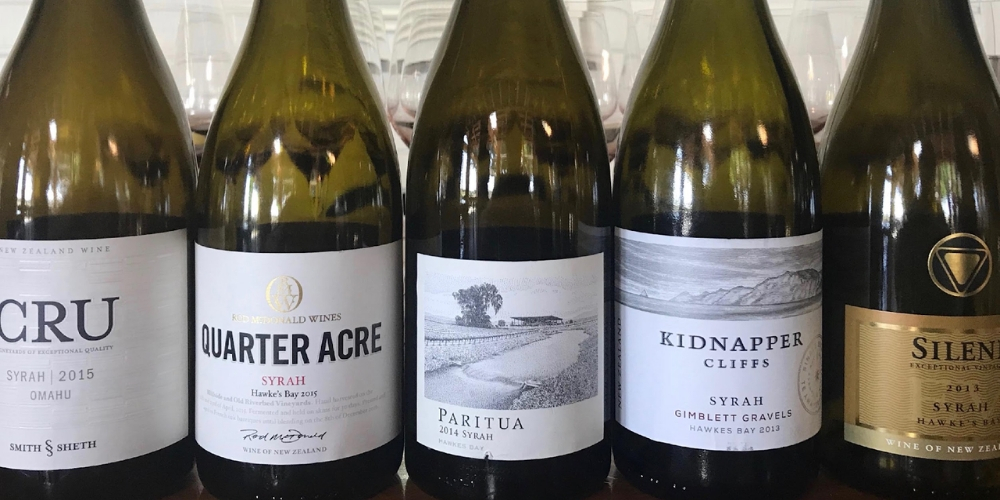 Hawke's Bay Syrah, possibly the best value luxury wine in the world  (Photo credit: Mike Turner)
Chances are, if you're in Hawke's Bay, it'll be part of a larger tour of New Zealand, so you'll have 3 to 4 days to play with before heading off to your next stop. As a wine tourist, you've got lucky, there are some brilliant wineries around, with some terrific restaurants and some even offering amazing places to stay.
I stayed in Havelock North at the Porter's Boutique Hotel. Havelock North is the shi-shi town in the region, with some well-heeled residents. It's also a great base for visiting the various wineries that I'd say are a must-visit. It's where upmarket wine producers, Smith & Sheith, are based with their very cool wine bar next to the hotel. Black Barn winery, just down the road, also hosts a farmers market every Saturday in the summer.
If you really want to go full beans at the wine side of things, then two wineries in a day are more than do-able. Nothing is particularly far away from anywhere else. Mission Estate and Church Road are in the surrounding regions of Napier to the North. Both have award-winning restaurants, and Mission Estate is full of the history of the early European settlers from the 19th century.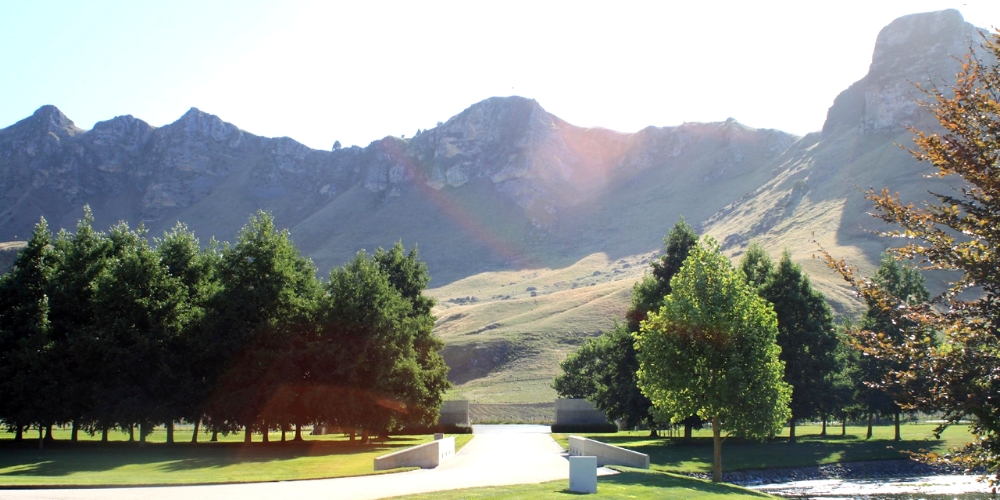 Craggy Range's front drive, a fairly welcoming site for a thirsty and hungry traveller  (Photo credit: Mike Turner)
Craggy Range is a gloriously situated winery and has a wine range that include some of the best wines in Hawke's Bay, and some from other regions of New Zealand, so a great place to have an explore. The restaurant there has been a repeat winner of NZ Good Food Guide gongs and sits in the middle of the mountain ranges surrounding Te Mata peak. Do not forget your camera!
Another award-winning winery visit is further inland to Te Awa winery, where you can go and see and feel the famous Gimblett Gravels, the soils that give the Bordeaux blends and Syrah that fabulous fruit concentration and punch.  And, unfortunately for the waistline, it's home to another fabulous restaurant.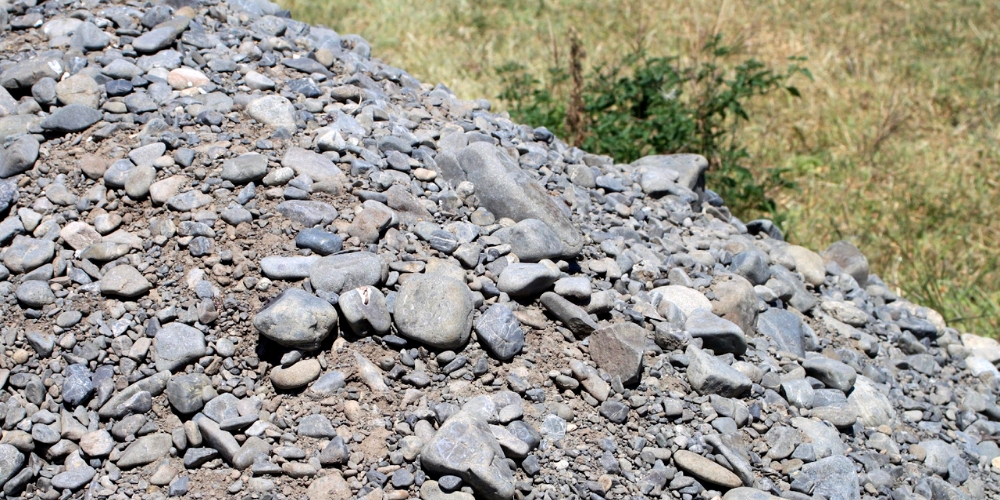 One for the wine geeks, the famous Gimblett Gravels  (Photo credit: Mike Turner)
One final must visit is the enigmatic Rod McDonald at Te Awanga winery. Much closer to the coast, you feel the change in temperature and breeze, and if you get the opportunity to try their One Off Cherry Bomb Rosé you'll not regret it. We also visited Rod's friends, the boys who run Outfoxed Outdoor Experiences, where you can take a couple of bottles up to the top of the hills, look out over the coast, and smash golf balls into the setting sun from the driving range. Not the worst way to end a day.
Non-Wine Regional Highlights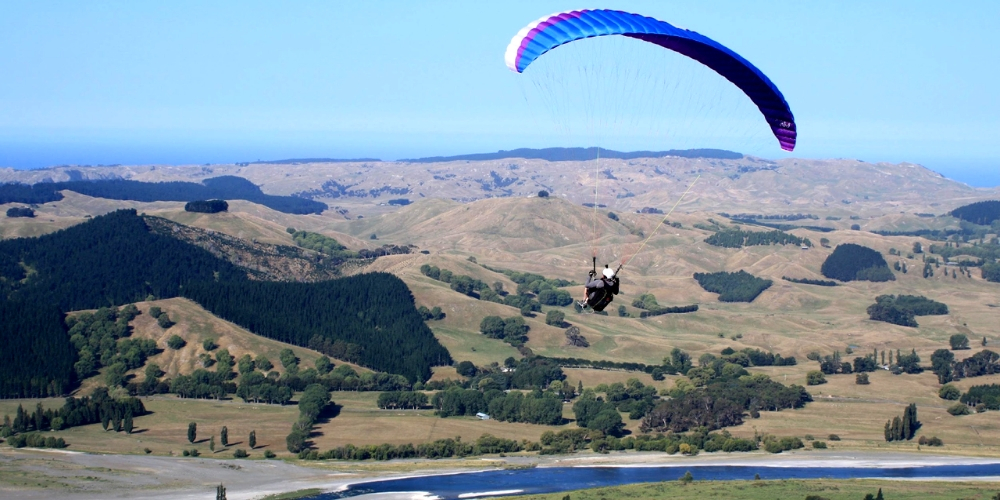 Mountain ranges and coastal climate, perfect for thrill seekers  (Photo credit: Mike Turner)
Hawke's Bay is a region of diverse and magnificent landscapes, with rugged mountains, hill ranges and coastal plain strewn over 14,000 square kilometres and 360 km of coastline.
The link with Māori mythology is very important to this region. Māui, the most famous of the gods, hauled up the North Island of New Zealand when he was out fishing with his brothers one day. He used his Grandmother's jawbone as a hook to heave it up from the depths, and once landed, his hook became the cape at the southern most tip of Hawke's Bay, Cape Kidnappers. Hawke's Bay is often known as "Te Matau a Māui"; the fishhook of Māui.
The glorious Te Mata Peak, just behind Craggy Range Winery, is well worth a trek to the top. Legend has it that Māori Chief Te Mata fell in love with the daughter of a rival chief. Set the impossible task of eating his way through the rocky range to win her hand, he choked, died, and now lies prostrate on the ground, with his body forming the coastal mountain range.
Napier is a wonderful town to visit. The Art Deco style of Napier is now world famous, and came about following a devastating earthquake in 1931, which raised the coastal lagoon nearly 2 metres. The beachfront is now a haven for trendy cafes, restaurants, art galleries, and the national aquarium of New Zealand. One of the best ways to explore this is a trip with Hooter's, a classic car tour service, offering tours of Napier in restored cars from the 1920s and 1930s.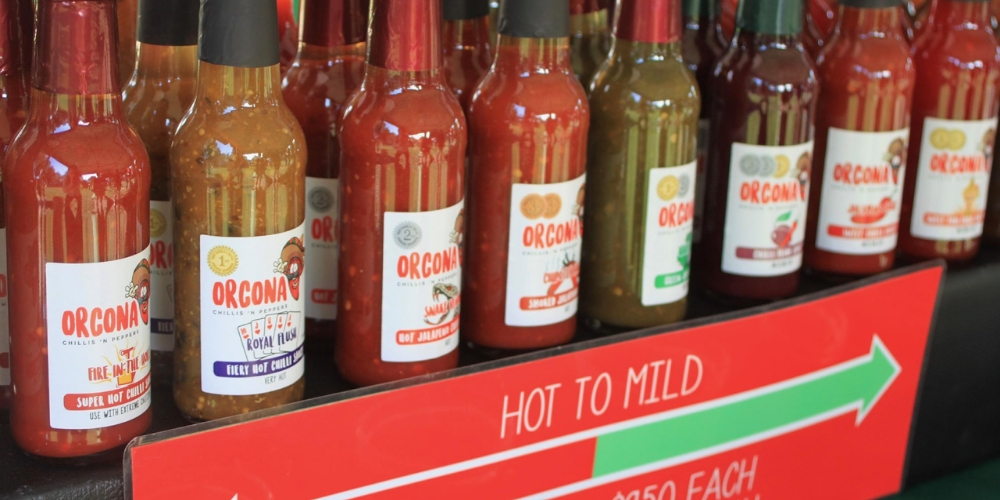 Local produce is a source of regional pride, make sure you check the farmers markets  (Photo credit: Mike Turner)
Hastings is the agricultural centre of the region, and farming is clearly the number one game in town. It's here where the Hawke's Bay Farmer's Market takes place every Sunday, where you can taste the seasonal delights of the regions, including many small wineries showing off their wares.
In terms of outdoor pursuits, there are scores of cycle and hiking trails, but if you're looking to work off a few heavy lunches then the 46km trek around Lake Waikeremoana is one of the highlights of outdoor life in New Zealand, with ancient bush, remote beaches, and unique bird life. For a slightly more relaxed affair, look inland to the Morere Hot Springs, mineral hot pools set in the last remaining tracts of native rainforest in the country.
How To Get There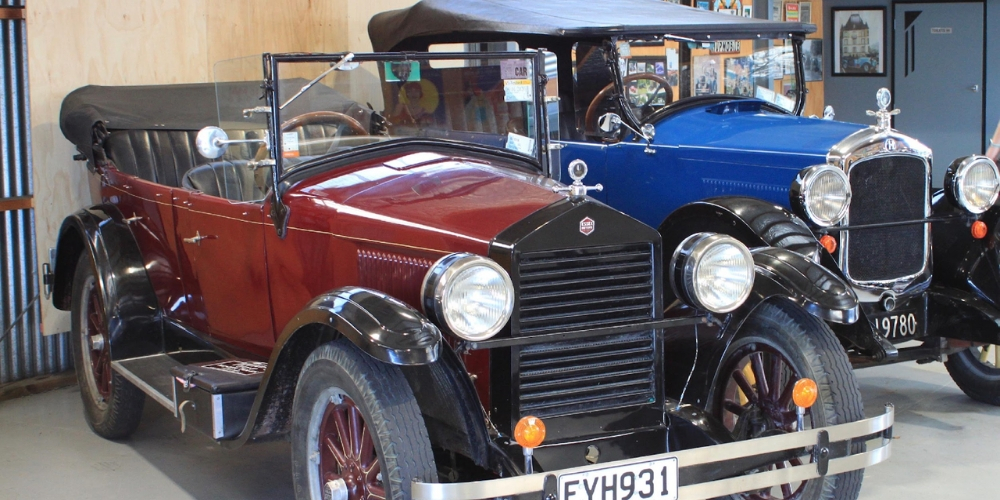 Few better ways of getting around than in one of these beauties with Hooter's  (Photo credit: Mike Turner)
Getting to New Zealand itself is the tricky part. It's about as far as you can possibly travel from the UK, so expect to spend the best part of 24 hours on a plane. Singapore Airlines and Air New Zealand, often in partnership, fly regularly from UK terminals to Auckland (North Island).
Once in Auckland it is possible to take an internal flight down to Hawke's Bay (Napier) Airport. From there you are just 10 minutes from Napier or 25 minutes from Hastings by taxi or shuttle bus. The airport is also the best place locally to rent cars.
If by the time you arrive in Auckland you're a bit weary of air travel, then rent a car or camper van and take either the direct route down the Thermal Explorer Highway, or take the scenic Pacific Coast highway – one of the best car journeys on the planet. The direct route will be in the region of five and a half hours, but you'll pass historic areas such as Rotorua and Lake Taupo, which are well worth a visit to break up the journey.
There are some very luxurious places to stay, with many based within wineries themselves. Craggy Range's Lodges or Black Barn's Retreats in Havelock North are beautifully kitted out. For those looking for a more city based stay, The Dome in Napier offers luxury art deco apartments for rent, with the added bonus of your own kitchen to take advantage of all those fish you've caught out at sea!
Currency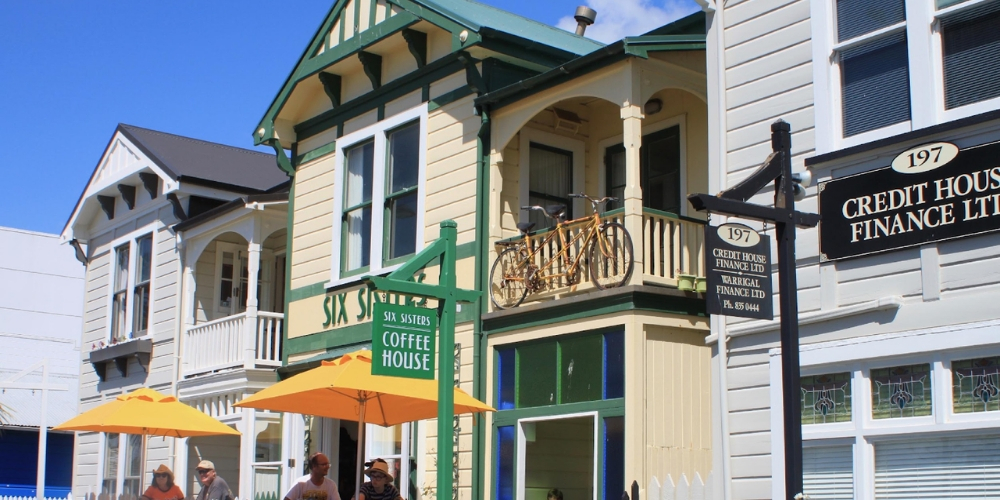 The upmarket Ahuriri district of Napier, a wonderful place for a wander  (Photo credit: Mike Turner)
The currency in New Zealand is the New Zealand Dollar, currently trading around $1.92 to £1.
It's definitely worth having a few dollars in your wallet for markets and outdoor pursuits, but most wineries and other travel destinations are well set up for card payments.
Cash machines are dotted around the towns of Napier, Hastings, and Havelock North at fairly regular intervals.
Be aware that living costs in New Zealand are relatively high compared to the UK. Doing it on the cheap is not an easy option.
When To Go And For How Long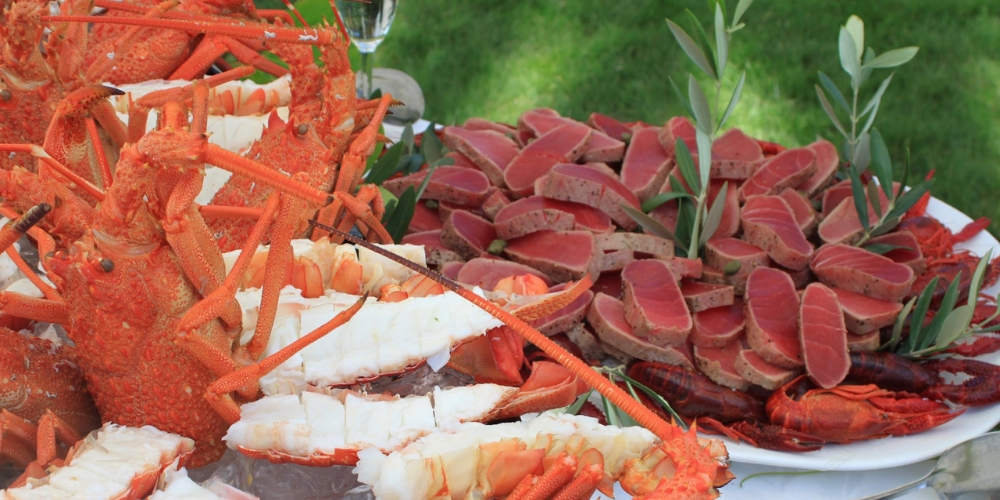 Seafood and shellfish is a culinary highlight of Hawke's Bay  (Photo credit: Mike Turner)
New Zealand's seasons are the opposite of those in the UK.
Spring: October to November
Summer: December to March
Autumn: April to May
Winter: June to September
The best time to visit for sun seekers is therefore January and February, but beware –  New Zealand has some of the most intense sunshine in the world, and a healthy supply of sunscreen is not merely a recommendation, it's an absolute must.
Travelling in the winter will bring the cost of the flights down, and most wineries remain open all year round for visitors. Many outdoor activities, however, including the food markets, shut down for the winter. Most of the snowfall and rainfall of the region arrives during this period too.
Given the distance required to get to New Zealand you do not want to be looking at anything under a two week stay in the country, and a month's travelling is much more applicable. Hawke's Bay is just one of a number of stunning locations across the country, with 11 distinct wine regions, with Gisborne to the north and Wairarapa to the south west the closest neighbours. Hawke's Bay itself requires at least 3-4 days to fit in enough to get a good picture of what it's all about.
Itineraries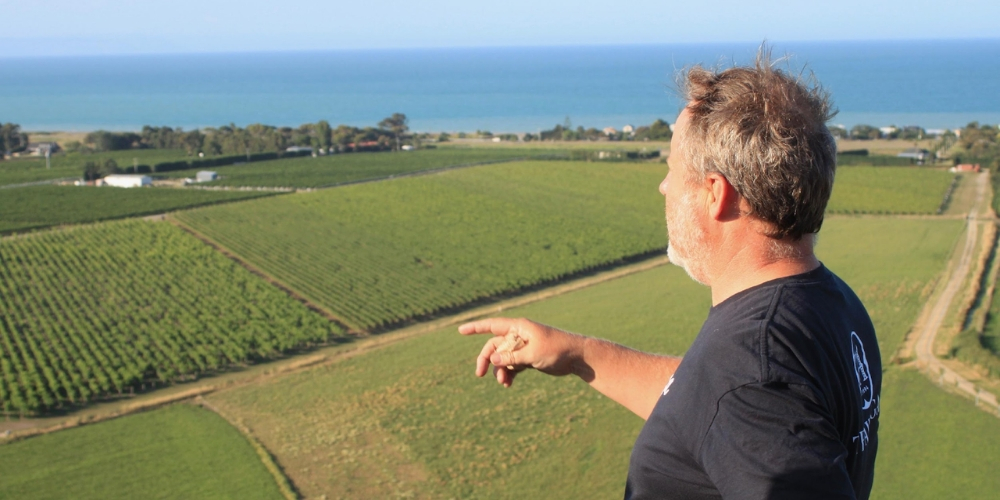 Rod McDonald of Te Awanga trying to find his house from Outfoxed's driving range  (Photo credit: Mike Turner)
3 days
Day one – Arrival
Check into hotel at Havelock North
Visit Black Barn Winery
Visit Smith & Sheith Wine Bar
Eat at Deliciosa Tapas Bar
Dau two – Napier
Lazy morning in Havelock North followed by brunch
Vintage car journey with Hooters around Napier
Mission Estate lunch and winery visit
Dinner at Craggy Range
Day three – Countryside
Drive to Te Awa Estate for tasting, vineyard visit, and lunch
Drive, walk, or cycle to the top of Te Mata peak and enjoy the view
Visit Te Awanga winery and hang out with the guys at Outfoxed
4 days
As above, but add a visit to the Mourere Hot Springs as either day two or three to break up the alcohol with a bit of rest and relaxation.
---
Interested to find out more about New Zealand and its delicious wines, read this article on Why Kiwi Sauvignon Blanc Endures As The Hero White of The Wine World!