Restaurant with Rooms awarded two 2019-20 AA Wine Awards (England and Overall)
Introduced in 1998, the AA Wine Awards recognise the outstanding contribution to promoting wine understanding and appreciation. Nominees are judged on the quality of their wine list and their ability to inspire customers to make wider and more adventurous choices in selecting wines. Hampton Manor, which sits within easy reach of Birmingham, Solihull and Coventry, were awarded two awards at the AA Hospitality Awards; AA Wine Award England 2019-20 and AA Wine Award Overall 2019-20. The judges commented; "Super impressive list and is wonderfully curated. Features include funky producers, difficult to source wines via innovative keg system. A list that is totally engaging. Amazing, very stylish and one that takes you on a journey and story. The wine list is a feature in its own right and an innovative way to organise a list, very helpful. A list that pushes the boundaries with such personality."
With their wine partners 'Wine Freedom', Hampton Manor champion small production winemakers who handcraft wines that are true to the vineyard and sensitively made. Good soil makes for great wine which is why organic and biodynamic winemakers take centre stage on the wine list. Hampton Manor are also proud to introduce diners to the pioneering wine makers of England and Wales. All of the dishes are carefully paired with wines that can be served by the glass.
Winerist meet James Hill, co-owner (with wife Fjona Hill) of Hampton Manor:
Why have you opted for following a natural wine route on the wine list at Peel's Restaurant?
On our journey to winning a Michelin star in 2016 we developed some clear convictions around seasonal, produce led cooking. We grew in conviction that the most important job in the kitchen was to hold back from confusing or distracting from the exceptional ingredients we were sourcing. As we started to understand the natural wine movement we realised that something very similar was emerging in the wine world… there was a positive rebellion to overworking in the winery and a determination to do less messing and more nurturing of the fruit to help it to its best expression. We were aspiring to do exactly the same thing on the plate. The convictions of the movement placed the emphasis from the winery back into the vineyard where integrity, passion and good farming does the lion's share of the work in ensuring what ends up in the class is delicious. As a restaurant inspired by its kitchen garden we deeply resonated with this philosophy.

You showcase some local English and Welsh wines on your wine list. Tell us about your journey in adding these wines given they are growing in popularity but not always the most well-known.
Over 3 years ago we stopped serving champagne by the glass and backed English sparkling as our only pour. The quality of Nyetimber's blanc de blanc stood up for itself and we had very little push back. Our house ethos is to gently take people off the beaten track so customers are not overly surprised. Our approach is to help the curious foodie to explore and discover without ever alienating them or leaving them disappointed with their wine choice, the list has been designed to safely aid that path.
Tell us about a vineyard visit that shaped your vision on wines.
We have been fortunate to live within 50 miles of Ancre Hill. To see the extraordinary vision of David and his father as this project has evolved has been one of the greatest privileges of my career. Their commitment to following their deeply held values has been an inspiration. To achieve a fully organic and biodynamic ecosystem and produce exceptional wine in Monmouth would have been unthinkable to even the most courageous wine makers. They spent 3 years taking care of the soil before they even planted vines. I joyfully drink their wines, knowing how much love and passion has gone into every bottle. We often pair the Ancre Hill chardonnay with our signature plant led course that starts all our menus at Peel's Restaurant.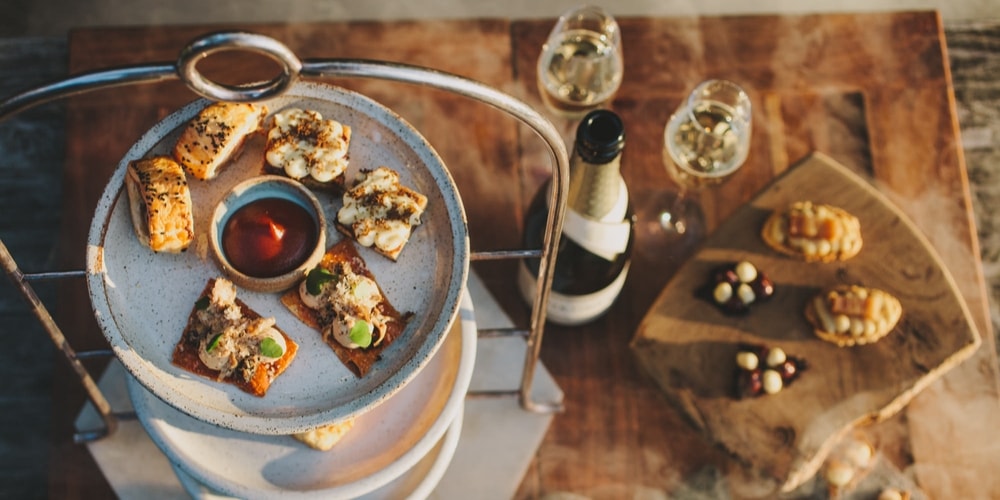 The recent awards put you on the map as a serious wine destination. You have invested in sommeliers and worked with a wine partner (Wine Freedom). What other things is Hampton Manor doing to further position itself as a wine destination?
The marriage of food and wine is at the heart of an experience in our restaurant. Sam and Lucy at Wine Freedom have become dear friends of ours and have been instrumental to bringing our vision to this point. Our approach has been less to have a Head Sommelier and more to nurture a culture in our team so that everyone can represent the list and its values. However, we are currently building a new home for our restaurant with rooms inside our beautiful Victorian walled garden where we are growing with organic principles. It is time for us to now find the right person to come on team and lead the wine list into its next chapter and build on the foundations we have laid with Sam. The immersive experience of the walled garden that we are designing will be the dream place to showcase and demonstrate natural wines alongside plant led menus that share the very same values. We hope to find the right person for this exciting opportunity before the opening in Spring 2020.
The wine list is broken down into fun sounding sections including 'Adventure' – what is the most adventurous wines you have tried and where?
Georgian wines are a surprise. The country appear to be rediscovering their wines and traditions and finding it incredibly adventurous. Sam calls it "back to the future wine making". So what is a long held tradition in Georgia, is a daring adventure for us at Peel's Restaurant. We love exploring lesser known regions and being surprised by the wonderful quality available.
On a more popular note… I suppose when you call your wine "Bonkers" it really says it all. Patrick Sullivan is a maverick that has broken all the rules which for some people is completely unacceptable but I'm always very happy to sit and sip my way through a challenging drink. It is like reflecting on what at first you think is a bad piece of art and at some point having that break through moment when you realise someone rather clever was actually saying something rather profound and you're the one that is off the pace. Discovery is a wonderful thing and sometimes it takes a whole bottle to get to that point!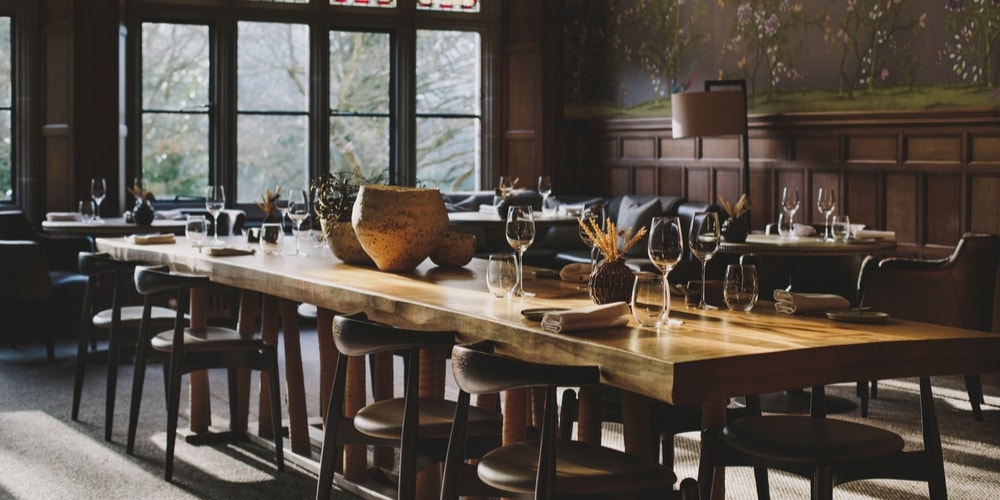 What tips would you offer an independent restaurant trying to develop a wine list?
1. Never be intimidated by what you don't know.
2. Start you own journey of discovery and sell what you love
3. Start small and let it grow as you do.
4. Build the list out of relationships with people… passionate wholesalers/importers, wine makers and farmers.
Peel's Restaurant won a Michelin-star, Michelin's Welcome and Service Award, and Four AA-Rosettes within the space of two weeks in 2016. Peel's is home to simple British dishes cooked using seasonal ingredients and modern cooking techniques under Head Chef Rob Palmer. Hampton Manor's Arts and Crafts muse is William Morris and this is felt across the Manor.