For many of us, the hectic London lifestyle, the endless commute, busy schedules which evolve around our job, our children very often results in less time and a somewhat lazy and unimaginative approach to cooking. That is why Gousto is such a great saviour for you busy bees out there.
Here are a few cool facts you need to know about Gousto:
You can choose from 10 delicious weekly recipes which are suited to vegetarians, meat lovers and experiential foodies who wish to try something with a twist.

There is zero waste on the Gousto ingredients as you will only be sent as much as you are expected to use for one meal. Good for the body and for the mind and great for the environment!

Ingredients are of high quality, very often organic and hand-picked with love. If you are food conscious, you will love this.

You will be surprised by the twists on traditional recipes and new, healthy ingredients Gousto encourages you to use. For example the freekeh and haloumi dish.
We discovered Gousto a while back and have fallen in love with their imaginative recipes, high quality of ingredients and simplicity when it comes to preparing quick, delicious meals. This month we have partnered up with Gousto so you can win a free month of meals and two spots on our fun London Soho Foodie Tour. In addition, we decided to embark on a fun wine and food pairing journey and selected some of our favourite meals and paired them with great wines from our producers.
We hope you enjoy Gousto and the wines we have selected for you. And don't forget to enter the competition for a chance to experience Gousto in the comfort of your own home!
Fettucine con Pollo paired with a Chardonnay from Cantine Lungarotti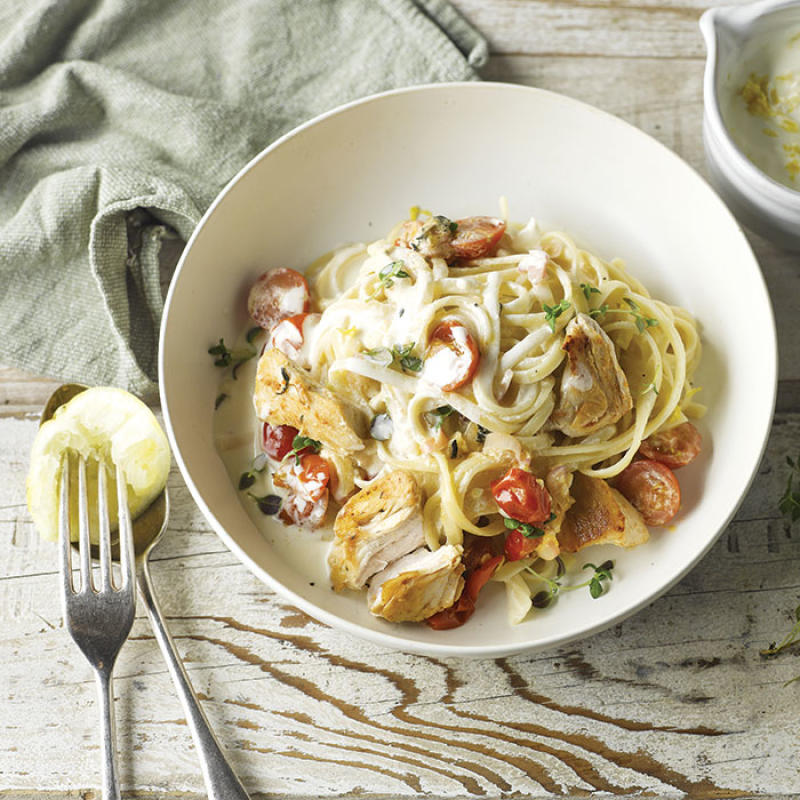 This recipe was easy to prepare and I learned that you can make a delicious pasta with yogurt as your secret weapon – less hassle, healthier and fewer calories. This zesty chicken pasta is fun to make, refreshing, and is a perfect weekday or weekend meal.
We chose to pair this meal with a smooth, fruity Chardonnay from Cantine Lungarotti, one of our wineries in Umbria. which has undertones of apple and pine and goes perfectly with this creamy dish. We love this one because of its character. It's creamy, yet refreshing and it naturally goes very well with an Italian recipe such as the Fettucine.
More wine ideas to suit the dish: Albarino, Vermentino, Pinot Grigio and a dry Riesling.
---
Fruity Halloumi paired with a Grillo from Marco di Bartoli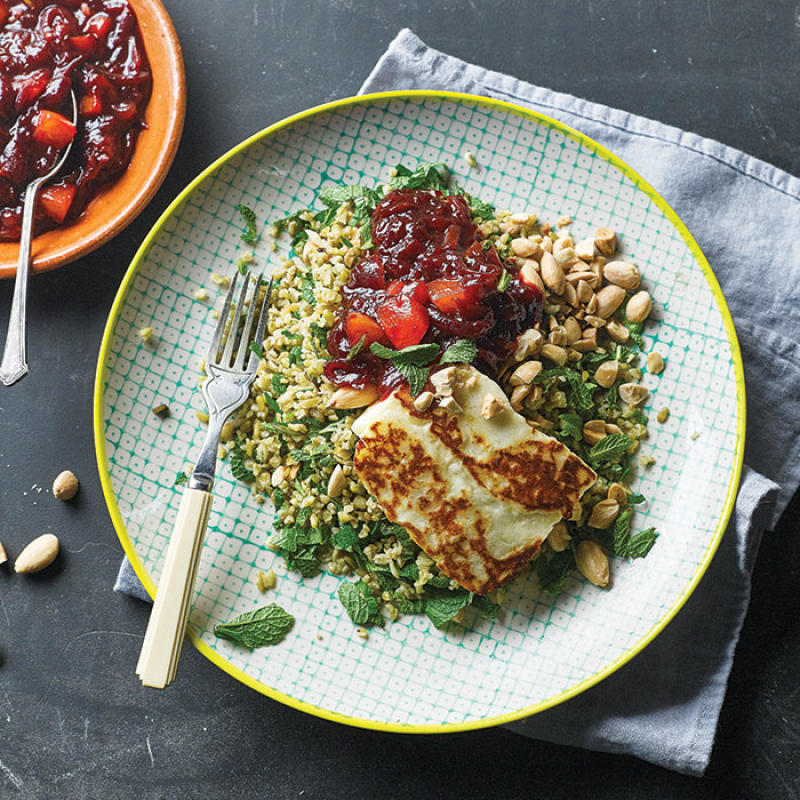 I have never cooked with freekeh and my guests looked at me with slight sympathy and sense of fear when I took this out of the box. However, there was no crumble, no trace left of this meal and we have cooked it 3 or 4 times since. The hearty freekeh is the perfect pairing for the salty halloumi. The dish comes with a homemade fruity plum & red onion chutney which will melt in your mouth. You can adapt the spice according to your taste and palate, but for me personally the zingy fresh mint and toasted almonds were the perfect addition here.
I paired with with something slightly different. This meal goes perfectly with a refreshing Grillo from one of my favourite wine regions in the world, Sicily. I chose a wine from Marco di Bartoli, because it is light, sun filled, with undertones of grapefruit, lemon and white peaches. I absolutely loved this combination and it will be happening again very soon!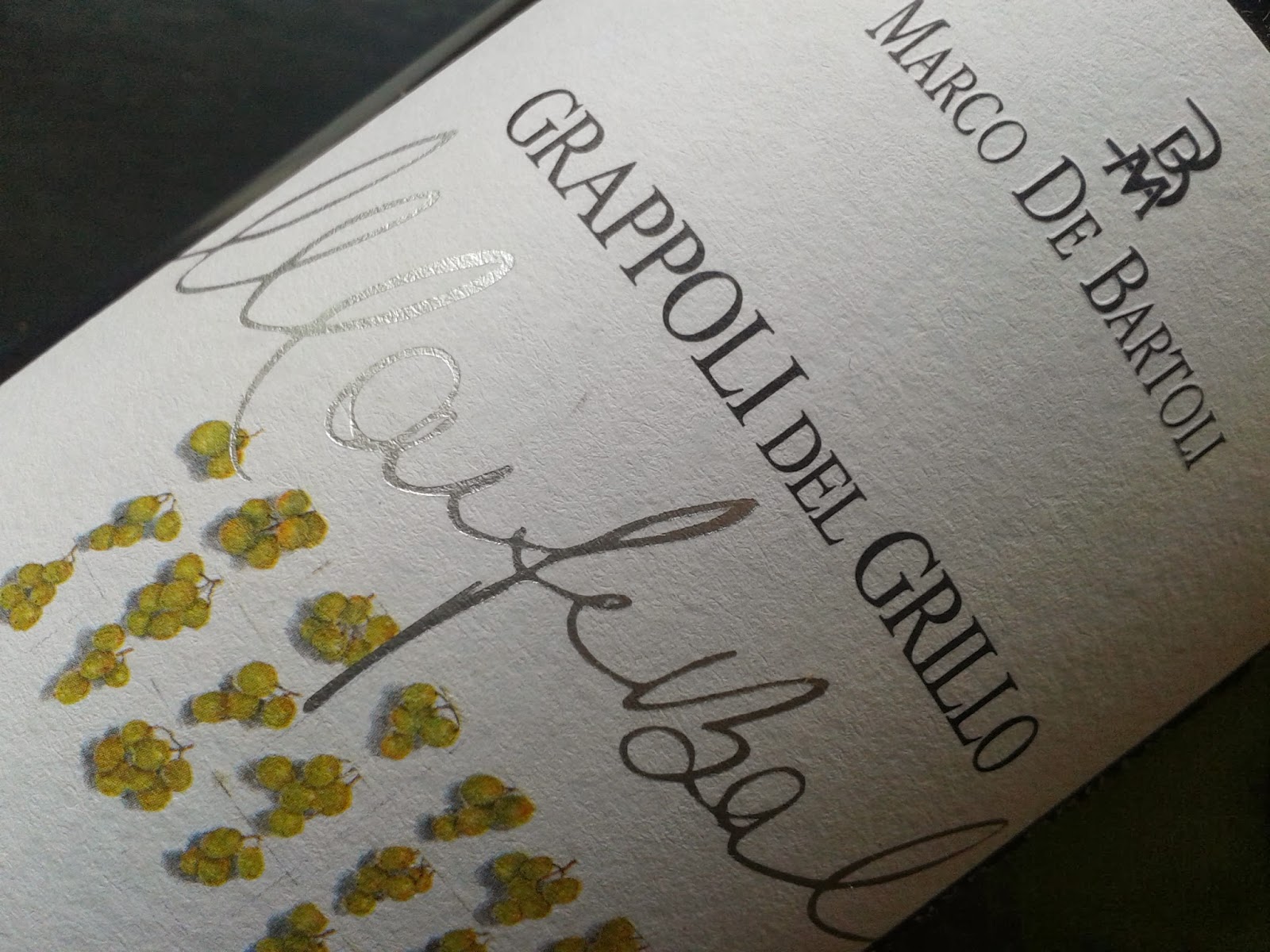 Credit: http://vinondo.blogspot.co.uk/2014/01/igt-sicilia-grappoli-del-grillo-2009.html
More wine ideas to suit the dish: An unoaked Chardonnay, Chablis, Pinot Grigio or dry Rose wine will complement this dish perfectly.
---
Persian Lamb Couscous with a fruity Merlot from Pucari wines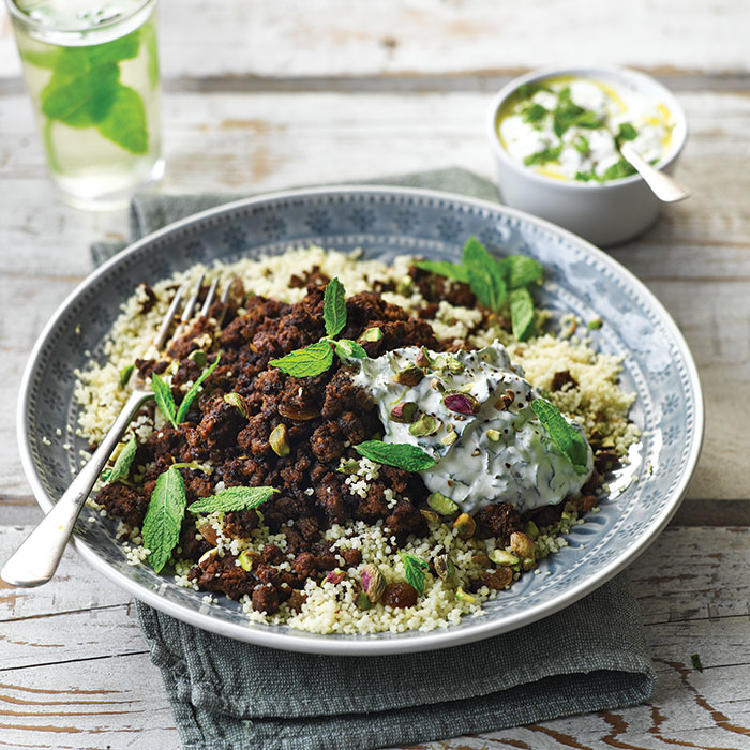 I rarely cook lamb, unless it is a roast or it is a lamb rack and it rarely deviates from traditional recipes. This was therefore a real adventure of flavours. This is the embodiment of all that's good within Persian cuisine and comes with, crisped lamb, flavoured with baharat, a lovely warm Arabic spice mix.
I paired this dish with a smoky Rara Neagra from Purcari because the fruitiness of the grape cuts really nicely through the spice and strong flavours of the lamb. This is a great, warming dish for cold autumn days and it's bound to be an easy fix for family meals.
More wine ideas to suit the dish: A fruity Merlot, a spicy Shiraz, Rioja or a Carmenere from Chile will be a delight with this meal.
We are making our way through our new box and my other half has become an avid cook thanks to Gousto. This is without doubt the reason why I love Gousto so much more. It gets you into the kitchen, it encourages you to play with ingredients and love healthy, beautiful food.