An Innovative Solution to Bringing those Special Wine Bottles Home
It's a typical story: you've travelled to an amazing Old World wine region and you're touring wonderful wineries and tasting unique, local wines often produced by small, family-run wineries. You then learn that these wines are simply not exported and are unavailable for purchase back in your home country. You desperately want to bring some bottles back home, but what is the best way to do this?
Shipping Wine Internationally
Shipping the wine may be an option, but it's not always straightforward. Most countries require alcohol to be shipped through a licensed importer meaning you cannot simply go to the post office and ship it yourself. While larger wineries and wine stores may work with such an importer, it will likely be expensive and often complicated. Each individual country has its own set of laws and regulations when it comes to the importation of wine – even for personal consumption. This includes a varying amount of duties and taxes that have to be paid. Not all countries allow shipping to individual addresses, and customs and import documentation has to be filled out. Smaller wineries may not offer international shipping services at all due to its complicated nature.
Meet the Wine Check and the WineHug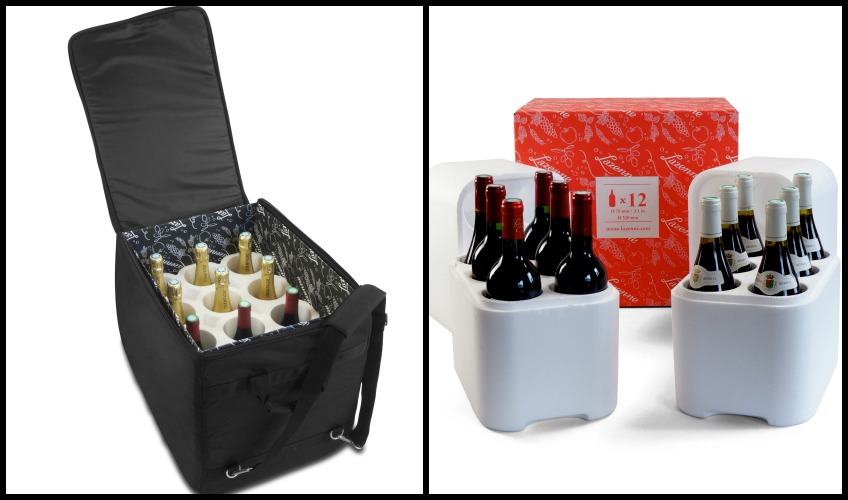 The founders of Lazenne, having experienced this problem first hand, have come up with a great solution. Meet the Wine Check. This specialised luggage has been specifically designed to enable travellers to place 12 bottles of wine (or other good stuff like, for example, olive oil) as hold baggage in the airplane. The luggage has a replaceable bottle-protecting insert, which is comprised of a cardboard box and protective polystyrene. You can choose from one of two types of inserts, either for a classic Bordeaux-style bottle shape, or for a larger bottle, such as a Bourgogne or Champagne.
In addition to offering plenty of protection against those infamous baggage handlers, the polystyrene inserts protect your wine from extreme temperature variations, ensuring that the quality of your precious content will not be affected. The nylon outer bag offers additional protection and transport with two carry handles, a set of wheels, and a removable pulling strap. The design easily supports 12 bottles of wine whiles staying under the 50 lbs (23 kg) airline weight limit for hold baggage. With the insert removed, the Wine Check weighs only 3 lbs (1.4 kg) and compresses down to a 6 in (15 cm) high package that's easily stored in existing luggage, and ready to transport whatever new goodies you find on your next trip. Bottle-protecting inserts can be purchased separately at the next wine destination.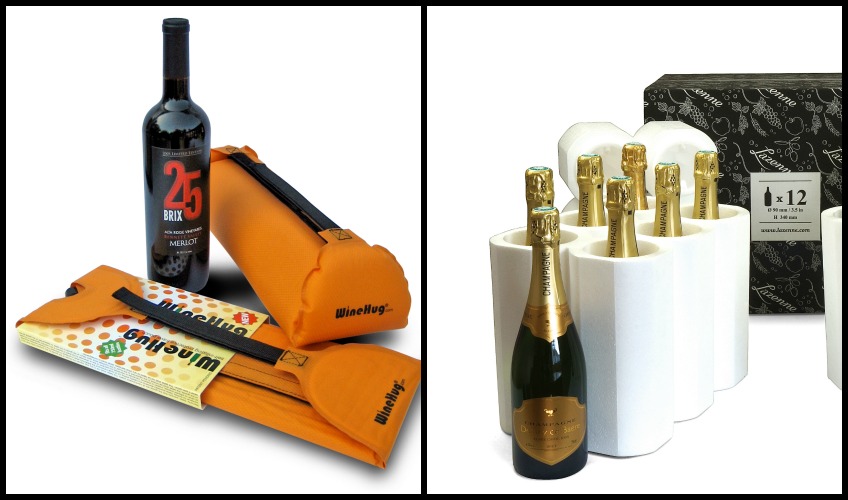 If taking back one or two bottles in your luggage is enough for you, and you don't want to deal with the terrible consequences of shattered glass and all of your luggage content coloured red and smelling like wine, then consider the handy WineHug or WineHug Twin. This innovative, reusable "life jacket" uses ingenious airflow technology to protect your bottle from breakage while being transported in your suitcases. Opening the valve of this life-jacket-like carrier automatically fills the foam core with air, creating a cushioned buffer for your wine. When not in use, it can be deflated and packs flat in your suitcase so you can bring it to your next wine destination.
Holidaymakers tasting their way through some of Europe's finest vineyards will be happy to know that they can order the Wine Check, replacement polystyrene inserts, and the WineHug online from Lazenne and have them shipped directly to their hotel room, whether they are in Bordeaux, Rioja, or Piedmont. Lazenne offers fast delivery throughout Europe. Their list of re-sellers is also growing, with most of them currently located throughout France.
Bringing Wine Through Customs
If you are like most and your eyes glaze over at the mention of duties and taxes due when you bring wine home, Lazenne's website lists a handy Flying with Alcohol guide, which covers entry to many countries around the world, including the USA, Canada, Australia, and between E.U. countries. For example, travellers between two E.U. countries will be pleased to know that they can transport up to 90 litres of wine, for personal consumption, duty-free.
About Lazenne – Founded by a granddaughter of a Champagne producer, and a Canadian expat and wine lover, Lazenne was born from a desire to improve the experience of foreign tourists in France and beyond. Our mission is to solve the common problems tourists face one issue at a time.  
For more information, or to buy online, visit Lazenne's website.