Northern Italy is a beautiful part of the country, but with mountainous terrain, it can also be gruelling, especially in the winter. It therefore comes as no surprise that the Northern Italians are somewhat experts in the field of comfort food. Read on to find our about some of the region's best loved foodie exports with the ultimate comfort food recipe: Oxtail and red wine stew on a polenta base.
Northern Italian Food Culture
Cheese: At the foot of the Italian Alps, cheese has been a staple for centuries, including one of the most popular cheeses in the world: Parmesan. The pastures in the area are perfect for grazing, allowing for sheep, goats, and cows to munch on fresh alpine blades of grass whilst also producing the milk that goes into Parmigiano-Reggiano, pecorino, asiago and gorgonzola.
Meat: Some of the Northern Italian regions are prime cattle country – such as Piemonte and Lombardia – which is reflected in their cuisine. Rich, cream-based sauces with fresh herbs and garlic make regular appearances on Northern Italian dinner tables to complement the popular beef-based dishes of the region. Stews and soups are winter favourites, as well as sausages, salami and prosciutto which helped Italians persevere through early winters.
Polenta: This northern Italian staple is one of our favourite comfort foods, from its texture to its simple taste; it makes for the perfect complement to beef, as well as many other meats. With this in mind, here's a regional recipe that combines several elements of classic northern Italian fare:
Oxtail and Red Wine Stew – Recipe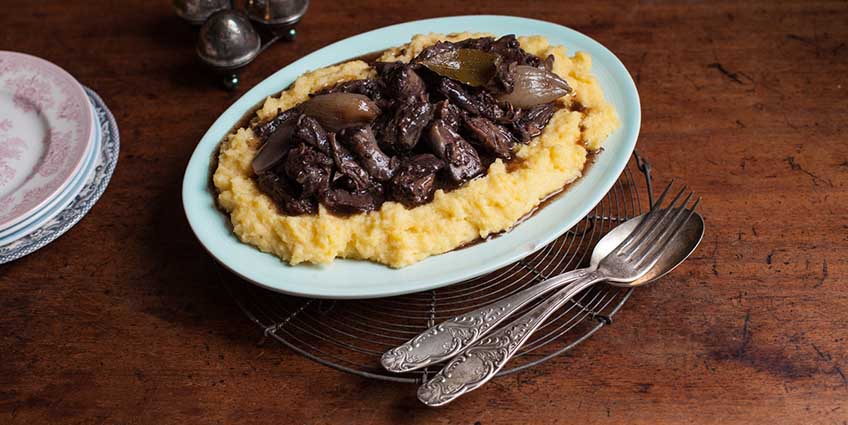 Photo Credit: Great British Chefs
Harsh, cold winters are all-too-familiar to Northern Italians. Luckily for them, their culinary ingenuity has allowed them to fight the unforgiving weather with an arsenal of comfort foods. Although there are many and they are all delicious, this week we're focussing on an oxtail and red wine stew on a polenta base, concocted by food photographer Regula Ysewijn. Give it a go here.
Buon appetito!
[Oxtail and Red Wine Stew on a Base of Polenta by Regula Ysewijn from Great British Chefs. Visit their site for more comfort food recipes.]
Northern Italian Wine
Northern Italy is home to some of the world's greatest wines, and although there are seven wine-producing regions, the most notable is arguably Piemonte, famous for its fine red wines made from the Nebbiolo grape. That is not to say however, that the other regions are to be disregarded; The Liguria region's steep slopes grow over 100 different varieties of grapes, which are mostly used for white wines. The wines grown at theses higher altitudes tend to have higher acidity and moderate alcohol content and offer a quirkier, road-less-travelled take on Italian wine.
Recipe wine match: Barolo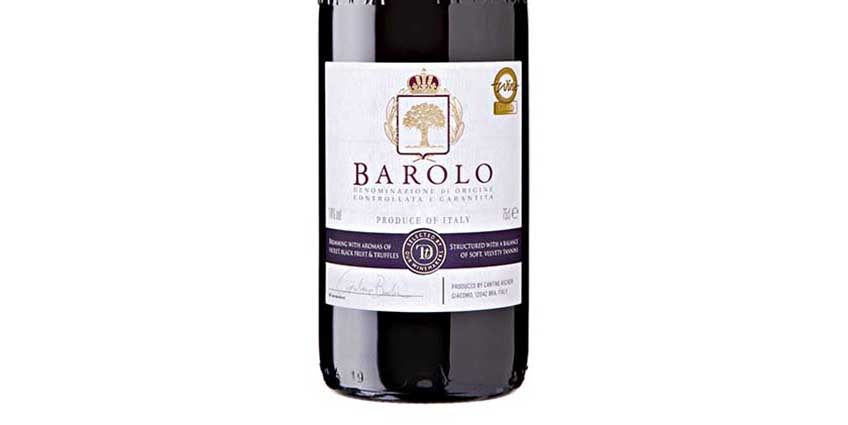 Photo Credit: Sainsbury's
A rich, meaty stew, needs a pretty hefty red wine, so the local Nebbiolo grape is definitely the one to go for. Nebbiolo is a bit of a paradox as it looks pale and delicate on the outside, but once you get it in your mouth, it's incredibly powerful! We love this one:
Taste The Difference Barolo 2013, Sainsbury's, £15
Barolo is the most famous red wine in Piedmont and is made with 100% Nebbiolo grapes. This one is incredible value and is drinking nicely now (they often take years to soften up). Think high acid, powerful tannins and a delicious, truffly, rose-petal flavour.