As International Tempranillo Day has recently come and gone, we thought we'd write an article celebrating the country where it all started: Spain! Read on to find out more about the Spanish capital's culinary and viticultural wonders.
Recipe: Patatas Bravas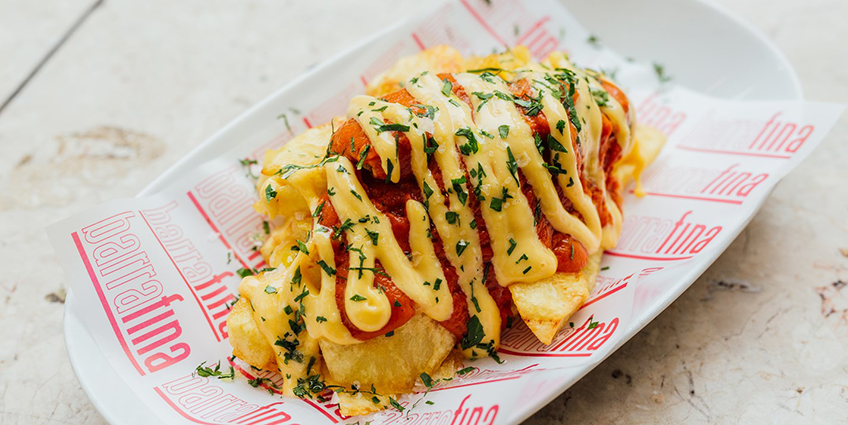 Photo Credit: Great British Chefs
The Spanish capital of Madrid is home to some of the loveliest displays of culture. From art to architecture, no city is more alive, but it's the food that grabs us by the heart and helps us truly immerse ourselves in the city. Whether you're in the mood for a warm, comforting pork stew, or you want to satisfy your cravings with some Churros con Chocolate (churros dipped in chocolate), Madrid will never disappoint.
Nothing quite says Spain like an assortment of tapas and Patatas Bravas is one of the most popular tapas dishes. With good reason, too! Originating in Madrid, the city's inhabitants have mastered the art of cooking these delightfully crispy potatoes and smothering them in flavoursome brava sauce and aioli. Bring a little of Madrid home by trying your hand at this famous recipe:
Make your own perfect Patatas Bravas
Not only is Patatas Bravas fun to say (and even more fun to eat), but it also makes for a fantastic side dish that's very easy to cook. So, if you want to spice up the cool, Autumnal weather, give this recipe for Patatas Bravas a go. Spanish chef Angel Zapata Martin, a figurehead for Spanish tapas in the UK, has made it easy for you to prepare this dish the authentic way, so that the tapas you make are tasty enough to satisfy even the most demanding Madrileños. Try it out here!
[Patatas Bravas by Angel Zapata Martin from Great British Chefs. Visit their site for more tapas recipes.]
Wine match for Patatas Bravas
Photo Credit: Momentum Vinum
Matching a wine with Patatas Bravas is not quite as simple as it could be; often, it's served with other tapas dishes which means a variety of flavours, weights and textures. Madrid is close to several Spanish wine regions, and great all rounder will always be Cava: a traditional method, Spanish fizz with savory complexity and weight that will cut through oil, garlic and hot spice. For still whites, the greengage, citrus tones of Verdejo from Rueda refresh the palate perfectly, or a try the strawberries and cream fruitiness of a rosé made from Garnacha to conquer the spice. If you can't be without red however then try a brambly, tangy Carinena (also known as Carignan in France)
Our pick: Anayón Cariñena 2013, £14.95, The Wine Society
Incredibly drinkable with notes of crunchy, red fruit and dried figs with a refreshing, tart acidity. A versatile wine.
[Once you've tried making your own, why not compare your own them the real thing? Check out our range of tours taking place in the Spanish capital here! ]