As much as we may prefer not to admit it whilst the sun is shining, summer is almost over and it won't be long before the evenings begin to draw in, the air gets cooler and we shelve our lively summer wines in favour of something a little more comforting. Although you might perhaps think of Beaujolais as a lighter-than-light red that's best drunk whilst the sun is out, but this part of France is in fact a winemaking region with huge diversity. The ten Crus of the region produce some outstanding wines in a whole range of styles, from light and fragrant to full-bodied, complex and generous wines which are the perfect companion to an autumn evening. We've chosen five of the best Beaujolais Crus to drink this autumn and winter, curled up by the fire as the snow falls gently outside … well, perhaps that's a slightly too-romantic vision of an English winter, but the Beaujolais in your glass will more than make up for whatever is happening on the other side of the windowpane!
1. Moulin-à-Vent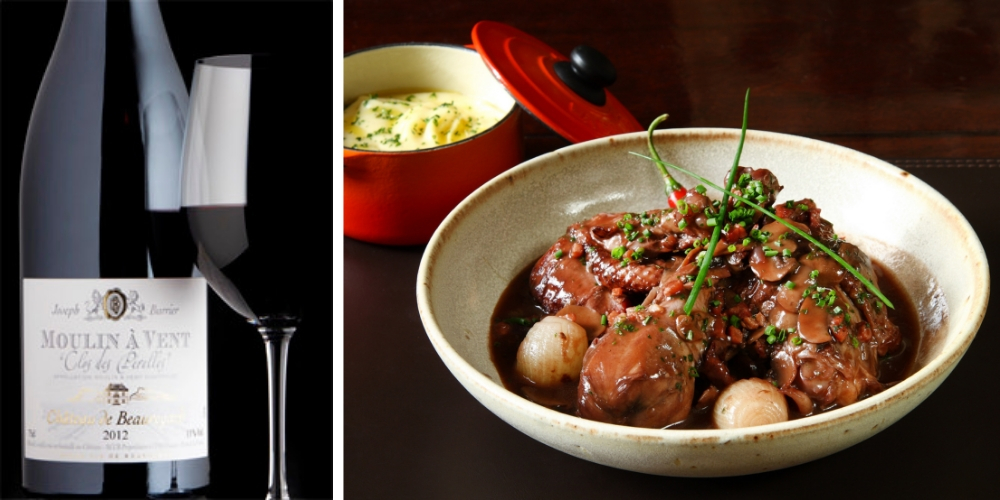 Producing the most powerful, complex and long-lived wines anywhere in Beaujolais, Moulin-à-Vent is often referred to as the 'King of Beaujolais'. The reds here are a world away from the lighter style that often characterises Beaujolais, with a depth and personality generally attributed to the cru's terroir, an iron-rich granite on which the Gamay grapevines thrive. Wines from Moulin-à-Vent can age for a decade or more, often resembling a mature red Burgundy on the palate – look for assertive tannins and full, voluptuous body with aromas of blackcurrant, liquorice, and sometimes a more savoury hint of spice and leather.
The wine we've chosen: Moulin-à-Vent Clos, Château de Beauregard, des Pérelles, 2015
Pair with: Game birds such as partridge or guinea fowl, duck with cherries, classic French coq au vin
2. Morgon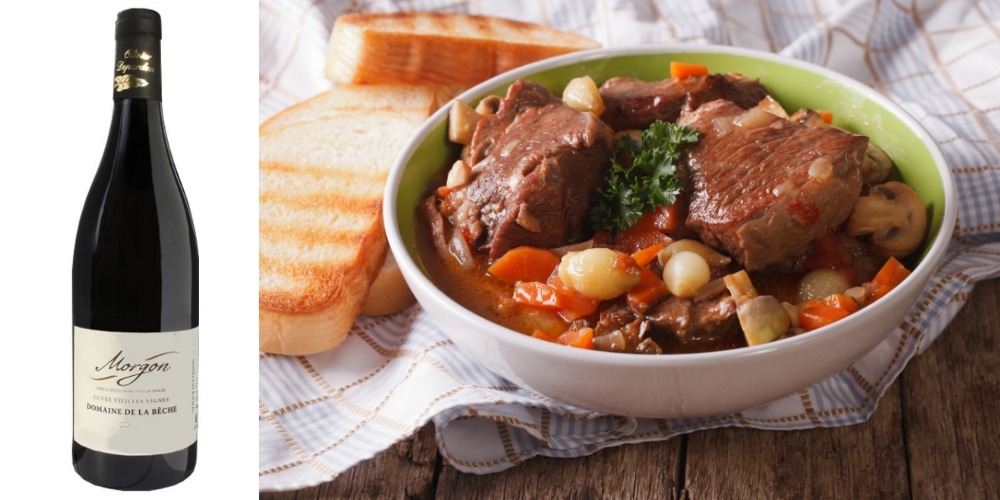 Another Bojo with serious character, Morgon is one of the most famous of the ten Beaujolais Crus and also one of the most robust. The soil of this Cru is referred to as 'rotten rock', a combination of molten rock and decomposing schist which, although sounding rather unappetising, is the very thing which gives Morgon wines their intensity and complexity. These wines also benefit from aging, with a longevity similar to those of Moulin-à-Vent, and after two or three years the best examples demonstrate a unique bouquet of wild strawberries and apricot, dark chocolate and tempting notes of fig and kirsch.
The wine we've chosen: Morgon, Domaine de la Bêche, Cuvée Charmes, 2015
Pair with: Beef Bourguignon, roasted leg of lamb
3. Chénas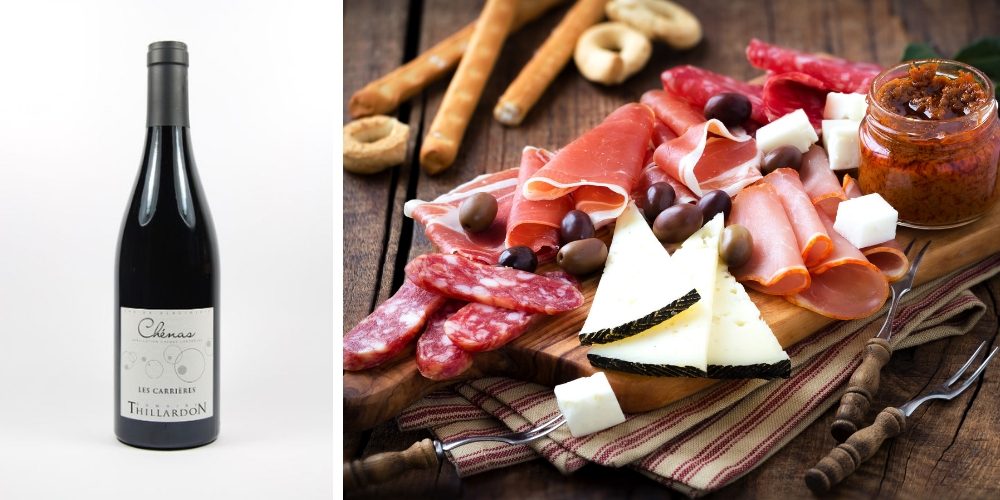 Chénas takes its name from the vast forests of oak trees which formerly covered the land in this region before the Gamay vines arrived to take their place. It is believed this has contributed to the terroir of the wine, and Chénas is often noted for its uniquely spicy, woody aromas. The smallest of the ten Crus (just 227 hectares of vines) Chénas wine is relatively rare in comparison to some of the other much higher-producing appellations, and so each bottle really does feel like a special experience. Generous and sophisticated on the palate, these wines are notable for their delicate tannins and floral notes of wild rose, iris and peony.
The wine we've chosen: Chénas, Domaine Thillardon, Les Carrières, 2015
Pair with: A Moroccan-inspired lamb tagine, roasted pork, charcuterie meats and cheeses
4. Juliénas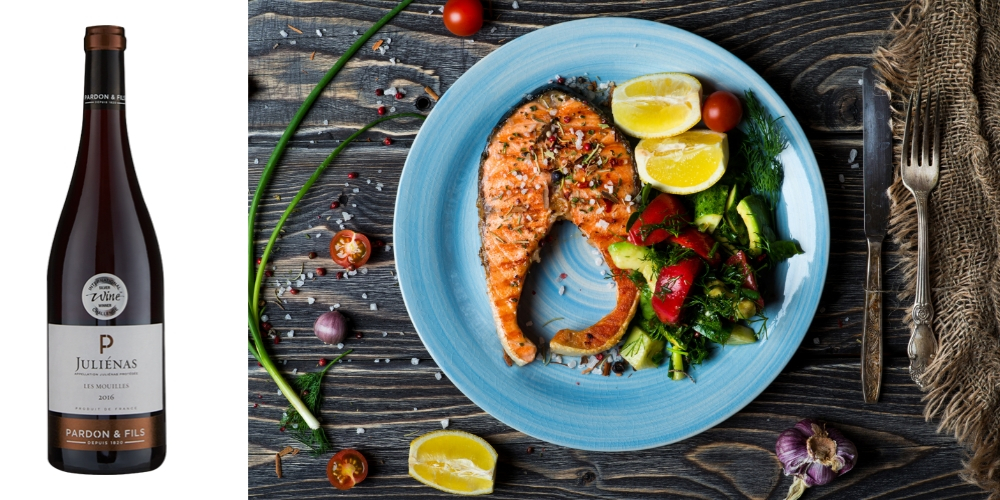 Believed to be the site of the very first vine plantings by the Romans in the Beaujolais region (and named after their most famous general, Julius Caesar) Juliénas has a winemaking heritage dating back over 2,000 years. The terrain is notably varied, from a little granite and schist to clay, resulting in an equally diverse range of expressive, ruby-red wines with a rich, voluptuous mouthfeel and fine tannins. Expect fragrant violet and red blossom accompanied by cranberry and red cherries, with sumptuous notes of vanilla and cinnamon developing as the wine ages.
The wine we've chosen: Juliénas, Domaine Pardon, 2017
Pair with: food pairings can be just as varied as the wines of Juliénas themselves, so have some fun! Think creatively – anything from tuna steaks or grilled salmon to French cheeses or roasted duck can work well.
5. Côte-de-Brouilly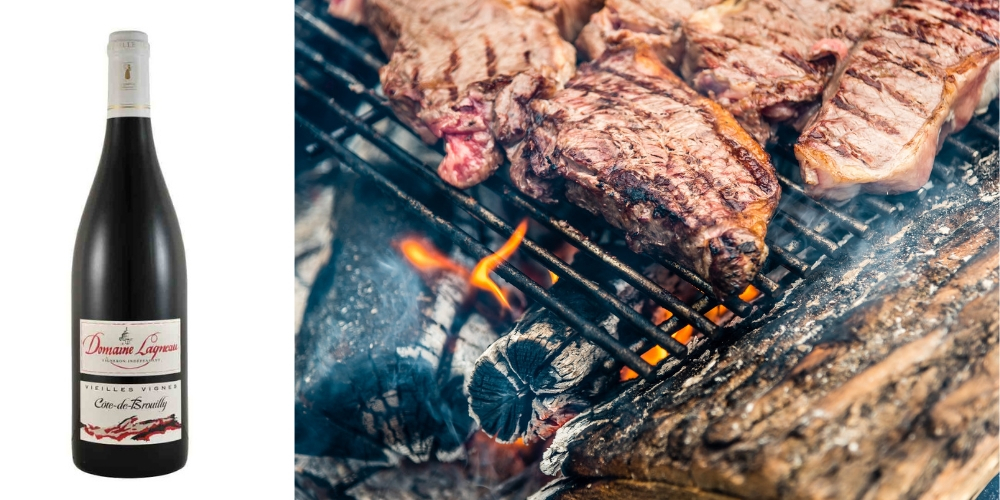 Côte-de-Brouilly is the smaller sister appellation to neighbouring Brouilly, which is the largest of the ten Beaujolais Crus. The hills of Côte-de-Brouilly, however, are notably steeper and more complex in terms of soil composition, giving the wines of this Cru a delicate, racy minerality that is rarely found elsewhere in Beaujolais. Complex yet comforting, Côte-de-Brouilly wines are elegant, mature and poised, displaying the freshness of the Gamay grape with aromatic iris and lavender against that crisp, structured minerality in which you feel you can almost taste the volcanic blue rock upon which the grapes are grown.
The wine we've chosen: Côte-de-Brouilly, Domaine Lagneau, Vieilles Vignes, 2015
Pair with: hearty meat or butternut squash stews, a Sunday roast, or Comté cheese
---
You've found out which Beaujolais Crus are best suited for the autumn and winter, but with this warm weather it is time to turn your attention to these lovely Beaujolais Crus that are perfect for the summer and to these Beaujolais whites and rosés that will most definitely surprise you! Give them a try and let us know what you think.