Escape to Paradise
Experience the Enchanting Avani+ Fares Maldives Resort
Step into a world of pure bliss and immerse yourself in the captivating beauty of Avani+ Fares Maldives Resort. Close your eyes and let your imagination whisk you away to this tropical haven nestled on the western edge of the Baa Atoll. As you open your eyes, be prepared to embark on a journey of unforgettable experiences that will transport you to a realm of tranquility and adventure as you escape to the natural tropical island of Fares and surrounded by the UNESCO Biosphere Reserve's deep blue hues.

Picture perfect Maldives
As you arrive at Avani+ Fares, you are greeted by the natural splendour of the Maldives. The pristine sandy beaches stretch out before you, inviting you to dip your toes into the crystal-clear waters. Feel the soft caress of the sea breeze and let the warm sunshine kiss your skin at this picture perfect resort. It's a paradise that seems straight out of a dream. The island of Fares is a place where time slows down, and the worries of the world seem to fade away. As you take in the surroundings, you can't help but be captivated by the pristine beauty of the island and the world of beauty that Avani+ Fares Maldives Resort has created.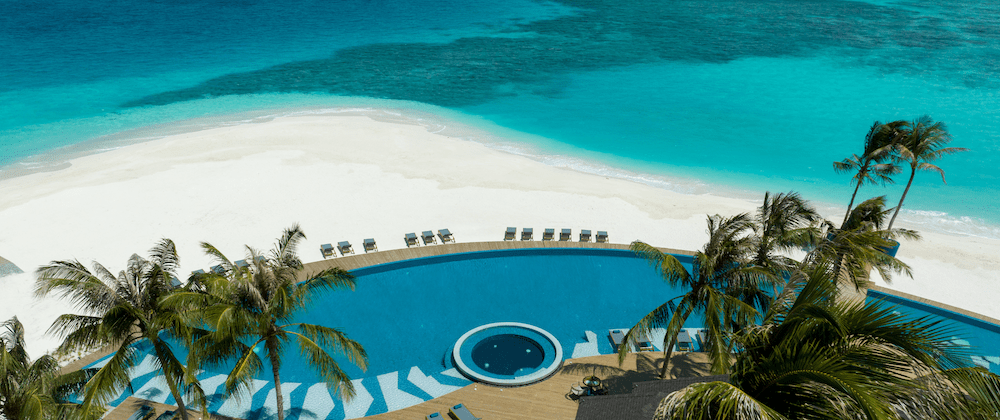 Luxurious Accommodation
Step into Avani+ Fares, a haven of luxury and relaxation that caters to a diverse range of guests. With 176 elegantly designed villas, pavilions, and studios, the resort warmly welcomes couples, honeymooners, families, and groups, ensuring a memorable stay with its emphasis on multi-room accommodations. And now, there's even more reason to indulge, with enticing opening offers available until Summer 2024, reflecting the resort's commitment to providing upscale escapes at competitive prices.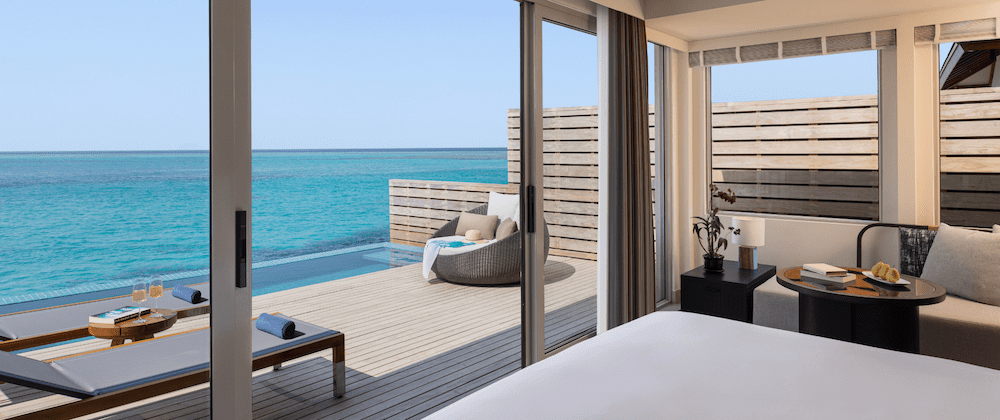 Conveniently located a mere 35 minutes from Velana International Airport, Avani+ Fares offers a refreshing twist on the traditional Maldivian getaway. Its selection of 40 spacious and versatile two-, three-, and four-bedroom villas sets it apart, perfect for those seeking group getaways or multi-generational family vacations. For couples yearning for a romantic retreat, the resort presents the enchanting Overwater Pool Villas, perched above the shimmering lagoons of Dolphin Bay. Here, couples can revel in the sanctuary of privacy and awe-inspiring views, as their stylish abode seamlessly connects to private pools and sun decks. Every moment is an invitation to bask in the effortless blend of indoor-outdoor living, just steps away from the pristine beach.
Avani+ Fares embodies the essence of contemporary luxury, where refined elegance meets comfort. Each accommodation option is thoughtfully designed to provide a haven of serenity and a seamless harmony with the surrounding natural beauty. Whether you seek a spacious retreat for a group gathering, a dreamy escape for two, or a delightful family getaway, Avani+ Fares exceeds expectations, offering a retreat that feels like a true home away from home.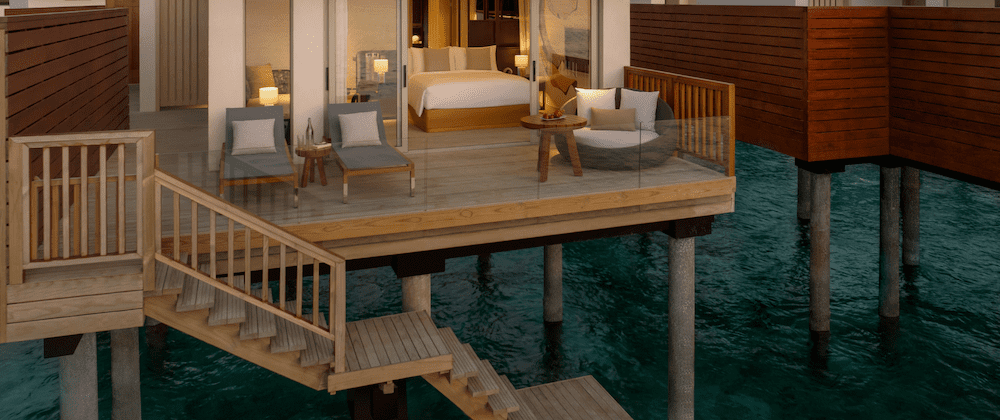 Aquatic Adventures in the Maldives
Dive into a world of aquatic wonders of the Maldives' protected paradise as you explore the vibrant marine life that surrounds the resort. Complimentary snorkel gear comes as standard so put on your snorkelling gear and plunge into the turquoise waters to discover a kaleidoscope of colourful coral reefs and tropical fish. Swim alongside majestic sea turtles, spot graceful rays gliding through the water, and be mesmerised by the gentle dance of dolphins. With a limited number of islands within this pristine area, Avani+ Fares grants you effortless access to two remarkable attractions: Hanifaru Bay and the magnificent five islands landmark. Prepare to be enthralled as you witness the awe-inspiring spectacle of over a hundred majestic mantas gracefully feeding and showcasing their acrobatic prowess in Hanifaru Bay.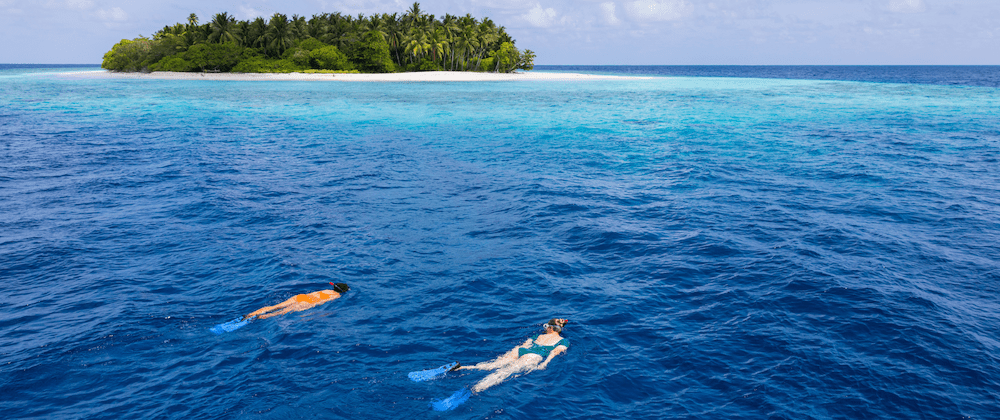 At Avani+ Fares, adventure awaits just steps away from your villa. Explore the resort's fourteen captivating dive sites, conveniently located right off the beach. Dive into the vibrant depths of a 220-meter house reef teeming with marine life. For even more underwater marvels, venture to the nearby Fares reef, a mere 600 meters from the shore. Brace yourself for thrilling encounters with reef sharks, whale sharks, stingrays, eagle rays, and graceful green sea turtles.
When the sun sets and the world transforms, embark on an enchanting nighttime snorkelling excursion. Dive into the mesmerising realm illuminated by the gentle glow of bioluminescent plankton. Witness the magical dance of parrotfish, groupers, snappers, and lionfish, as well as the fascinating nocturnal activities of garden eels and intricate crustaceans. Prepare to be transported to a captivating world where nature's luminescent spectacle unfolds before your eyes.
Unwind and Rejuvenate
Indulge in moments of pure relaxation at Avani Spa, where skilled therapists will transport you to a state of bliss with their soothing treatments. Allow the gentle touch of expert hands to melt away your stress and tension as you surrender to the healing power of ancient techniques and natural ingredients. From rejuvenating massages to invigorating body scrubs, every treatment is designed to revitalise your body, mind, and soul. After your spa session, take a dip in the infinity pool or simply bask in the sun on a comfortable lounger, savouring the peaceful atmosphere that surrounds you.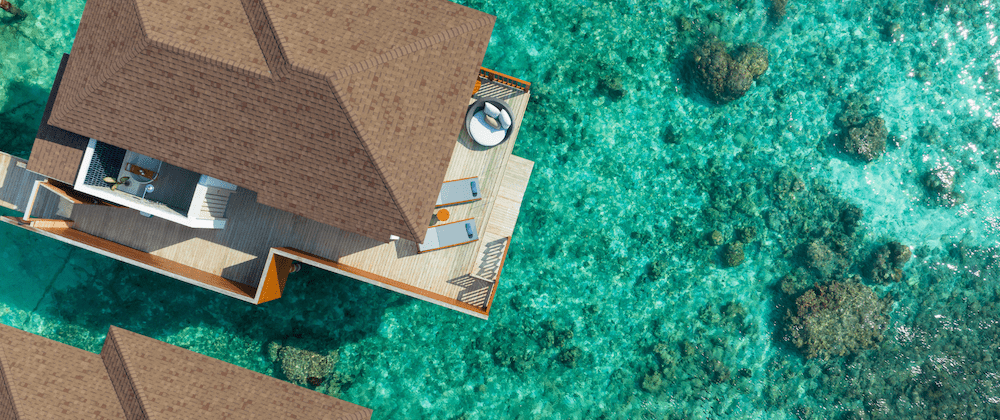 Elegant Gastronomy
Get ready to embark on a gastronomic adventure at Avani+ Fares where they believe that dining is not just about satisfying your appetite—it's an opportunity to embark on a culinary adventure that will tantalise your taste buds and leave you with unforgettable memories. With the diverse selection of seven trendy restaurants and various dining options, they invite you to experience a world of flavours and culinary excellence.
Start your gastronomic journey at Ocean Terrace, where local and international cuisines harmoniously blend to create a symphony of flavors. Immerse yourself in the vibrant atmosphere of this beachside restaurant and savour the freshest catch of the day while overlooking the azure waters of the Maldives. For a more laid-back experience with refreshing cocktails and light bites, head to The Skipjack Bar, the sunny poolside bar. If you're craving the sizzle of grilled delicacies then look no further than Charcoal, where a delectable selection of grilled dishes awaits. Indulge in perfectly cooked meats and seafood infused with smoky flavours.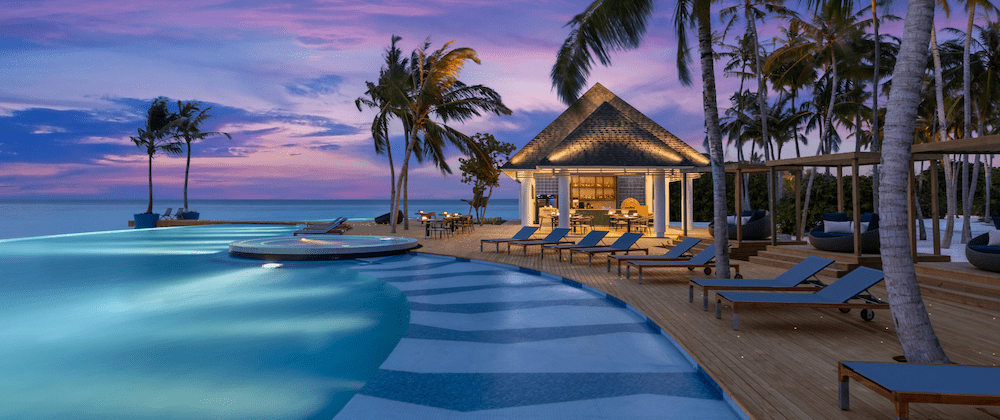 For those seeking quick and convenient bites, the Hammock in the lobby is the go-to spot. Grab a snack or sip on a refreshing kombucha as you relax in the cozy ambiance. As the day transitions into a vibrant night, Tribe and Smuggler's Shack take centre stage, offering a distinctive after-hours experience. Delight in molecular cocktails crafted with precision and passion, while exploring the Maldives' largest collection of rum. Let the mixology experts surprise you with creative concoctions that will ignite your senses. Avani+ Fares is also proud to introduce Petit Bistro, the first kids-only restaurant in the Maldives. Catering specifically to the young guests, this delightful culinary haven serves up healthy and universally loved dishes that will excite even the pickiest eaters.
No matter which dining option you choose, one thing remains consistent— their commitment to using only the freshest ingredients.  Additionally, they take pride in offering locally caught catch of the day, supporting the local fishing community and providing you with an authentic taste of the Maldives.
At Avani+ Fares, they invite you to embark on a culinary journey like no other. Let their diverse range of restaurants and dining experiences transport you to a world of gastronomic delights, where each bite tells a story and every meal is a celebration of flavors. Whether you're a food enthusiast or simply seeking a memorable dining experience, prepare to be captivated by the culinary offerings that will leave you craving for more.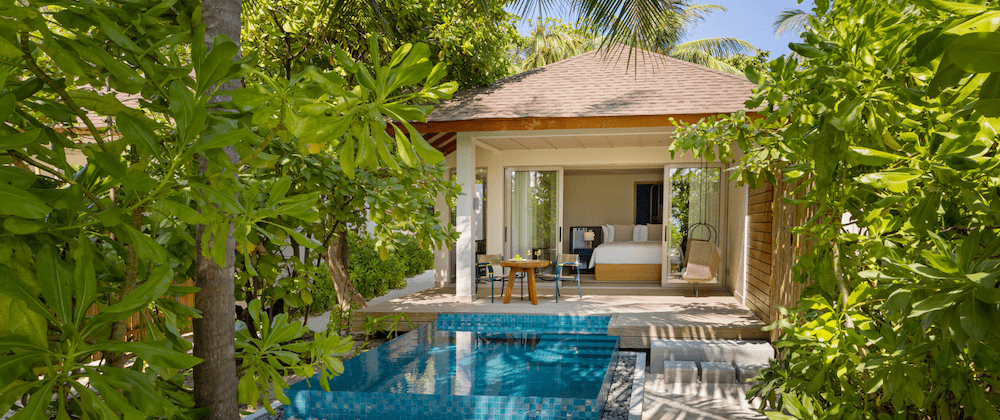 Maldivian Magical Evenings
As the sun sets over the horizon, Avani+ Fares comes alive with an enchanting ambiance. The gentle sounds of live music fill the air as you sip on your favourite cocktail, swaying to the rhythms. Immerse yourself in the island's relaxed vibe and let the soothing melodies transport you to a state of pure bliss. For a more intimate experience, indulge in the rich musical heritage of the Maldives with captivating performances by talented local musicians. The rhythmic beats of the Bodu Beru drums and the soulful melodies of acoustic guitars will create memories that will stay with you long after your journey ends.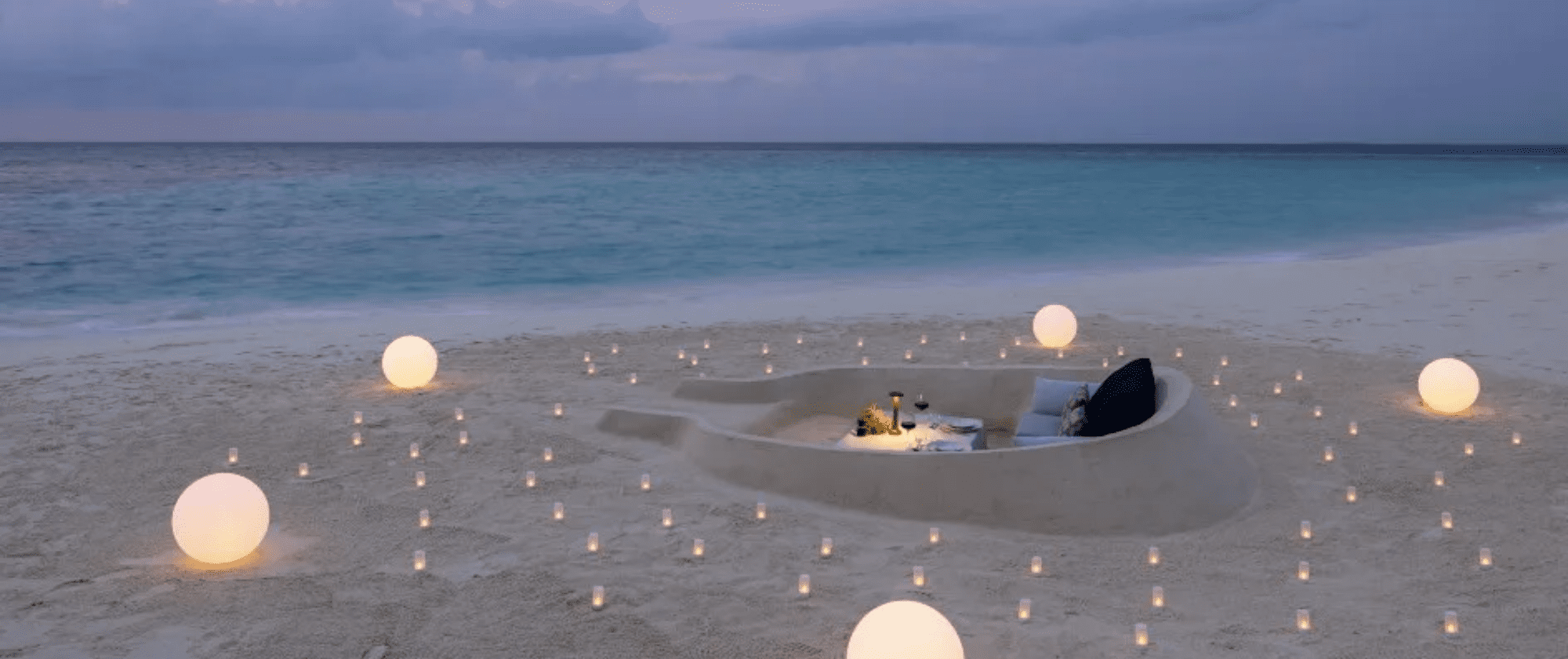 The Time is Now: Escape to the Maldives
Escape to paradise and experience the enchantment of Avani+ Fares Maldives Resort. The resort's special opening offers include a five-night stay for two in an Avani Sea View Studio from approx. £3,233 and a seven-night escape for a family of four staying in an Avani Two Bedroom Beach Studio from approx. £8,477. Includes breakfast, taxes and return seaplane transfers.
Let the allure of this tropical oasis captivate your senses and transport you to a world of pure indulgence. Whether you seek adventure, relaxation, or a blend of both, Avani+ Fares offers an unparalleled experience that will leave you longing to return. Your journey to paradise begins now.