Think you know everything about Scotch? Have you tasted the new single-malt-in-progress from the Isle of Raasay, the first legal whisky to be made on the island? If you have, then hat's off. We've lusted after Lowland and Highland, salivated over Speyside and cooed over Campbeltown and Islay but now, there's a new whisky distillery in da house and it's on the Isle of Raasay.
A Tiny Island Making Whisky For The First Time
Raasay is a tiny, Inner Hebridean island located of the coast of Skye. It's an island of an island – as remote as you're probably ever going to get for whisky-making, while still falling ostensibly under the 'Highlands' category. Aside from the illegal stuff that was doubtlessly going on in the 1800s, there had been no whisky made officially on the island until the Highland Council granted permission for the Isle of Raasay Distillery to be built in 2016, resurrecting a disused victorian hotel as part of a stunning new architectural project which was to capitalise on the unrivaled views across the water. The distillery's brand new visitor centre finally opened in January this year (2018) with luxury accommodation just about to open as we write.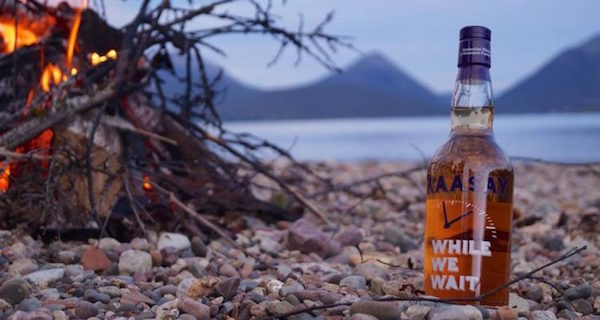 Photo Credit: Rassay Distillery
Whisky With a Wine Touch
Raasay's first (ahem, legal,) whisky is maturing in cellars right now until it can be sold in 2020 as an official single malt but visitors can, unusually, taste the work in progress, which the makers have dubbed 'While We Wait'. The area was picked for the high mineral content in the water which filters through volcanic rock and gives the whisky its characteristic fruitiness. The oak casks are an interesting combination of American oak, rye bourbon, French oak and Tuscan wine casks in an aim to offer a truly modern – almost vinous – style of whisky. The Isle of Raasay 'While We Wait' whisky at the moment tastes pretty unique: very fruity, spicy and with a fairly generous dose of peat. There is certainly something wine-like about it as it stands and it will be fascinating to taste it as it matures. I think we'd all better go there to do that though, don't you?
See more about the Isle of Raasay Distillery here and sample While We Wait here.
Want know more about investing in whisky? See this piece here! Or want to taste your way through all the whisky styles while in Edinburgh? Here are the best bars to visit. Enjoy.