Enjoying the Bites, Sites and Sips in Charming Healdsburg
A trip to Northern California's wine country would not be complete without a stop in Healdsburg. This hip small town has fast become a top travel destination for food and wine lovers from around the globe. Whether you're here for a weekend or longer, the possibilities to please in this rural paradise, about an hour north of San Francisco, are endless.
Where history, charm and wine country chic meet, you'll find the best of friendly and casual to sophisticated and refined. The mix is made of luxury boutique hotels, charming B&B's, highly acclaimed restaurants, family-owned wineries and tasting rooms, art galleries, and one-of-a-kind shopping abound. Combine this with the beauty of three of the finest west coast wine appellations in Sonoma County and a bounty of local farms and ranches and you have a destination that is acclaimed by travelers and foodies everywhere!
A great way to take in all the bites, sites and sips you'll find in charming Healdsburg is on a brilliant Healdsburg Food Tour. On this culinary walking tour you'll enjoy the best of Healdsburg's celebrated food and wine scene as your passionate, foodie guide takes you to experience the fresh flavors from local artisans, nationally acclaimed restaurants and chefs and world-class wines, in a three-hour epicurean adventure. Along the way you'll also learn about the history, culture, and personality that have put Healdsburg on the map as "one of the top 10 small towns in America", according to Fodor's Travel Guide.
A Few of the Culinary Gems on the Food Tours Include:
Healdsburg SHED – A modern day grange that shares the best of Sonoma County's good farming, good cooking and good eating. Here you'll hear from the knowledgeable staff about the fresh, local produce, products, and farm-to-table fare while also getting samples from a host of house made items like ice cream, cheeses, salumi, kombucha and more!
Pinots, Barberas, Zins and more! – Enjoy a host of Healdsburg's award-winning wines made by small lot boutique winemakers who will personally share their handcrafted wines and family stories through engaging and educational tasting experiences.
Campo Fina – A rustic Italian eatery with a wine country vibe. Here you will not only enjoy the house made pork and beef meatballs dripping in a tasty tomato sauce with fresh made ciabatta bread, but also soak in the surroundings of the outdoor dining experience, complimented with great vino, wood fired pizzas, and a bocce court nearby.
Costeaux French Bakery & Café – An open air bakery with a rich 90-year history in Healdsburg that is known for its award-winning artisanal breads, desserts, and pastries. From the highly sought after multi-grain sourdough to the mouth-watering desserts, you'll enjoy every last crumb!
We promise that the bounty of world-class food and wine, tips on "must-do's" and the scenery that surrounds this amazing small town, from the rolling hills and vineyards, to the beautiful Sonoma Coast – just minutes away, will leave you wanting to plan your next trip to Healdsburg!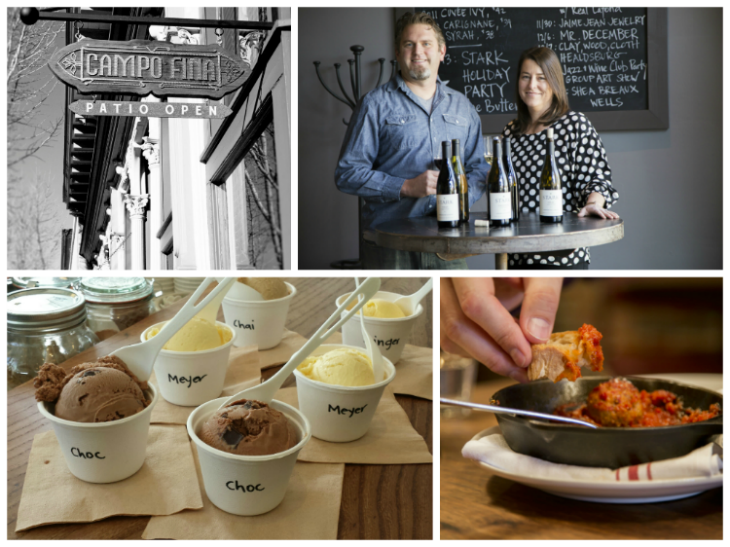 Written by Tammy Gass. Tammy is a Healdsburg local with a passion for sharing the culinary treasures and great wine country attractions of Healdsburg and Sonoma County. With over 400 wineries in Sonoma County and more than 30 tasting rooms in Healdsburg, opportunities for incredible adventures and memorable travel experiences abound. To book our Food Tours, see our Food & Wine Lovers Tour in Sonoma.