Stay at Hampton Manor set in 45 acres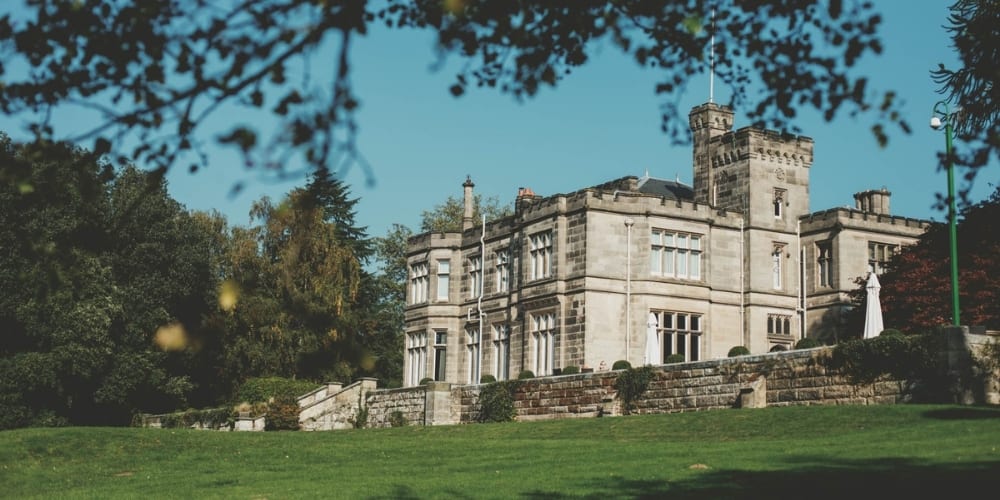 Hampton Manor combines history and modernity in its 45 acres, in the heart of England. There are 19 individually designed bedrooms with '100 Acres' British luxury bath & bodycare products. The entire house embraces its arts and crafts history with a fresh and modern touch. Hampton Manor is independent and family-run. A luxury cottage is also available for exclusive use and includes its own garden. With a maximum of 38 overnight residents on the estate at one time, each guest will possess an acre each for three days! Staycation packages are available Wednesday – Friday and Friday – Sunday.
Smoke Restaurant (First Evening)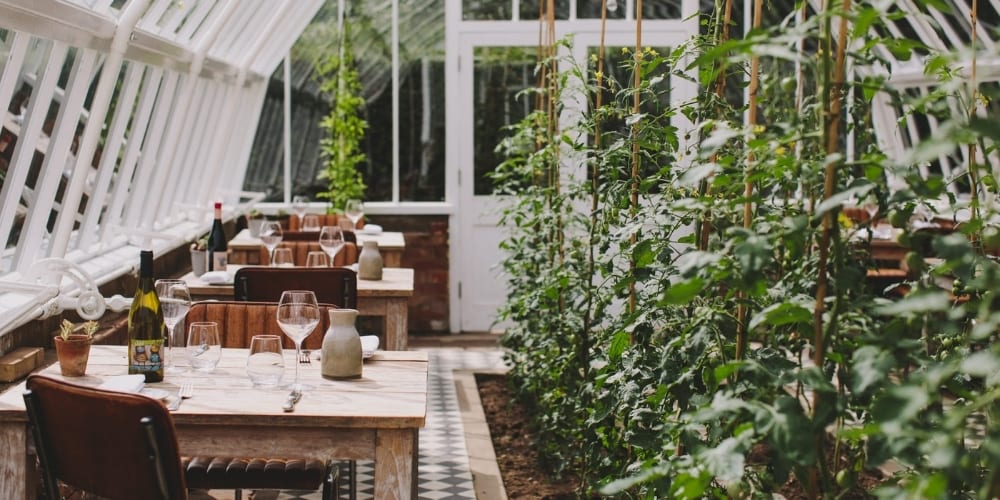 Guests can now dine in or around Smoke – the rustic smokehouse set in the recently unveiled walled garden. To enable social distancing, Hampton Manor have opened up the green houses for candlelight dinners under the vines. All meals served in Smoke are cooked on the wood fired oven.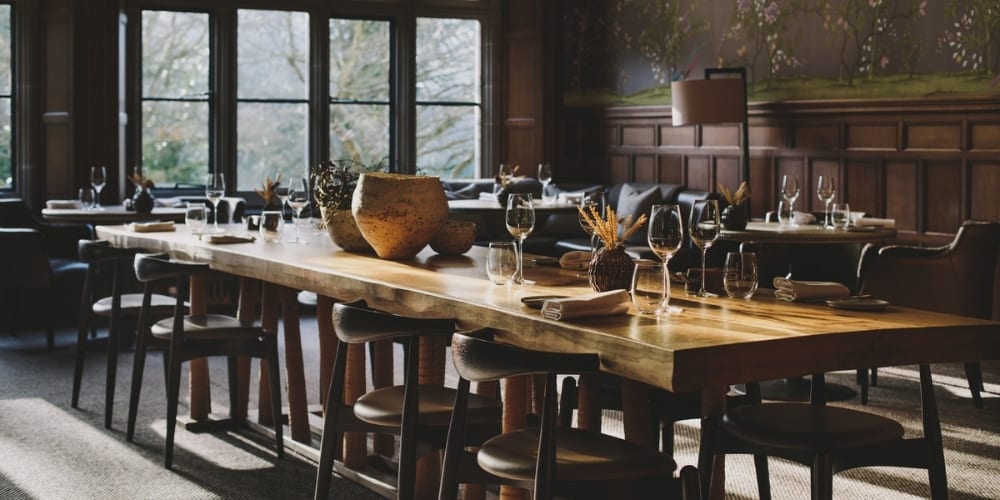 Peel's Restaurant won a Michelin-star, Michelin's Welcome and Service Award, and Four AA-Rosettes within the space of two weeks in 2016. Peel's is home to simple British dishes cooked using seasonal ingredients and modern cooking techniques under Head Chef Rob Palmer. Peel's has been laid out according to government spacing guidelines between tables. Peel's is also open outside the package dates, so open to all.
Nyetimber Courtyard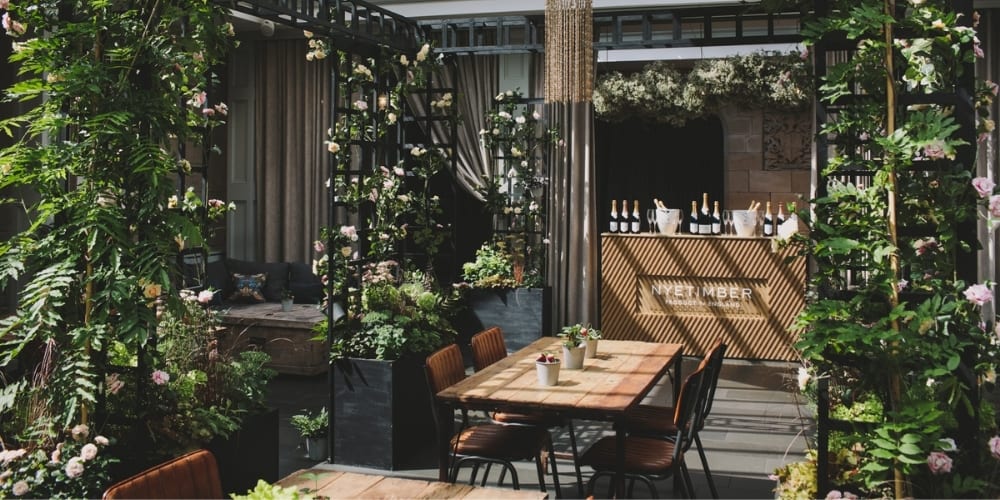 The glass roofed courtyard has been transformed into a space filled with light and decked in seasonal blooms and foliage inspired and designed on 'The Strawberry Thief' by William Morris. The  Nyetimber Courtyard opens out onto a private terrace serving afternoon teas throughout the afternoon and all day Nyetimber by the glass.
Natural Wines and an Award-Winning Wine Card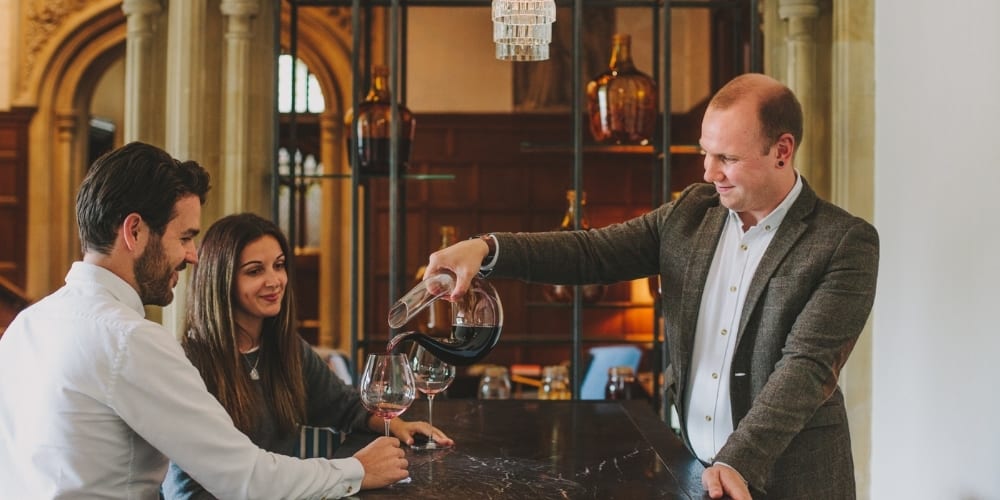 The wine lists are some of the most exciting in the UK covering the 'old' and 'new' worlds and recognised by the AA winning AA Wine Award England 2019-20 and AA Wine Award Overall 2019-20.
Hampton Manor's wine list is one of the most exciting in the UK right now. It starts with a bold statement; 'Back to the future…. age old techniques, forward thinking…' and from here a journey begins showcasing natural winemakers, celebrating healthy soil and encouraging low or no chemicals. The 'Home Grown' part looks at England & Wales before exploring various wine stories including a vast 'Comfort' section and a shorter 'Adventurous' section taking drinkers down the rabbit hole! Also, of note are the 'Ripe and Rare' wines which have been sourced in limited quantities and are all offered in 100ml using Coravin. Restaurant Manager and Head Sommelier Max Allwood guides diners and drinkers on a wine journey like no other.
On the wines, James Hill comments; "The last 13 years of building an estate for the curious foodie has led us to the growing conviction that good food is about good produce. The better the produce the less we need to mess about with it. The very same idea is driving forward the natural wine movement.  The more we discovered about the natural wine movement the more we realised it was a farming first approach.  In all types of farming there is an awakening that we need to heal soil to save not only the nutrient density and healthy microorganisms in our food but the flavour.  Wine makers more than ever are happy to identify as farmers as it is where the biggest battle for taste and sustainability will be won.  We were proud to win the AA Wine list of the year award, not particularly because we craved another gong, but because it championed a movement of people that really care."
Wine Tasting with owners James and Fjona Hill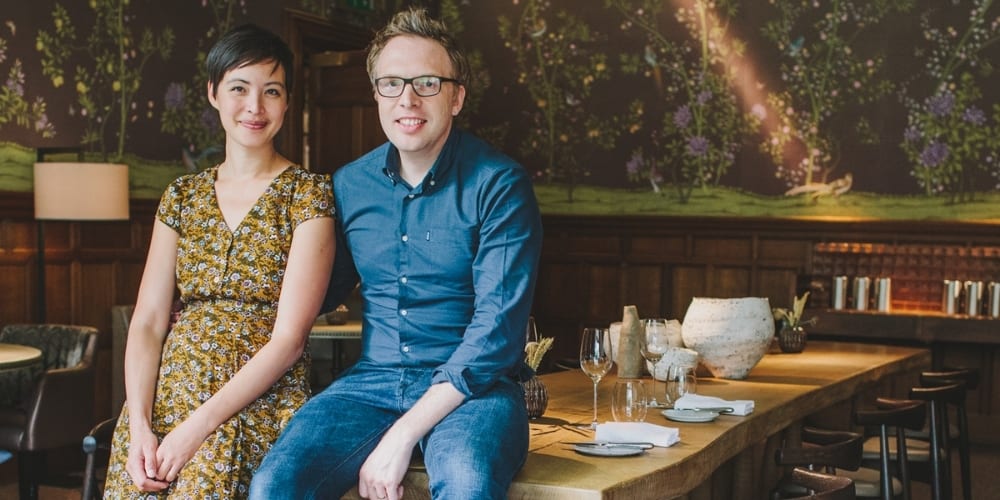 During the stay, all guests are invited to meet owners James and Fjona for a complimentary wine tasting and a guided tour of the Walled Garden which supplies the restaurant, all produce is organically grown. The Manor's walled garden was completed in 1891. Designed by Thomas Mawson, the first President of the Landscape Institute, it marked a way of life that had flourished in the Victorian Era. Today it has evolved into a wonderful blooming space full of vegetation.
Walking Warwickshire with a Field Guide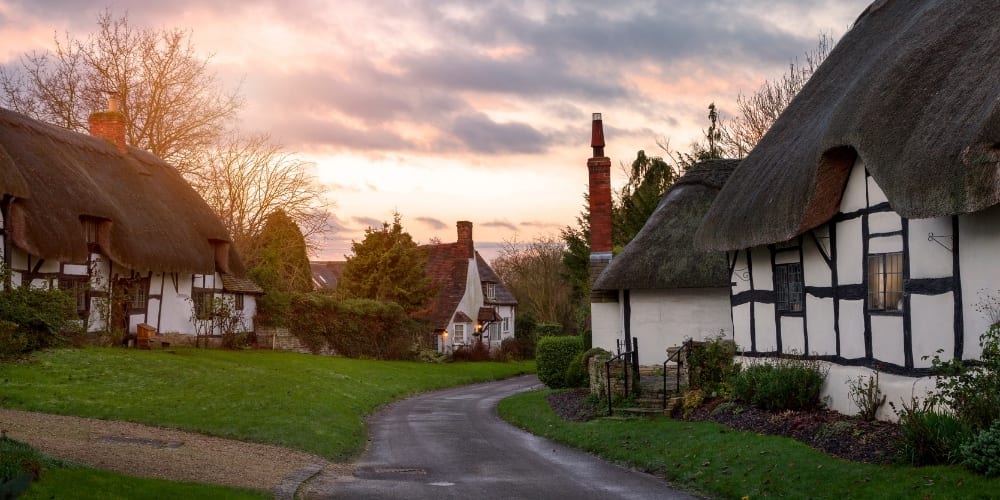 The 45 acres of gardens are fantastic to sunbathe in, enjoy alfresco dining or as a starting point before a longer walk. Each guest is given a field guide with various walks to enjoy the fresh air. This guide provides walking routes further afield and highlights a network of footpaths around the village of Hampton-in-Arden, including access to the historic Packhorse Bridge.
Design Focused
Guests can discover reimagined interiors created for a home-from-home country retreat feel, starting with a bespoke artwork as guests enter the manor by Chris de Souza, entitled The Manor's Table. Hampton Manor's Arts and Crafts muse is William Morris and this is felt across the Manor. The Tasting Table in the lobby, again handmade by William Self, is produced from marble-topped scorched oak. It contains built-in wine fridges, allowing guest to sit and try new organic wines led by the Manor's highly knowledgeable team. Hand-blown glass lighting by Rothschild and Bickers hangs above the table.
Destination on your Doorstep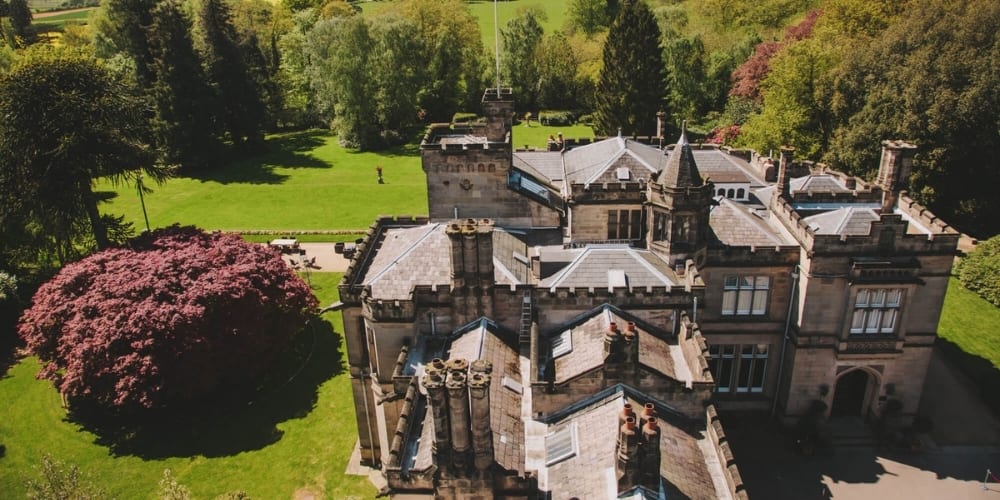 Hampton Manor is a house, built in 1855, in the time of William Morris and the Arts and Crafts era that is today, heavily visual throughout the property. It was also the former estate of Prime Minister, Sir Robert Peel. A labour of love for his son, Sir Fredrick Peel. A house made for convening the leaders in industry and government is now re-open to welcome guests to a socially distanced staycation. Onsite parking is available and Hampton-in-Arden train station is a 5-minute walk away served by direct train services to London and Birmingham.
Staycation Foodie Break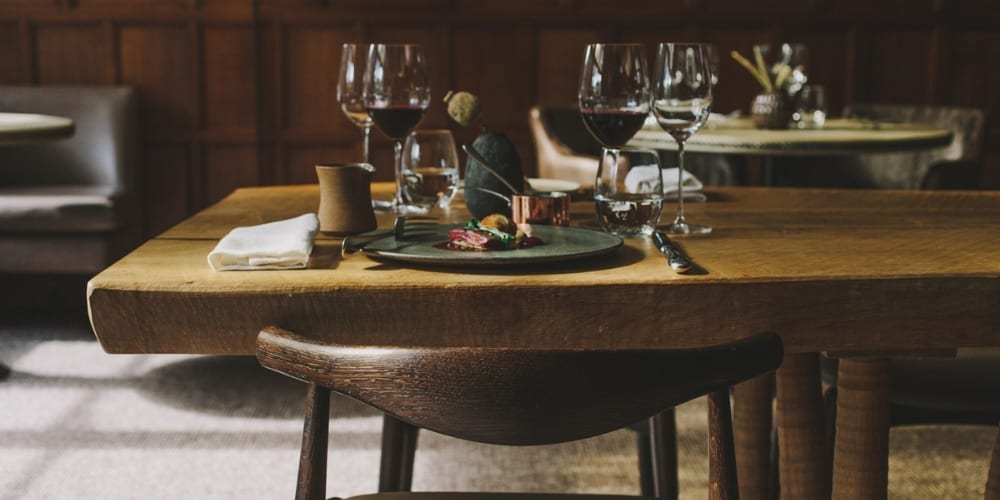 The 2-night/3-day break includes daily dinner, bed and breakfast and a wine tasting on one day. On the first night, guests will dine in the newly launched Smoke located within the grounds amongst the firepits and candlelit greenhouses and on the second night guests dine in the Manor at Michelin-starred Peel's Restaurant, ensuring social distancing throughout.
---