There is no better feeling in the world for any Londoner I know, than stepping out of a car in the heart of the countryside and being able to breathe air. Fresh air. This is exactly why a trip to Ellenborough Park next weekend is the best thing you could do for yourself and for your family.
Ellenborough Park is a beautiful, five star hotel in the heart of the Cotswolds. It prides itself on its opulent bedrooms, stunning grounds and a restaurant that offers a truly memorable fine dining experience.
We walk to our suite with many, many bags. Did we mention that Ellenborough Park is also extremely family friendly? Our son came along – as did the entire playroom and a month's supply of wet wipes. We make a quick stop at the swing and enjoy the afternoon sunlight.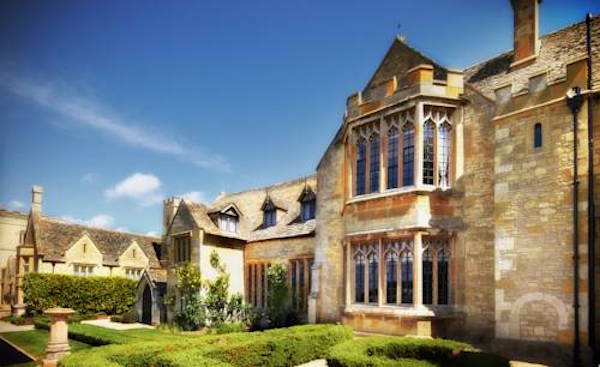 Photo credit: afternoonteaonline.co.uk
As a mum of a toddler, the things I look for in a room are quite specific: safety is key, a bath is a bonus, a travel cot, good curtains to lock out the light… In the true tradition of working parents, our son goes to bed early so mum and dad can have dinner that does not involve pasta flying at walls – or we work over dinner and rest in preparation for the next round, which starts at 6.30am in our house. All of these things were on point in our lovely, spacious, ground floor suite which over-delivered on all points. We had a beautiful, state-of-the-art bathroom, a huge bathtub and marble heated floors with romantic Tudor windows overlooking the grounds. It even had a nappy bin and a baby bath, which we did not use, but we loved how attentive everyone was and how prepared they were for young children! In addition, the room had a stunning shower, all filled with products from 100 Acres which smelled incredible; just like the flowers you find in the English countryside. As soon as child was asleep, husband and I fought over who got bathtub rights first.
On the first night, we booked the babysitter service (one of the best I have ever witnessed and we literally wished we could bring her back to London with us), and headed out for dinner. Well, we walked out of the bedroom straight into the restaurant as the beauty of our suite was that you could walk over to breakfast or dinner in a matter of seconds. The main dining room at Ellenborough park is beautiful: candle-lit, beautifully decorated and smelling of delicious food, this dining experience is definitely on the romantic side.
The Horse Box is the gastro pub, which is located on the other side of the hotel and it is definitely family friendly and a great option for a delicious meal. The Ellenborough Park Restaurant however is mostly about fine dining. Starting with the service, attention to detail can be seen in every single dish that sits on your plate. Our highlights were the starters of duck presse, shiitake mushrooms, master stock jelly & cabbage and the treacle cured salmon, red wine octopus and the orange & cucumber embellished with oysters. For mains, the Cornish hake, white beans, coconut, dashi & crab and the grilled veal chop, creamy garlic polenta & Hereford snails. The wine list is equally impressive and we went for a glass of Jacquart Brut Champagne to start with, followed by a glass of Chardonnay Far Niente available by the Coravin, a glass of Caro, Domaines de Rothschild Malbec and finally, a glass of Rieussec Sauternes with our chocolate dessert of pistachio and caramel.
As we drove back to London, staring at the dreamy rapeseed fields, we brought a part of Cotswolds back with us and wished we could have been sipping champagne again in the 32 degree outdoor heated pool at Ellenborough park, while taking in the sunset.
To find out more about English wine getaways, read our latest feature on Top English Wine Spots for the Weekend!