Everyone can appreciate a good glass of wine, but there's a difference between an appreciation of wine and a love for it. Chances are, if you're looking for ways to incorporate wine into the décor of your home, you fall into the latter category.
Fortunately, the classic libation lends itself to be a classy part of any kitchen's design scheme. There are countless fun and creative ways to incorporate your favorite pour into the space, whether you use it to inspire a piece of art or a piece of furniture. Let's uncork a few ideas and see which one(s) would best suit your kitchen, the place where you unwind with a glass of wine.
1. Let the Colors Inspire You
Which type of wine do you prefer? Are you a deep merlot or a yellow pinot grigio? Whichever pour you prefer, let it inspire the color scheme of your kitchen. You don't just have to use your favorite pour as inspiration, either: entire color schemes for weddings, for example, have been inspired by wine. A few slicks of paint and cabinet stain, accent fabrics and a backsplash later, you've created a subtle ode to your favorite beverage.

Photo credits: Pinterest / Wine Enthusiat / Walmart / Food Thoughts
---
2. Cork-filled candleholders

As a wine aficionado, you open quite a few bottles each month (or week, it's fine). This means you're left with just as many corks as you are empty bottles. As of right now, you're probably throwing both of those away once the wine is gone, but you can use them both as inspiration or your kitchen art.
One classy piece of décor to make is a cork-filled candleholder. You've likely seen clear glass votive holders filled with sand or stones at the bottom, but you can instead fill the base of yours with corks. Or, if you're feeling extra crafty, place a tall pillar candle inside of a smaller glass candleholder. Place that in the center of a larger glass container and line the outside of the candle in corks in a more uniform way.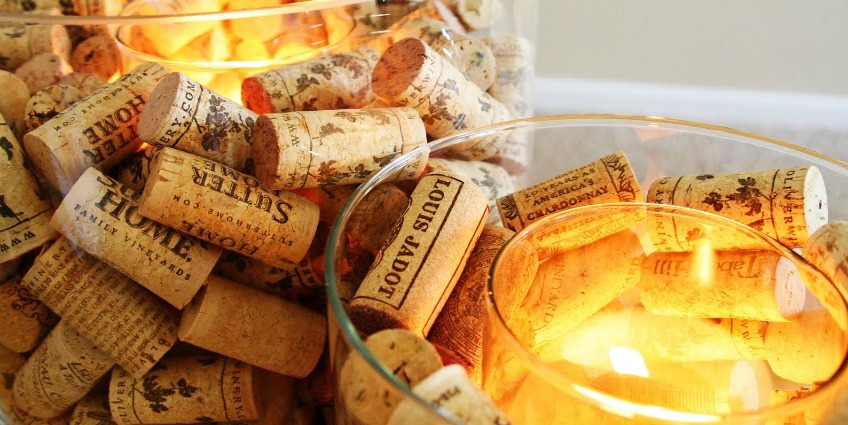 Photo credit DIY: Two Twenty One
---
3. Build a Wine Rack
What better way to incorporate wine into your décor than with, well, actual bottles of wine? It's a win-win situation for wine lovers, too, since they'll get to decorate and drink from what they create.
You have plenty of options when it comes to building your own wine rack. Some might prefer something a bit subtler, such as a Wine Logic wine rack. These are built in beneath your existing cabinets, which means you won't lose any counter space to your wine collection anymore. Instead, you'll have a shelving system that's organized and out of the way.
Of course, some winos want to make sure the world can see their collection, and, for that, a more out-in-the-open rack might be a better fit. And, if you're not feeling too crafty, endless furniture makers have beautiful wine racks ready for purchase to make your kitchen update quick and easy.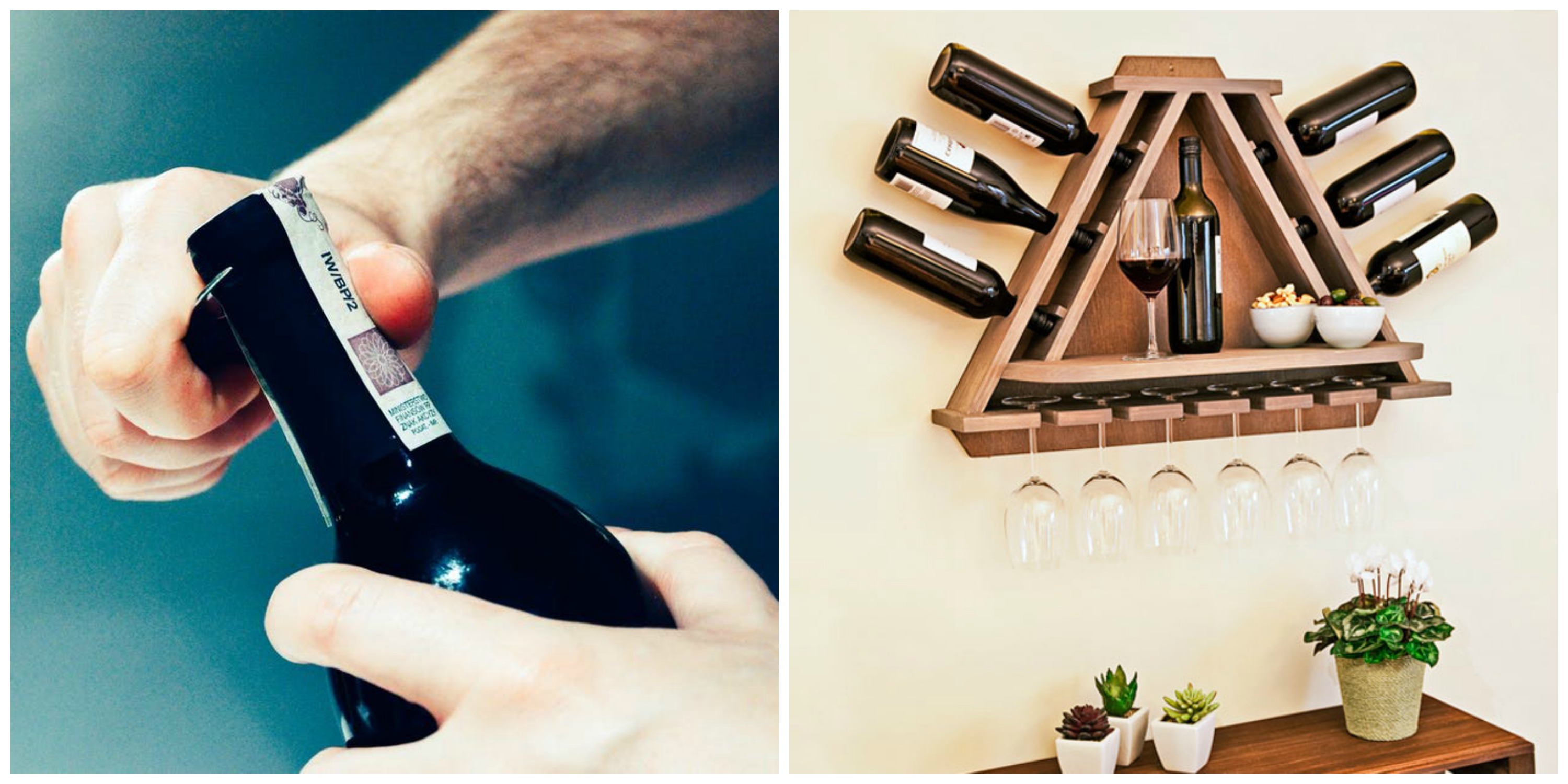 Photo credit DIY wine rack: Homedit
---
4. Wine-Glass Chandelier
We have suggested some pretty substantial projects thus far. We've also talked about incorporating real-life wine accessories (corks) into your design scheme. This project marries both of those concepts into one of the biggest and boldest wine-related DIYs imaginable: a wine-glass chandelier.
Now, the final product looks impressive, but it really doesn't require much elbow grease on your end. Instead, you can purchase a piece of lighting hardware designed with notches specially cut to hold wine glasses securely around a center bulb. It's your job to then fill the fixture's surrounds with 25 wine glasses of your own. The end result is an impressive focal point to dangle over your kitchen table or center island.
You might have to do some digging to find a chandelier base that fits within your budget and is large (or small) enough to really make a statement in your space. However, this could just be the perfect addition to your wine-inspired kitchen.

The above is just four of the many, many ways to incorporate wine into your home's design scheme. The bottom line is to think creatively: whether it's the color of your beverage, the popping of its cork, the beautiful bottles it comes in or the glass you fill and clink, there's bound to be something that will give you an idea. And, when you make your DIY goals a reality, you'll have a kitchen that reflects who you are — and what you love to drink most.