What comes to mind when you think of Rome?
The cultured amongst us would say the Sistine Chapel, the Colosseum or St Peter's Basilica. The gluttons among us would say tagliatelle, pizza bianco or gelato. The oenophiles among us would say Frascati, Montalcino or Chianti Classico (not that Tuscany is particularly nearby – but the wine is available almost everywhere).
Unfortunately, I am all three – an affliction that made a two-and-a-half-day trip to Rome a mildly stressful experience. Sixty hours was simply not enough to experience all that the capital has to offer. I was constantly torn by three competing persuasions: the desire to visit all of the historic sites, the temptation to go shoe shopping (so many shoes!), and the gravitational pull towards al fresco wine bars in the middle of bustling squares (piazze) all over the city.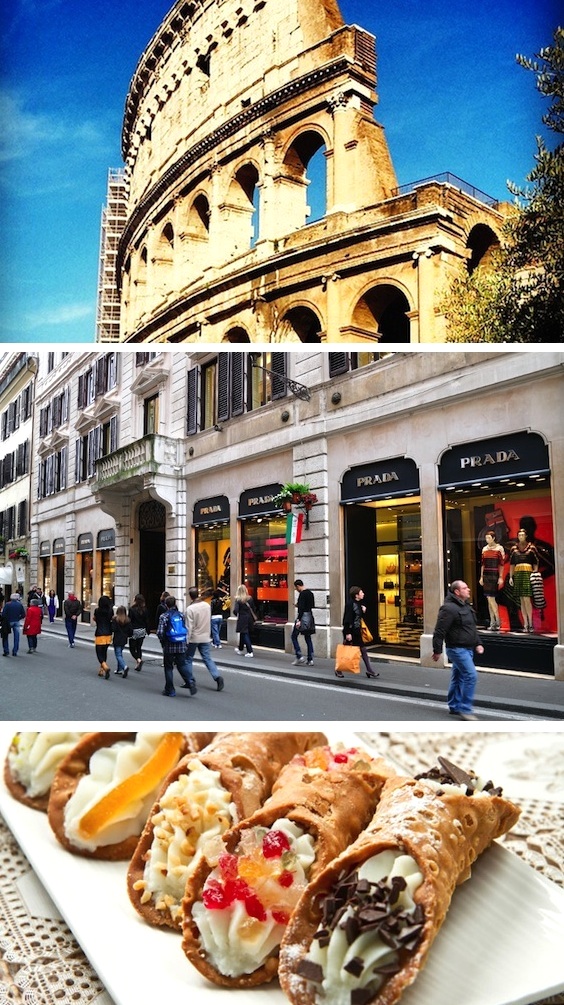 Shopping photo: Rome.net. Cannoli photo: Valenti's Market
Nevertheless, I had a great holiday. The trip featured a lot of "first times" for me:
First and foremost, it was the first time I had been to Rome and by extension the first time I saw the Sistine Chapel, St Peter's Basilica, the Flavian Amphitheatre, the Trevi Fountain and the Borghese Gallery. If you are a sightseeing nut or history nerd, Rome is truly your nirvana.
It was the first time I tried cannoli (if you haven't had it before, you must; it's essentially a tube-shaped pastry filled with sweetened cream… what could go wrong?). Unfortunately the first cannoli I tasted was horribly stale but I, not one to religiously follow the mantra of 'first impressions count', tried another. It was divine.
It also happened to be the first time I almost missed a flight as a result of an unshakable desire to find the best pizza in Rome. Clearly the fate Gods are foodies – my flight home was delayed thereby facilitating my mission. I believe I did find the best pizza in Rome: a cute pizzeria called San Marco, located on Via Sardegna. Definitely worth a visit; no booking necessary (thankfully!).
It was also the first time I tried a wine made from the Italian grape, cesanese.
Trying perilously hard to avoid 'tourist trap' restaurants on the main piazza, on Saturday evening I stumbled upon a hole-in-the-wall trattoria located just behind Piazza Navona. This restaurant had an extremely streamlined wine menu: just one red available by the glass. It was made from cesanese, a grape I knew little about it when I ordered it.
I've said it before, and I'll say it again: boasting over 2,000 registered grape varieties, Italy is the most diverse wine-producing country. There are some wines that are extremely popular and well-known; there are others that even self-proclaimed 'winos' blink at with eyes of ignorance. Cesanese probably belongs in the latter camp.
Cesanese (sometimes known by its full name cesanese comune) is a red grape variety primarily grown in Lazio, a region in central Italy that surrounds the capital city. In keeping with Rome's extremely rich history, it is generally believed that cesanese was used by the Romans for producing wine many moons ago. Production and consumption of cesanese wines are both declining – now it is rarely found outside the Lazio region. The grape typically results in a lighter-bodied, low-tannin, fruity wine; although it lacks the complexity and body of Tuscan wines, it was pleasant, enjoyable and paired extremely well with the local fare. I drank it alongside a fillet of grilled cod served with tomato, olive, courgette, aubergine and enough olive oil to counter the healthiness of the meal.
Grapeful is a mobile app that helps you pair wine with food, discover new wine styles, view wine lists of certain restaurants, share wines with friends, impress a date with fun facts about wine, and much more. The app is available to download for free from the Apple App Store and the Google Play Store.
---
Sample the flavours of Rome: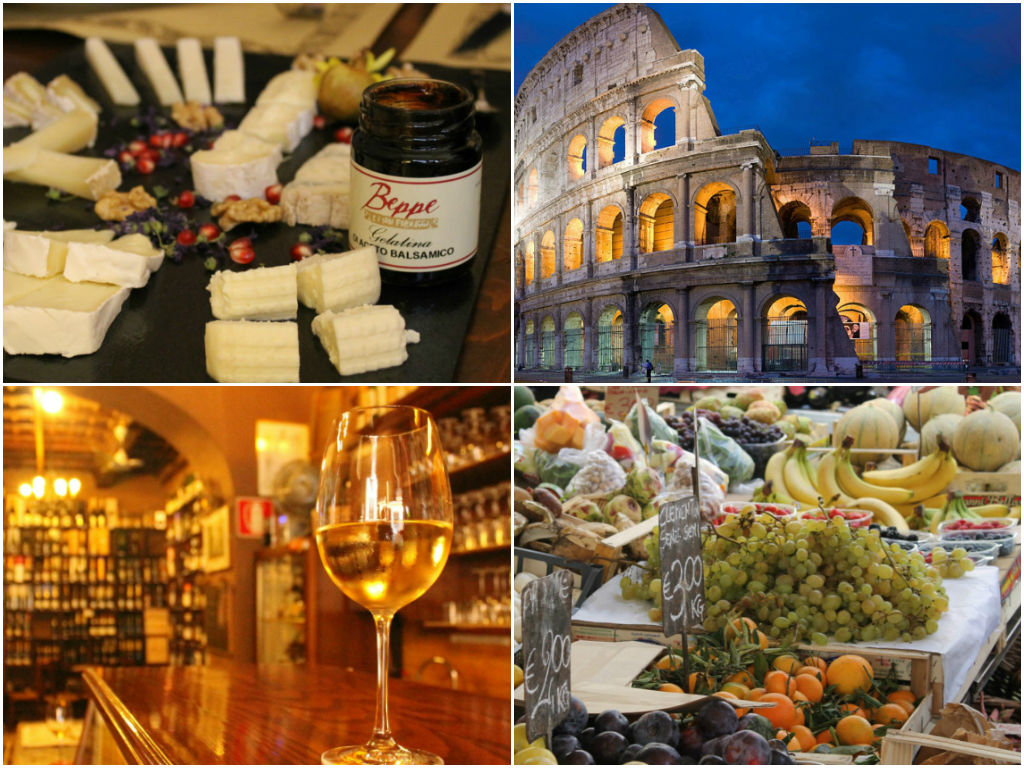 Enjoy a Taste of Testaccio – Rome Food Tour – Visit the original foodie neighbourhood (Testaccio) where cucina Romana (Roman cuisine) was born for 12 tastings at 9 venues. From €45.

Wine Tour in Rome – Taste 5 Italian wines at 2 unique wine bars . From €85.

Food and Wine Walking Tour – Enjoy exploring Italian food in a cultural context. From €95.