Trying the cuisine of a new place can be daunting. Luckily, the food of South Africa is colorful and inviting, filled with interesting and dynamic flavors that are sure to please your palate. Obviously impacted by the Dutch, French and Malay influences throughout the years, these cultures have helped define South African cuisine. Add these to your 'must-try' list, and you'll be sure to feel as if you're authentically eating and drinking like a South African.
Bobotie

Photo Source: http://portandfin.com/bobotie
The must-try food while visiting South Africa is bobotie, which is also the national dish. Bobotie is cooked in most homes and restaurants in the country. Similar to meatloaf but with raisins and topped with baked egg, bobotie is made with beef or lamb, garlic, bell pepper, milk and onion and is frequently served with yellow rice, banana slices and chutney. Extra points if you try the dish with sambal; a popular hot sauce loved by the locals.

Amarula Dom Pedro
If you can, imagine an adult milkshake, made with vanilla ice cream, heavy whipping cream and shots of Amarula cream liqueur. Amarula Dom Pedro is not just a drink that thinks it's a dessert (or is the other way around?), but it's also the boozy drink of South Africa. Amarula liqueur is made with the fruit of the African marula tree and is slowly making a name for itself in other parts of the world. Often served in a wine glass and topped with chocolate shavings, this is a delicacy we can certainly get behind.
Boerewors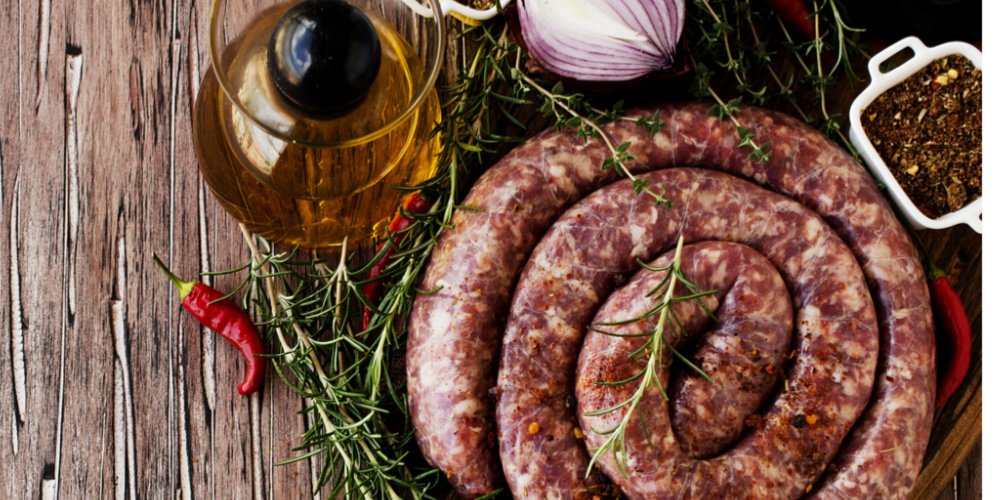 Photo Source: https://doorbelldeli.com/products/boerewors
In Afrikaans, the language of southern Africa, "boer" means farmer and "wors" means sausage. Aptly named, Boerewors is a swirl of sausage made of coarsely minced beef, pork and lamb. It is often 'braaied' or grilled over charcoal and typically contains many spices, usually coriander seed, nutmeg, cloves, black pepper and allspice. Try this one alongside 'pap', a traditional South African porridge made from mielle meel, to get the full local effect.
Biltong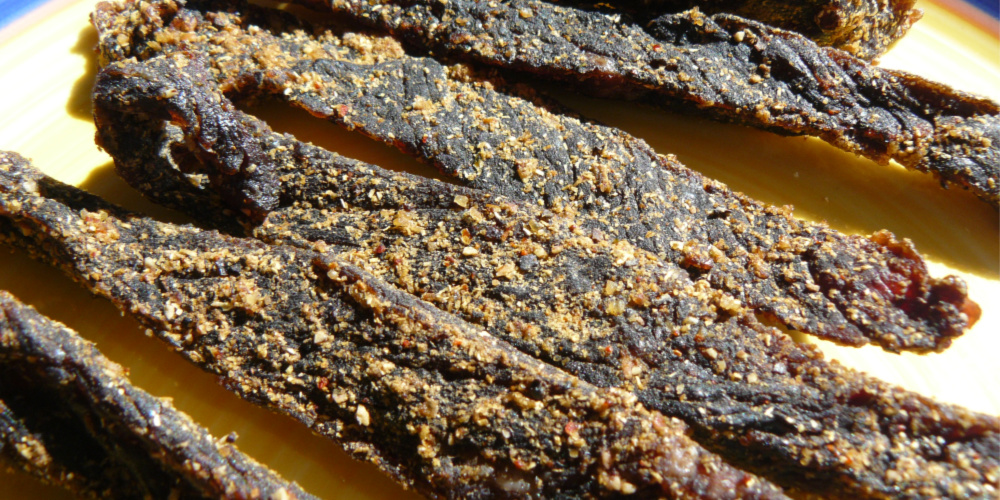 Photo Source: https://scibraai.co.za/biltong-research-on-a-tropical-island
What's dried and dark and the perfect snack? Biltong, of course. Similar to American beef jerky though much thicker, biltong is dried, cured meat seasoned with black pepper, coriander and vinegar. In Dutch, 'bil' means rump and 'tong' means tongue, neither of which are running endorsements for the food, but it didn't choose its name. Locals swear by it, making it one of the most-loved snack of South Africa.
Milktart
The proof is in the… tart. "Melktert" in Afrikaans, this pie-like dessert is extremely popular among South Africans. Made with a sweet pastry crust and a filling consisting of milk, sugar, flower and eggs, milktart is possibly the most familiar item on the list. It can be found at most supermarkets in South Africa, though every family seems to have their own secret version of the classic recipe passed down from generation to generation.
Photo Source: https://dishanddelite.com/milk-tart
Want to know more about South African food and drink? Why not go there yourself? Check out our food and wine experiences in South Africa! Perhaps you're looking for some wine knowledge? Here's our piece on Pinotage. And if you still need more inspiration to go, here are 5 reasons to visit the Cape Winelands. Cheers!