There's a lot to celebrate in the Languedoc! From world-beating produce such as truffles, apricots and olives, to the long and venerable history of the region, and of course the plethora of outstanding wines, this is a part of France that truly has a festival to celebrate every occasion and suit every taste. Live music, parades, markets and even dragons and water jousting (not together, I might add, although dragons doing water jousting is an event I think we'd all love to see) all have their place, and regardless of the occasion you're guaranteed a good time. There are literally hundreds of festivals taking place throughout the region at all times of year, and we've picked a few of the best to make your Languedoc experience even more special.
Pézenas: Le Poulain Festival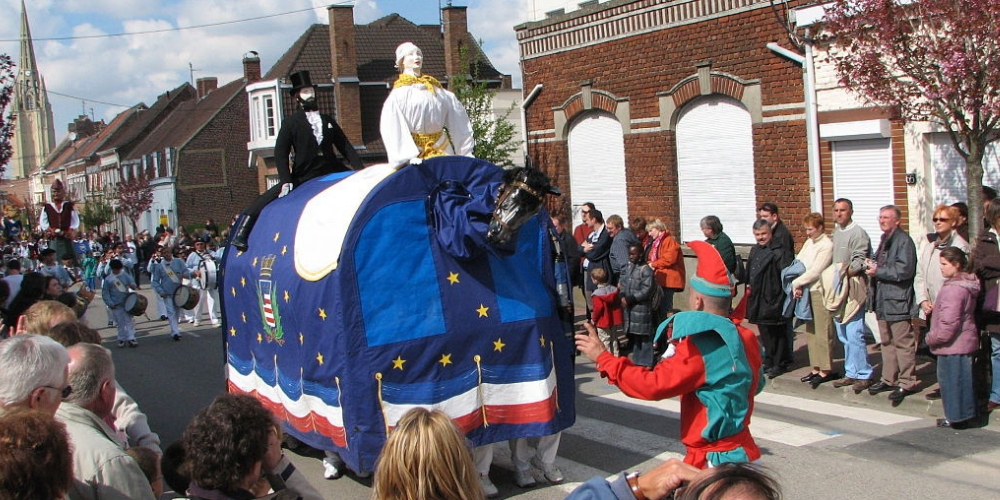 Picture credit: commons.wikimedia.org
Like many other small towns in the region, Pézenas, nestled between Montpellier and Béziers, has a 'totem animal' as a kind of local mascot. Le Poulain is a gigantic hobby horse which appears at Mardi Gras time and is paraded through the streets (well, pushed by willing volunteers from the local rugby club) accompanied by a band and hundreds of cheering onlookers, in order to herald the beginning of three days of celebration before Lent commences. A great one for the hedonists, as is any Mardi Gras celebration across the region – things tend to get raucous!
Narbonne: Les Estivales de Narbonne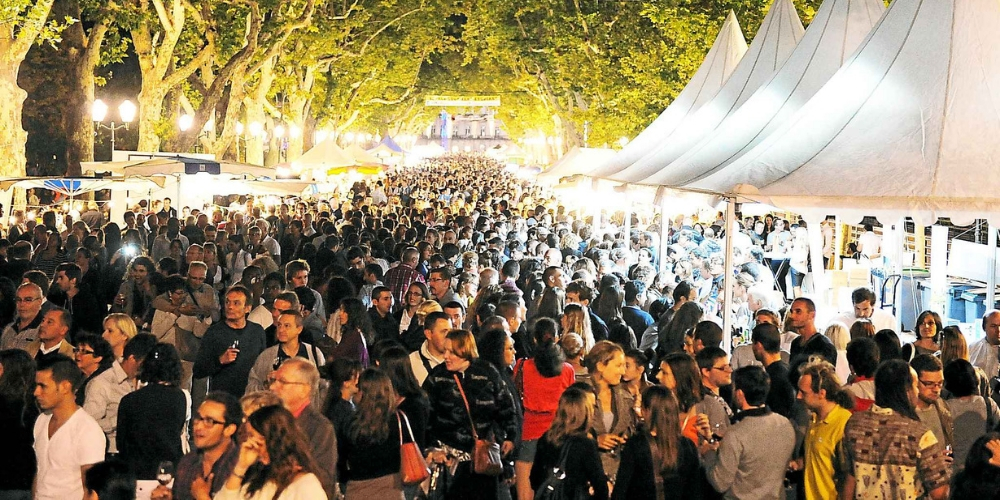 Photo credit: untitledmag.fr
Narbonne is a great place to be on Friday evenings in June, July and September thanks to Les Estivales de Narbonne, a warm and welcoming wine tasting festival in the heart of the beautiful town. Local winemakers from surrounding La Clape come together with farmers and manufacturers of local produce to exhibit the region's wonderful gastronomic culture in the heart of the pretty city. It has a homely, farmer's market feel and offers a perfect way to spend a balmy Languedoc summer evening – surrounded by food, wine, music and convivial local people.
Saint-Gilles: Feria de la Peche et de l'Abricot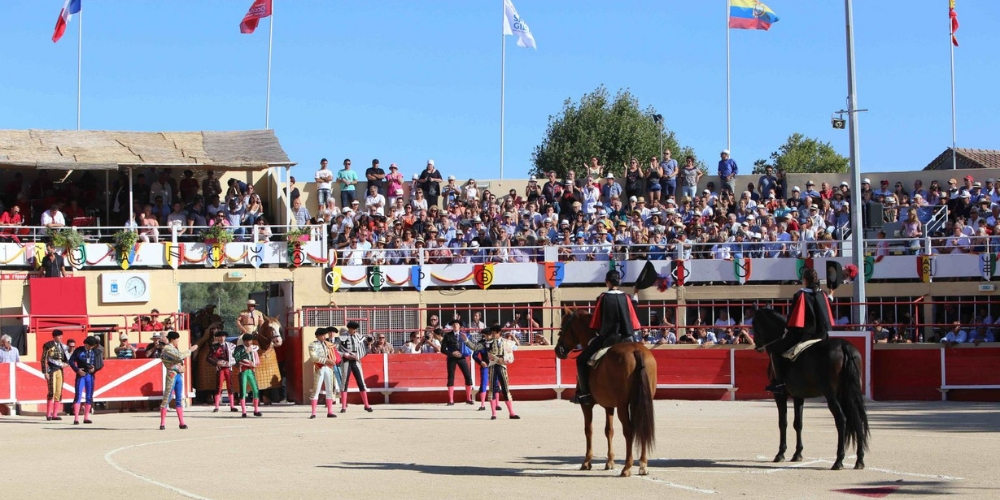 Picture credit: toriltv.com
The Peach and Apricot Festival takes place for 5 days in August in historic Saint-Gilles, known by locals as 'the gateway to the Camargue'. However, there's a whole lot more to this event than just two of our favourite stone fruit; it's actually dominated by traditional bullfighting, with parades for the matadors and bull and various events taking place throughout the festival. However, if bullfighting isn't your thing there's plenty more to see and do, with gypsy bands, processions and dancing every day. On Saturday, an incredible show of horsemanship takes place as the famous white Camargue horses are ridden at full pelt through the streets.
Sète: Fete de la St-Pierre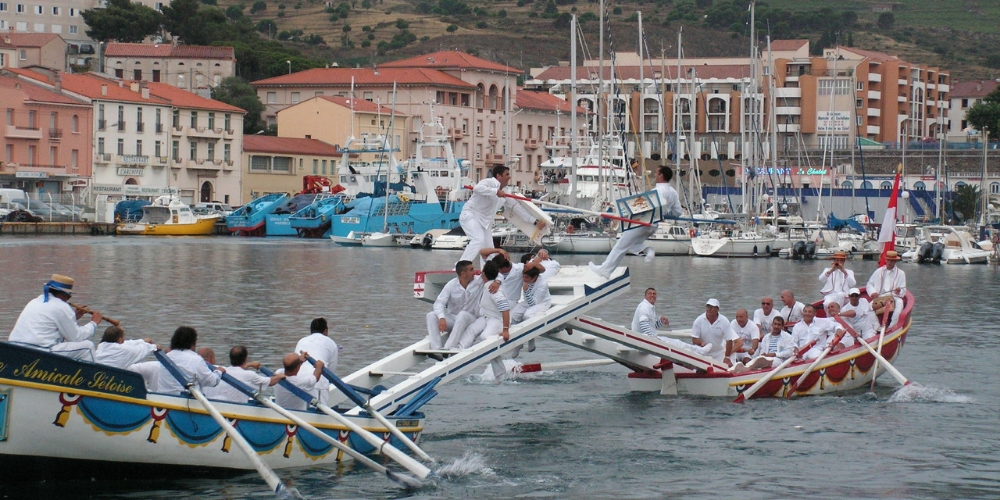 Picture credit: ouillade.eu
The Fete de la St-Pierre, or 'Saint Pierre's Atonement Day', is a hugely popular celebration for the inhabitants of thriving port town Sète. It's a fisherman's holiday, and on the first weekend of July a few days are taken to thank their patron saint and commemorate those missing at sea. A boat procession with a statue of St-Pierre himself takes place on the Friday evening, kicking off a weekend of carnival and festivities. The highlight for visitors is likely to be the traditional water jousting – dating back to 1666, this highly entertaining sport involves two huge white rowing boats, jousters mounted on the prow, which bear down on each other at high speed. You can probably guess where the loser ends up!
Montpellier: Cinémed International Mediterranean Film Festival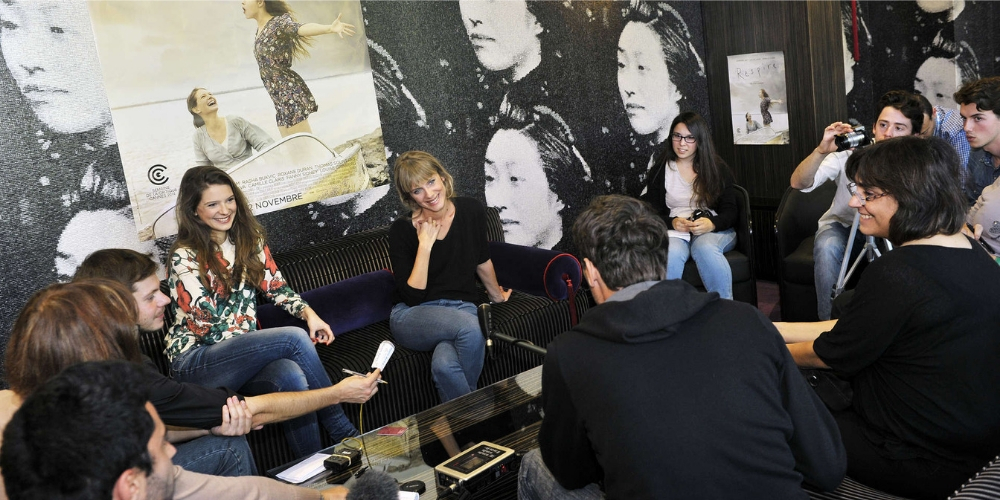 Photo credit: montpellier-france.com
A fabulous experience for cinema and film lovers, Montpellier's Cinémed is the second largest French film festival after iconic Cannes. Taking place in 2019 between October 18th and 26th, the star studded event has countless screenings of new short and long films, documentaries and animations taking place alongside exhibitions and special events, as well as a party or two!
Lattes: Les Estivales de Saporta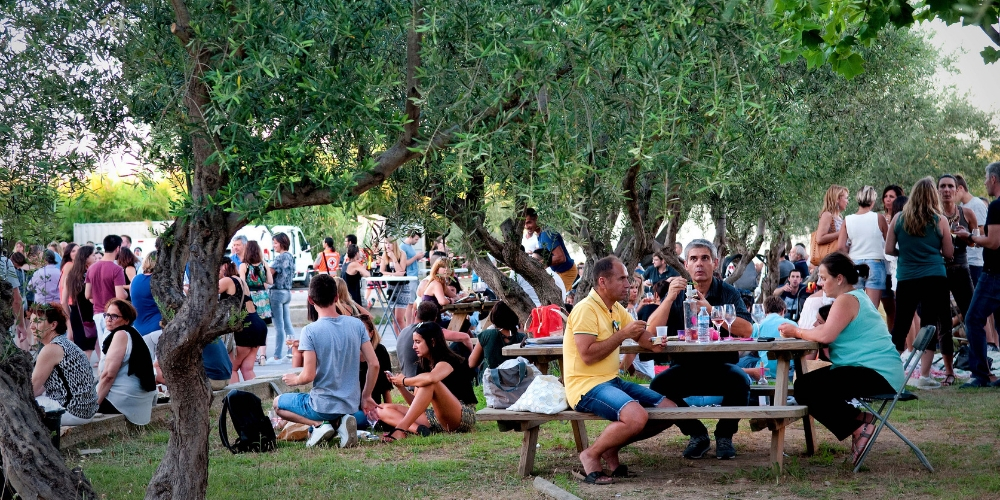 Photo credit: montpellier-tourisme.fr
Between July and September every year, growers from a whole host of Languedoc wine regions (including Pic Saint-Loup, Pezenas, La Clape and Saint-Chinian amongst many others) come together every Tuesday and Thursday evening to showcase their wines, allow visitors to meet the winemakers and demonstrate the passion and excitement of the Languedoc wine industry first hand. For the bargain price of €5, visitors can enjoy a huge range of wonderful wines accompanied by live music on Tuesdays and a selection of the region's best cuisine including oysters, meats, cheeses and ice cream!
Béziers: La Feria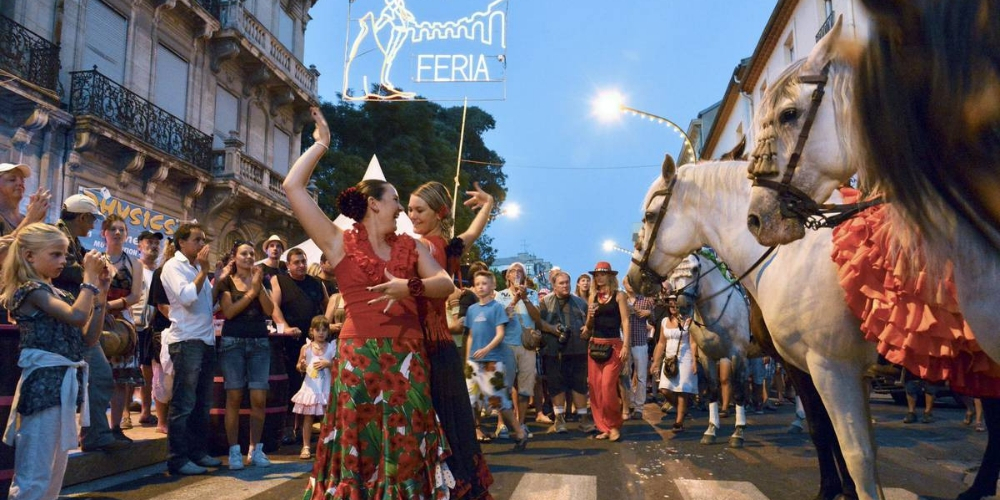 Picture credit: beziers-in-mediterranee.com
La Feria is without doubt the biggest and brightest festival in the whole Languedoc region – attended by upwards of one million people each year, it is an extravaganza like no other and locals view this event as an important part of the city's cultural fabric. Each August, Béziers is overwhelmed by revellers who come to celebrate the region's proud bullfighting heritage. Centred around the huge arena, spectators can witness a spectacular show from the matadors before taking to the streets to party until dawn with, acrobats, horse shows, live bands, flamenco dancers and every kind of cuisine imaginable on offer. A truly once-in-a-lifetime experience.
Top tip: if you want to blend in with the crowd, go dressed in the traditional colours of red and white.
If you liked this article, check out our Guide to the Wines of Languedoc and top 5 to eat and drink in the Languedoc. And find out in this article which are the best Languedoc wines for summer.