Dubrovnik's ancient trade rivalry with Venice is played out on the cultural front these days.
Each year, one of oldest cultural festival in Europe attracts thousands of culture lovers from across the globe. The historical city of Dubrovnik (listed as a World Heritage site in 1979) is the center stage of the festival, hosting its 65th international Summer Festival from 10 July to 25 August 2015.
More than 80 open air venues scattered around the Renaissance-Baroque city will host the world's most famous composers (Czech Philharmonic, the Hallé Orchestra, the French Radio Orchestra, the Suisse Romande Orchestra, the RAI Symphony Orchestra just to name a few), dancers, comedians and orchestras.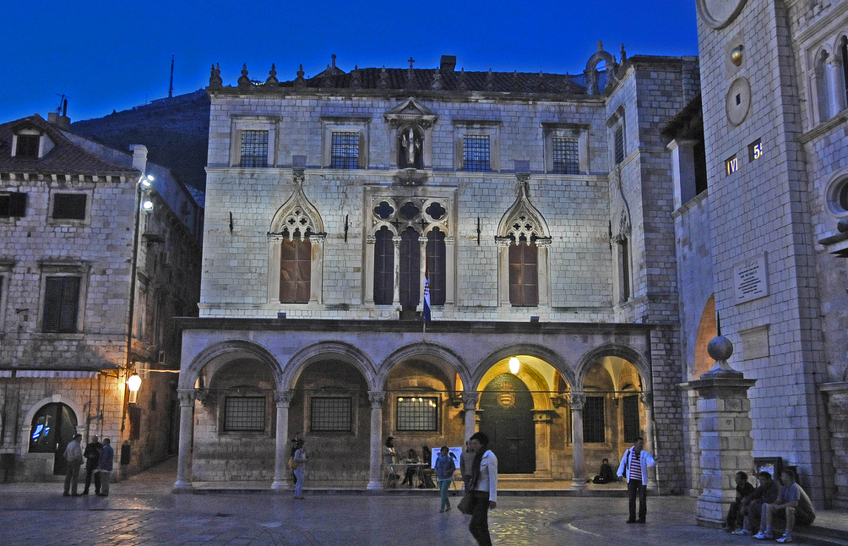 Credit: en.wikipedia.org. The Sponza palace where 30 photographs by the famous French photographer Max Riboud are being exposed until the 13th of August 2015.
After enjoying a fun cultural day, take a break in one of the city's cafés. Croatians love their coffee at any time of the day (ask for a turska kava, a strong turkish coffee). If it's wine o'clock, why not ask for a glass of Prošek, a dessert wine (you can also have it as an aperitif with a slice of lemon) made from dried grapes?
For a list of weekly events check out the official website calendar: http://www.dubrovnik-festival.hr/en
Fancy a wine tour?
If you find yourself in Dubrovnik this summer, you must discover the local wine traditions on one of Winerist's popular wine tour – full day tour with a guide in Dalmatia.
Enjoy a full day private excursion from Dubrovnik to the Peljesac peninsula where some of Croatia's finest wines are cultivated with a visit to three independent winemakers.