History has so much to offer us in terms of lessons, discoveries, and alcohol. Many distilling techniques still used today were originally implemented decades ago and quite a bit of spirit still lies deep in cellars of both defunct and thriving distilleries, untouched from the day they were put into barrels. Without the folks over at The Last Drop, these hidden gems may never see the light of day. They've searched high and low for the most unique and rare spirits buried in distillery cellars across the world. With only 12 releases in 10 years, here are some of their finest and most exclusives spirits to try…
A Duo of Colheita Tawny Ports, 1870 and 1970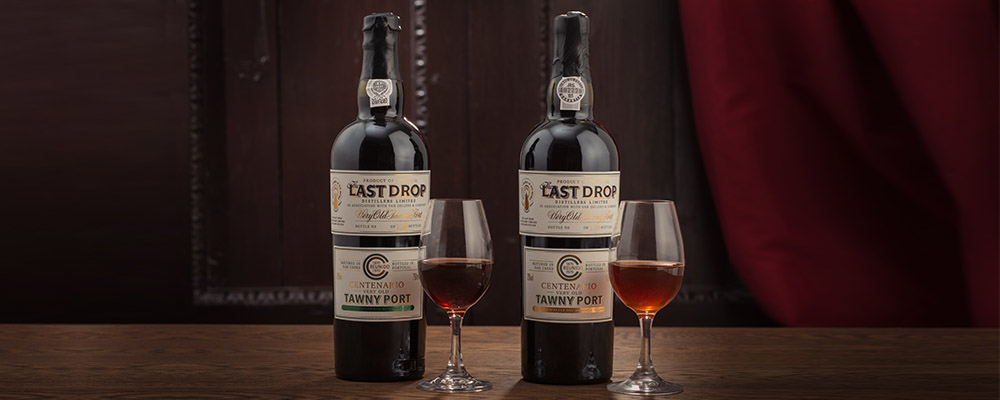 Photo Credit: lastdropdistillers.com
A century separates these two ports, though they hail from the same vineyard. Prying these ports from their original creators was a task in itself. In the Douro, laid untouched casks of Colheita Tawny. The Last Drop coaxed the valuable and protected casks from the van Zeller family to share with the world. So, while Tchaikovsky was composing, Monet was painting, and Lenin had just been born, the grapes for the 1870 Tawny were being plucked from the vines. Tasted in comparison with the 1970, this is truly a rare opportunity to own a duo of ports of such stature.
Glenrothes Single Malt, 1968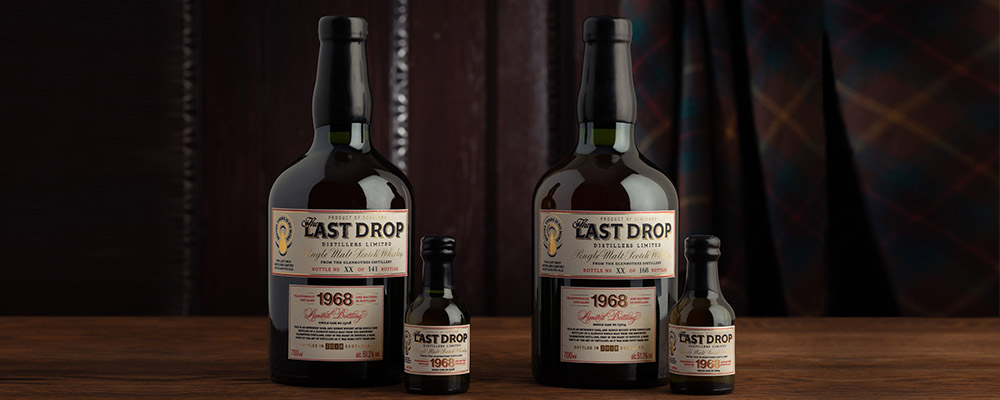 Photo Credit: lastdropdistillers.com
In 1968, two events shook the world: Apollo 8 became the first manned spacecraft to orbit the moon and Martin Luther King was assassinated in Memphis. While the world was both cheering and mourning, two casks were filled with an impressive single malt in a quiet corner of North East Ireland. With those worldly events still being talked about, those poor casks were forgotten. That is, until, The Last Drop uncovered the liquid gold and bottled it for their customers. It is only the second single malt they've ever released, and it sure is an exquisite one. Embodying the quality and tradition of its time, this malt is distinct and undeniably unique.
The Last Drop Cognac, 1950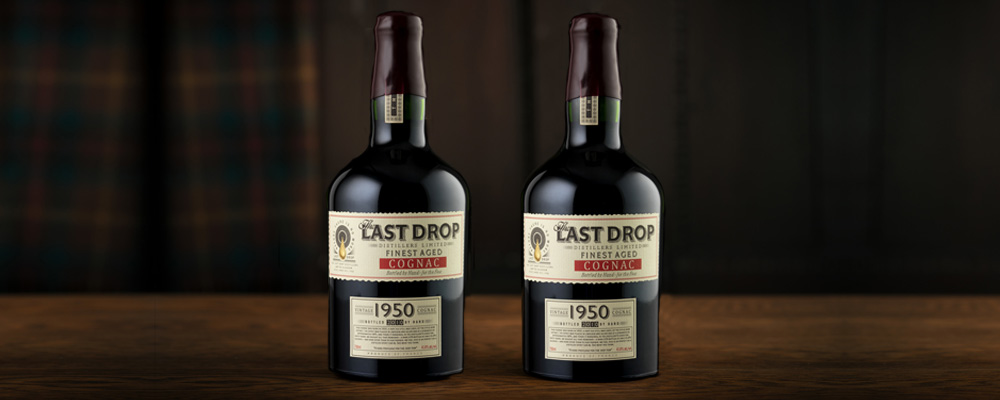 Photo Credit: lastdropdistillers.com
While the world was first introduced to Charlie Brown, Snoopy and the rest of the Peanuts crew, a cask belonging to a very small distillery deep in the woods near Cognac was filled with the same joy as those characters brought to the world. The wine was placed in that cask shortly after being distilled in an old-fashioned, wood-fire copper still. With Peanuts enduring many decades later, so did this cognac. Once discovered by The Last Drop, most of the liquid had evaporated but what did remain was nothing short of incredible. Only 478 bottles exist; a truly rare find indeed.
Dumbarton Single Grain Scotch Whisky, 1961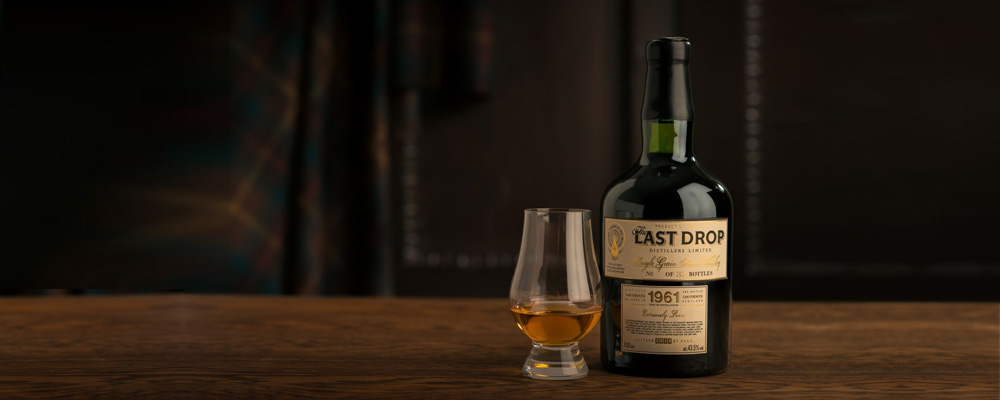 Photo Credit: lastdropdistillers.com

Scottish Grain whiskies are uncommonly enjoyed on their own but rather used as a popular component in blended whiskies. As such being the case, The Last Drop set off on a hunt and located an almost empty Dumbarton Distillery cask. 1961 was a year that graced the world with the ever-charming George Clooney, the tactful and intelligent Barack Obama, and the popular Michael J. Fox. 1961 was also the year that this Dumbarton Single Grain Scotch whisky was placed in a cask to age. The remaining 32 bottles (yes, only 32!) of the now closed Dumbarton Distillery are an impossible find. Equivalently as impactful as those it shares the same birth year with, this Scotch whisky is truly a taste of Scottish distilling history.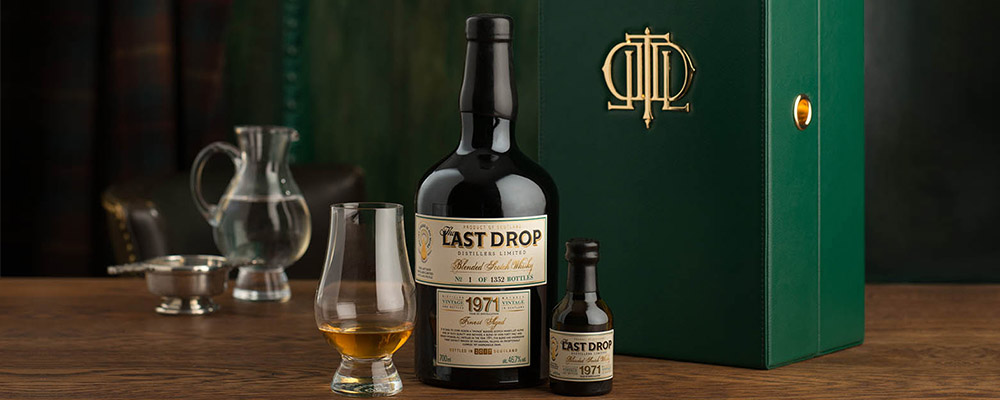 Rewind to 1971…Disney World was opening its doors unleashing magic on America, the world was entering major technological advances, this Whisky Tour was born. First blended in 1983, then places in ex-sherry butts for another 9 years, then left in barrels for a further 24 years. This triple matured Whisky Tour is a harmony of complex flavours that displays its wisdom of 45 years in the making.
In case you missed it, each spirit in The Last Drop's premium collection are available in extremely limited quantities. To enjoy, check out their stockists or email Alex (alex@lastdropdistillers.com) for more information.
If you want to find out who is behind the making of these rare and unique spirits then click here.