The Tokaj region, about 200 kilometres northeast of Budapest, sits in the foothills of the Carpathian mountains. As Michael Broadbent described in his Great Vintage Wine Book, "Perhaps the most remote and strange of all the great classic wines, Tokaji comes from a small district in Hungary which is little more than a perfectly formed vine-clad hill about 30 miles from the Ukraine border – surely conceived by the romantic imagination of some Transylvanian god."
This classic Hungarian wine region is best known for Tokaji Aszú: gorgeously honeyed, lavishly sweet wines of such balance and precision that they easily transcend the menu from desserts to accompany fine savoury meals. The history of this legendary wine stretches back centuries from being coveted by royals to confiscated by communists and is possibly the world's first designated wine appellation (debated with Douro and Chianti). What's less widely known is that Tokaj also comes dry. Indeed, a wide range of wine styles are waiting to be discovered here.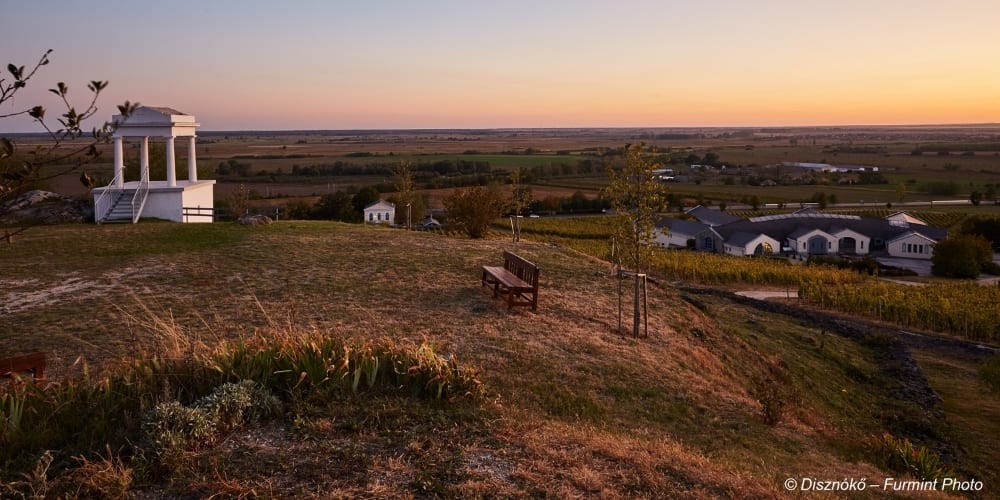 One of Tokaj's leading producers – in terms of quality, size, and global reach, is Disznókő, who is owned by AXA Millésimes. The French insurance giant, with a number of first-class wineries in its portfolio, saw potential here and invested heavily in a modern winery designed by award-winning architect Dezső Ekler.
The grand three-story building makes use of natural light and gravity flow, and each floor represents a phase of the grape and wine processing in Tokaji production. It is completed with an ageing cellar, carved into the solid rock below the estate.
Disznókő is one-of-a-kind in Tokaj for its unique single-site vineyard. It is the largest holding in the region, yet far more than a single terroir – as its various aspects, soil types, and elevations make for numerous blending opportunities and experimentation.
Noble conditions for Noble Rot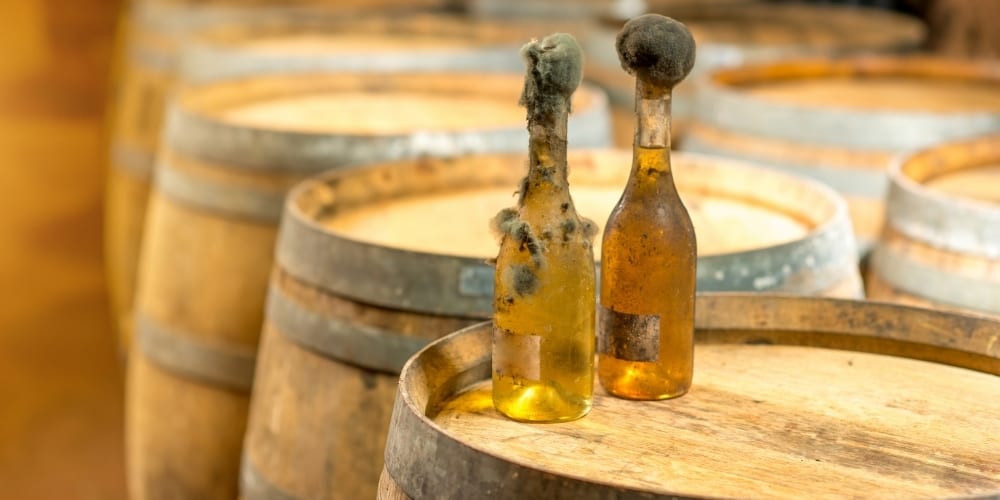 In order to truly appreciate Tokaji Aszú, one must understand Botrytis, otherwise known as Noble Rot. Botrytis Cinerea is a type of fungus responsible for creating some of the greatest sweet wines in the world, particularly the world-famous wines from Sauternes, parts of the Loire, Alsace, and Germany, and of course from Tokaj.
The role Botrytis plays in sweet wine production is in drying out the grapes while they are still on the vine, dehydrating them and thus concentrating the natural sugars. It also imparts unique and amplified flavours of ginger, marmalade, saffron, and honey which make the wines all the more complex.
Botrytis is one of the great miracles of the wine world. Without the perfect proportions of morning humidity and afternoon warmth it cannot thrive. The climate at the Disznókő estate above the vast Hungarian Plain, where humidity drifts from the nearby Bodrog and Tisza rivers, and the warm autumn days followed by cool nights,  provides the perfect conditions to encourage Botrytis spores to take hold. Balance is everything in this equation: too much warmth and it won't grow, too much humidity and it turns into an undesirable grey rot. Therefore the regions where it works are truly blessed.
Golden grapes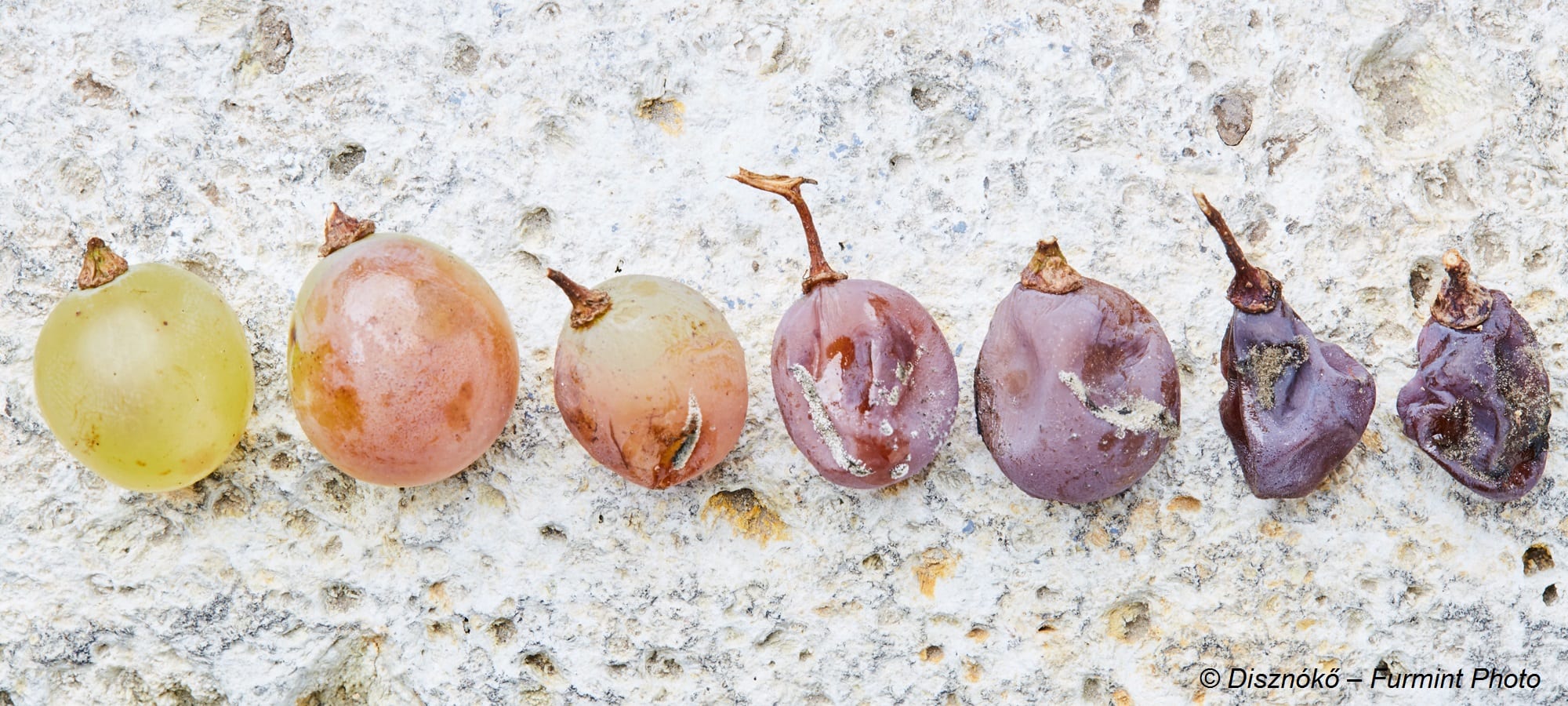 The Disznókő estate is planted with four of the six white grape varieties of the Tokaj wine region:
70% is planted with Furmint: The noblest and most ancient Tokaj variety that gives firmness and strength to the wines. It ripens late, has a lively acid character, and easily takes on aszú quality.
20%  is planted with Hárslevelű (pronounced Harsh-level-oo): this is another local variety with big loose clusters, conveying a pleasant bouquet and softness to the wine.
9% is planted with Zéta: a relatively new variety that was created by crossing Furmint with Bouvier. It ripens early and becomes an aszú grape extremely easily.
1% is planted with Sárgamuskotály (Muscat Blanc): an aromatic early-ripening variety, the oldest member of the Muscat family, also known as Muscat Blanc à Petits Grains in the South of France.
A harvest of many parts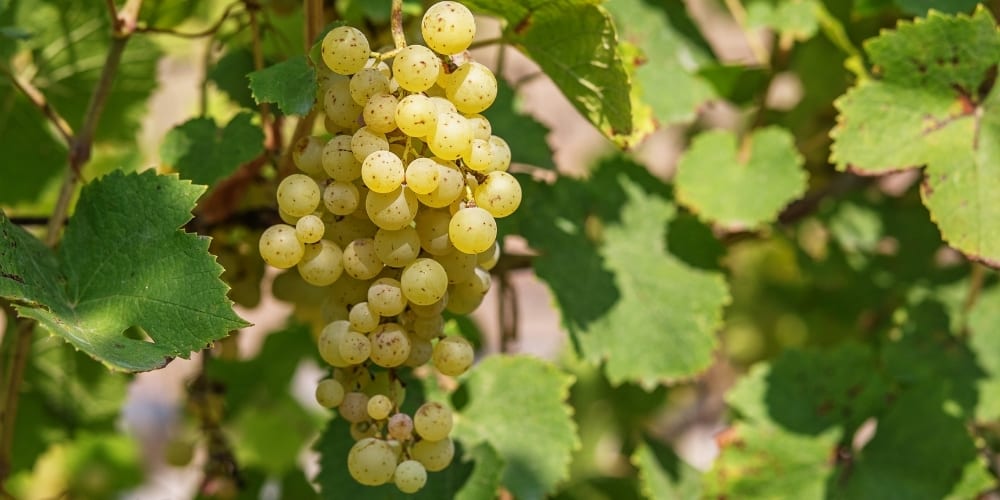 The highly selective manual harvest takes place in Tokaj from late August through to early November, and requires many passes through the vineyard.
The harvest happens in multiple stages with the state of the grapes dictating their fate in the bottle.
The first harvest is for the fully ripe grapes, but before the onset of noble rot, which will be fermented into dry white wine. These grapes are used to make Disznókő Tokaji Dry Furmint and Disznókő Inspiration, while others are for the base wine required or the Aszú vinification.
Next pass through the vineyard occurs in late October, or early November for clusters or part-clusters covered with noble rot. These shrivelling berries are destined to make Disznókő Tokaji Late Harvest, and with the more concentrated grapes, Disznókő 1413 Tokaji Édes Szamorodni.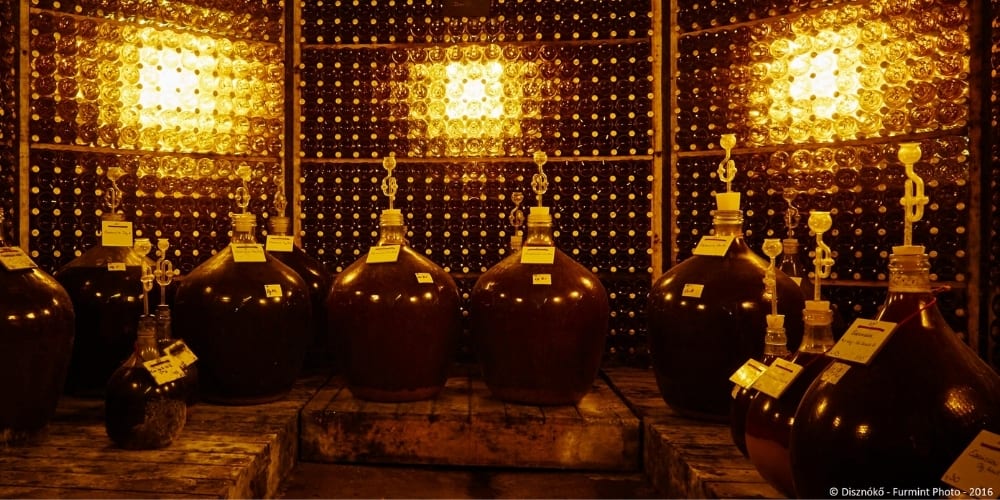 Picking aszú berries is particularly labour-intensive and demands great skill from the harvesters. The individual berries on each cluster develop at different rates and are selected one by one. The harvesters pass through the entire estate two to four times to capture each aszú berry at its optimal state, and often return with a mere 6-10kg a day.
Regarding the 2020 harvest, director of the estate, László Mészáros, revealed, "It was a very difficult harvest this year. It was a cool, rainy year with late ripening. I was still optimistic in September thinking we would have good botrytis, but finally October was very wet which diluted the concentration in the aszú berries. We'll still have some very good wines, but they will be lighter in style." As the adage goes it's in the difficult vintages where the best producers shine, so there's no doubt Disznókő will come out with an impressive range. "We already had difficult vintages like this in 2014 and 2010, and we managed to make good wines, so I am sure we will have good results," assures Mészáros.
Golden craft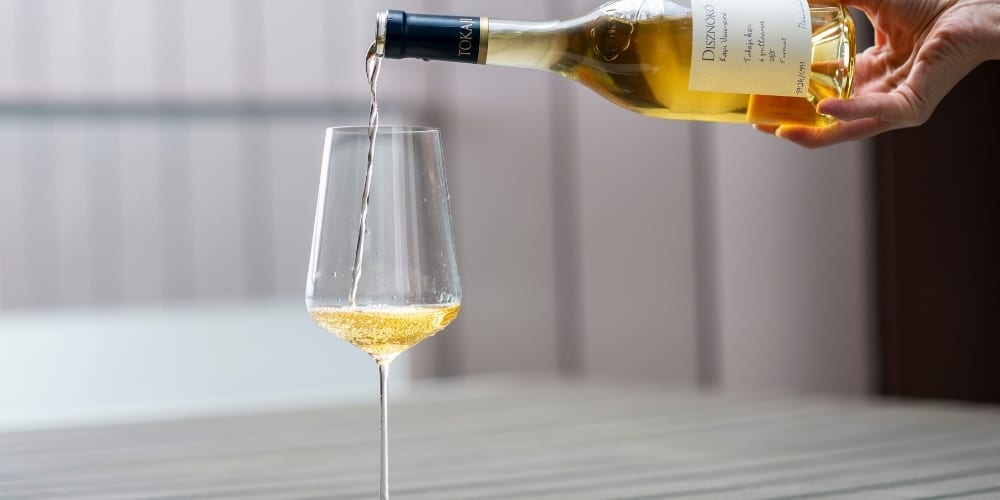 Once the aszú berries are gathered they are stored in large casks where the weight of the berries creates naturally free run juice to be syphoned off for Eszencia. The remaining nearly dried out aszú berries are mixed with a dry base wine or fermenting must and left to macerate for 12 to 60 hours.
This period of skin contact is essential for extracting the sugars, flavours, and acids needed for a balanced and complex finished wine.
The proportion of aszú berries to wine indicates the concentration and sweetness level. This is denoted with the word puttonyos, identified as 5 or 6 puttonyos.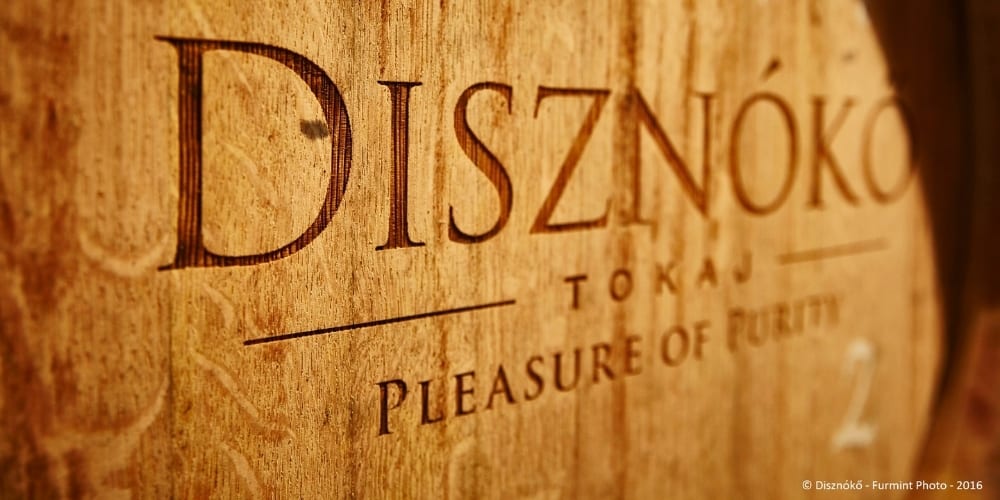 Once the maceration is complete the aszú paste is pressed off and the remaining wine continues its fermentation until the desired balance in sugar and alcohol is reached.
These wines continue their journey in the cellars where they age in old and new Hungarian and French oak barrels, regularly tasted to monitor their development.
The final step is a blind tasting of all the plots that have been individually fermented and aged to determine the best blends. It is undoubtedly a highly skilled, labour-intensive process from vineyard to bottle, but the wines speak for themselves. As Andrew Jefford so eloquently once summed up, "There is no dessert wine in the world that can rival Tokaji for life and vigour- and perhaps for intensity and complexity too.
All this can be experienced by visitors to Disznókő through a series of guided tours of the estate, its winery and cellars below, together with a wine tasting in the historic cellars under the original press house.