The picture-perfect English county of Kent is undoubtedly one of the most abundant and beautiful of the Home Counties. From the iconic White Cliffs of Dover and the breath-taking North Downs to the myriad of verdant countryside and the soaring architecture of Canterbury Cathedral, Kent truly epitomises William Blake's description of England as 'a green and pleasant land'. However, the 'Garden of England' is undergoing something of a rebrand – with over 50 active wineries now busily producing wine across the county, a number have banded together to take this reputation a step further and create the 'Wine Garden of England', a wonderful wine trail wandering through some of the county's most exciting winemakers. Discovering the wineries of Kent has never been easier … and our guide to some of the best wineries in the region is a great place to start!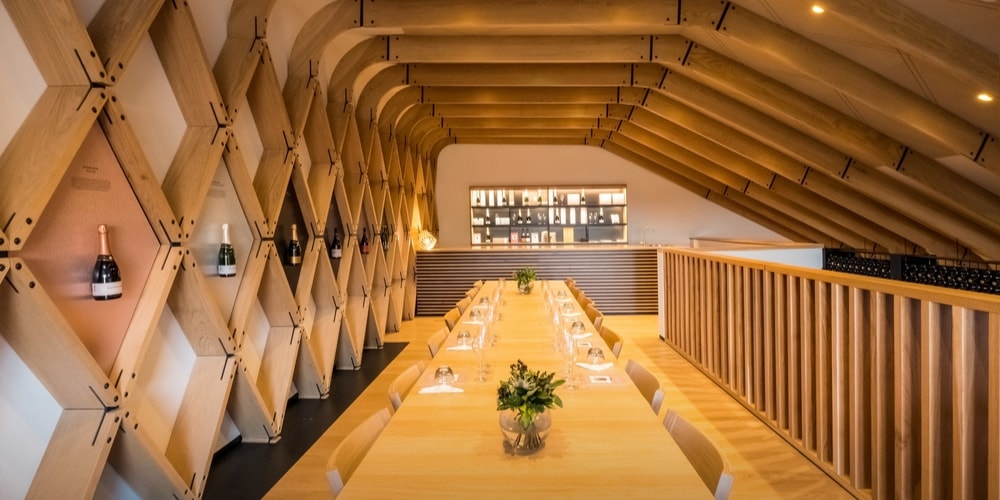 Photo credit: Gusbourne Estate
The Gusbourne Estate rather poetically describes itself as 'the home of enlightened traditionalists' – but despite the flowery language, the aim of Gusbourne's owner Andrew Weeber could not be clearer. Quite simply, the mission of this estate is to produce the finest English sparkling wines, capable of holding their own against the best bottles from around the world. Ever since the first vines were planted here in 2004, the estate has single-mindedly pursued this vision with incredible tenacity – an approach which is undoubtedly paying off, with Gusbourne winning the prestigious 'English Wine Producer of the Year' at the IWC awards no less than three times, most recently in 2017.
Gusbourne's enviable position is just a stone's throw from the beautiful South Coast and windswept beauty of Camber Sands, and within easy reach of historic towns such as Rye and Hastings, making this a spectacular spot to start your Kent wine journey. There are an impressive number of tours and wine tastings on offer, from a quick visit to the Tasting Room to a princely Estate Tour including drinks, nibbles, a 3-course lunch and access to some rare limited edition wines for just £95pp.

Biddenden Vineyards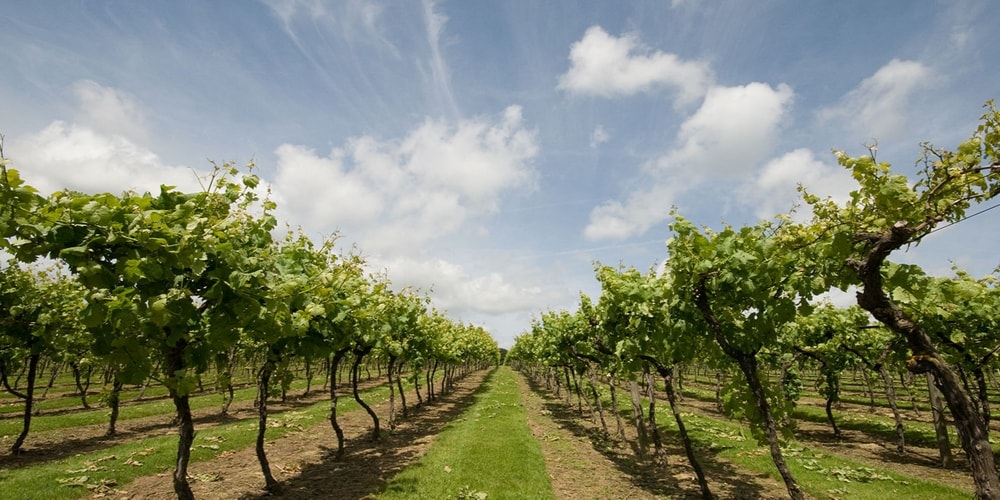 Photo credit: Biddenden Vineyards
Kent's oldest vineyard celebrated its 50th anniversary in 2019 and has the proud distinction of still being run by members of the original founding family. Since 1969, Biddenden has produced a wide range of wines under the practised eye of the Barnes family – and not just the sparkling wines which have become the hallmark of English wine production, but also an intriguing selection of still white, red and rosé, from German grapes Ortega and Dornfelder to the red Gamay (most commonly found in Beaujolais). True to the long fruit-growing traditions in Kent, Biddenden even create Kentish apple cider from local apples in a distinctly wine-like style!
Biddenden is open all year round, and casual visitors are welcome to drop in at their leisure to enjoy a self-guided tour through the vines and sample the delights of the on-site shop (don't forget your wellies if the weather is bad!) – or book in advance to enjoy an exclusive Meet the Winemaker tour through winery life with a member of the Barnes family.

If you'd like to take the hard work out of a vineyard tour of Kent, why not let Winerist show you the sights on our Private Kent Wine Tour from London? Departing from England's capital, spend a day with a private tour guide visiting three fantastic wineries, enjoying wine tastings and a picnic lunch whilst soaking up the incredible scenery of the Garden of England. Reserve your spot today!
Chapel Down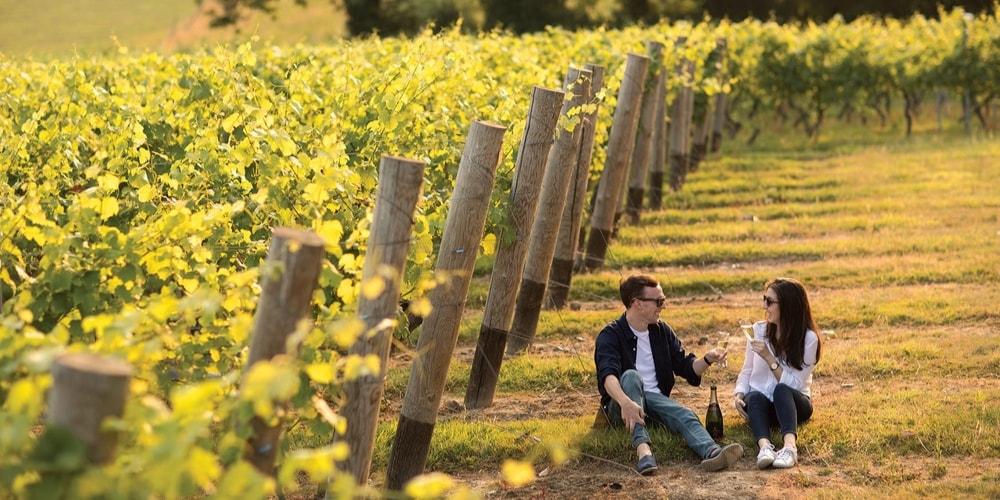 Picture credit: Chapel Down
One of the most iconic names in English winemaking, the Chapel Down logo is a regular fixture in some of the most prestigious restaurants and venues across the UK. Benefitting from ideal chalky soils similar to those of Champagne, Chapel Down has harnessed its seemingly endless dynamism and energy to create a truly impressive portfolio of still and sparkling wines which are amongst some of the most sought after of all English wines. Their single vineyard sparkling wines, known as Kit's Coty, are some of the most premium in not only Kent but all of the UK.

A visit to Chapel Down is a truly memorable experience. Set in an Area of Outstanding Natural Beauty close to the picturesque Kent market town of Tenterden, visitors are awed and inspired even before they reach the vineyard. There are regular tours and bespoke gift experiences available, as well as a foodie treat in the form of the estate's very own two AA Rosette restaurant, The Swan – and for those wanting to expand their vinous knowhow, there is even a wine school based here.
Winerist's Top Tip: The Chapel Down experience isn't just confined to the glorious Kent countryside. When in London, a glass of fizz or a classy cocktail at Chapel Down's very own Gin Works bar is a must-do. Find it just a five-minute walk from King's Cross Station, overlooking Regent's Canal.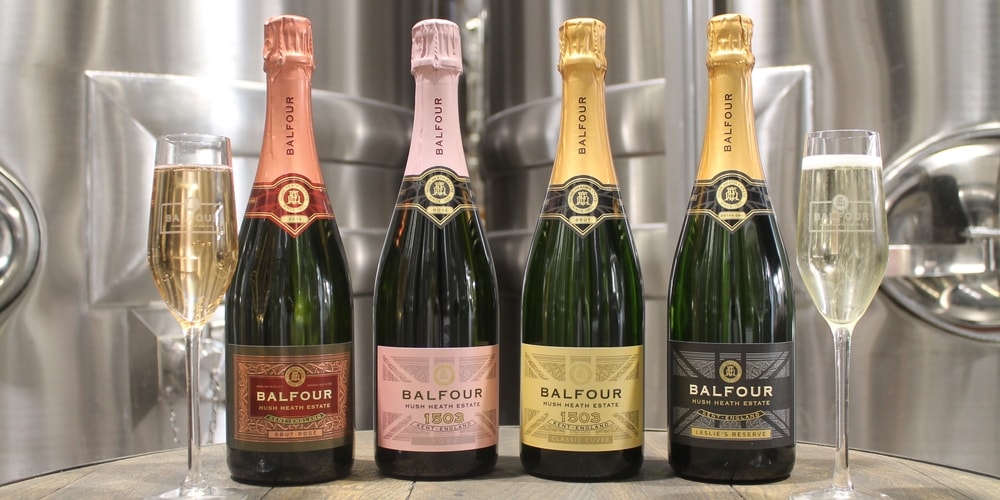 Picture credit: Hush Heath
Richard and Leslie Balfour-Lynn are the proud owners of the historic Hush Heath Estate, where visitors can discover not only the wonderful portfolio of Balfour wines, but also immerse themselves in the fascinating history of Hush Heath's 16th century manor house and the 400 acres of beautiful Kent countryside where the vines make their home. The estate is perhaps best known for its enduringly popular Balfour Brut Rosé, a classic blend of the traditional champagne grapes Pinot Noir, Pinot Meunier and Chardonnay, but also produces a range of other wines which are of course best discovered in a wine tasting session.
One of the best ways to enjoy the beauty of this spot is to enjoy a free-of-charge wander through the estate's idyllic nature trails before ending with a complimentary tasting in the state-of-the-art visitor's centre – or take in the entire winemaking process with an expert guide on a vineyard and winery experience tour from £25pp (concluding, of course, in a comprehensive tasting!)

Domaine Evremond
Picture credit: Domaine Evremond
Now, whilst no wine is yet being produced at Domaine Evremond, this joint venture between UK wine agent Hatch Mansfield and the prestigious Taittinger Champagne house is perhaps the ultimate seal of approval for Kent's winemaking industry. Recognising the huge potential of English sparkling wine, the partners of Domaine Evremond acquired and planted 40 hectares of prime south-facing chalk terroir in 2017 and will use generations of Champagne-making expertise to commence production of a new premium English sparkling wine in 2022. Watch this space!
For more information on these and other wineries in Kent, click here!
If we have tickled your tastebuds with this article, why not read up on our Best English Wines from Kent?