Set against the backdrop of the impressive volcanic caldera and surrounded by the glistening Aegean Sea, the beautiful Greek island of Santorini offers a slice of the Mediterranean to all visiting wine tourists.
Wine has been produced in Santorini for 1000s of years, and, whilst it may be small, there are plenty of wineries to visit, delicious dishes to try and a huge wealth of Greek history to uncover.
At Winerist, we recommend taking at least three days to explore the island and soaking up its natural beauty. With so much to do and see, we've narrowed down a few of our favourite tours and hotels to help you get started.
WINE AND FOOD TOURS IN SANTORINI
Santorini Wine and Food Lovers
Explore Santorini through a fun, yet informative wine tour followed by a culinary feast of local flavours and dishes. You will visit two traditional wineries to learn all about Santorini's viticulture and receive a mini wine-tasting tutorial. Plus, after enjoying plenty of Greek appetisers along the way, try your hand at preparing your own with a Greek cooking class. You'll go home an expert in all things delicious.
Why we love it? If you love Greek food then you have to do this tour – you'll go home an expert in all things delicious.
Price: from €125 per person
---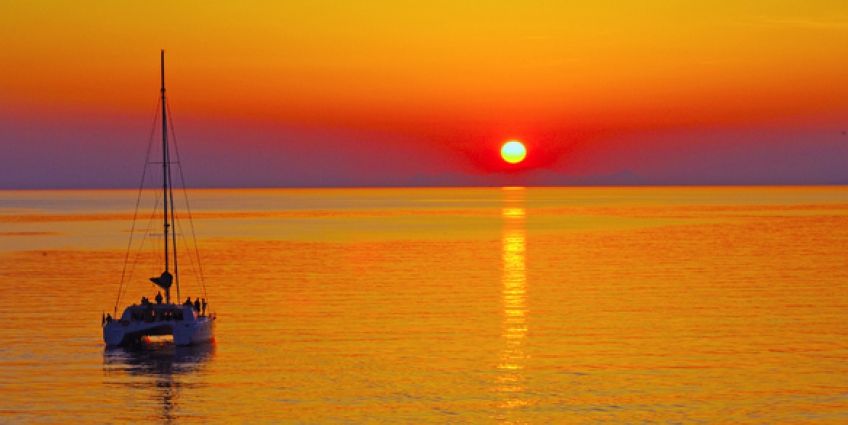 Sunset Sailing Tour with Wine Tasting
Spend an unforgettable afternoon sailing around Santorini's caldera. Swim around the craters and visit the hot springs before swimming and snorkelling at Santorini's famous Red and White beaches. Relax with a full dinner served aboard your private boat, which will be complemented with a wine tasting. Finish this tour off by soaking up the romantic sunset before heading back to port.
Why we love it? This tour is perfect for anyone who wants to relax in Greece's warm, blue water, and those sunset views are to die for! Just make sure your camera battery is fully charged before you set off.
Price: from €1500 per group. Group sizes range from 1-6 people.
---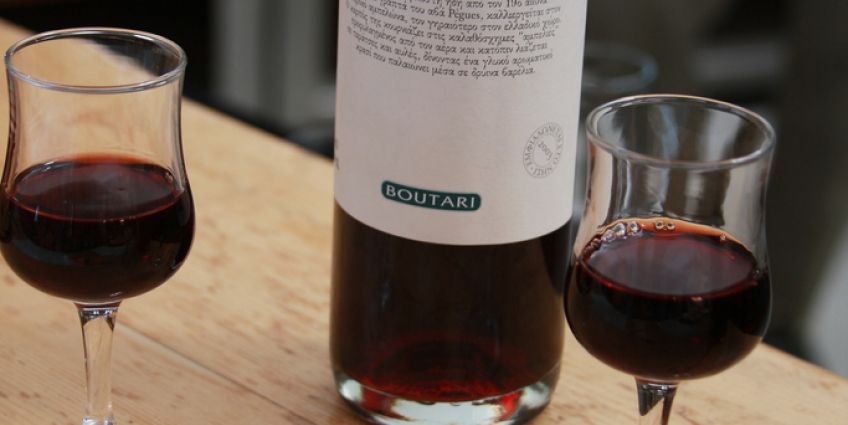 Santorini Trails of History and Wine
This wine tour is perfect for wine enthusiasts and history buffs alike. Enjoy a 5-hour tour of the Akrotiri Excavations where a Minoan volcano erupted 3,600 years ago. Explore this excavated city with an expert tour guide who will fill you in on its fascinating history. You will also visit 3 wineries to discover how the winemaking process has evolved and taste 12 wines along the way to help with your history lesson.
Why we love it? Santorini's history is so rich that it's hard to cover it all in one visit, but this is the perfect way to get a taster.
Price: from €125 per person
---
HOTELS IN SANTORINI
The 5-star Aqua Suites is a boutique hotel for wine tourists who are looking for something really special. With just 6 luxury suites boasting stunning panoramic views of the entire bay of Santorini and the volcano, marvel at the surroundings from your very own outdoor Jacuzzi. Comfort, style and luxury are the key factors that make the Aqua Suites unique.
Why we love it? Aqua Suites offers pure luxury. Every little touch adds up to create the most fantastic stay during your Santorini holiday.
Price: from €250 per night
---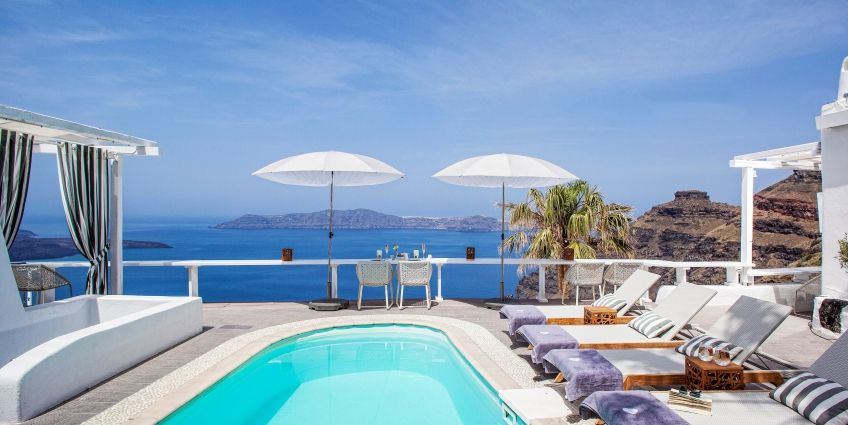 For a more economical alternative, stay near the centre of Fira, Santorini's capital, and explore the island from this beautiful base. The luxury Mill Houses hotel offers guests a traditional Santorinian dwelling in a peaceful and serene environment where you can enjoy top-notch service during your wine trip.
Why we love it? This is the perfect hotel if your budget is a little restricted, but you still want to stay somewhere luxurious. Just because you're not paying for a five-star hotel, doesn't mean you don't have to expect a five-star service.
Price: from €90 per night
---
Planning a trip to Santorini? Check out our Expert Travel Guide for more information.