Umbria is giving Tuscany a run for its money. I hate to even tell you about the spectacular Umbrian views and exciting wines because it's the unspoiled nature of the region that keeps me going back. Personally, I find the Umbrian wines to be much more complex and I love the fact that the same grape varietal can vary from one town to the next. Discover more of the top wines and wineries in Umbria.
The team at Winerist offered three great suggestions for the wineries to visit on my recent trip to Umbria. We rented a fabulous villa in Deruta, which gave us a central base to enjoy the wine tastings. We travelled with friends who are staunch French wine drinkers and my goal was to show them the passion that goes into Umbrian wines.
We started in the small town of Todi at Cantina Franco Todini. Winemaking is more of a hobby for this family as they run a very successful construction empire. Today, they're producing roughly 250,000 bottles a year but hope to increase that number to 450,000 by 2018.
I was first exposed to Grechetto wines in Umbria last year and as a foodie who prefers bold reds, I must say that these varietals have certainly expanded my palate. I find that Grechettos can vary greatly from one town to the next, which makes them even more interesting.
We tasted the wines at the fabulous Relais Todini, which is now on my bucket list, and you should think about adding it to yours, too. This historic country home has some of the most amazing views, inside and out. A great first stop in my journey of the top wines and wineries in Umbria.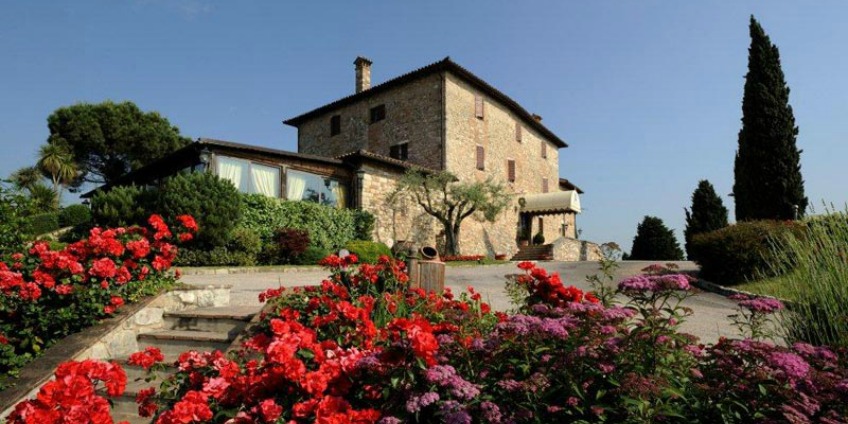 Cantina Franco Todini won me over with the Bianco del Cavaliere, a 100% Grechetto in which the skins are macerated to make it more full-bodied. The Bianco Relais is a much lighter Grechetto Reisling blend. I was most excited to try the reds, and while the 2007 Rubro, a Sangiovese/Merlot blend, was worth the drink, there was no way I was leaving without a few bottles of the Nero della Cervara, a 50/50 blend of Merlot and Cabernet, aged for eight years with a very deep, complex flavour.
It was hard to leave the views of the relais, but our next stop with Decugnano dei Barbi. I don't recommend the drive after a leisurely morning of wine tasting, as the route is quite treacherous, yet a beautiful drive along Lake Bolsena. The winery is built on a hillside over a large 13th-century cave excavated in the lavarock where their sparkling wine is produced.
Interested in wine tours and tastings at any of the wineries mentioned?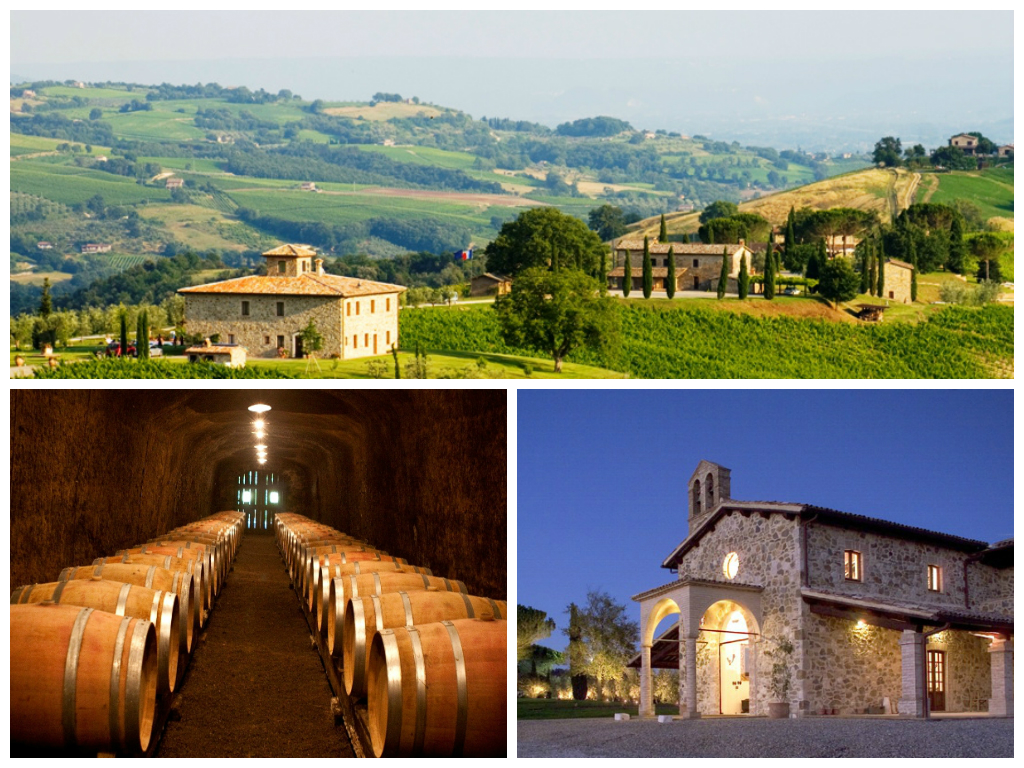 Nearby, an old chapel has been converted into a large, spacious wine tasting room. The Decugnano Brut Metodo Classico was definitely a welcome reward after our climb down, and back up, to the caves where it is produced. The il Rosso di Decugnano, an IGT blend of Syrah, Montepulciano and Sangiovese, was the great end to the day.

Another highlight on this trip that made my bucket list was the visit to the Goretti winery – another one of top wineries in Umbria. Eight generations of the family have lived on this magnificent property (magnificent, save for the pig farm across the road) and we were fortunate to meet three of those generations. The winery has much more to offer than just some great wines. They have a helicopter pad, which brings guests in from other cities, mainly Rome, for special events; our guide Sara explained that she had recently hosted a wedding vow renewal ceremony for a couple flown in from Lake Trasimeno. The tower, Il Moggio, where our wine tasting took place, includes five spa treatment rooms, where Sara's own branded creation of vinotherapy products are used.
---
The 2008 L'Arringatore was by far my favourite wine of the trip. A blend of 60% Sangiovese, 30% Merlot, and 10% Ciliegiolo, this DOC Perugia wine, was the perfect accompaniment to the traditional Umbrian meats and cheeses we enjoyed.  I was also intrigued by il Moggio, a 100% Grechetto named for the tower, that when served at the perfect room temperature, turns a slight pink shade. The men in our group certainly enjoyed the Grappa de L'Arringatore and the specialty il Brandy della Torre, a distillation of wine, which has very limited production.
As a former resident of Milan, Umbria could not present a greater contrast. The people are so inviting and warm, the food is simple and sumptuous, and the wines are so carefully crafted. The tour guides and families of the wineries genuinely have passion for their product and it's a side trip that needs to make your next itinerary.
Interested in winery tours and tastings at any of the wineries mentioned? 
Did you enjoy reading about the top wines and wineries in Umbria? We have more! Check out our best wineries in Umbria list for more choice. At Winerist, we'll help you get better acquainted with Italian wines in time for your next trip! Check out the ultimate guide to the wines of Umbria. Find the perfect wine and food experience in Umbria with Winerist!