Explore Llandudno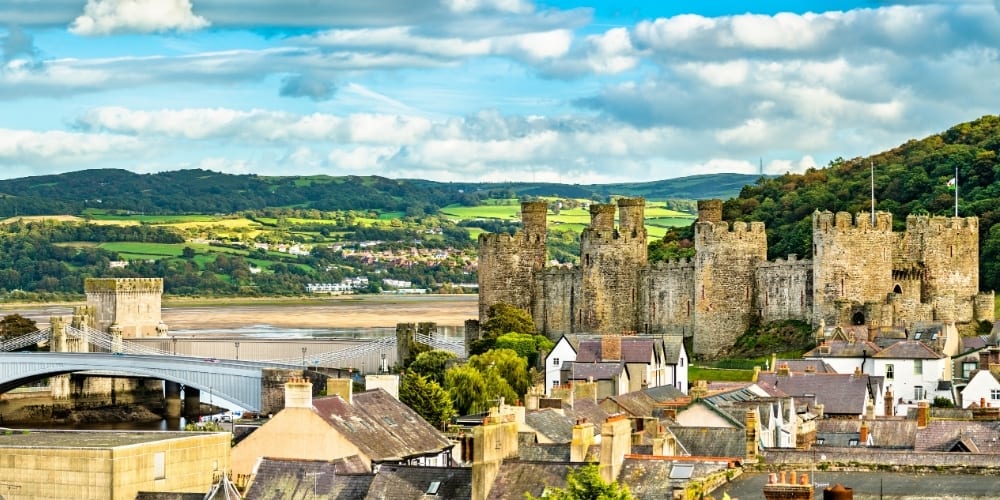 Llandudno is a perfectly preserved Victorian seaside resort enclosed by the headlands of the Great Orme and Little Orme. Take a ride up the Great Orme by cable railway or cabin lift to capture the views. Conwy is without doubt the best-preserved medieval town in Wales. Boasting a rich heritage and a unique atmosphere, Conwy, the gateway to Snowdonia is guarded by its imposing castle and is reached via the bridge over the Conwy estuary. All this just a 10-minute drive from a National Trust hotel- Bodysgallen Hall.
Discover Bodysgallen Hall's Gardens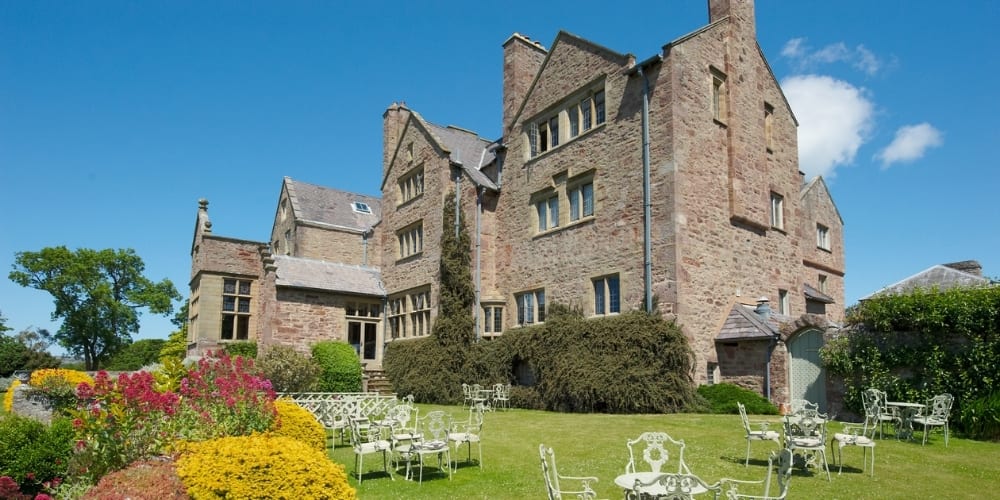 Bodysgallen Hall is surrounded by over 200 acres of its own award-winning parkland and beautiful gardens – both manicured and wild. The gardens include a rare 17th century parterre of box hedges filled with sweet-scented herbs, a rockery with a cascade, a walled rose garden, and several follies. Several woodland walks enhance the outdoor experience. The additional highlight of a kitchen garden providing the freshest of ingredients for the dining menus, with an abundance of seasonal foliage for in house arrangements. The gardens are open to hotel guests or guests who enjoy a meal at the hotel. 
Visit National Trust Houses and Gardens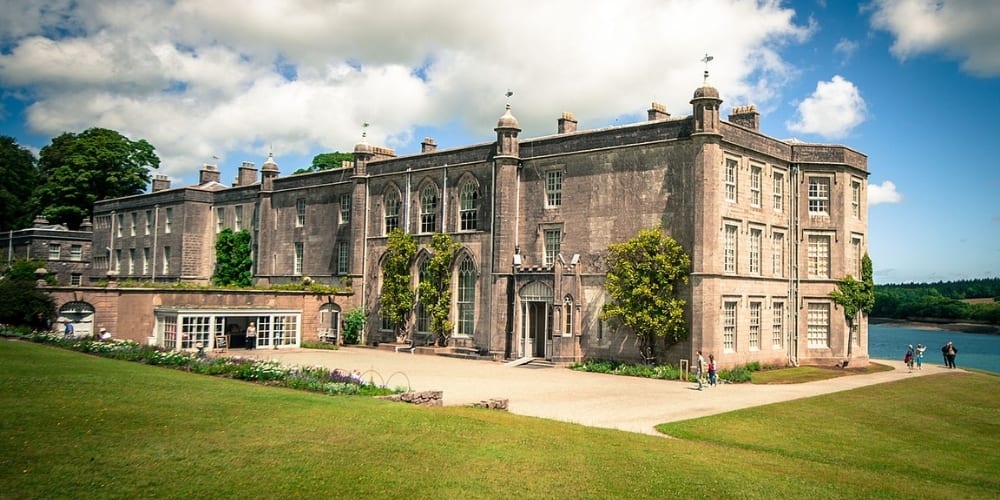 Photo credit: Wikimedia
Plas Newydd is home to an enchanting mansion and gardens on the shore of the Menai Straits on Anglesey, just 27 minutes from Bodysgallen Hall. Having been at serious risk in the 1990s, the red squirrel population on Anglesey is now the largest in Wales and there are over 100 thriving at Plas Newydd. Something to look out for over an afternoon stroll.
The World-famous Bodnant Garden is home to National Collections and Champion Trees, just 11 minutes from Bodysgallen Hall. A historic Grade 1 listed horticultural gem, Bodnant was established in 1874 by scientist, businessman and politician Henry Pochin. Plants have been collected and brought to Britain from far afield, and with the vision of the McLaren family and the National Trust, the gardens set on a hillside and covering over 80 acres have become a haven of rarity and beauty. Bodnant also boasts Wales' largest collection of UK Champion Trees, which provide a year-round spectacle.
Penrhyn is a 19th-century fantasy castle with spectacular surroundings and just a 22-minute drive from Bodysgallen Hall. The unique and dramatic architecture, opulent interiors and fine art collection sit alongside a history of sugar and slate fortunes, of social unrest and the longest-running industrial dispute in British history. Built between 1820 and 1833 for George Hay Dawkins Pennant by the famous architect Thomas Hopper, Penrhyn houses an outstanding collection of Dutch, Venetian and Spanish paintings and furniture, including the one-ton slate bed made for Queen Victoria.
Wales Coast Path
Discover the shape of a nation on Wales' 870-mile coastal trail. The Wales Coast Path offers both flat and mountainous walks ideal for all levels of walkers. For a flat walk close to some cliff edges, walkers should take the 'Little Orme' walk which takes about 2 hours and is around 3.2 miles. This is a circular walk starting from Llandudno promenade and taking walkers to the summit of the Little Orme (141 metres) for full views of the coast, mountains and rural Conwy. The paths include pavement, grass and rocks and surfaced tracks. This is a wonderful walk for those looking to discover wildlife plus fascinating historic sites with the resort town of Llandudno as a backdrop.
Dine in an Award-Winning Restaurant and Sleep in a National Trust Hotel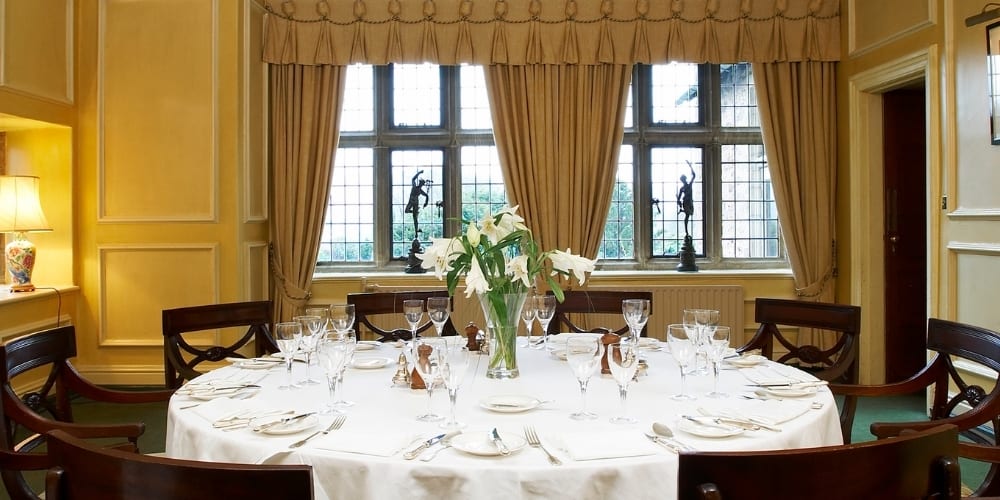 The Dining Room at Bodysgallen Hall, awarded 3 AA Rosettes, overlooks the gardens and is the perfect setting for enjoying imaginative menus featuring local Welsh produce. Main course dishes include 'Local Sea Bass'; Butter poached local wild sea bass, barbequed aubergine, polenta, razor clams, langoustine sauce. 'Welsh Lamb'; Slow cooked loin of Welsh lamb, fondant potato, braised tongue, parsnip cream, pak choi. Vegetarian dishes are served and vegan menus are available on request.
Standing in award-winning gardens and parkland to the south of Llandudno with spectacular views of Snowdonia and Conwy Castle, Bodysgallen Hall provides all that is best in country house hospitality for year-round staycations. This 17th century house has been sympathetically restored by Historic House Hotels since 1980 and was given to the National Trust in 2008.
Guests can enjoy modern comforts at Bodysgallen Hall in the 15 individually decorated bedrooms (including four Principal Suites) in the main Hall or in the 16 cottage suites located next to the main house or near the Bodysgallen Spa for additional privacy. Covid-19 safety measures for guests and staff are in place. Bodysgallen Spa with its swimming pool, gymnasium, sauna, steam room and Club Room is the ideal place to relax and unwind. 
Welsh Wine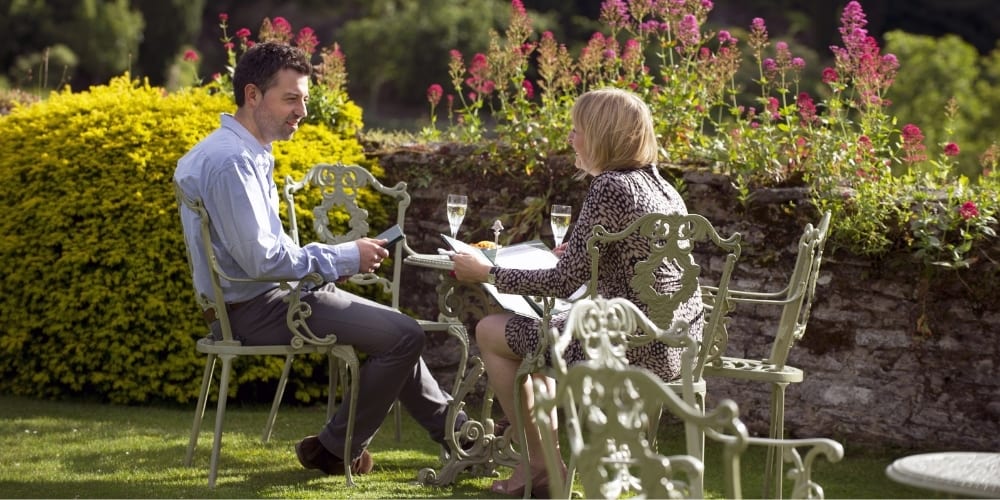 Wales has many vineyards across the country and one of the most famous producers is the Ancre Hill Estate in Monmouthshire. The 12 hectares of vineyards are perfectly positioned on south facing slopes close to the border town of Monmouth and the Wye Valley. This vineyard is one of the few in the UK that uses various ecological methods of biodynamic growing. The style of wine at Ancre Hill Estates continues to evolve, with small batch fermentations occurring almost entirely in oak barrels and concrete eggs. At Bodysgallen Hall an extensive wine list is available which includes a 2014 medium dry wine with hints of white flowers, citrus and elderflower.