In a small village named Verzenay, far from the big champagne houses of Avenue de Champagne is the family owned Champagne Jacques Rousseaux.
When people think of champagne they often think of the big names and big price tags but dig a little further under the skin of the region and you will find gems like Champagne Jacques Rousseaux with a fascinating family history and multiple Grand Crus under their roof. Which, for half or even a quarter of the price, easily rivals and some, including myself would argue surpasses them.
I had the pleasure of visiting Champagne Jacques Rousseaux a few years back and had a wonderful tour and tasting with the great, great, great-granddaughter of the founder, Celine. The quality of the champagnes was so exceptional and the personal and private one on one tasting experience so special that it led me to become a firm fan.
Where it all began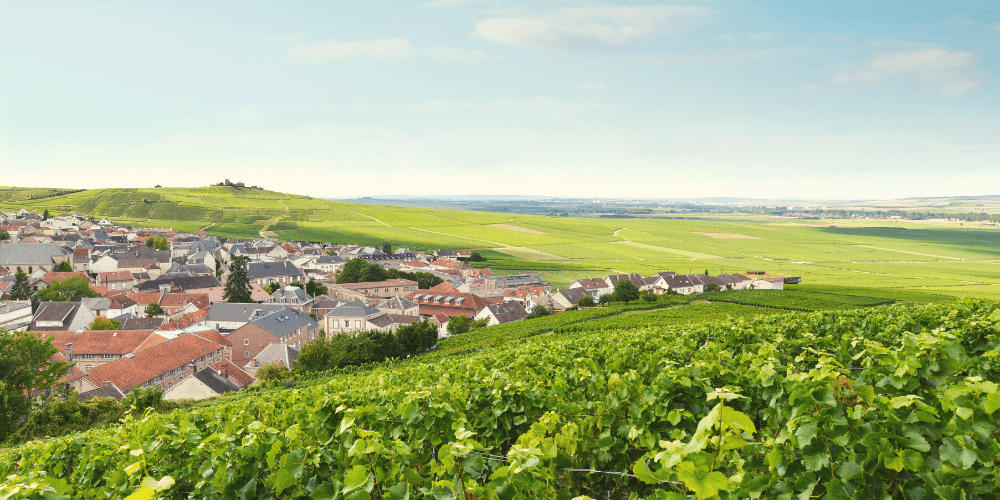 Verzenay is a very old champagne village dating back to the 9th-century. It was here in 1884, that Paul Rousseaux was born and would go on to start what would become five generations of excellence in Champagne production. Traditionally selling to trade houses, Paul Rousseaux, as with other vine growers of the time, took the step to not only produce, but market his own champagne. Examples of the very first bottles from this time have lived in their underground cellars for almost 150 years, and in 1999, the family opened them, discovering a wine that was still fresh, with the colour of antique gold.
Paul Rousseaux had two children, Pierre and Michel and the family continued to cultivate the vineyards and to make their champagne through two world wars, post war hardships and the changing face of Europe. Pierre had four children: Jacques, Anne-Marie, Luc and Dominique. And today… Jacques, the eldest son, continues to cultivate the vineyards of the family with his wife, Bernadette. Since 2001, Céline and Eric, two of their three children, are there to welcome you at the house of Jacques Rousseaux.
What makes their champagne so special
Each winemaker has, over 5 generations, skillfully combined family tradition and a passion for winemaking with modern techniques to produce an incredible line of Grand Cru champagnes.
Opting away from mass production style harvesting techniques, they employ a team of local residents to manually select the grapes. The delicacy afforded by this process can be detected in the drinking of their champagnes.
"Choosing the right Pinot Noir grapes is of the highest importance and the Grand Cru chalk terroir of Verzenay is essential in our champagnes. The champagne takes a long time to create and to reveal all the characteristics of a terroir whose chalk soil was formed millions of years ago and which offers a limitless richness of aromas if we respect it. All of our champagnes are made in our press and cellars in Verzenay. Most of our employees and suppliers are local. That mean's a lot to us."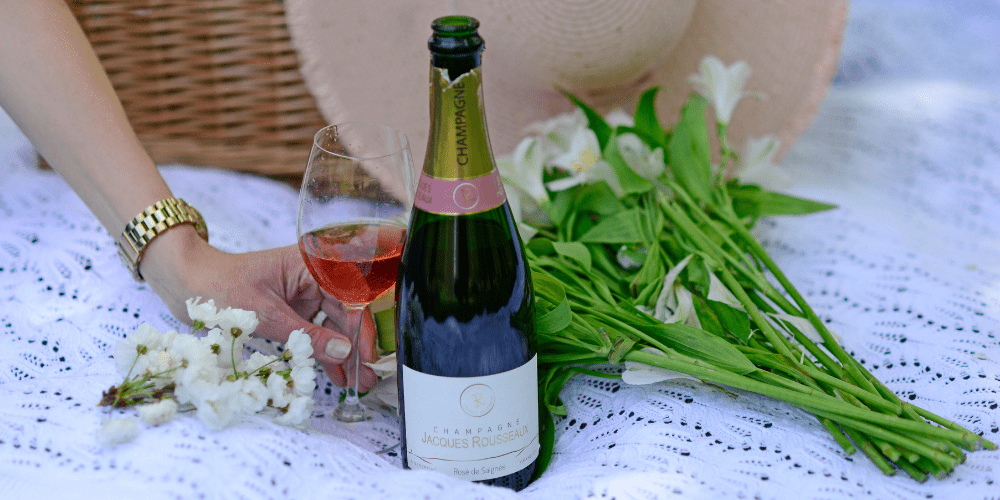 Photo credit: Lee Osborne
Why a visit to the Champagne Jacques Rousseaux house is so memorable
People can expect a unique, truly authentic and personal experience. You'll be greeted by family members and invited to taste a number of their champagnes whilst having the freedom to discuss any topics you like. Having the experience of actually meeting the family members, you get a sense of the history and the passion behind the champagne and the taste becomes more personal.
After tasting their champagne you'll have an opportunity to visit the press and vat room where you can see the stainless steel vats and oak barrels. Then, you'll delve underground to their two cellars. The first is fairly recent at 40 years old where about 80,000 bottles are resting and the other, much older at 150 years, where you will descend 34 steps to the resting place of around 20,000 bottles.
A tasting of their champagnes
Rosé de Saignée
Champagne is traditionally high up on the list for many wine lovers. But when it comes to rosé/pink champagne, there is usually something more romantic, more premium and certainly more exciting happening in the glass.
As far as rosé champagne goes, there are two main methods for it to be made:
Assemblage: This is the traditional process which sees a small amount of red wine (usually Pinot Noir) added to the blend, usually around 7% to 15%. The quantity/level of red wine added will dictate the shade of rosé in your glass.
Saignée: A less common process is the saignée or 'bleeding' method. A lot less frightening than it sounds, it refers to the contact of the skins of the grape and the fact that the colour from these red grapes during the press is released into the blend. The more skin contact, the darker your rosé.
To me, this Rosé de Saignée is rich in terroir characters and not just red fruit. Think dark red rose petals, great minerality and on the finish, dried raspberries and peppery notes. A champagne for a special occasion and one I will definitely go back to. Great with desserts of berries, especially a strawberry cheesecake, and will accompany any salmon or grilled, slightly smoky seafood dish beautifully.
Cuvée de Réserve
A blend of 70% Pinot Noir and 30% Chardonnay, this is a vintage made from some of the best vines of the estate. Perfect for special occasions, hence it comes in magnums too! Light, yet shining yellow colour, it's the combined flower and fruit aromas that make it a standout champagne. Delicate yet forward, this cuvée has a long finish, tastes fresh and mineral and would complement a cheese course perfectly.
L'autre R
This champagne is made from 100% Pinot Noir and is aged for several months, making it the perfect choice for special occasions. Pale yellow with reflections of gold. Great brioche on the nose followed by a charming cherry profile and plenty of blackberry and sweet spice. On the palate it's velvety with great minerality, again encountering blackberries, pomegranates and great toasty notes. Perfectly paired with bold dishes and can take on duck, veal and a more adventurous spicy vegetarian pasta sauce.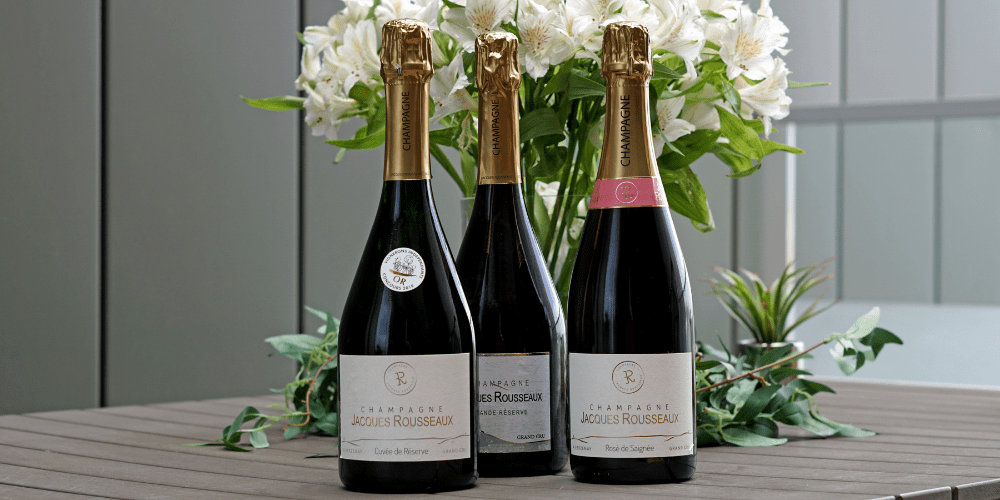 Photo credit: Lee Osborne
To experience the champagne of Jacques Rousseaux for yourself, you can buy direct from their website and, book a tour to meet them in person!
Written by Tania Lee, Winerist Chief Marketing Officer