Magnificent architecture, striking rural and coastal landscapes, and phenomenal gastronomic pleasures- Croatia has it all. The "island of nations" is also a haven for sailors and boat enthusiasts, which is why we at Zizoo, a leading boat rental platform, have created a sailing route for you and your food and wine loving crew. Spend seven days traversing the stunningly crystal clear waters of the Adriatic while sampling a variety of Croatian delicacies and wines on your own private boat.
Day #1 Split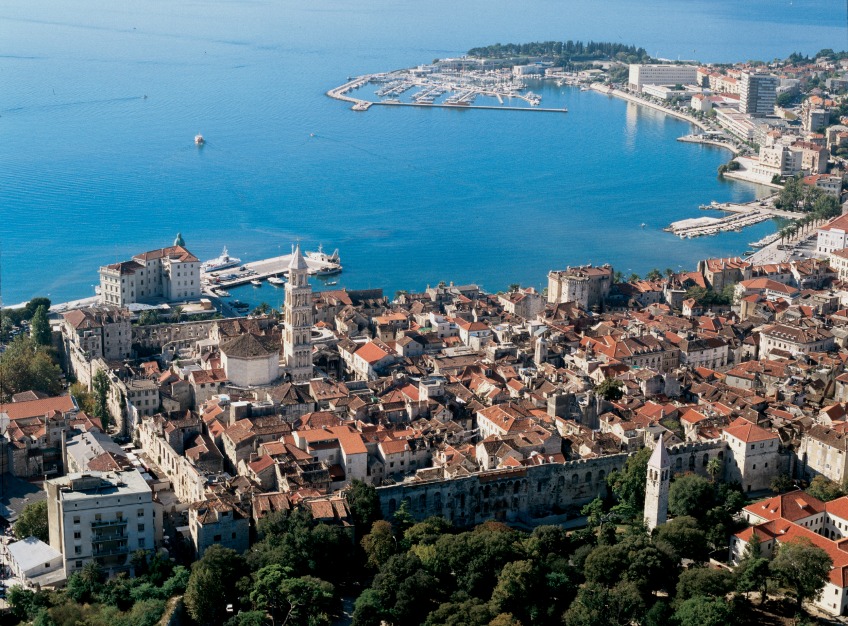 Image source: Wikipedia
Begin your seven-day tour of Dalmatia in the historic World Heritage City of Split, which has been recognized by UNESCO and worldwide for the ancient Palace of Diocletian and the Old City that developed within its walls. Get to know the stunning city of Split on the exclusive Split Indigenous Wine Tasting Tour led by an experienced and passionate tour guide. Learn about the fascinating history of Split on this two-hour walking tour that ends in a wine tasting of four different domestic wines. What better way to reflect on the beauty of the city than with a glass of wine?
After exploring the Old City, get a cup of cup of coffee on the Riva (Split's famous promenade) before hopping on your boat where the real journey begins. No experience sailing? Not a problem. Through booking a chartered boat, you have an opportunity to get a skipper who will make your sailing holiday a breeze. Sit back, relax and enjoy the sea while the crew does the hard work.
Day #2 Trogir and Ciovo Island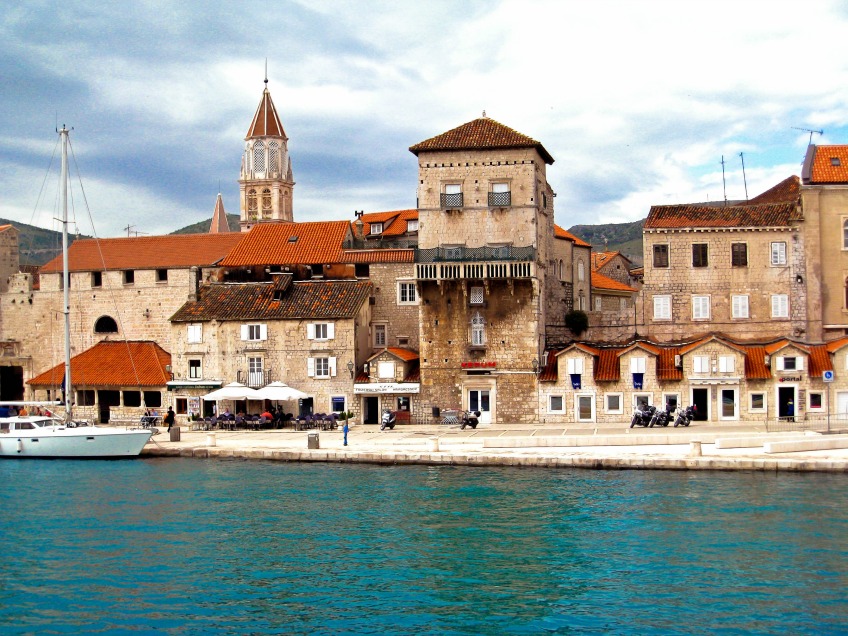 Image source: Beautiful Aria / Flickr
From Split, make your way about 15 nautical miles to the nearby city of Trogir, which has also been distinguished as a UNESCO World Heritage Site. Take a walk through the narrow winding streets while admiring the wondrous architecture and medieval walls that have protected the city since the medieval ages. In Trogir, you also have a great opportunity to learn how to prepare some traditional Croatian dishes in a cooking class offered by Chef Dalmatino. Discover the ancient gastronomic traditions that are still influencing Croatian chefs today while preparing a fantastic Dalmatian meal in the Chef Dalmatino's own private villa. Complete your meal with a glass of wine from Dalmatino's family vineyard while sharing stories with your friends and family.
If you're craving a beach escape, take a quick ride to the island of Ciovo, the largest of the Trogir archipelago. Head to the eastern side of the island for pristine and tranquil beaches like Kava Beach. Ciovo is also a great place for squid fishing so be sure to sample a dish of some of the freshest squid while on the island.
Day #3 Brac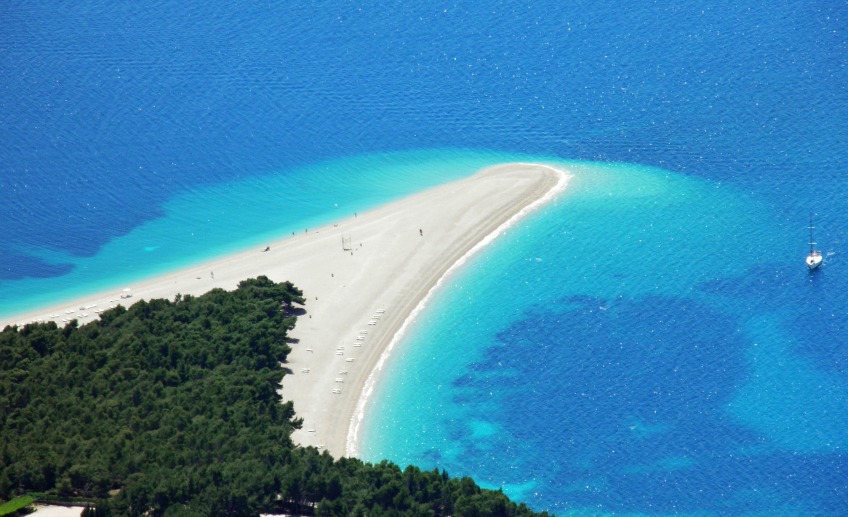 Image source: Christine / Flickr
Sail on to Brac, an island famed for its beaches and lovely white limestone which has been used in the construction of Diocletian's Palace and other important buildings in Croatia and abroad (including the White House in Washington D.C.). Brac is the largest island of central Dalmatia and offers visitors a feast for the senses. The island is well known for their lamb dishes and procip, a delicious fresh cheese that is cut into slices and baked in caramelized sugar. After a big meal you can relax one of Europe's best beaches located in Bol on the southern part of the island. If you're feeling a little adventurous, you might want to try out surfing around Zlatni rat.
Alternatively, if you plan on spending more time in Split, you can take a Full-day Wine Tour on Brac Island fron Split. Spend the day touring two prominent wineries including, Stina whose name was inspired by the famous white stone (stina) of Brac. The next stop will be a visit to Sasa Senjkovic, a family-owned winery featuring some excellent varieties. For lunch, you'll find yourself surrounded by magnificent views while perched on a hill in a private estate and dining on a traditional meal that's perfectly paired with local wines.
Day #4 and #5 Hvar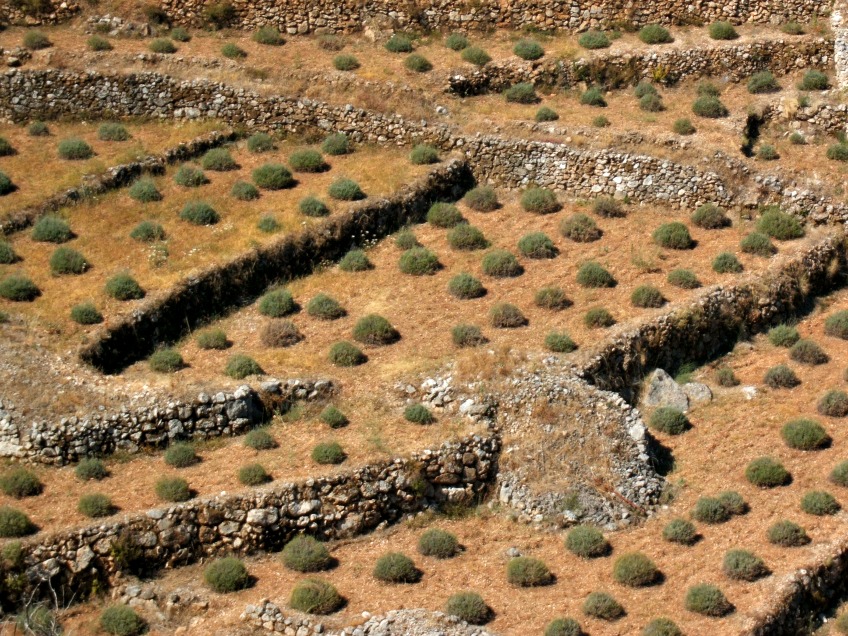 Lavender fields on the island of Hvar. Image source: Wikipedia
The next stop on our suggested sailing route is the beautiful island of Hvar.
Dubbed the "new St Tropez", Hvar is home to several stylish beach bars, cocktail lounges, top rated restaurants and of course, lovely beaches. Tour around the old town of Hvar and take in the splendor of its Gothic and Venetian architecture, charming bell towers and renaissance monuments. The island is also celebrated worldwide for its wine and cuisine. With an impressive gastronomic history dating back to ancient Greece, the people of Hvar have been perfecting phenomenal dishes through adapting practices and recipes from several different cultures and enhancing them with aromatic spices that grow naturally on the island. You should also know that one of the biggest wine festivals in Croatia takes place in Jesla, in the middle of the island. The traditional wine fair takes place the last weekend of August each year and is an event not to be missed.
You can discover the gastronomic pleasures of the island on a Winery and Wine Tasting Tour where you'll enjoy a myriad of local delicacies that are enhanced by an 8 course wine tasting. In addition to savory delights including some of the island's finest cheeses, you will have a chance to taste the Hvar's famous gingerbread, which has been recognized by the Croatian Ministry of Culture as an Intangible Cultural Heritage of world value.
Day #6 and #7 Split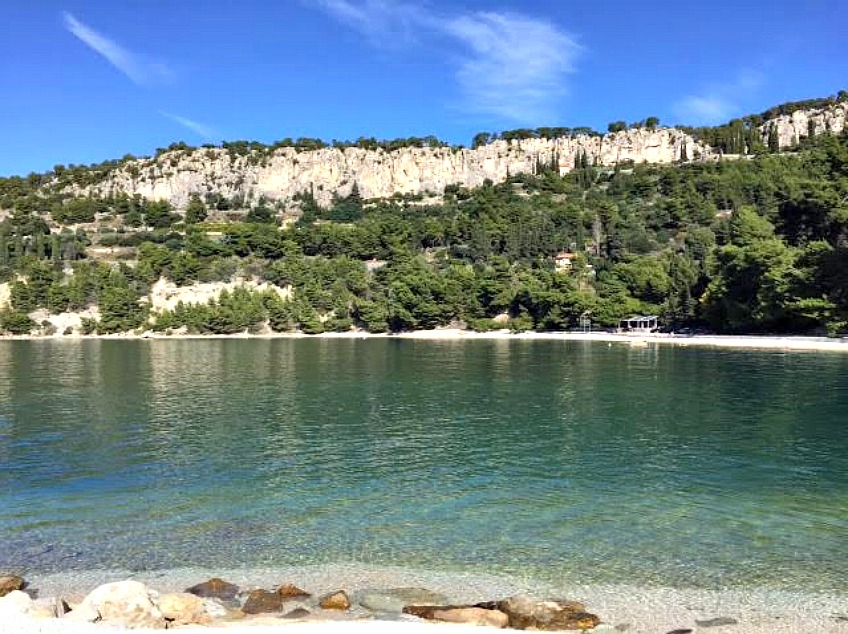 Marjan Park. Image source: Ellyn Matta
After a spending a night in Hvar, make sure to bring back a few bottles from Hvar's fantastic boutique wineries aboard to enjoy on your trip back to Split. Enjoy the views of the Dalmatian coastline as you traverse the calm indigo sea as the cool breeze refreshes you. As you near Split, take time to leisurely cruise around the picturesque Marjan peninsula where you'll find several stunning coves, bays and impressive cliffs that are perfect for climbers. After a day of lounging or adventure, jump aboard and set sail towards the city. The evening glow of the setting sun on the Adriatic and Marjan peninsula will surely take your breath away.
Once back on the mainland, you may consider extending your wine knowledge through taking part in the Half-day Zinfandel Origin Tour. As you may know, it was not until recently the mystery of the origins of the famed American Zinfandel was finally solved and traced back to the lands of Kastela, Croatia. Discover and taste the original Zinfandel while touring the charming villages of Kastela on this exclusive experience starting in Split.
About Zizoo:
Zizoo enables its customers to experience a boat holiday in a way that suits them. We cater to those looking discover hidden gems off the beaten track as well as those wishing to party or seeking luxury and style. We make sailing accessible and easy to organise for everyone, whether an experienced sailor or a newbie. With 6,000 boats across 200 locations in 25 countries to choose from, Zizoo.com is the number one destination for boat rentals in the world.