This Christmas, our new food and lifestyle editor Kate Rowe gives us her guide to some of the best curated gifts she's found for food and wine lovers this year…
Christmas is once again nipping hard at our heels and being thrust together with people with whom we've often judiciously minimised contact for the rest of the year, can sometimes feel more toe-to-toe.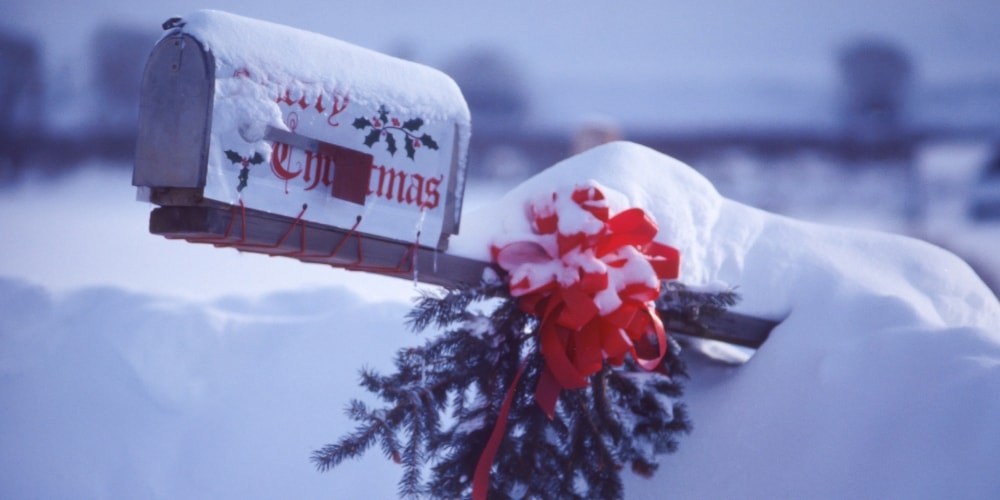 However, the crux of any niggles over the festive period is, in my view, a feeling of being short-changed – an imbalance of cost vs value for money; the resentment of hosts turkey-wrangling since 6am and still having to pour or mix every single drink; the generous gifts unmet by equal largesse. It is also my belief that the unifying power of food and drink always wins the day. Even a humdinger of an unresolved argument can be perhaps not forgotten, but certainly shelved for another year.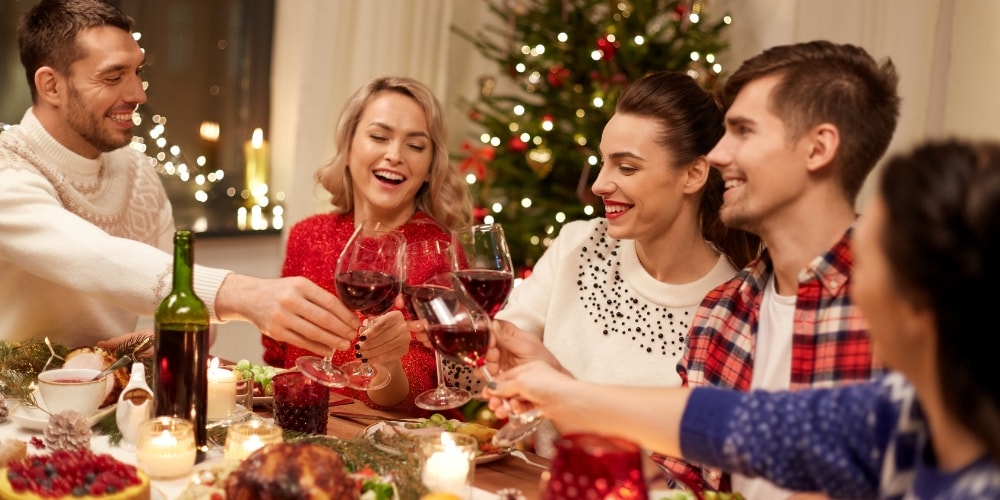 Indeed, the holy trinity of food glorious food, heady and soothing drink, and a gorgeous setting (people and place) ALWAYS form the foundations of our most cherished memories. With the aim of food, drink and location in harmony in turn engendering domestic harmony, my gift to you this year is my selection of gifts curated to chase away any feelings of one-downmanship, to give loved ones the most bang for our buck, and imbue recipients with contentment and the glow of feeling valued (or a satisfied tummy and palate and mild intoxication, you choose)
In line with our ethos here at Winerist, we bring you the whole package of exquisite food, exceptional drink and memorable experiences in which to indulge in them, with a gift guide that has been created to appeal to every character in our lives, with informative tips and recipes to boot.
Curated Food and Drink Gift Packages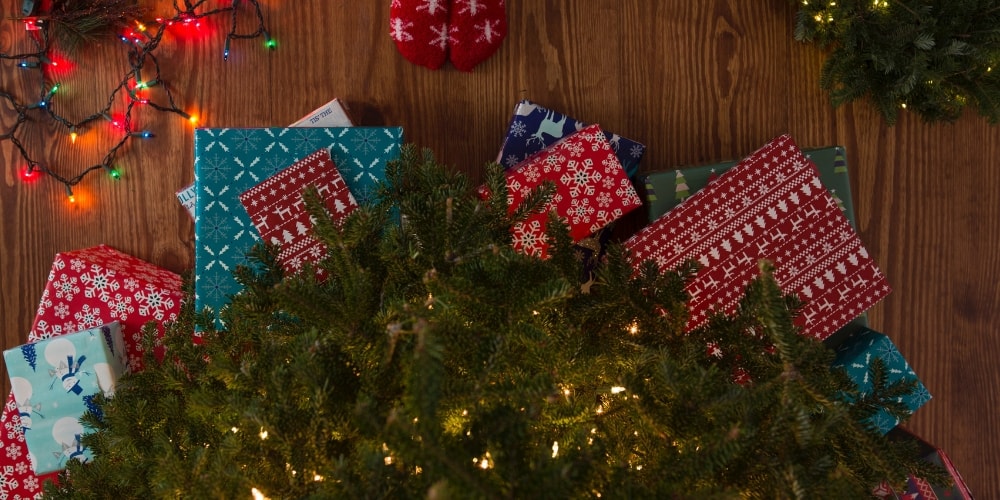 As generous as it is to gift individual items, it's so much more thoughtful to put together your own bundle of Christmas joy. So, we at Winerist magazine have done the thinking and legwork for you. By curating gift packages that pair well and add bonhomie to the Christmas home, we've taken the stress out of those endless Christmas lists for you. Additionally, last-minute rushing around is eliminated as you can shop from our guide with feet up and glass in hand.
You've heard of Fashion Maths? Well, this is the rather more tongue-in-cheek, Passion Maths. Simply add the items we've recommended to your online baskets and they will equal gifts that satisfy family and friends' most ardent passions for food, drink and memory-making.
Any and all of these gifts are perfect to lavish upon ourselves too, but to whomever you are giving thanks this year, I wish you all rest, epicurean indulgence, and that sweet spot of cockle-warming merriness. Happy feasting!
Gifts to Chase Away The Chill
Black Cow Milk Vodka + Paxton & Whitfield Cheese + Paxton & Whitfield Fondue Set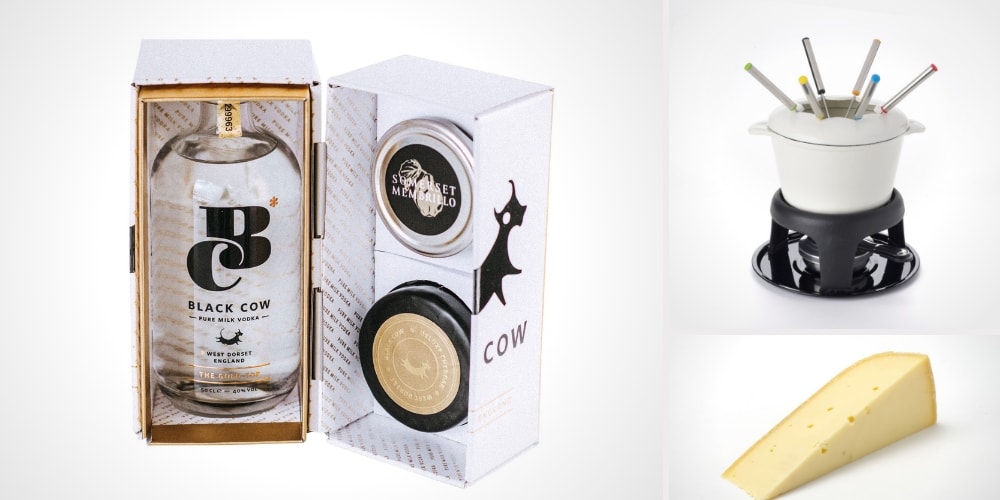 Inspired by a recent lunch at the Black Cow distillery in Dorset (which you too can visit), this gift package brings home their dizzyingly-good fondue. As Black Cow is distilled from milk, there's consanguinity in adding it's smooth qualities to seductively-melting cheeses from the Queen's own cheesemonger – you're essentially reuniting curds and whey! Traditionally, a winter-thwarting fondue uses a mix of Gruyère and Emmental, but British Mayfield is my tip for adding sweetness and nuttiness in place of Emmental. For even more creaminess, add Black Cow's own Truckle Cheddar to the heady mix. With each of these gift elements, and the simple recipe below, you can give the gift of a faff-free showstopper of a sharing meal this year. It also makes the perfect New Year hangover supper!
Festive Fondue Recipe
Serves 4. (Recipe can be multiplied or divided, depending on the size of your tribe.)
Ingredients:
600g Rindless Cheese – grated (your choice from Gruyère Réserve, Allgӓu Emmental, Mayfield or Black Cow Truckle Cheddar)
150ml Black Cow Vodka
1 Garlic Clove – cut in half
1 tbsp Cornflour
Ground Pepper to taste
Generous grating of Nutmeg
Method:
Rub the inside of a saucepan with the garlic clove and discard.
Place the cheese into a bowl and toss in the cornflour.
Add the cheese to a saucepan over a medium heat a handful at a time, stirring continuously until smooth. Continue adding the cheese until it is all melted.
Never let the mixture boil.
Add the vodka, and immediately pour the mixture into the fondue pot and keep warm with the burner.
Grate over some warming nutmeg.
Serve immediately.
For a thinner consistency, add more vodka. Naturally.
Suggested dipping accompaniments:
Crusty bread, raw vegetables, steamed new potatoes, sausage, grilled chicken, cured meats, cornichons, pickles.
How much & where to buy?
Black Cow Vodka 50cl Gift Pack (including vodka, deluxe cheddar and membrillo): £50
Paxton & Whitfield Fondue Set: £54
Paxton & Whitfield Cut Cheese: From £7.50 per 250g
(For expert information on additional cheese availability and global export, give them a call on 01451 823460.)
Gifts for Ethical Consumers
BIB Wine Company Torri Cantine Pecorino D'Abruzzo Wine Box + BIB Wine Club Subscription + Nudo Adopt Olive Tree Adoption Set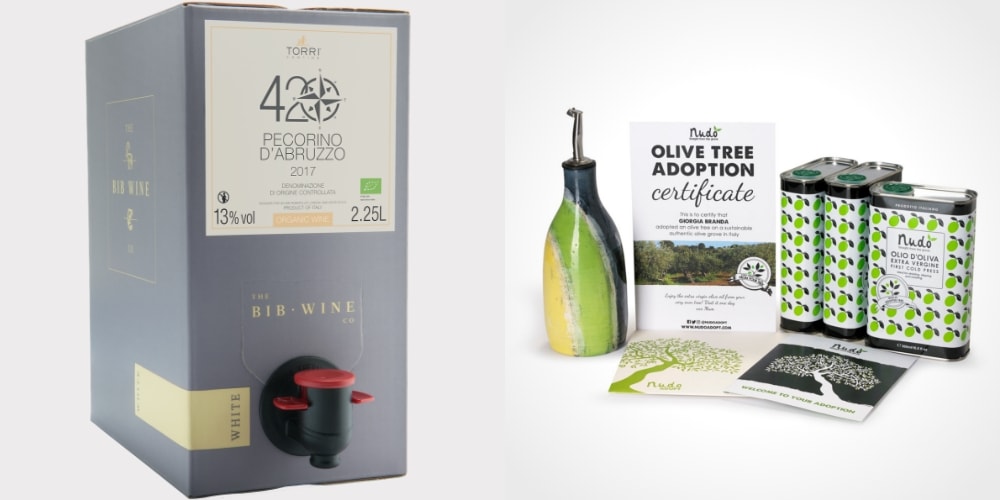 In the spirit of "What Grows Together, Goes Together", on your oenological travels you'll see vines and olives battling the same challenging terroirs to reach fruitfulness through sheer resilience. Creating a poetic gift for siblings, parents and couples with a love of the land and its longevity, this combination of BIB Wine's organic and aromatic white and Nudo Adopt's gifting collaboration with ceramics artist, Michelle Freemantle to continue over a decade of support for provincial farmers, gifts a little piece of Italy all year round, anywhere in the world. Michelle's limited edition, handmade oil cruets reflect the colours of the Italian landscape – sunshine, verdant countryside and midnight sea, and as your gift recipient will be sent extra virgin olive oil directly from their adopted grove (they can also visit their chosen grove and farmer), are a beautiful and useful addition to the kitchen. Needless to say, this BIB wine box for the 21st century pairs well with all our favourite festive foods – white meat, cheese, nuts and, of course, olives. BIB wine boxes carry a six times lower carbon footprint than other wine companies; are efficient to transport, so emissions are lowered; and each box is sustainably-sourced and 100% recyclable.
Both BIB Wine Company and Nudo Adopt run subscription schemes so loved ones can experience their ranges of delicious, socially responsible gifts well beyond the big day.
How much & where to buy?
Nudo Adopt Gift Adoptions: From £39
BIB Wine Company Torri Cantine Pecorino D'Abruzzo 2017 2.25L Box: £29.90.
BIB Wine Club Membership: Price dependent on frequency and choice of wines.
Gifts for Party Animals
LSA International Basis Jug + Patrón Limited Edition Heritage Tin 2018 + Grey Goose La Vanille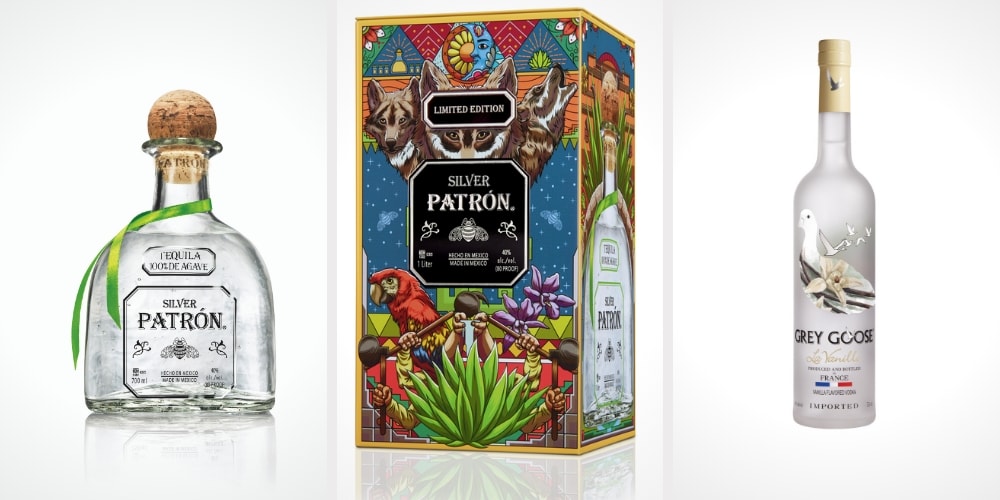 Likely to consume TVRs as quickly as they drive them (no, I'm not suggesting you buy them a car), this person is the life and soul of the party, and often the genesis of the question, "What do you buy for the man/woman who has everything?" Given that they're likely to be colourful characters with a zest for life and home to match, enabling them to carry on the after-party at home is a great idea. With stylish yet robust barware from LSA International and enough equally refined but energising fun juice, they can fuel the thirsty hordes. In colours to complement any interior design, they can mix 1.5L of their favourite crowd-pleaser in a jiffy. Mexican artist, Joeartz Berrelini's sumptuous tin will grace the trendiest home. The Patrón Silver Tequila within, together with the sweet edge of Grey Goose's La Vanille form the basis of the rock n roll TVRs and elegant Espresso Martinis, to boost va-va-voom well into the night.
How much & where to buy?
LSA International Basis Cocktail Jug: £32
Plus, £15 off £75 spent before 21st December
www.lsa-international.com
Patrón Silver Limited Edition Heritage Tin: £54
Grey Goose La Vanille 70cl: £39 (Special offer price: £32 until 01/01/2019)
Gifts for The Health-Conscious and The Resolution-Ready
Yuzu & Wasabi Boxing Day Condiments + Twisted Nose Wasabi Vodka + Japan Easy Cookbook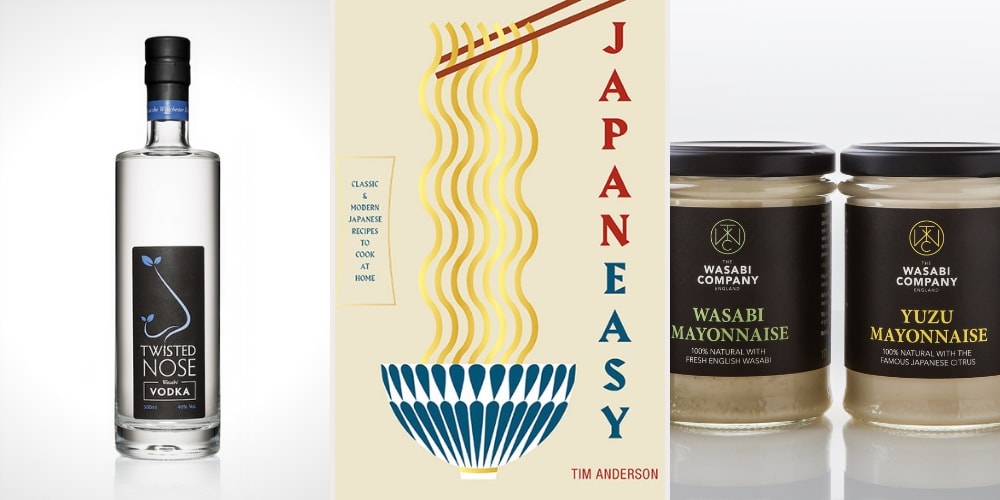 Some people just want the Holidays to be over, not necessarily because they're a Grinch (although that could be understandable), but because they're looking forward to a new year or continuing their healthy regime. The Wasabi Company have thought of this with a range of quality grocery items, Japanese ingredients, and every accessory you need to induce Zen following the rush to Christmas Day. I've picked my favourites to for a contemporary take on, what is undeniably, the most relaxing meal of the period – Boxing Day; and beyond. Their Yuzu and Wasabi mustards and mayonnaises bring zingy and refreshing notes to rich meats, cheeses, smoked salmon and virtuous sushi. A shot of Twisted Nose Wasabi Vodka with yuzu, galangal, a touch of fresh wasabi and four other secret botanicals offers a cleansing but rounded kick, especially in the ultimate Bloody Mary. Winter doldrums are further banished with resolution-supporting recipes from the Orient with the Japan Easy cookbook by Masterchef UK winner, Tim Anderson to ensure your loved one starts 2019 as they mean to go on. All available from one online store, the only running around you'll have to do will be if they ask you to buddy-up on their quest for moderation and balance.
How much & where to buy?
The Wasabi Company Yuzu Mustard or Yuzu Mayonnaise: £3.55 per 175g jar
The Wasabi Company Wasabi Mustard or Wasabi Mayonnaise: £3.95 per 175g jar
Twisted Nose Wasabi Vodka 500ml: £34
Japan Easy Cookbook: £19
Gifts for Hedonists
Malfy Con Arancia Gin + Prestat Chocolates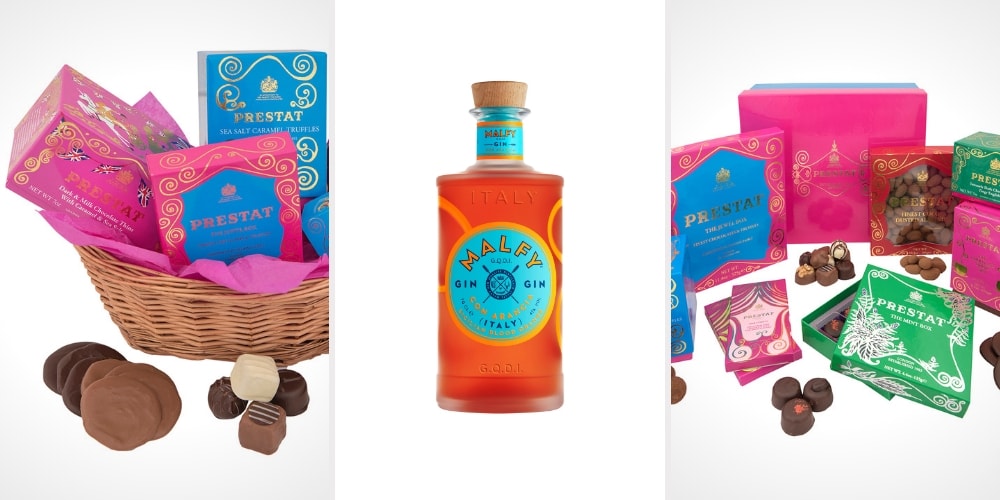 Festive chocolates and drinks are a notoriously tricky pairing, because it's not just about aligning or countering sweetness, but also about matching the ingredients' richness and vibrancy – whilst allowing each element to sing. In fact, Malfy con Arancia is a lot less sweet than you may expect, specifically to give Sicilian blood oranges and smoothness centre stage. Together with decadent truffles from Prestat (the favourite chocolates of another vibrant soul, Roald Dahl), the balance is perfect for hedonistic moments of escape and indulgence.
How much & where to buy?
Malfy Con Arancia 70cl: £24.98
Prestat Truffle Gift Boxes: From £7.95 to luxurious hampers for £124.95
Gifts for The Cocktail Lover
Hix Gift Vouchers + Martini Negroni Gift Set = Gifts for The Cocktail Lover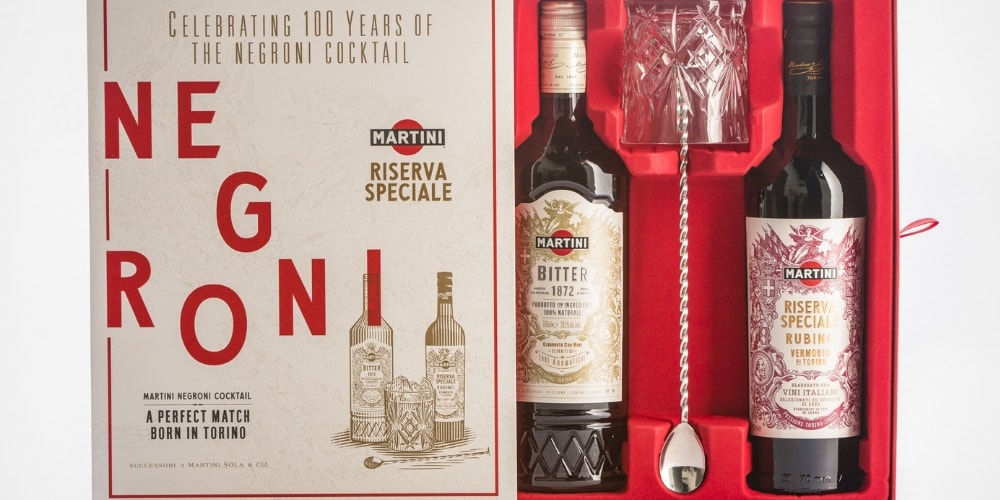 This combined gift allows the mixologist in your life to enjoy cocktails both home and away. Hix gift vouchers are redeemable against food and drink in any of the restaurants in London and Dorset, where they can learn from the pros; and can even buy your cherished one a restorative stay at the quirky and comfortable (the beds are amazing) Hix Townhouse in Lyme Regis. The Negroni is set to stay for 2019 as the serious cocktail fan's mixed tipple, and this Martini Negroni kit comprising a 70cl bottle of MARTINI Riserva Speciale Bitter, a 75cl bottle of MARTINI Riserva Speciale Rubino, a glass tumbler and bar spoon make a Negroni so swift and simple that new converts will come over to the dark and dangerous side too.
How much and where to buy?
Hix Gift Vouchers: From £10
Martini Negroni Kit: £35
www.selfridges.com
Gifts for The Intellectual
British Library Membership + Liqueurs + Baubles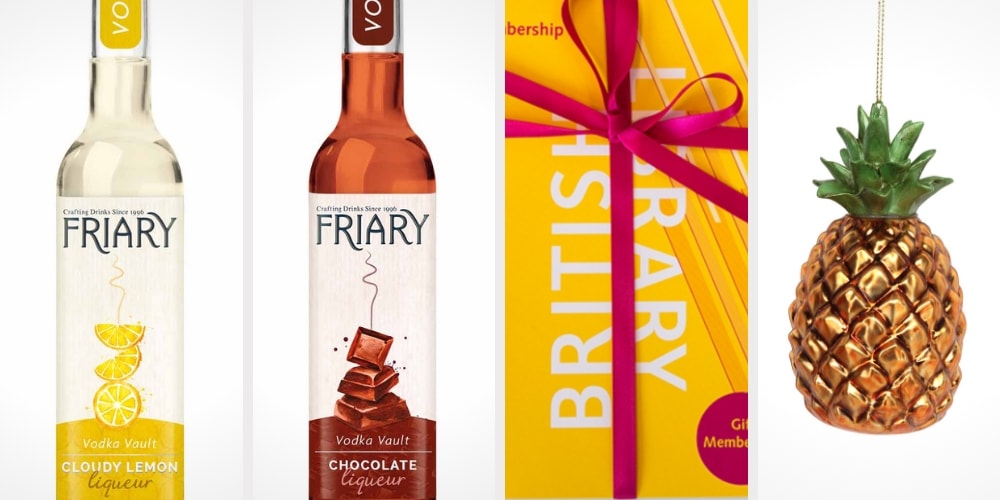 As food and drink travellers, our pursuit of knowledge about our passions can take us to some wonderful, far-flung places. Equally magical though, is the ability to have a treasure trove of that knowledge at our fingertips. Membership of the British Library gives us access to vast collections online and in the flesh at their majestic reading rooms, exclusive member events and discounts. Membership makes it equally easy to explore historical texts and new releases from "A Brief Discourse on Wine; embracing an historical and descriptive account of the Vine, its culture and produce in all countries, ancient and modern, etc." published in 1861, to this year's "The Wines of Bulgaria, Romania and Moldova" by Caroline Gilby. Also to be discovered at the British Library are a range of gifts to make research into beloved subjects even more joyful. The Friary Cloudy Lemon Liqueur and Friary Chocolate Liqueur are each ideal for sipping contemplatively with a good read. Funky food-themed Christmas baubles like chillies and pineapples make gorgeous gift tags with further function to present with a membership gift too.
How much and where to buy?
British Library Membership: From £80
Friary Cloudy Lemon Liqueur 250ml: £15
Friary Chocolate Liqueur 250ml: £15
Gisela Graham Pineapple Bauble Decoration: £11.50
All www.bl.uk
Gifts for Sunseekers
Baron de Ley Gran Reserva Rioja + Selfridges Jamón Presentation Set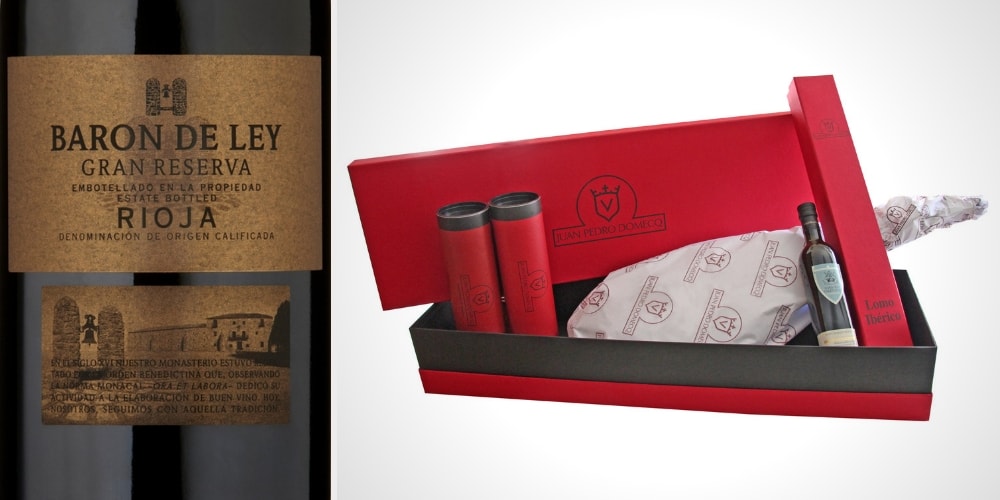 From winemakers on a mission to put Riojan excellence to the fore, and Gran Reserva Rioja back on the map, this bottle is complex yet silky enough to take on the savour and richness of quality Jamón Iberico. Selfridge's selection of the best Iberico meats including a 4.5kg shoulder of ham, loin, Lomito (head of loin), chorizo and one bottle of extra virgin olive oil will whisk loved ones back to sunny terraces, sun-soaked hillsides, and inspire scorching plans for 2019.
How much & where to buy?
Baron de Ley Gran Reserva Rioja: £22.99
Domecq Imperial Iberico Ham Gift Set: £299.99
www.selfridges.com
Gifts for Hosts
Don Papa Sherry Cask Rum + Lakeland Digital Ice Maker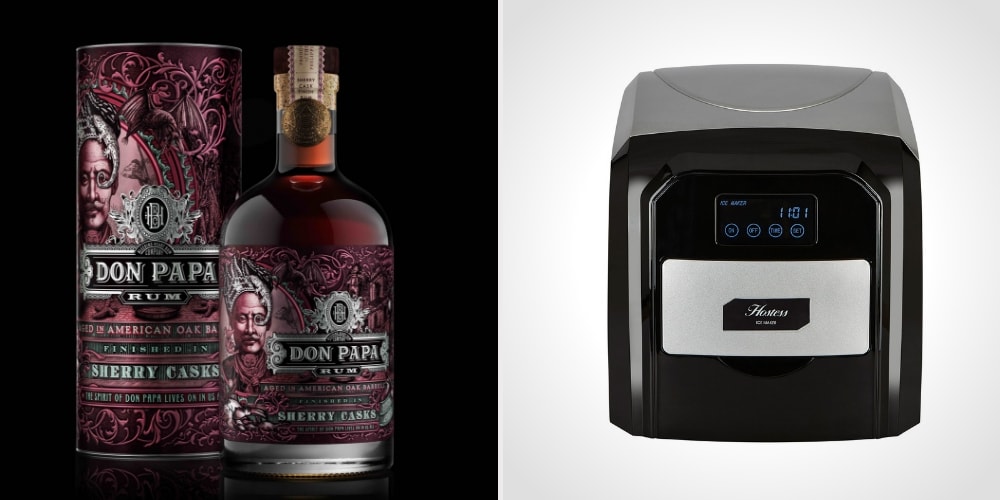 The one thing there's never enough space for at Christmas? Ice. Trust me, any host will be grateful for a way to keep that drinks essential topped up without wrestling the already over-stuffed freezer. This digital icemaker makes an astounding 12kg of ice in 24 hours, and your hosts will need great quantities to keep up with the demand once everyone's tasted this new expression from Don Papa Rum. Their limited edition Sherry Cask Finish is a gift as intrepid and well-travelled as the average Winerist, blending rum from Asia (the Philippines, in fact), ex-bourbon casks from North America with the rounded finish of European Fino, Pedro Ximénez, Cream and Palo Cortado casks. There it lingers for 18 months picking up flavours of spice, nuts, marzipan and liqueur chocolates, so it's a Christmas crowd-pleaser and the foundation of festive twists on a Manhattan, a Boulevardier, a Rob Roy, an Old-Fashioned, or the longer Dark & Stormy. Be sure to keep enough aside for my delectable cocktail below.
Christmas In Manhattan Cocktail Recipe
50ml Don Papa Sherry Cask
25ml Martini Riserva Speciale Rubino
5ml syrup from a jar of Maraschino Cherries (I use Luxardo)
2 dashes Angostura Bitters
Ice
For the garnish:
1 Maraschino Cherry
1 Stick of Cinnamon
Method:
Stir the ingredients with plenty of ice in a mixing glass, then strain into a cocktail glass.
Stir with the cinnamon stick, garnish and serve.
How much and where to buy?
Digital Icemaker: £148.99
Don Papa Sherry Cask 70cl: £69.50
Exclusively at www.harveynichols.com
Gifts for The Traditionalist
Ardbeg 10-Year-Old Scotch Whisky + Fortnum & Mason Christmas Fruit Cake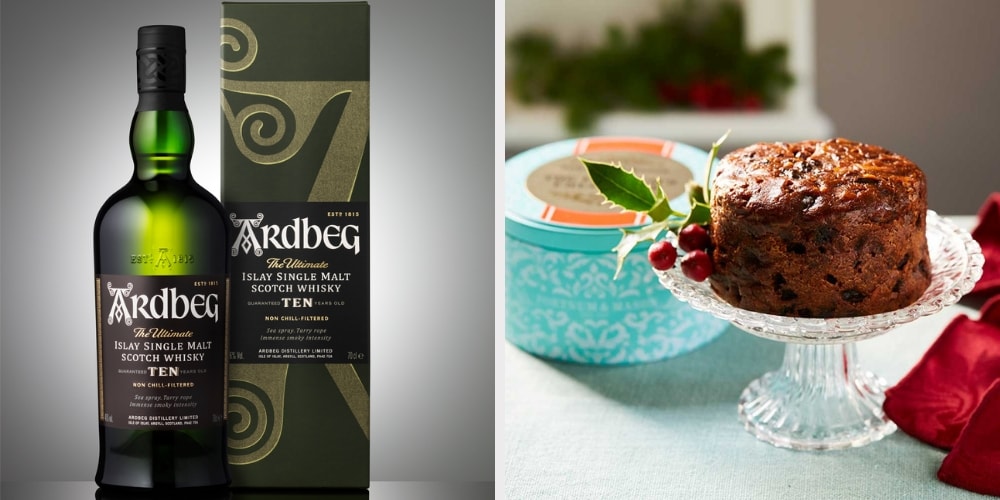 Much like Ardbeg 10, The Fortnum's Christmas Fruit Cake dispenses with all fripperies and modern adornments to permit the richness and clean flavours speak for themselves. Who needs icing and marzipan when moist vine fruits and black cherries are given room to mingle with the natural sweetness of a glass of single malt and Ardbeg 10's earthy smokiness? Each producer's pedigree is epitomised in these gifts, and will appeal to those who respect heritage and quality.
How much & where to buy?
Ardbeg 10-Year-Old: £49
The Fortnum's Fruit Cake 450g: £15.95
www.fortnumandmason.com
Gifts for Wine Explorers
Bouvet Ladubay Saumur NV Brut Crémant de Loire + Winerist Gift Card
It would be remiss of me to omit perhaps the best gift – the opportunity to get away from it all to really live our passions.
Winerist gift vouchers are a gateway to the world of wine and gastronomy, and anyone who receives them will certainly be in the mood for popping a few corks. Crémants from the Loire Valley are the bubbles of choice if you're looking for elegant Méthode Traditionelle wines from Maisons with history and character, at prices that mean you can delight the whole gang this festive season. This Bouvet Brut from renowned Bouvet Ladubay in Saumur epitomises the Fines Bulles of this stunning region with a refreshing quality and Atlantic salinity that make it oh-so accessible for food matching. You can even book to explore Bouvet Ladubay's fascinating winery and caves directly via Winerist.com, so a bottle from the Maison recipients will visit is a meaningful and generous combined gift.
Tip: Winerist Gift Cards are redeemable against any experience listed on Winerist.com or can contribute towards a bespoke trip, so clubbing together as a family or friendship group not only makes gifting easier all-round, but also means you can buy loved ones the most memorable and epic tours, winery visits and hotel stays right here and now.
How much & where to buy?
Bouvet Ladubay Saumur NV Brut: £12.99
Winerist Gift Card: From £30 to Blow The Budget
https://www.winerist.com/gift-card
See more gift ideas for wine lovers here! Or maybe you're after wines to drink at Christmas? Click here! Want to find a wine book? Click here! Or if you want to escape it all, book a wine trip with Winerist here...