Via Maggio, Oltrarno, the left bank of the river Arno in Florence, is where you will find Cristiano working in his little shop. He is more than a goldsmith, he is an artist, and his masterpieces are displayed in glass cases throughout the shop.
His jewellery has been described as sculpture and each piece is an individual creation. The intricacies of the workmanship are astonishing. I note the minute engraved details in a gold bracelet, a delicate necklace that he crocheted out of 18kt gold threads, and a splendid ring with huge diamond encrusted prongs…and no stone! He later explains to me of the irony behind this.
Cristiano is an affable young man who is passionate about his work; I was able to meet him and his wife Linda in the shop and talk about who he is and what he does.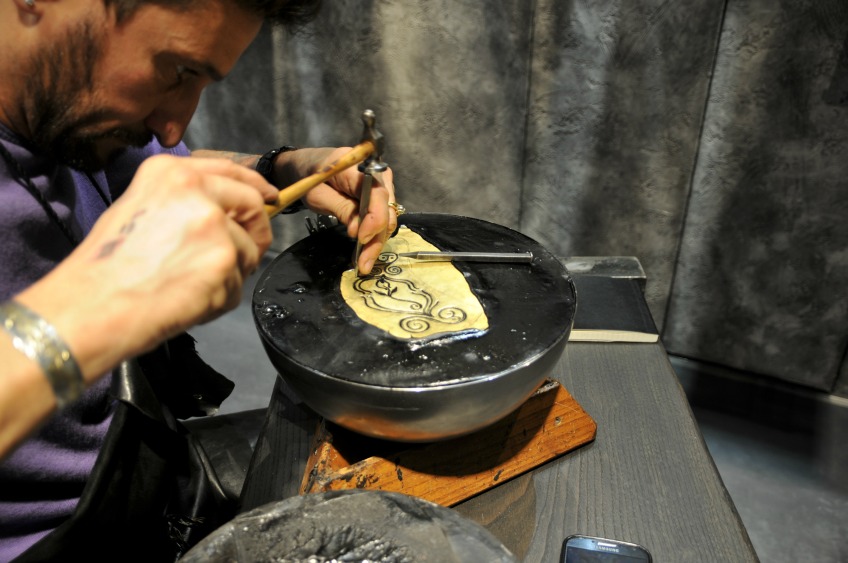 Cristiano was born and raised in Tuscan area of the Casentino Valley, his mother and uncle are goldsmiths and Cristiano grew up in their shop. He remembers how he loved watching them, and how at the age of 7-8 years old he would envision the creation of his own jewels. The fame of their shop is well known as they have important clients in from all over the world. They proudly like to remember works commissioned by the Vatican, particularly a golden chalice made for Pope Benedict.
As we look at and discuss some of his jewels, Cristiano explains how they come to life, he explains the extemporary way he creates his jewels, a direct contact with the raw material and the symbiotic nature of an idea taking shape, or changing as he works it.
His art is beautiful, but what is truly captivating is the ironic provocation of some of the works. A stunning ring with diamond encrusted prongs, but with no stone set in it "Solitaire by Choice of Others", or the double ring with an exaggerated diamond of gold with sparkling white diamond pave' called "The Weight of the Choice" give you an idea of how the artists philosophy and beliefs are entrenched in his work. An earring, (just one) is called "Ex-Ira", it is a representation of a lack of spirituality in today's society. A stunning necklace called "Marriage" where he illustrates the story of love between a couple; a striking scene filled with subtle commentary on marriage.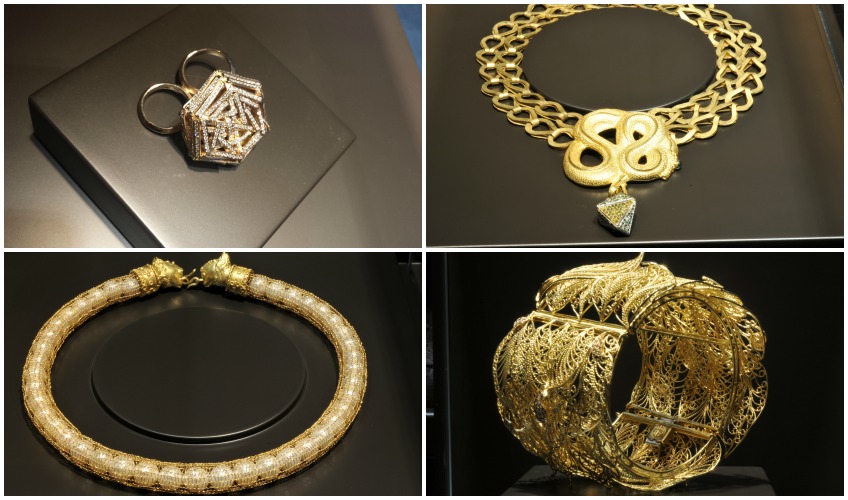 His background studies are in Medieval History and Archeology, and shades of this are visible in some of his work. He considers himself an artist and sculptor; he describes his work as inspiration and a personal connection with his medium. He rarely sketches his works, as he feels it coming to life as he is working the metal. He starts with an idea, an emotion, and from that he proceeds to create the jewel, each a one of a kind piece. When I ask how he works with clients and how they choose a jewel, he tells me that it is the "jewel that chooses the client", meaning that it is a piece of art awaiting the perfect fit, a client who knows that this is what they were looking for. His style is quite eclectic, ranging from archaic and classic pieces to splendid contemporary works.
We also talk a little bit about wine, he tells me how when he and Linda are home in the evening they love to have a good glass of wine. His favorites are not the wines by "famous enologists", but rather the small wineries where the vines are cared for by a winemaker who has a passion for his land, and makes a wine representative of the characteristics of his territory. His favorite winemaker? Damijan Podversic, and the wine they love is Kaplja, a fantastic blend of Chardonnay, Friulano, and Malvasia Istriana, a wine that they say is their absolute favorite. It was the wine they toasted with at the inauguration of the new shop on Via Maggio!
For more information on Cristiano and to see his work, visit his website here.
---
If you would like to plan a trip to Florence, get in touch with us!