I love to cook and am grateful that in London, we have a plethora of food markets and deli shops that encourage us to cook more with fresh, new, delicious ingredients in the comfort of our own homes. The nature of my job is as such that I often get spoiled with wine dinners, food and wine pairings, visits to my favourite wine bars, and of course trips to the best of wine regions in the world. When at home, I therefore opt for cooking simple, fast food which is very often seen in our household as fuel rather than gourmet cooking.
About the Chef
I was therefore beyond delighted when I got invited to join Steve Groves, from Roux at Parliament Square, for a full day of gourmet cooking at Cactus Kitchens in Clapham, London. This was my first experience of such kind in London and with someone of such high calibre. Aside from being a fantastic chef, MasterChef Winner 2009, Steve Groves is also a charming, down to earth kind of chef who loves food and has a lot of fun with it.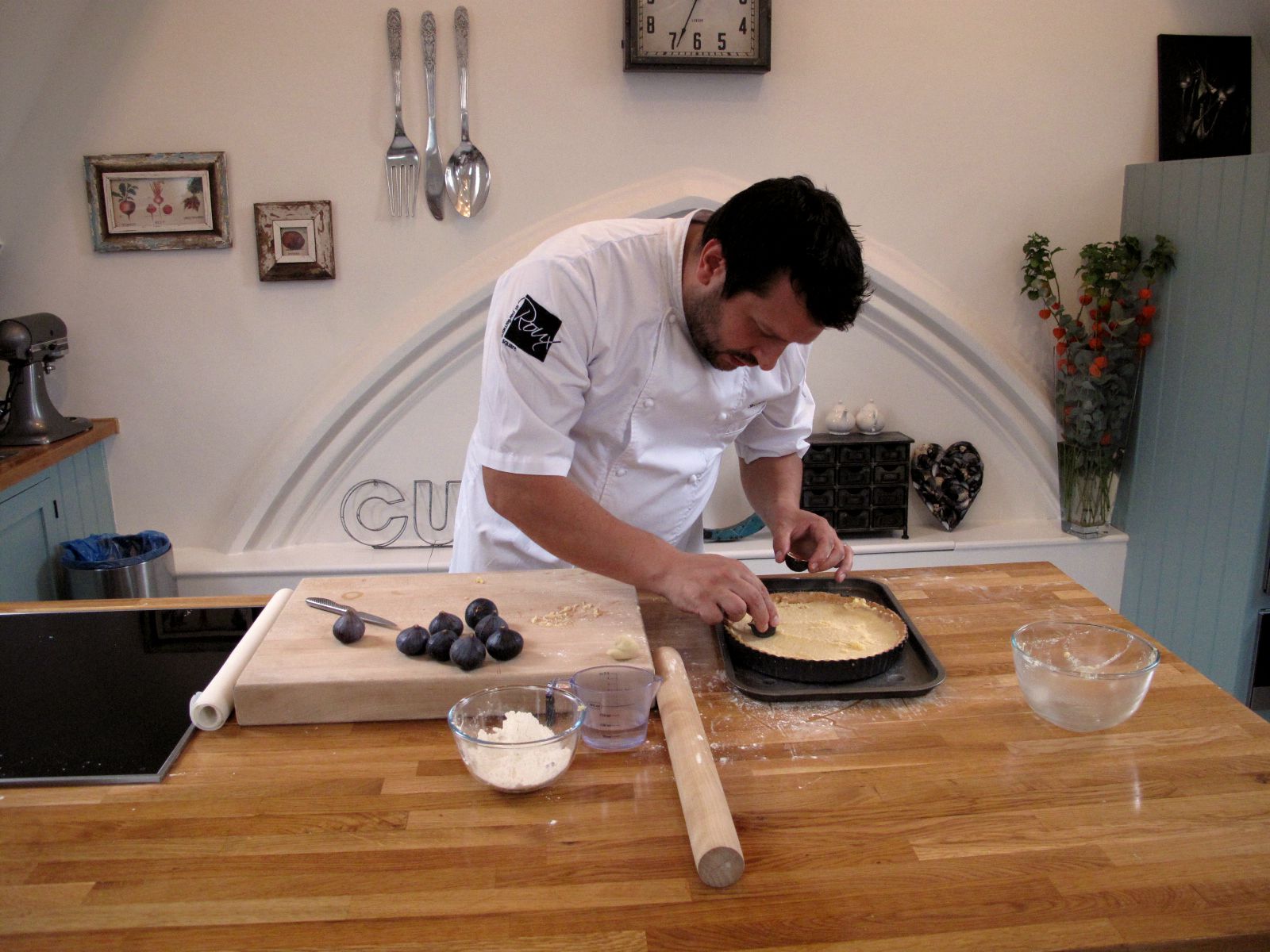 Who are Cactus Kitchens?
From the moment I came in, I knew immediately I was in for a special experience. Located not very far from Clapham Common station, the cooking school also offers the space used by the Saturday Live Kitchen. Guests arrive at 9.30am for a 10.00am start and get served breakfast of freshly made coffee, tea and croissants in the comfort of a room arranged in a cosy, shabby chic kitchen style filled with books signed by Michel Roux, glassware and beautiful antique furniture. In addition, each of us was given a beautiful apron and a day menu. Once breakfast was over, we headed upstairs to the attic kitchen which has over 12 cooking stations, all equipped with the best possible appliances and kitchenware. The room is bright, inviting and filled with the warm aromas of Bakewell Tart.
What's Cooking Good Looking?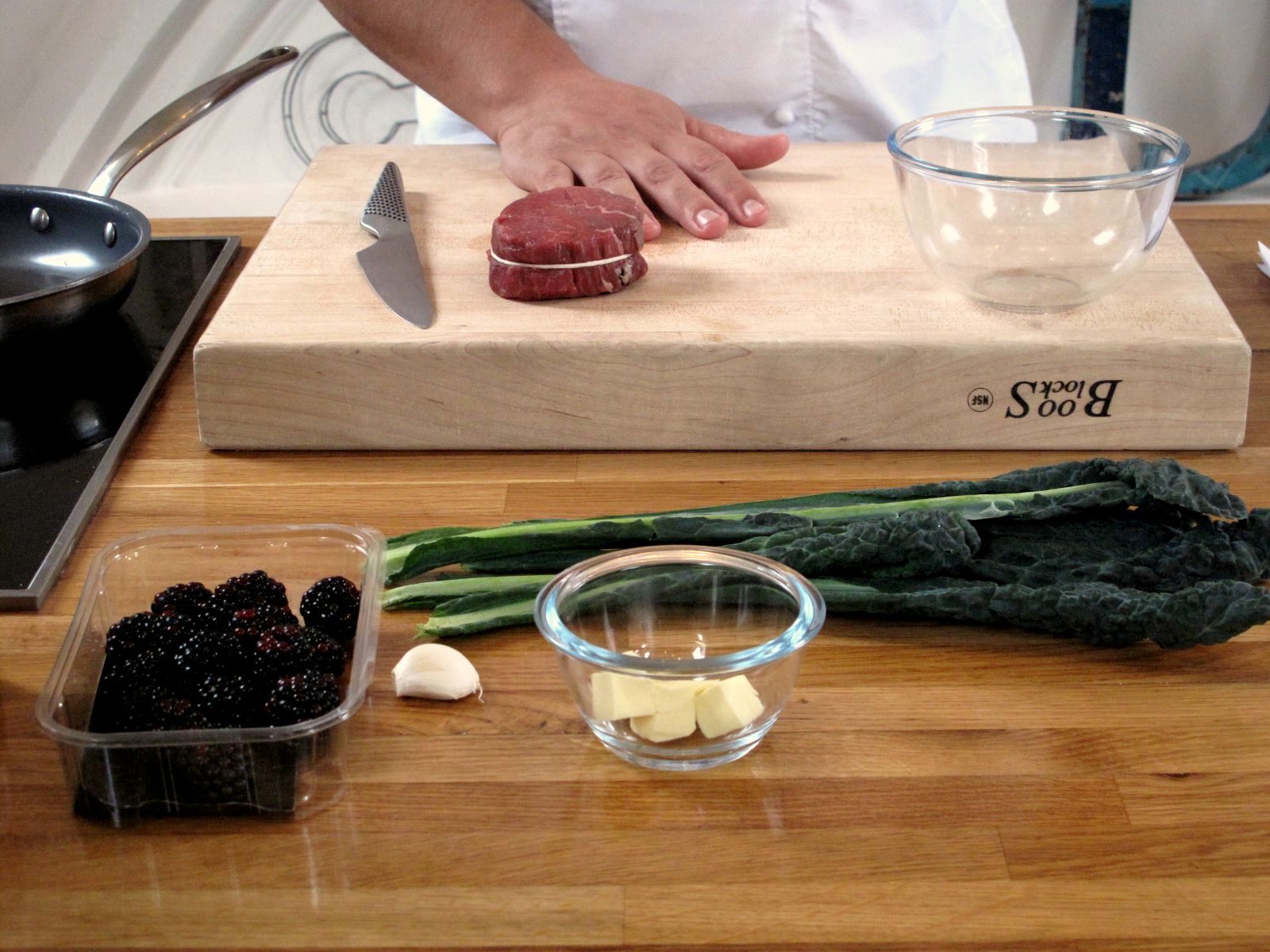 Steve welcomed us to the front of the room and kicked off the session demonstrating how to make the perfect desert of Bakewell Tart with figs. To my surprise, making it is a lot less frightening than I initially thought and definitely not as time consuming as anticipated. I thoroughly enjoyed making this dessert. Needless to say you need good equippment in the kitchen to make delicious food. However, although we were working with top of the range tools, Steve is confident that you don't need to blow your budget in your home kitchen. Invest in great knives, pans and a great blender. And be passionate about what you do.
In professional kitchens chefs work under tremendous pressure. At home, I guess we can pace ourselves, get things wrong, try again. If there is one thing that came out of this experience, it's that professional chefs work in extremely pressuring conditions, in very hot kitchens and produce masterpieces in a limited amount of time. Next time when I visit a restaurant, I will think of the great man or woman who worked hard to make the food on my plate look good and taste even better.
The First Course
From here on we moved onto making a delicious starter of Grilled Mackerel, beetroot, horseradish and dill dressing. Steve used golden beetroots rather than the red variety and combined it with horseradish, fish and beetroot turning the dish into a mouthwatering experience. The highlight here was the the fact that the beetroots had been slow roasted in foil for 2 hours. It's a great trick I have been attempting at home since. After the masterclass, we went back to the downstairs kitchen and sat down to eat our starter paired beautifully with Terravignata Verdicci di Metalica, B. Paglianetto 2013.
The Second Course
Once the first course was done, we moved on to the main course of venison fillet with sweet potato puree, cavolo nero and a red wine blackberry jus. This dish was so easy to cook and needless to say divine. The cavolo nero was infused with garlic and cooked slowly, whilst the venison was seared and cooked for 2 mins in the over to capture that juice and softness. The blackberry jus was a real discovery and we ate this with the greatest appetite paired with Meerlust 'Red', Stellenbosch, South Africa.
Desert and time for beautiful conversation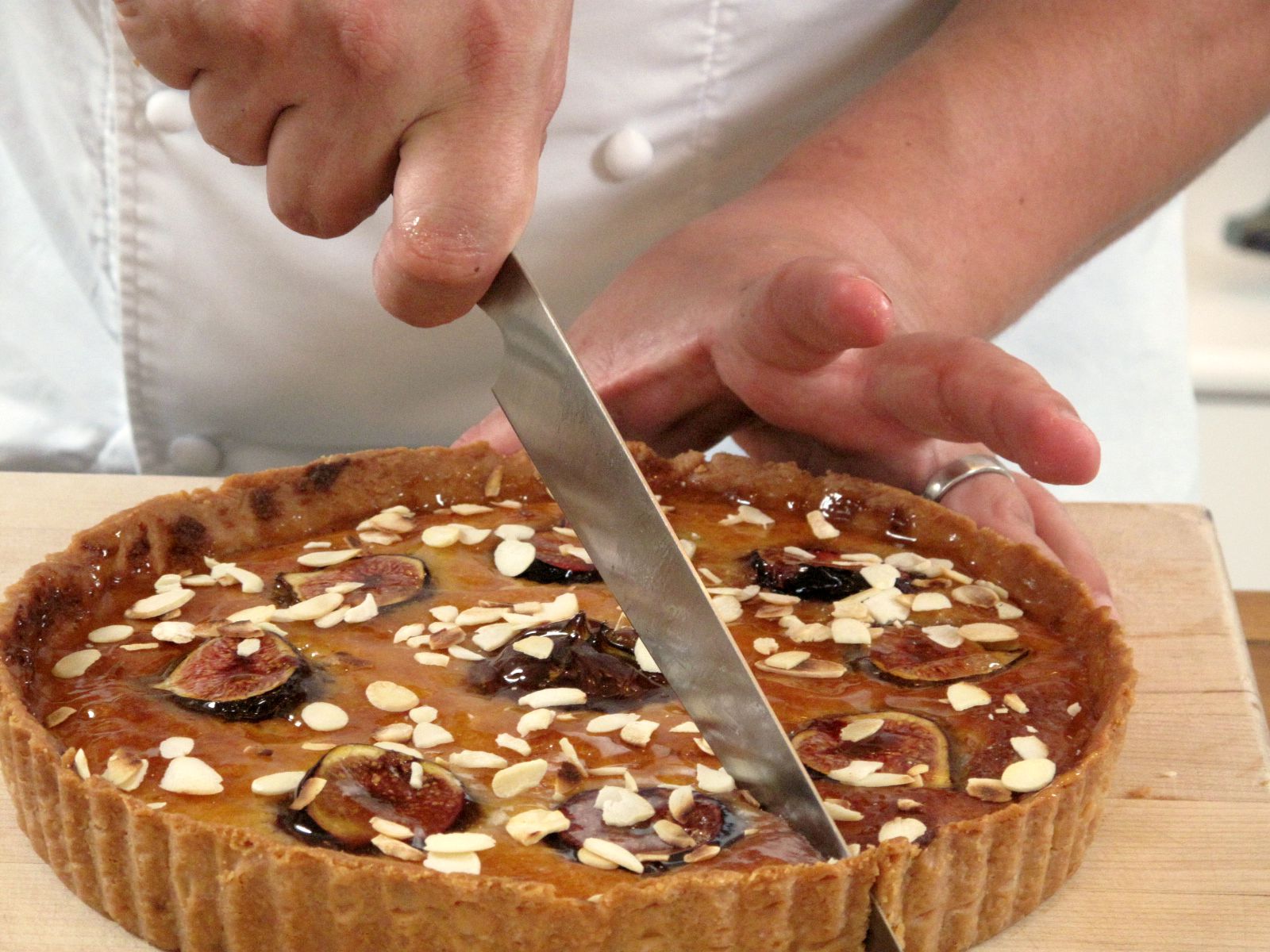 Steve was kind enough to let us have the cake and eat it. At home with family and friends. At Cactus Kitchens we enjoyed the bakewell tart made by Steve, topped with cream and paired with Sauternes Chateau Petit Vedrines 2010. Steve Groves sat down with us and enjoyed a slice of his own masterpiece and walked us through nightmare kitchen stories, the beautiful menu from Roux at Parliament Square and why he loves being there and the people who surround him. He told us about his favourite foods – 'nothing better than a homemade fish and chips made with love' and about where he loves to source his food.
We left Cactus Kitchens with our own apron, a delicious menu, a signed book of recipes and a delicious tart which got me into trouble more than not. Now that my family knows I can cook complex dishes, the 15 minute meals might have to go…I will certainly come back to Cactus Kitchens and cannot wait for my dinner at Roux at Parliament Square next month to experience the food made by one of the most skillful and down to earth chefs in London.