As Autumn rolls around, we kickstart the season of robust and hearty herb-based cocktails. Colder weather means more comfort in the glass and that's exactly what Balcones brings to the glass. The addition of thyme, mixed with Balcones Baby Blue whisky and lemon juice creates a delicious cocktail: Thyme Tells All. Shaken and served cold with the addition of a thyme sprig garnish on top–it's an irresistible cocktail worthy of your precious thyme.
Tick, tock. It's Thyme to Fall in love with this mixology dream.
Thyme Tells All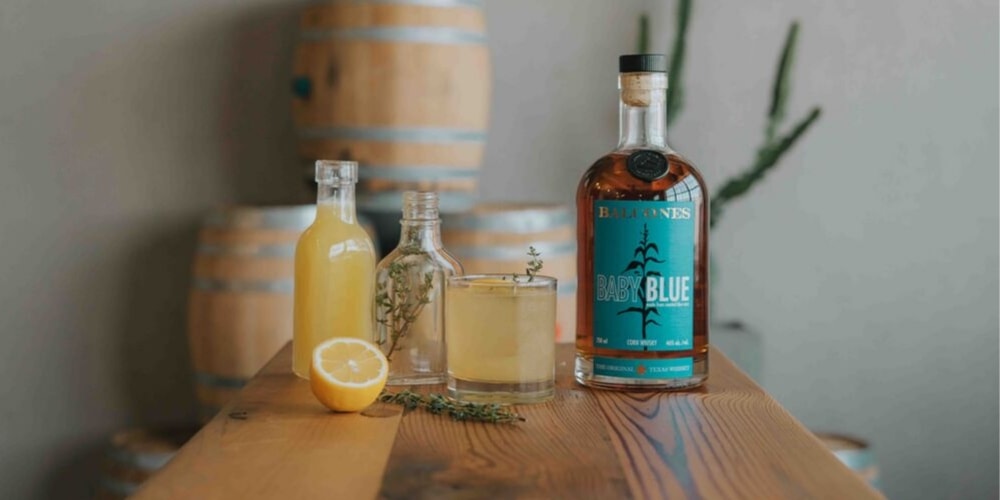 Ingredients
1/2 oz. Baby Blue
3/4 oz. Lemon Juice
1/2 oz. Rich Thyme Syrup
Garnish: Thyme Sprig
Add all ingredients to a shaker and fill with ice. Shake until cold and strain into a glass.

Rich Thyme Syrup Recipe
450g water
9g thyme
900g superfine sugar
Add water and thyme and heat until aromatic. Strain out thyme and add water back to pot before adding sugar. Stir until dissolved.
Check out more awesome cocktail recipes in our 5 Spooky Cocktail Recipes for Halloween piece. Or perhaps you would like to read about cassis and the cocktails involving this berry, then click here!