It was a hot sunny day in October when we visited Priorat, one of the smallest but most prestigious wine regions in Spain. The harvest had just finished, and you could smell in the air the mesmerising aroma of fermented grape juice.
With just only c.50 wineries, little towns with less than 25 people, and olive trees scattered about, Priorat feels very special and secluded from the rest of the world. Winemaking practices dates back to the Middle Ages, but after Phylloxera wiped out all of the vineyards in the late 19th century, the land was used mainly for agricultural purposes. It was not until the 1980's that the region was re-discovered by a group of enthusiastic winemakers.
Christopher Cannan, whose winery Clos Figueras we visited, was among these pioneer winemakers who recognised the potential of Priorat and started exporting the wines of the region. Having explored every corner of the world where wine is made, Christopher fell in love with Priorat's wines and in 1997, he established Clos Figueras – an 18 hectare estate in the village of Gratallops.
The soil here is the famous 'licorella' a red, schist-like soil that is rich in minerals which results in expressive and powerful wines. At Clos Figueras, Christopher guided by Alain Grillot, famous for his Syrah of the Rhone Valley, has planted red and white varieties that are typical to the Southern Rhone. The estate produces wonderful red wines from Garnacha, Carignan, Syrah and Cabernet Sauvignon – with the 2001 and 2005 vintages scoring 96 points by Robert Parker.
Our passionate tour guide Miquel Compte, also shared an anecdotal story on how Clos Figueras started to produce by chance an outstanding white wine from Viognier. They were supposed to plant Cabernet Sauvignon vines but at ripening time they discovered white grapes instead of red ones! It was a lucky mistake that nowadays results in a famous and distinctive Viognier that is only produced in small quantities of 1,200 bottles a year.
Another unique feature at Clos Figueras was that being a boutique small winery, the fermentation of the grapes was still mainly taking place in oak barrels, just like in Burgundy! Having tasted the wines, I think barrel fermentation gives the wines an extra level of depth and a lovely velvety texture enhanced by the sweet taste of vanilla.
After visiting the cellar, Miquel invited us for a hearty traditional Catalan lunch at their own Les Figueres restaurant. The ingredients are ecological and locally sourced, most of them coming right out of their garden, where we could see aubergines, tomatoes, peppers, herbs and salad leaves growing at the time.
We tucked into local delicacies such as 'pa am tomaquet' (bread with garlic and fresh tomatoes), ham, different types of sausages, cheese, lamb and of course Clos Figueras' own olive oil.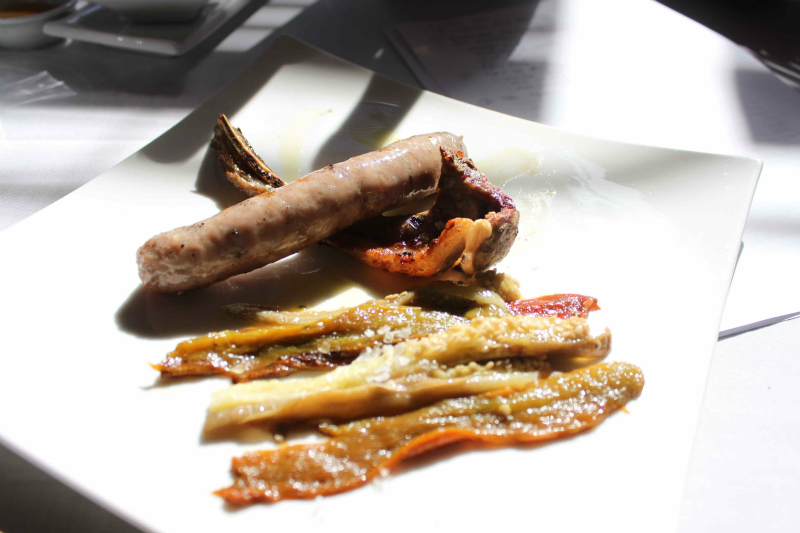 Local wine & sausage dish and Clos Figueras olive oil 
Miquel also spoilt us with a wine & food pairing session, by pairing each dish with a carefully selected Clos Figueras wine. We tasted:
Serras del Priorat 2010 – a blend of 60% Grenache, 15% Carignan, 10% Syrah and 10% Cabernet Sauvignon aged for 7 months in oak. Winerist take: a light and fruity red that will go well with light dishes. Plenty of dark fruits, black cherry, blackcurrant with lovely spicy notes on the finish.
Font de Figueras 2008 – a similar blend, aged slightly longer in oak. Winerist take: more firepower than the first wine, with more body and minerality on the palate.
Clos Figuera 2006 – a blend of Grenache, Carignan and a bit Monastrell, aged for 16 months in oak. Winerist take: the most powerful red, tertiary aromas of mushrooms, earth and forest floor but still plenty of fruit. This one has long ageing potential.
Font de la Figuera Blanco 2011 – 85% Viognier, 10% Granche Blanc and 5% Chenin Blanc. Winerist take: Finally we get to taste the famous white wine and oh boy, it does not disappoint! Rich and oily on the palate, with strong aromas of pear and apple and a marzipan like finish. Delicious!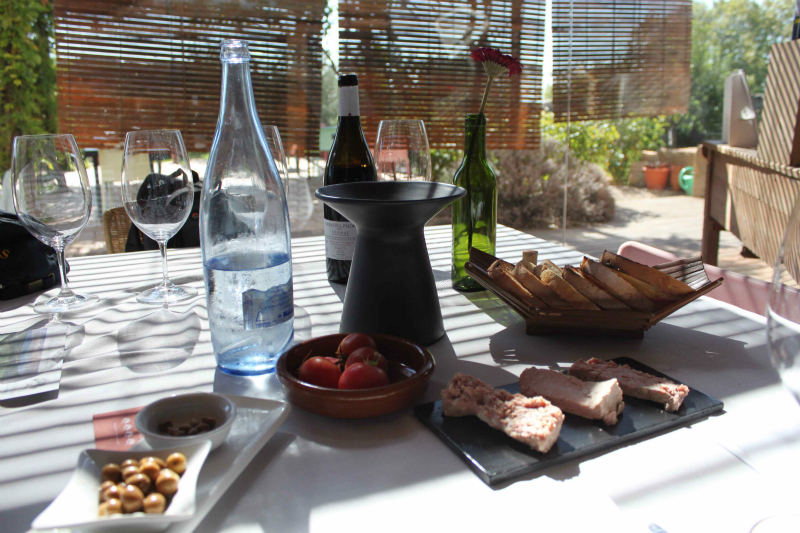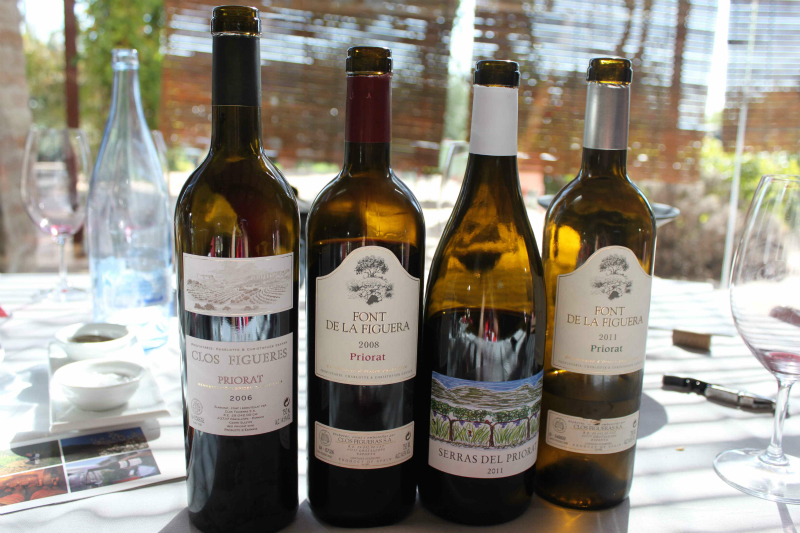 The wines we tasted
Without a doubt, the visit to Clos Figueras was the highlight of Winerist's Priorat trip and deserves to be our Top Winery of the Month. The wines were magnificent, the food was fresh and cooked to perfection, but most importantly we enjoyed the hospitality of Miquel and the rest of the staff.
If you would like to visit Clos Figueras, find out about their opening times and tasting options here. Les Figueres restaurant is open at weekends for lunch and on Friday and Saturday nights in the summer where you can eat in the garden outside overlooking the mountains.
To find out more about Priorat we recommend a private tour of the region where you will discover and compare the wines of different estates.
Written by: Tatiana Livesey, Winerist Co-founder.