Christmas is very much a time for traditions and every family has its own sacrosanct ones that no matter how fashions evolve (or how many new in-law members of the family are welcomed in) can ever change. But I know in our family when the annual division of labour email went round there was a sense of ennui as well as excitement.
We know there are some things we simply don't want to change no matter how bored we are – the kids most of all are terrified that we adults might get all 'suckling pig instead of turkey' one year and destroy their concrete expectations of what Christmas is all about. But we can play around with what we drink.
This year it's all about Champagne sorbet slushies for me (2 frozen scoops – you can use ice cube trays for this – of Champagne topped up with more Champagne). We usually have Champagne but with 12 of us drinking we get through vast quantities especially as excitement builds through ripped paper all over the living room and delirious children running around which somehow translates to faster drinking. Not to mention red faces emerging from oven duty which need cooling and burnt/sliced fingers to soothe.
A sorbet slushy loses none of the luxury of Champagne while providing a little more substance to slow things down a little. Bellinis are great but too loud if you are also nibbling smoked salmon. If you prefer a little hint of sweetness a drop of elderflower cordial is a better alternative to kirsch for food.
Take advantage of all the deals for Champagne at this time of year and if you possibly can put some away for next year. Even the most humble NV benefits from a little extra ageing. Self-restraint required.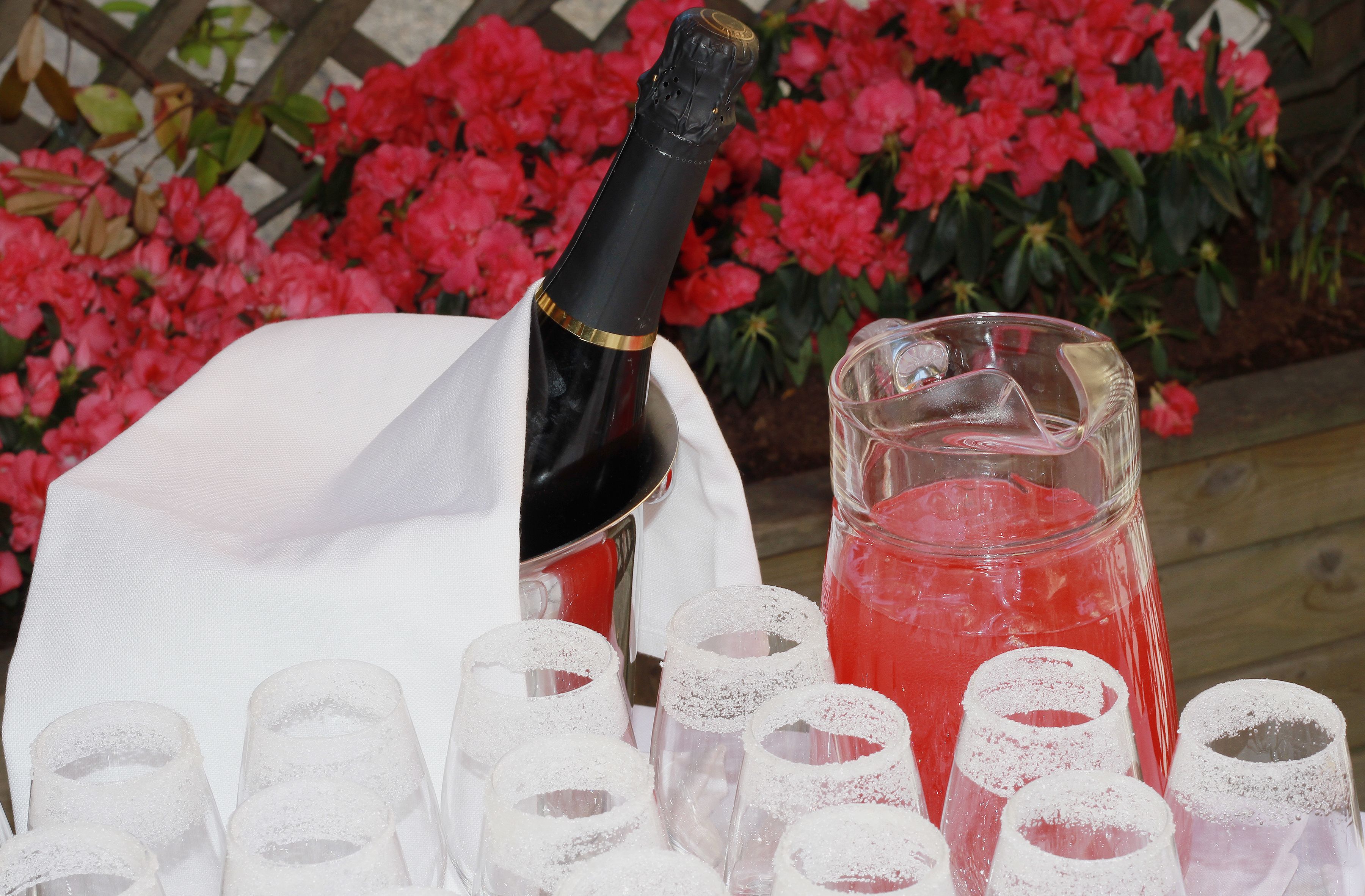 While great Chardonnay, especially for me from Burgundy, is almost impossible to argue with, there is life beyond those wondrous hills and this year I will be bringing Pinot Gris from Alsace. Ripe and heady, high but very well balanced alcohol, it has the density and structure to be almost red wine-like satisfying. Not aperitif at all but rich enough to escort the turkey to the ball. Trips to Burgundy>
Personally I prefer Alsace wines but extremely good examples come from Oregon (Eyrie Vineyard & King Estate). It is important to speak to your merchant though as some wines can be made with some residual sugar, which may or may not be to your taste. Beware wines labelled Pinot Grigio though, the grape is the same but the style is at the other end of the spectrum, light and fresh and not big enough to cope with a rich roast. Trips to Alsace>
Pinot Noir is often the go-to red wine to match with white meat as it is lighter in tannin and has the necessary delicacy. Again while I can't argue with that my greatest wine love affair this year has been my re-discovery of Cabernet Franc. In the past the Loire (one of the few places making 100% Cabernet Franc) has struggled to really get enough ripeness and the herbaceous green pepper calling card was hard, almost metallic. It could more often than not be tart and challenging.
Now though with longer warmer summers the grape has come into its own and the fragrant perfume, silky tannins and purity have astonished me recently. Done well it also feels very expensive like the inside of an Hermès Birkin. There's something wonderfully polished and grown- up about it. Chinon is the one to go for, Saumur-Champigny is more expensive because it is fashionable in its native land and Bourgeuil is a bigger beast and may overwhelm the turkey. Trips to Alsace>
And finally post-feed the Port would be a natural wine to finish with and I have no doubt we will open a bottle at our celebrations but I will also bring a bottle of Madeira. This sadly neglected thing of wonder and beauty. Long-lived with exotic aromatics and a mouthwatering bitter marmalade edge which lifts it and makes you crackle with energy and delight. You'll still be able to doze your way through a couple of rounds of charades but without feeling like you may explode at any moment. Trips to Douro>
My best tip though, for this season and forever, is to shop at an independent merchant with staff who know and love wine. That's why I haven't given you specifics of where to buy what. Find your local wine shops as you would for food and talk to them. Drink less, drink better, love life. Merry Christmas!
Find Ashika in action at one of her courses at London Love Wine school.
Also read 5 Unusual Port & Cheese Pairings>