On August 13th, enthusiasts and connoisseurs around the world will raise their glasses in unison to celebrate National Prosecco Day. This effervescent occasion is a delightful homage to one of Italy's most cherished contributions to the world of beverages. With its origins rooted in the lush vineyards of the Veneto region, Prosecco has become a global symbol of celebration, elegance, and conviviality. This National Prosecco Day, as the world unites in raising glasses to celebrate the effervescent beauty of Prosecco, we take the opportunity to experience the magic of Pasqua's `PassioneSentimento' collection.
THE BUBBLY HISTORY OF PROSECCO: A SIP OF ITALY'S HERITAGE
The story of Prosecco dates back centuries, with its roots intertwined in the picturesque landscape of northeastern Italy. Named after the grape variety from which it is made, Glera, Prosecco's journey from regional charm to international acclaim is nothing short of remarkable. While the first documented mentions of Prosecco's production can be traced back to the late 16th century, it wasn't until the latter half of the 20th century that the wine truly began to capture hearts beyond Italy's borders.
A GLOBAL PHENOMENON: THE RISE OF PROSECCO
Over the past few decades, Prosecco has experienced an unparalleled surge in popularity. Its approachable flavor profile, marked by notes of crisp apples, pears, and delicate florals, has made it a favorite among a diverse range of palates. Unlike its cousin Champagne, Prosecco is often seen as a more affordable alternative, yet it certainly doesn't compromise on quality or effervescence.
One of the factors contributing to Prosecco's widespread appeal is its versatility. Whether enjoyed on its own as an aperitif or paired with an array of cuisines, Prosecco's light and refreshing character makes it an excellent companion for a variety of occasions. From brunches to weddings, from casual gatherings to momentous celebrations, Prosecco's effervescent personality adds an air of festivity to any event.
A LOOK AT OUR FAVOURITE PROSECCO
Experience the epitome of celebration and sophistication with Pasqua Winery, nestled in the heart of Verona, the city that witnessed the timeless love story of Romeo and Juliet. This distinguished winery is not only the custodian of Verona's romantic heritage but also the inspiration behind their exquisite `PassioneSentimento' range.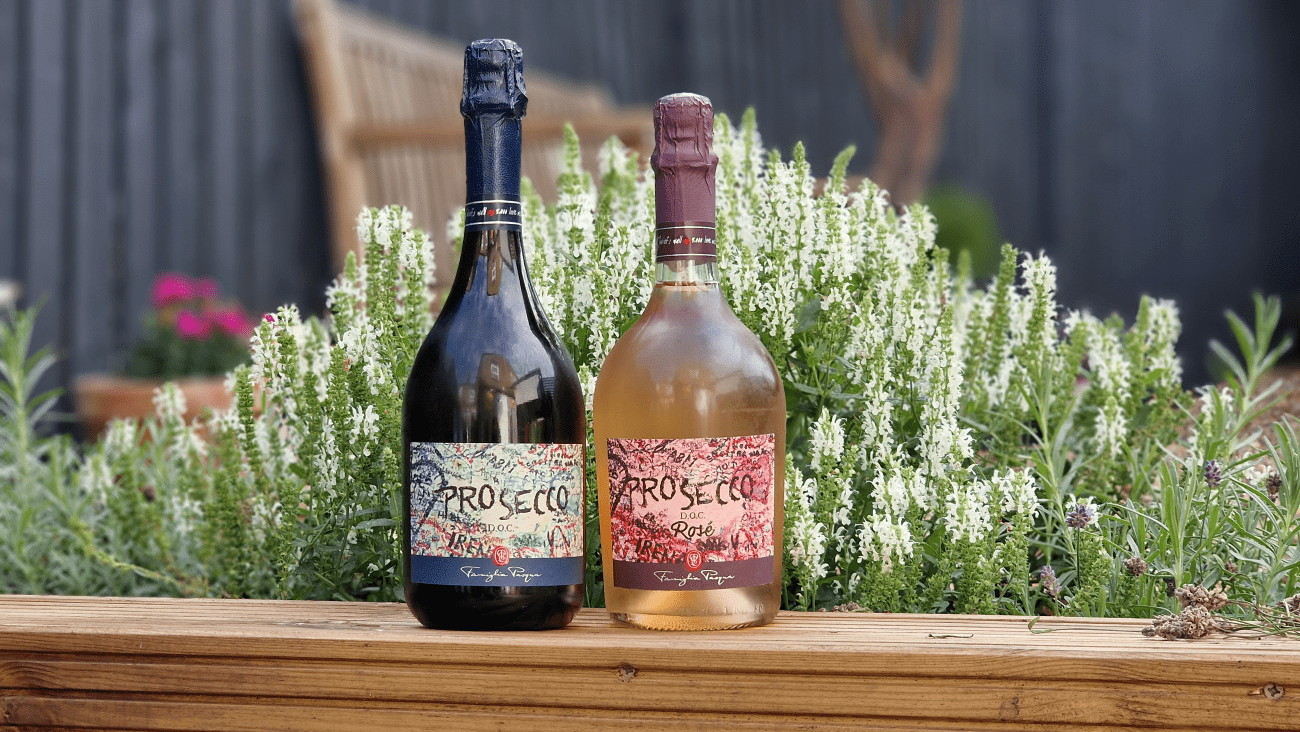 The `PassioneSentimento' collection, crafted with meticulous care, includes the enchanting R&J Prosecco Brut and the captivating R&J Prosecco Rosé. Both these offerings feature captivating label designs that pay homage to modern lovers who inscribe their emotions within the historic courtyard of Juliet's house in Verona.
The R&J Prosecco Brut and R&J Prosecco Rosé, both born from a harmonious blend of Glera and Pinot Nero grapes, carry an air of elegance and vibrancy. These wines are imbued with a vivaciousness and freshness that render them a natural choice for raising a toast on this special occasion.
CAPTIVATING LABEL ARTISTRY: A TRIBUTE TO MODERN LOVE
The label designs of R&J Prosecco Brut and R&J Prosecco Rosé are a visual marvel. They present a contemporary interpretation of the heartfelt messages left by present-day romantics in the iconic courtyard of Juliet's house. This creative fusion of history and modernity serves as a fitting testament to the enduring power of love.
A SYMPHONY OF FLAVORS: R&J PROSECCO BRUT AND R&J PROSECCO ROSÉ
The R&J Prosecco Brut tantalizes the palate with its refreshing character and elegant notes. Its fine bubbles dance on the tongue, releasing the delicate flavours of Glera grapes, creating a symphony of sensations that celebrate the essence of Verona's romantic legacy.
For those seeking a more rosy indulgence, the R&J Prosecco Rosé enchants with its alluring blush hues and charming personality. The inclusion of Pinot Nero grapes lends this Prosecco a delightful complexity, offering layers of flavour that captivate the senses.
SEIZE THE MOMENT: WHERE TO FIND THE `PASSIONESENTIMENTO' COLLECTION
Embrace the allure of Pasqua's `PassioneSentimento' range by acquiring the R&J Prosecco Brut and R&J Prosecco Rosé, both of which are available online and in select stores, including Majestic. At just £9.99 per bottle, these exquisite wines offer an accessible gateway to the world of refined taste and passion. Shop Pasqua wines >
This National Prosecco Day, as the world unites in raising glasses to celebrate the effervescent beauty of Prosecco, take the opportunity to indulge in the flavours, soak in the romance, and toast to the timeless legacy of love that Verona continues to inspire.
RAISING A GLASS: HOW TO CELEBRATE NATIONAL PROSECCO DAY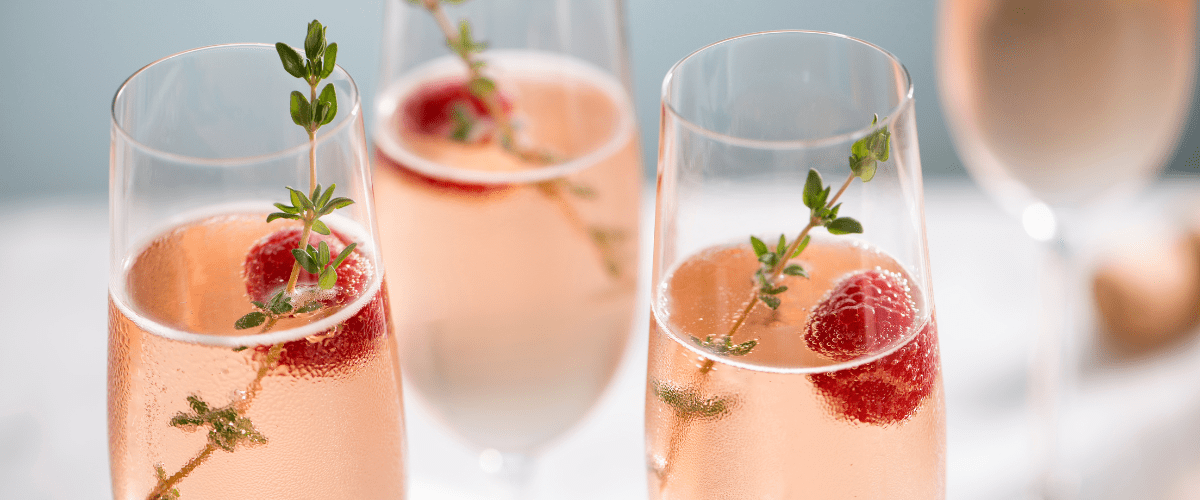 National Prosecco Day provides the perfect excuse to indulge in the pleasures of this sparkling elixir. Whether you're a long-standing aficionado or a curious newcomer, there are numerous ways to partake in the celebration:
Tasting Flights: Explore a range of Prosecco styles by organizing a tasting flight. From the classic Brut to the sweeter Extra Dry and fruity Rosé variations, there's a Prosecco to suit every taste preference.
Food Pairing: Enhance your Prosecco experience by pairing it with an array of dishes. Its crisp acidity and effervescence make it an excellent match for appetizers, seafood, light pasta dishes, and even spicy cuisines.
Mixology Adventures: Get creative with Prosecco cocktails. From the timeless Bellini, a blend of Prosecco and peach purée, to innovative concoctions that incorporate fresh fruits and herbs, the possibilities are endless.
Educational Experiences: Take the opportunity to learn more about Prosecco's production process, its history, and the specific characteristics of various Prosecco-producing regions.
Virtual Toasts: Connect with friends and fellow enthusiasts virtually to raise a glass together in celebration, sharing stories and toasts from different corners of the world.
A TOAST TO TOGETHERNESS
In a world that often moves at a dizzying pace, National Prosecco Day offers a respite—a moment to pause and relish the simple joys of life. Whether enjoyed alone as a quiet indulgence or shared in the company of loved ones, a glass of Prosecco embodies the spirit of celebration, unity, and joy. As the world comes together on August 13th to raise their flutes in unison, let's savour the effervescent magic that is Prosecco and toast to the moments that bring us closer, no matter the distance.
VISIT THE HOME OF PROSECCO
Would you like to visit the home of Prosecco in northern Italy? Perhaps you'd like a tailor-made trip that includes a visit to the romantic Verona with wine tours of the most renowned Prosecco-making wineries in Italy? Get in touch via the form below and we'll create the perfect wine trip for you!
Enquire with our Tailor-made Team