Winerist had a quick chat with Laura Fiore, Sales and Marketing Manager at Hotel Castello di Casole. We wanted to know more about this Italian jewel and what makes it so very special.
The restoration of this famous and picturesque Hotel in the heart of Tuscany's hills, surrounded by cypress trees, vines as far as the eye can see and vineyards will amaze any wine traveler. You can book your next stay here, but first find out more about the reasons why this is a must visit for you.
Winerist: Laura, Castello di Casole brings decades of tradition, architecture, wine and food into one place. Tell us what was the philosophy behind rebuilding this magnificent property?
CdiC: The Philisophy was to keep the Estate and the Hotel true to the destination. The property has undergone a 5-year restoration maintaining the original footprint of the Estate with attention to detail. When guests visit us they can still see the borgo like set up. All of the suites and public areas have been individually decorated transmitting that home away from home warmth and Tuscan feel.
W: Does Castello di Casole have its own vineyards and make its own wine?
CdiC: Yes, Castello di Casole owns over 88 acres of vineyards and produces 2 red wines – C and Dodici which are not retailed but can only be found at Castello di Casole where we will retail the wine to guests and clients.
W: With the Winter months approaching, what should visitors to Castello di Casole keep an eye out for? Any special celebrations and stays?
CdiC: Visitors visiting during the winter months should look out for the Christmas Celebration – We have a lovely Christmas package which includes a visit to the Christmas market in Florence SIENA as well as other local festivals and markets that occur during the winter. Tuscany is the type of region that can be visited all year round. In the winter guests can enjoy our fine wines, gastronomy, art, culture and the history that surrounds our area by visiting the medieval towns of San Gimignano, Volterra and Siena. Not to miss are the alabaster and crystal factories in Volterra, fresh game from the estate and our own 2012 olive oil.
W: Tell us a bit about the Spa. Do you offer any wine spa experiences or detox programmes for the busy bees?
CdiC: Our Essere Spa will be 100% complete next spring offering 7 treatment rooms including a couples treatment room with jacuzzi. Essere will have wet areas, relaxation areas and treatments that reflect the local area – a full treatment of grape seed scrub, detox treatments and more.
W: With so much to offer, what are the main attractions of Castello di Casole?
CdiC: Castello di Casole is a country resort that is simply a Tuscan lifestyle retreat. The Estate is one of the largest private estates in Italy situated on 4200 acres including a private game reserve, vineyards, olive groves, trails for biking and hiking and is a must visit!
W: For the keen wine traveller, what wine activities and experiences are available at the hotel. Wine tastings, cooking classes, any other tours?
CdiC: The Hotel and Estate offer cooking classes, wine and olive oil tastings and our Food & Beverage Manager, Federico Galligani who is also our Sommelier has hand picked select wines and has created our wine list. He is very passionate about wines and also gives detailed and unique wine tasting demonstrations. Our Concierge team can organize any type of wine tour – a day visit to the Land of Brunello, the wineries in Montepulciano and Chianti as well as other off the beat and track wineries which one would not know about.
W: If you could, what would be the three words that best describe a stay at Castello di Casole?
CdiC: Authentic Tuscan Experience.
W: We cannot wait to be back and enjoy some wonderful experiences at the wonderful Castello di Casole!
CdiC: What is a plus is that you can enjoy them any time as Castello di Casole is open all year round!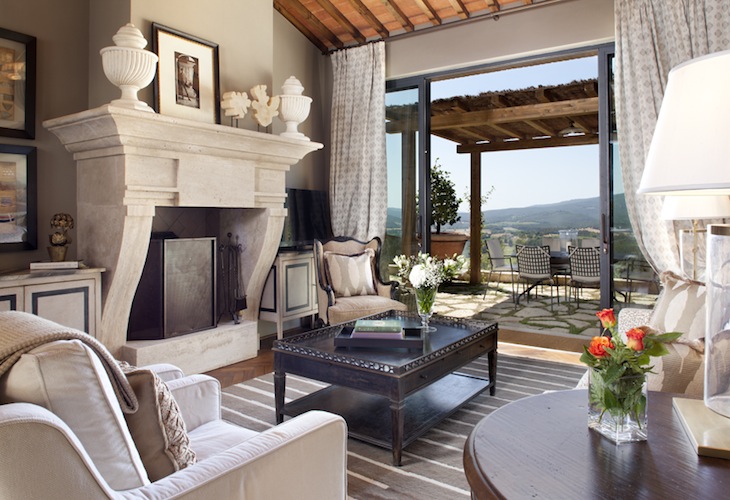 Living Rooms filled with light. Attention is given to every single detail