It has been shown that bottles of wine recovered from shipwrecks experience a different aging process than if they had been aged on land. Many of these shipwrecked bottles have been auctioned for exorbitant prices with amounts reaching as much as €60,000 per bottle!
Why is water an excellent environment for aging wines? Under the sea there is no light and no noises, and the salinity and the slight movement of the water creates an ideal place for wine to be preserved. Water tends to remain at a relatively constant temperature and pressure, so the atmosphere created is perfect for the aging of some wines. The wines are selected by wineries and, with the help of specialised diving equipment, deposited in a submerged structure where underwater conditions are monitored.
The sceptics out there think that aging wine this way is a marketing ploy used to generate sales, but the evidence says that wines aged underwater evolve very slowly allowing secondary and tertiary aromas to come through over primary ones. The wines often softer flavours and rounder, with greater colour and aromatic intensity. The result is a wine that has a slow evolution, as if time had stopped.
The aging of wines under the sea can be an interesting alternative to wine tourism for wineries and territories in which this curious activity takes place. There are already companies that offer underwater tours in search of bottles deposited in chests and allow travellers the opportunity to taste them.
The sea, as well as being a preferable way to age wine, also offers an environmentally friendly way to store wine.
Do you want to discover some of the wineries worldwide that ages their wines under the sea?
---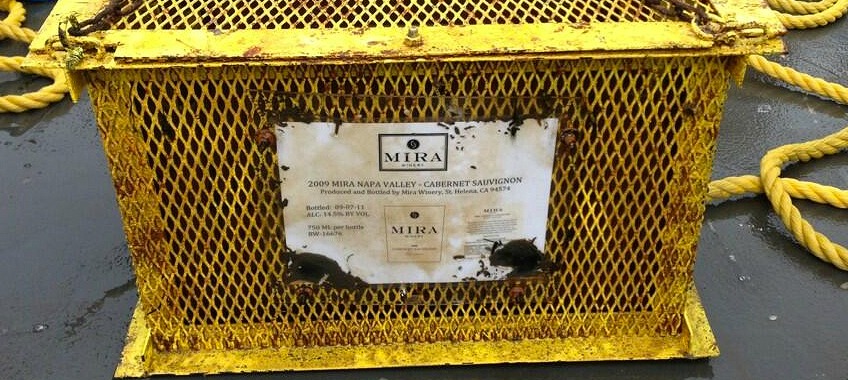 Mira Winery, Napa Valley, USA
Mira Cabernet Sauvignon is a creation that gave an answer to a question, 'Can the ocean help us create a better wine?' They started to experiment with 48 bottles of their 2009 Cabernet Sauvignon placed in custom-made, submersible cages for 3 months. They called the process 'Aquaoir'. Now, the bottle of wine that would be sold $48 a bottle has a price of $1,000 and everyone knows them also because of their 'crazy' idea of aging wine underwater.
---
Espelt Viticultors, Girona, Catalunya, Spain
With the collaboration of the famous restaurant El Bulli and the support of D.O. Empordà, a wine region in Catalunya, Spain, the Espelt Viticultors winery aged 300 bottles of wine for 400 days under the water. They submerged different types of wines, such as young wines and structured ones, to observe the influence of water on tannin and aging. They also immersed sparkling wines to see the influence of pressure and sweet wines to study the effect of salinity.
The bottles were placed in a special cage made to prevent excessive movement due to currents; it was permeable to allow water to enter and exit homogenising the temperature, and was respectful of the environment without leaving any trace on the seafloor once the experiment was completed.
According To Xavier Cepero, CEO of Espelt: 'Young wines have endured worse marine pressure, while the wines intended for aging, more corpulent and robust evolution have held up well under the sea, with a very soft parenting and maintaining good fruit'.
Most of the production obtained was sold in El Bulli restaurant.
---
Chateau Larrivet-Haut-Brion, Pessac-Léognan, France
Larrivet Haut-Brion experimented with underwater aging: he had two identical size barrels full of wine from his 2009 vintage. One of them was left on their old winery in Bordeaux, and the other was covered with a cement sheath and submerged in Cap Ferret, on the Atlantic coast.
French wine critic Bernard Burtschy stated that 'The barrel in the sea was better than it should have been. The wine was softer, with more complexity than its cousin aged on ground'. Laboratory tests revealed that the one that came from the sea had softer tannins and a slightly lower degree of alcohol. Salinity levels were partially increased.
---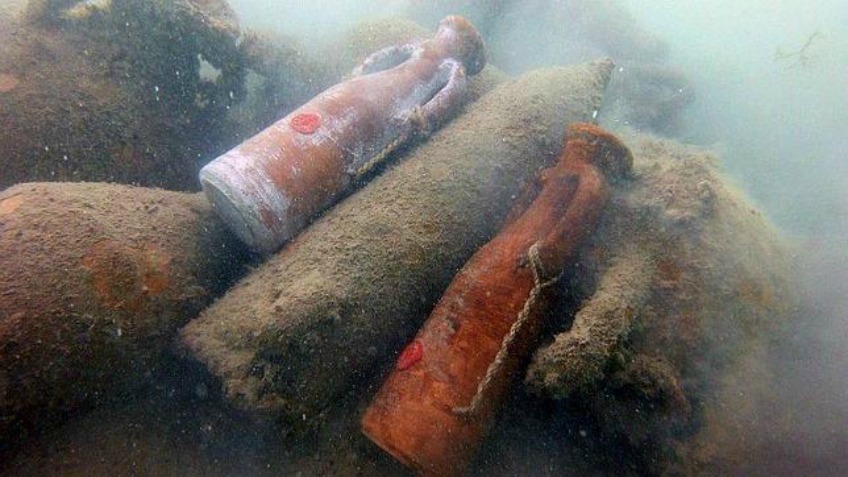 Luis Perez Winery, Jeréz de la Frontera, Cádiz, Andalucía, Spain
The project 'Garum Submarino' was the first wine aged in the sea of Andalucía, Spain. Firstly, they aged the wine in French oak barrels. Then, after it was bottled, the wine is introduced into an amphora for underwater breeding for at least 12 months, at a depth of 12 metres and a constant temperature of 14 degrees Celsius. Each amphora is special and has a price of approximately €200.
---
Enoteca Bisson, Chiavari, Italy
Sometimes better ideas become from necessity: Piero Lugano, founder of Bisson Wine Shop in Chiavari Italy, realised that in his small store there wasn't enough space to age the sparkling wine he want to, so he thought about doing it underwater. His 2009 vintage were aged for 13 months and one of the 6,500 bottles aged can now be bought for $85.
---
Bajoelagua Factory 'Crusoe Treasure', Bilbao, Basque Country, Spain
'Crusoe Treasure' is a brand of wine from Bajoelagua Factory, a company created with the idea to develop business projects in the marine environment with a direct benefit to the marine environment and society.
10,000 bottles of wine were submerged 20 metres under the sea and sold as an 'underwater hidden treasure' for€185.".
It was an initiative created after studying the evolution of drinks under the sea, which was intended to create artificial reefs for the recovery of degraded areas, funded by producing high-quality beverages underwater. They collaborated with the Submarine Beverage Aging Laboratory.
---
Château Champs des Soeurs and Abbaye Sainte Eugenie, Languedoc, France
Château Champs des Soeurs and Abbaye Sainte Eugenie in France's Languedoc region wanted to collaborate on a project of aging wine under the sea. These two producers submerged 400 bottles of wine with the intention to age them for different periods and study them at the end. With this experiment, they could appreciate how the sea influences the aging of various types of wines.
---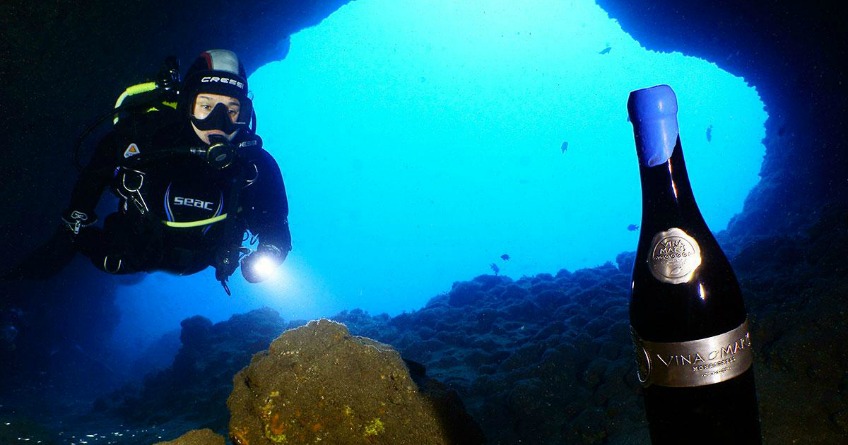 Enrique Mendoza Winery, Alicante, Valencian Community, Spain
About 1,000 bottles of two different wines produced by Enrique Mendoza Winery were submerged 30 metres deep in marine steel cage. The price reaches about €50.
Vina Maris is a company specialising in submerged wine bottles, and they offer the opportunity to explore with divers where the wines are being aged. It's also possible to open a chest with a key and take a bottle of wine to be tasted after on the boat!
---
Castro y Magna Winery, La Palma, Canary Islands, Spain
Castro y Magna Winery (Tendal Wines) with the collaboration of the 'Cueva Bonita Diving Club' deposited 500 different bottles of their wine 15 metres under the sea to check the changes that water may have on them.
They observed that after the first six months under the sea, there was an increase of the number of microorganisms and animal life around the bottles which appeared to act as a nursery to the offspring of different fish. Bottles have a price of €85 each.
---
This incredible video demonstrates the processes involved in underwater wine storage!
---
Try an underwater wine tour near Bilbao with one of our Spanish tour guides.