For many people a cruise is the ultimate holiday, a destination that stays the same yet is always moving, a base amidst the changing beauty of many a scenic port town hugging the sunny coastline.
The Mediterranean captures our imagination as an exotic land of culture and history, good food, good wine, and sunsets over quiet waves. Many Europeans make what could almost be considered a pilgrimage to its shores every year, its very name conjuring up images of relaxation and freedom, of a break, of getting away. Yet it is also synonymous with an exploration, of going somewhere different to home and experiencing a taste of another life.
With so many stunning and unique locations to visit around its 46,000 kilometre coastline, a cruise can be the ideal way to take in a whole lot more than one otherwise might on an average holiday to a popular hotspot. Traveling between ports opens up the opportunity to explore a range of regions and enjoy all the specific experiences that comes with each place, with the freedom to leave your baggage behind and roam unhindered through foreign streets.
For food and wine lovers this is gold. The tapestry of regional gourmet specialities and distinctive wines is so diverse across the seaboard that one must rediscover his sense of taste in every place, a taste not just of another life, but of many other lives.
Here's a quick run-down of five of the top cruise destinations and what's on offer there for wine and food lovers:
Barcelona, Catalunya
Gaudi's vibrant city is the biggest port on all the mediterranean, so many cruises begin here. Catalunya is famous across the world for its bubbly Cava, all of which comes from the immediate region. Priorat is just a short jaunt down the coast, whose black slate and quartz soils are renowned for their intense red wines from Grenache and Carignan.
Priorat Wine Tour with tastings from Barcelona – full-day tour from 190€/pp
Foodies can't go wrong with the gourmet tapas which the city provides no shortage of. Markets such as La Boqueria have a long history dating back hundreds of years and are teeming with local specialities and traditional gourmet fare.
Barcelona Walking Gourmet Tour – half-day tour from 90€/pp

---
Marseille or Nice, Provence
The sunny south of France, the classic romantic escape, is lined with beautiful coastal villages producing refreshing, bright, cheery rosé and white wines, a true taste of summer. Provençal rosés are the most in-demand of the genre in Britain during the warm months, but are best enjoyed in their native sun-swept towns
Aix en Provence and Cassis Winery Tour – full-day tour from 2250€/pgroup
France never falters in its reputation for outstanding food, and no where is this more the case than on the south coast where the climate provides the conditions for a bountiful array of ingredients from the land, and  fresh seafood from the bordering waters, perfected in the traditional bouillabaise, or fish soup.
Truffle Hunting Tour in Provence – half-day tour from 94€/pp

---
Livorno, Tuscany
The gateway to Tuscany opens up opportunities to immerse oneself in the good life of Italy in the land of Chianti, Super Tuscans and highly acclaimed Brunello di Montalcino. Some of Italy's finest red wines come from this region where Sangiovese is king, infusing the region's vinos with an intriguing spicy earthy cherry tea character.
Private Tuscany Grand Tour – full-day tour from 260€/pp
You will have the chance to enjoy a magnificent and private journey through the Middle Ages and Renaissance, exploring marvellous towns such as Siena and San Gimignano, gazing in awe at the world-renowned Pisa Leaning Tower, savouring typical Tuscan food on a delicious lunch and tasting some great Chianti wines at a prestigious boutique winery.
Florence Pizza & Gelato Cooking Class – half-day experience from 69€/pp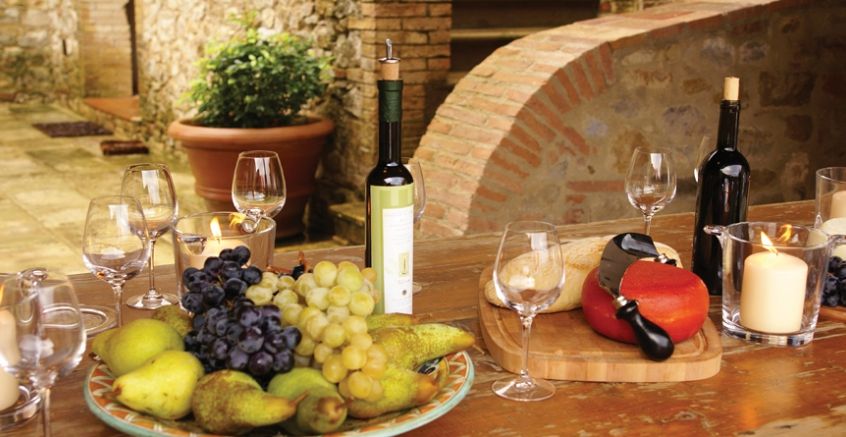 ---
Venice, Veneto
Coasting past the endless Italian riviera, around the heel of Puglia and into the Adriatic sea, the most famous port in Europe appears on the horizon, centuries of high art, liberal living, diverse influences and the masked promenaders of carnevale, make Veneto a birthplace of stories and the wines no less excellent than the culture. Nearby Treviso is the home of Prosecco, the most popular sparkling wine in the world, and the surrounding coastal plains produce renowned Valpolicella, Amarone and Bardolino, highly intriguing and unique italian reds.
Prosecco Sparkling Wine Adventure – full-day tour from 159€/pp
In contrast to the rustic traditions of the other side of Italy, the food in Venice adds a little more richness and body to the palate due to its history as a well-off merchant port. Expect to lavish your taste buds in Tiramisu, frittelle (sweet fried dumplings), and sharp asiago cheese, while still experiencing the seafood, polenta and pasta staples of Italy reinvented in true Venetian style.
Cooking Class in Verona – half-day experience from 95€/pp

---
Santorini, Greece
Last stop on our top five is a venture into the eastern mediterranean where clear waters surrounding exotic islands hint at paradise. What may be less well known about the greek islands is the strong reputation they are forging in the world of wine, some pundits touting the island as 'the next napa valley', whose wines are now stocked at Marks and Spencers. However, a trip to the island itself is the place to find out what makes Santorini's assyrtiko so special.
Santorini Wine Adventure – half-day tour from 85€/pp
Santorini may not spring to mind when you think of wine. This private tour is an excellent introduction to the wines produced on this beautiful island. Over the course of five hours you will learn more about the wine producing history, the distinctive grapes and get to taste the final product.
Private Cooking and Tasting Experience – full-day experience from 166€/pp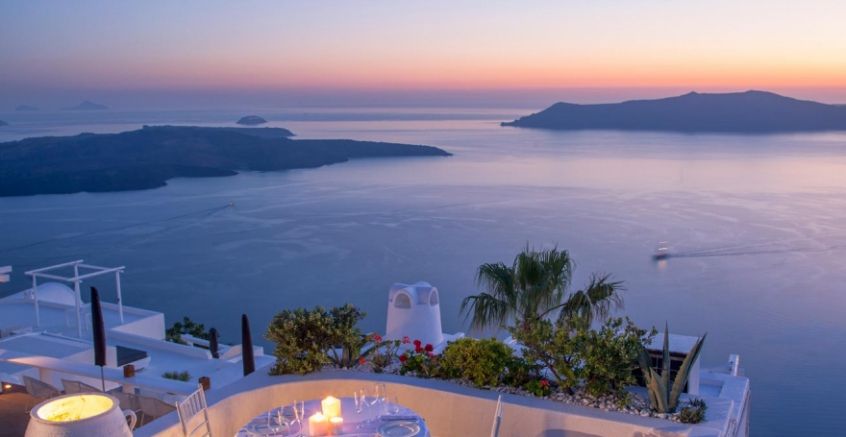 Photo Credits – Cruise photo credit: bvi4092 Barcelona photo: Rob Gillies, Venice photo: Kuster & Wildhaber Photography