Croatia is all about diversity! Diversity of geography, grape and terroir. It is about being surprised that there is a world class Pinot Noir being produced not more than 25 miles west of the capital, Zagreb, at the Korak winery, which lies in the Croatian Uplands region of Plešivica hills. It is also about being surprised that the discovery of wine is intimately and intricately connected to the locals and their food.
What do I mean? The tradition of wine making in Croatia can be traced back to the 6th Century BC, and yet it is somehow a tradition of food and wine consumption. This becomes obvious when you head north out of Zagreb to the Bolfan winery in the Croatian Uplands region of Zagorje-Međimurje, and you discover that his award winning Riesling and Pinot Grigio wines match perfectly with baked štrukli – essentially a Croatian cheese pastry delicacy that can only be found in the 35 mile radius around Zagreb.
A Coastal Journey of Wines
Leaving the capital behind, an exciting coastal journey along the Adriatic coast awaits, from Istria in the north, to Dalmatia in the south; a journey of discovery of the indigenous grape varieties that have been grown along the coast for generations, a journey on which you will learn that the Zinfandel grape is in fact of Croatian origin.
How to envision running into the worldly and eccentric Coronica Malvasia, only to be stunned by how well this white wine pairs with local prosciutto and cheese. It is this excellence of Coronica wines that makes you want to swim nearby in Umag, north Istria, at a world renowned naturist camp to return bare to the soul-inspired wines of winemaker Moreno Coronica: who breathes, inhales and sips on his creation as if he has left his last drop of sweat on bottling his exquisitely sublime Gran Teran.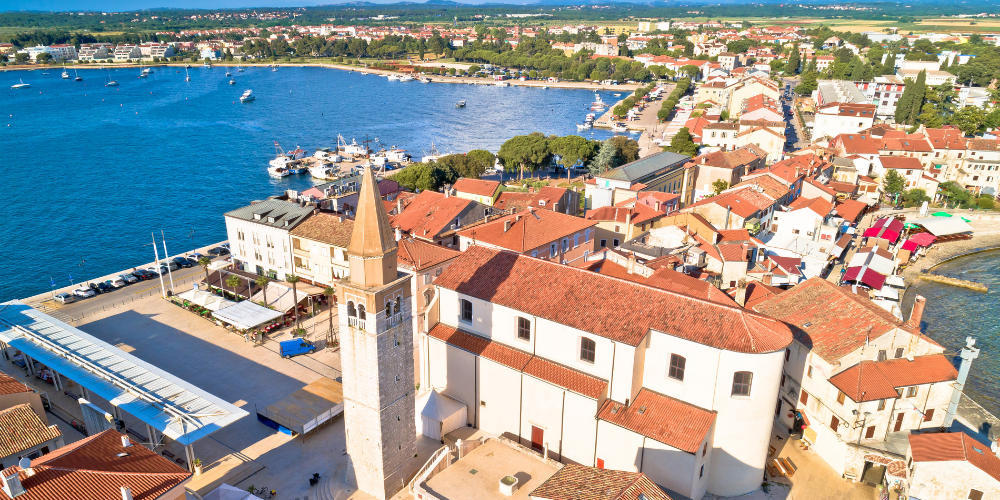 Moving on south down the Istria peninsula to Pula, we encounter a new breed of fearless innovators in Bruno Trapan, who combines his charismatic rock'n'roll personality with a barrelful of passion and care. Where he creates Malvasia to suit everyone's taste and international reds that demand attention. Paired with the fresh and aged Kumparička goat cheeses from the only goat farm in Istria nearby, the Trapan winery experience will always leave you wanting more.
Halfway down the Adriatic coast, in the picturesque town of Primošten, winemaker Leo Gracin of Suha Punta winery infuses his Tuscan-like terroir wines with scents of fennel, blackberry and Dalmatian Maraska cherry, as if he personally picked the flavours out for each of his bottles of Babić. As you sit in the laid-back courtyard, listening to this unassuming "professor of wine", the wonder of this elegant and sophisticated red wine really hits home as he describes rugged terraced vineyards on which the indigenous Babić grape thrives, locally known as "Primošten Lace". Some say one of Croatia's best red wines. We would agree.
Island Wineries of Croatia: Visiting Brač and Hvar
Arriving in Split, the second largest Croatian city centred around the ancient Roman Palace of Emperor Diocletian, presents an ideal opportunity to ship across the Dalmatian waters to the islands of Brač and Hvar, the former seeing a remarkable winemaking resurgence in recent years, and the latter being the spiritual home of the Plavac Mali grape.
The south-side town of Bol on the island of Brač is world famous for its Zlatni Rat (Golden Cape) beach, as featured in all the Croatia tourist brochures. Despite its rich winemaking tradition, Brač has been in the shadows. This has changed dramatically in recent years, with the arrival of Stina winery, which have taken over a completely renovated co-operative era building right on the seafront. It is said to be the only winery in Croatia from which you can take a run and jump into the Adriatic. Let us know if doable! The setting will amaze and the modern interior will dazzle. Stina's Pošip and Plavac Mali wines are rapidly gaining recognition on the international market, with Pošip turning out to be a London favourite.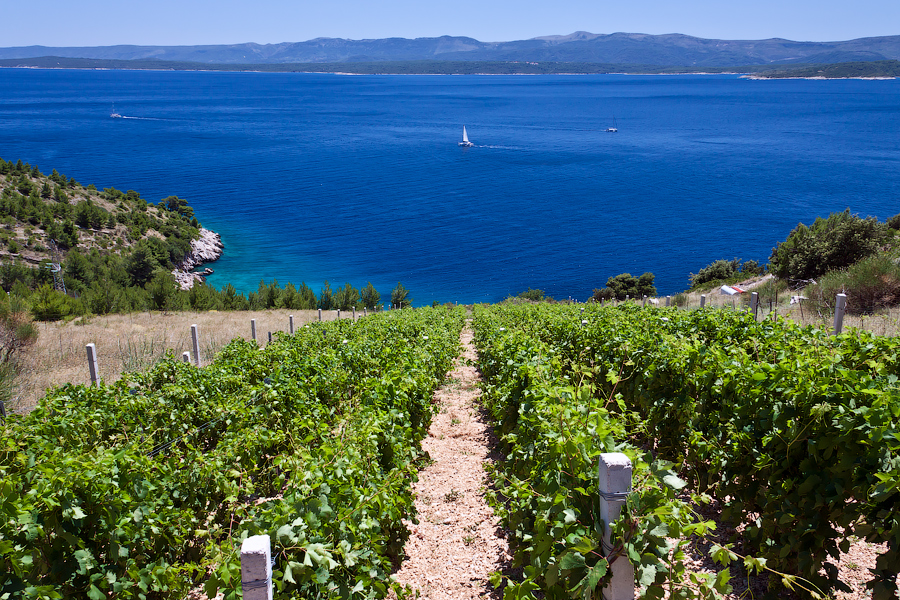 While on Brač, visit the Jako Vino winery – a refurbished winery located in the town of Bol first built in 1903 and producing award winning wines since then.
If you are after something more retro and romantic, 15 minutes from Supetar in the hintrland you will find the up and coming husband and wife owned Senjković winery. Lovingly hand crafted and bottled, with a rich family story to tell – rising stars in the making!
Island of Hvar, and the town of Hvar itself, is a known holiday destination for well-heeled celebrities and royalty. For a more soulful experience you have a choice of heading to the north side of the island, and the town of Jelsa, and spending an afternoon in the beautiful vaulted ceiling cellars of the Tomić winery. You will be most likely hosted by Sebastijan Tomić, but keep an eye out for his father, the enigmatic winemaker Andro Tomić, who we hear still loves to rocket around the island on his scooter and take unpredictable boat trips around the islands. With a distinct calm manner, charisma and perfect English, Sebastijan will take you through their refined, polished and world-class indigenous white, Plavac Mali and red cuvee line-up, while little plates of miraculous local morsels will help you better understand the wines.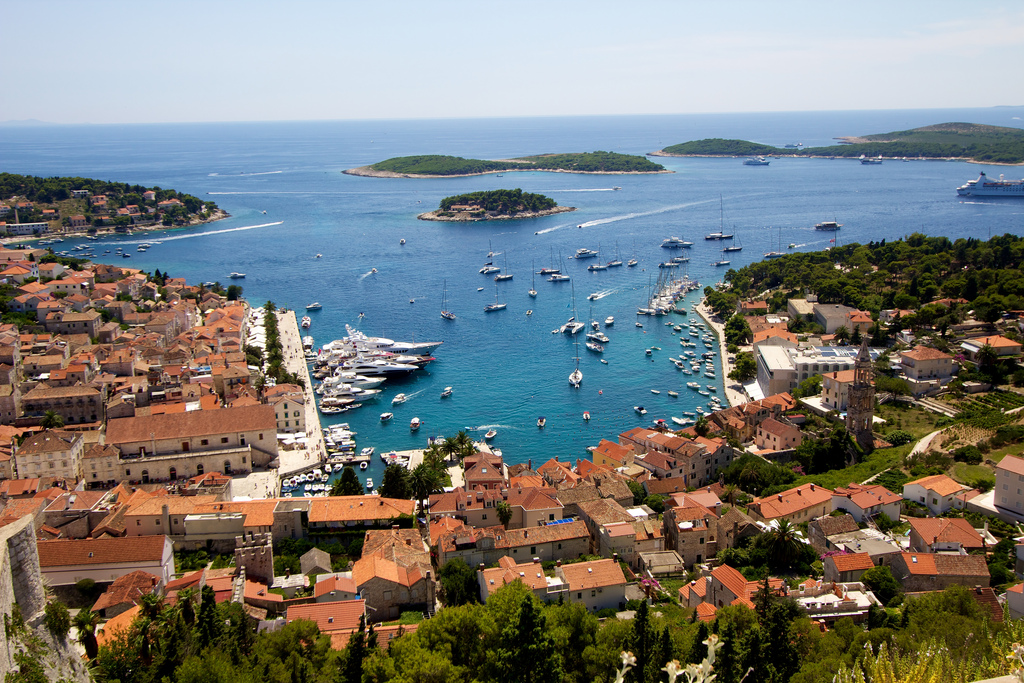 On the south side of the island, and especially if you find yourself on one of the Adriatic sailing adventures, be sure to moor up in Sveta Nedilja (Holy Sunday) at the Bilo Idro (White Sail) restaurant (either that, or it's braving a rough sewn tunnel by road from Jelsa, except this one has an underground wine cellar in it!). It's a foodie heaven for "just jumped out of the sea" fish, and home of the Zlatan Otok winery. You will squeal in delight when you discover the underwater cellar built beneath the restaurant pier, and then you will be bowled over by the earthy Plavac Mali line up. Go all the way and indulge in a bottle of Zlatan Plavac Grand Cru; this is not something you will ever be able to find in France! Watch out for the tall distinguished moustached gentleman – the winemaker Zlatan Plenković himself, one of the most influential and one of the first independent winemakers in Croatia.

If you ever make it back to Split, or you didn't take the island detour, continuing along the coast to everyone's must-see destination of Dubrovnik will take you to the Pelješac peninsula. Two stops are a must while you are there.
The first in Trstenik, home of the Grgić Vina winery that was founded by the Napa Valley winemaker Mike Grgich, a Croatian émigré. Plavac Mali and Pošip are the famous drops of this winery, and you will be delightfully hosted by the husband and wife team Krešo and Dražena Vučković.
The second in Potomje, to see first-hand the rugged, karst, sun-drenched slopes of the Dingač and Postup appellations of Plavac Mali vineyards; if you are adventurous enough to drive the rough sewn tunnel at the end of the village that is.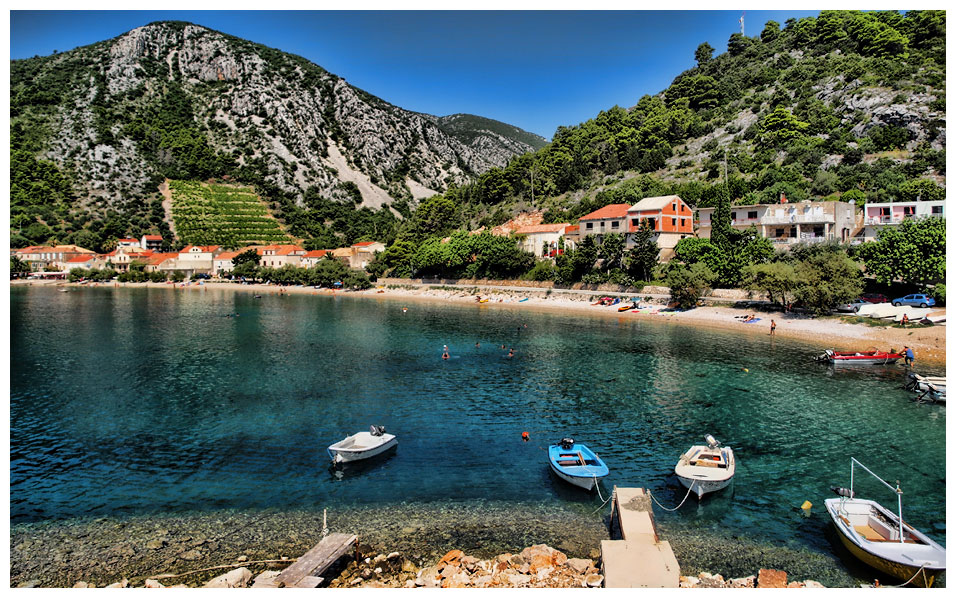 Otherwise, you will find most of the winemakers in Potomje itself. For a refreshing tasting experience from one of the few women winemakers in Croatia, a visit to the Bura-Mrgudić winery is essential. Brother and sister team Nikola Bura and Marija Mrgudić have earned a worldwide reputation for their stunning wines, and Marija herself will amaze you with her wine stories and her local knowledge of the region. Just be prepared for that seaside-infused taste sensation that is synonymous with Dingač and Postup wines!
If after that you make it as far as Orebić, there is no choice but to hop on a short 20 minute ferry ride to the island of Korčula, birthplace of Marko Polo and home of the Pošip grape and the highly regarded winemaker and poet Luka Krajančić. But about that another time…
Yes, diversity, diversity of unpronounceable names and grape varieties! Fear ye not, because two things will strike you about Croatian winemakers above anything else; the immense pride in the family tradition, with stories of parents and grandparent in abundance, and the remarkable fact that for a relatively young country, Croatia has exceptional wines, made by exceptional winemakers who are always delighted to share their art and passion with a thirsty traveller.
Written by: Željko Tufekčić. Željko is the co-founder of Vino Nostro and one of our Croatia regional experts, helping us uncover Croatia's wine regions one by one. 
---