The wines of the Languedoc are notable for many reasons. This is a region of France which has gone from strength to strength in recent years; formerly known best as a prolific producer of low-priced, easy-drinking Vin de Pays, these days the Languedoc is forging a reputation as the creator of some of the most interesting and expressive wines in the world. It's the home of the blend, a gorgeous landscape where numerous grape varieties are grown and combined together in all kinds of innovative ways to produce energetic, exciting wine in every colour and style imaginable. Of course, this means that the range of wines on offer is vast – from crisp, dry whites to countless punchy reds brimming with fruit and attitude, the choice is endless. We know that even the most avid oenophile might feel a little overwhelmed in the face of such a selection, and so we've decided to do some of the hard work for you and recommended some of our favourite Languedoc wines for you to enjoy (it's a hard life, but someone's got to do it!)
A gloriously golden-hued, an unusual blend of Bourboulenc, Grenache and Marsanne which showcases the ingenuity with which the Languedoc approaches its blended wines. An initial citrussy hit on the nose develops pleasantly into something more tropical, with fragrant notes of peach, honeysuckle and apricot flowing out of the glass. Full-bodied and sumptuous on the palate with a subtle touch of acidity balancing the fruit nicely.
Camp Aucels Jean le Blanc 2018 – AOP Picpoul de Pinet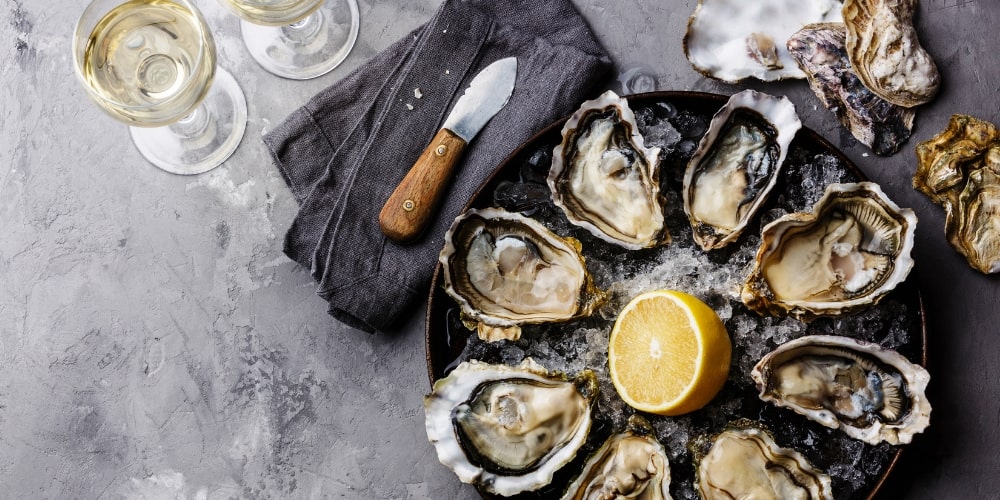 A classic Picpoul, one of the Languedoc's most famous whites, redolent with fresh, sharp citrus aromas – think lemon peel, lime zest, grapefruit and fresh green apples. The acidity is precise, razor sharp and lip smacking, with a tingly finish lingering on the gums. Best drunk extremely chilled and accompanied by Languedoc oysters!
This 100% Chardonnay white from the Limoux is a great example of the effects of terroir and oak on the versatile Chardonnay grape. A beautiful, surprisingly developed nose redolent with tropical lychee and some gorgeous honeyed floral tones of honeysuckle, acacia and vanilla. Refreshing citrus shines through on the palate, creating a brilliantly balanced contrast with the nose. A real standout!
One of the specialities of the Languedoc, this expressive sparkling wine is fun, fizzy and fabulous! Aromatic without being overwhelming, it showcases all the best of what a traditional crémant has to offer – fresh citrus notes, extra complexity from yeasty tones of butter and brioche, with a fabulously creamy mousse and a touch of minerality to give balance and poise. An excellent alternative to champagne.
Domaine Clavel Mescladís 2017 – AOP Pic Saint-Loup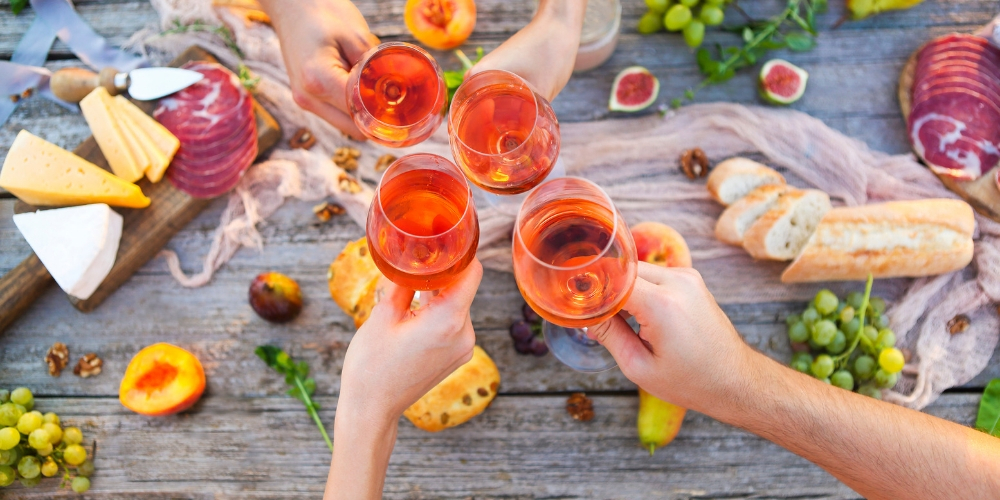 A refreshing, youthful rosé from Pic Saint-Loup displaying classic rosé notes of raspberry, cranberry and a squeeze of fresh lime. It's a pretty shade of salmon pink, pleasantly soft and rounded with a surprisingly long finish and well-balanced acidity. A great match with seafood and summer salads.
Château Beauregard Mirouze Campana 2018 – AOP Corbières
A beautiful, deep rose pink in colour, but much dryer and more refined than you might perhaps expect! Light, youthful notes of strawberries, raspberries and rhubarb on the nose are accompanied by a pleasant touch of mouth-watering minty freshness. On the palate, it's dry and very well balanced with restrained acidity and a strawberries-and-cream finish.
Maison Lorgeril Gris de Garille 2018 – IGP Cité de Carcassonne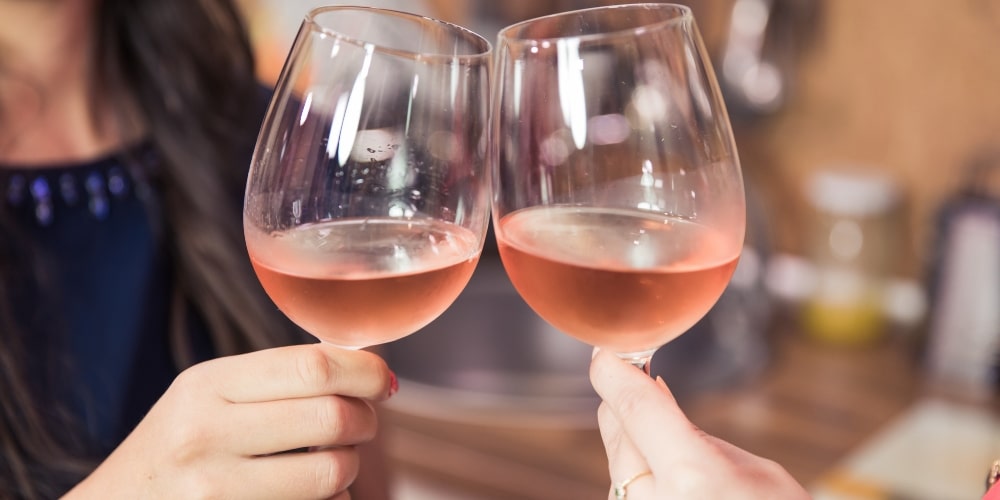 The palest and most poised shade of perfect blushing pink, with a stylish bottle design that's very much in the image of neighbouring Provence and their wealth of uber-trendy rosés. It's delicate but surprisingly peachy on the nose, with fragrant notes of white blossom and rose very much in evidence. Refreshing, tingly acidity and pleasant dryness make this an ideal aperitif to be enjoyed in the summer sun with canapés or a bowl of the Languedoc's famous olives.
Mas de Brousses 2015 – AOP Terrasses du Larzac
Initially very green and youthful on the nose, with a surprising (but definitely not unwelcome) hit of leafy eucalyptus – however, a few minutes in the glass and this wine mellows seductively into brambly dark fruits, all deep dark cherries and riper-than-ripe plum. It's just as smooth on the palate, with a little nudge from some soft tannins and delicate acidity keeping everything in check. A great one to accompany a classic Languedoc cassoulet!
Domaine de Cébène Felgaria 2015 – AOP Faugères
Aromas strut assertively out of the glass, tantalising the senses with layer upon layer of fruity goodness – blackberry jam develops into cherry pie, into delectable kirsch and a touch of fig. To drink, it's chock-full of lovely fruity goodness, full-bodied and pleasingly persistent, with structured, chalky tannins and gum-tingling acidity. Warming and comforting, it's the kind of red that's equally at home in both the summer sun and the depths of winter.

Chateau Champ des Soeurs Bel Amant 2015 – AOP Fitou
The wines of Fitou are renowned for the use of Carignan in their red blends, and the influence of this slightly more austere grape is evident in this wine's savoury notes. Think menthol, blackcurrant leaf and pungent black pepper on the nose, but on the palate an unexpectedly silky and textured drop, balanced out by bold, chalky tannins which coat your tongue. An edgier red, thought-provoking and lip-smacking!
Château du Prieuré des Morgues Grand Reserve 2015 – AOP Saint-Chinian
Complex and pungent, another more savoury red which shows a peppery, spicy character with just a touch of leafy herbaceousness and liquorice. It's textured, well-structured and punchy, bone-dry tannins accompanying a gentle acidity that subtly provides balance. It lingers on your tongue with notes of cranberry lending a welcome fruity hit.
Paul Mas Reserve 2017 – AOP Languedoc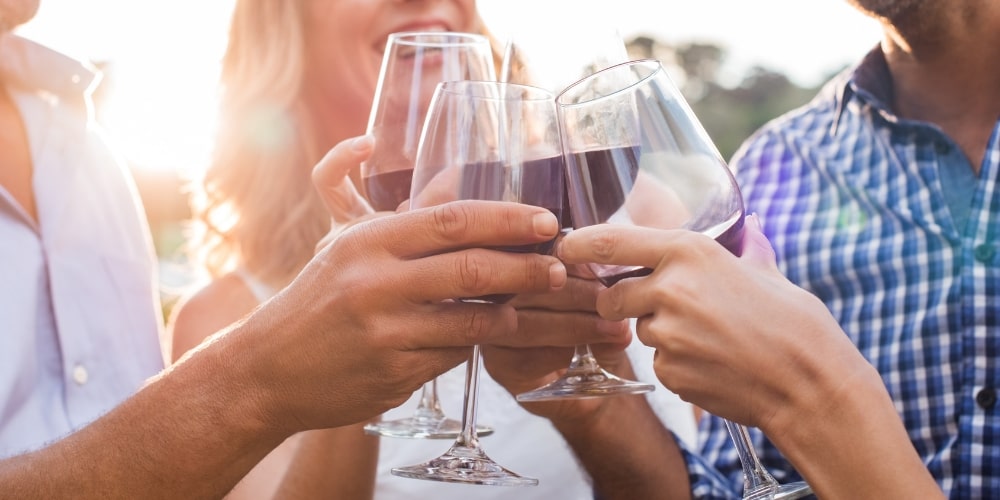 Quintessential Languedoc red at its very best, the kind of seductive, fruity wine that demonstrates exactly what all those long hours of glorious Languedoc sunshine can do. The fruit is riper-than-ripe and confident – name a dark fruit and it's there, trying to catch your attention. Black cherry and plum, blueberry, blackberry, bramble (in fact, everything beginning with 'B', it seems!) and just a touch of cinnamon spice. Drinks beautifully, with fruit becoming slightly sweeter and jammier and a gloriously voluptuous full body that seems to revel in your mouth as the rolling tannins provide structure and depth. A true Languedoc taste sensation!
Alma Cersius 2016 – AOP Fitou
A beautiful, vibrant ruby red that's just as vivid as the land it comes from. Unexpectedly delicate and fragrant on the nose, gentle kirsch and fig aromas swirl around a subtle hit of blackcurrant jam and just the slightest suggestion of nutmeg and vanilla. Similarly soft on the palate, gorgeously rounded – a shy wine that needs a little coaxing, but delicious fruitiness awaits as it comes out of its shell.
La Combe Saint-Paul I'insoupçonné 2015– AOP La Clape
One of the hottest parts of the Languedoc (and indeed the whole of France) this wine from La Clape is a showcase of how intense heat and superbly ripe grapes translates into an assertive wine with depth and confidence that certainly packs a punch! The fruit character is ripe and almost dried, stewed cherries and dried cranberries accompanying a little bit of raisin and fig, but a touch of menthol and blackcurrant leaf makes sure this red isn't too over sweet. Gorgeously grippy tannins and a seductive, velvety mouthfeel with all that fruity goodness providing a real treat for your tastebuds!
Domain de la Cendrillon Classique 2015 – AOC Corbières
A classic Languedoc blend of Syrah, Mourvèdre and Grenache, this is a gloriously indulgent and well-balanced example of what Corbières AOC has to offer. It has a beautiful, attention-grabbing nose, complex layers of ripe black cherries and wild blackberries giving way to a more savoury edge of eucalyptus leaves and white pepper. It's long and lingering on the palate, equally as complex with friendly, approachable tannins that make themselves known without being overwhelming. A fabulous food wine which would go perfectly with a traditional Languedoc cassoulet.
Find out more about the Languedoc region and its tasty wines with this guide and see which are the top 5 to eat and drink in the Languedoc here!