When I imagine my perfect holiday, I imagine good food, a great villa or hotel and fun filled days and nights with my tribe of besties in a place where we feel happy and comfortable being ourselves … typically with a glass of wine in hand. But for LGBTQI people, feeling free to hold hands and basic displays of affection straight people take for granted can be downright dangerous in some countries, cultures and sometimes even in our own cities or neighborhoods. Being free to be one's self is often at the top of the LGBT traveler's list.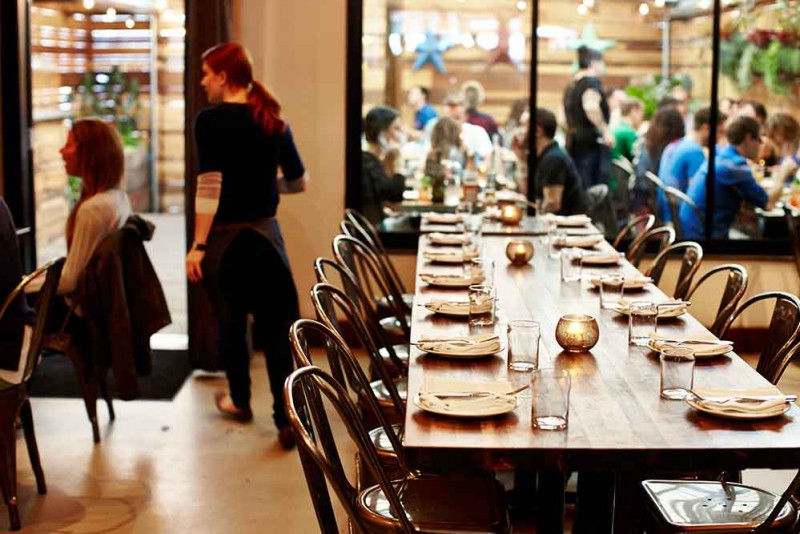 Star Belly
As a fellow tribe's person and wine enthusiast, I'm making it my mission to discover some of the best wine places to visit for LGBTQI travelers. For our first Out Wine World installment, we simply must start in the world's 'Gay mecca', San Francisco.
One word of caution. For better or worse, the rapid influx of new residents from the tech industry has had significant impact on the city. Housing prices have skyrocketed and with that so have the price of goods and services like food and drink. This has changed the nature of the city and you may hear locals grumble that it has gotten straighter. However, don't let this put you off. SF (acceptable shorthand, just don't ever call it 'Frisco') is still very friendly and welcoming to LGBTQI people and iconic landmarks still wave their rainbow flags proudly (especially the enormous one on Market Street at Castro). A positive consequence of this arrival of well heeled 20 & 30 somethings is the explosion of good food and wine spots.  San Francisco continues to be one of the hottest foodie cities on the planet!
The Castro District is well known as the main Gay neighborhood and Polk Street runs a close second, while the popular Lesbian neighborhood around Valencia Street is a foodie haven as is Hayes Valley. To be honest, every neighborhood has a different vibe, great food offerings and cool places to go. It's fun to check them all out if you have time! For the wine enthusiasts, San Francisco has over 20 good wine bars to choose from and Gay wine bars do exist in the Castro district:
Blush Wine Bar is near the historic Castro movie theatre and is a cozy casual spot for happy hour every evening between 4-6pm with jazz on Thursday nights. Charcuterie, oysters and a nice selection of small dishes are available. 476 Castro Street, San Francisco, 94114
Swirl is primarily a retail wine shop that prides itself on the unusual. They are self-confessed 'wine geeks' who know their stuff and on each Monday night they host a wine tasting featuring different wines from various regions. 572 Castro St, San Francisco, CA 94114
Press Club is a large sophisticated wine bar which attracts a bustling after work crowd. It's great for a break from downtown shopping or from a day spent at the SF Museum of Modern Art. It has an impressive California and world wine (and beer) list as well as a range of small plates and cheeses. 20 Yerba Buena Lane, San Francisco 94103 phone 415) 744-5000
Riddler (Champagne Bar) has a great list of wines by the glass and an array of vintages by the bottle. This bar takes its Champagne seriously in the best possible way, from its charming and friendly French bistro style to its all-female management team and investors. Should you become a regular, they will keep track of the Champagnes you've ordered and if you reach 100 they will award you your very own personalised bomber jacket. Bonus! 528 Laguna St., San Francisco, CA 94102 Phone: 415) 589-7002
Ferry Plaza Wine Merchant is a great place to hang out after exploring the market and gorging at the street stalls (Saturdays) or on your way over to Alcatraz, Angel Island or Sausalito using the ferry service. They have a good number of wines by the glass and it's a great place to stop, chill-out and people watch. 1 Ferry Building Ste 23 (at The Embarcadero), San Francisco, CA
Foodie favourites in the Castro District
As I mentioned, the food scene in San Francisco is red-hot and 'Foodie', which elevates even the simplest fare to really good, fun and inspired places. In the Castro District, Out Wine World favorites are:
Zuni Café: A hybrid of Eurocentric cuisines in a quirky but comfortable space.
Frances: Featuring locally farmed produce, well crafted fine dining, very popular with the locals.
StarBelly: Casual neighborhood friendly, good food, great for groups of friends or to make new ones.
But, frankly, the entire city is chock a block with excellent places to wine and dine, and new ones are added daily it seems, but, here are a few more excellent stalwarts with great wine lists to try (prices levels vary):
Jardiniere: Modern French with gorgeous romantic atmosphere.
State Bird Provisions: Inspired eclectic small plates will amaze!
Delfina: Bustling with locals for their excellent Italian cuisine.
Gary Danko: Fine dining known for their extensive wine list.
Spruce: True Californian cuisine with an award winning wine list.
Lazy Bear: If you're lucky you might score 'tickets' for this highly popular modern American dining experience. All tables are communal and all beverages are paired with each course. Books up months in advance, so be prepared!
Foreign Cinema: Like going to a really cool old-school drive in movie but with excellent food & drink and modern vibe.
The list above only scratches the surface of what's on offer in this beautiful city by the bay but wherever you go, be sure to book well ahead, this city takes its food seriously and it gets seriously busy!
If you decide to go, San Francisco is awash with great hotels. A few are dedicated to the LGBTQI community and most others are very friendly. It all comes down to your budget, what you like to do and most of all where you want to be. Location, location! I'd be happy staying in any of these:
Parker Guest House: A super friendly, mostly Gay, newly renovated B&B in the heart of the Castro District.
Hotel Vitale: Fabulous SF Bay Views, near downtown shopping and the fabulous Ferry Building & Farmer's Market (fun for foodies).
The Scarlet Huntington: Atop Nob Hill, impeccable service, historic Big 4 restaurant and a pool with a view! A short stroll to the Top Of Mark for spectacular sundown Champagne or cocktails, then over to the famous Tonga Room for a real San Francisco treat. Ding, ding!
Joie de Vivre: A group of charming reasonable boutique hotels (Hotel Vitale is one) often in local neighborhoods.
In summertime, when the fog rolls in (and it will!) locals and tourists alike, head out of the city for warmer climes and a bit of wine country fun. Check out my next installment of Out Wine World to find out which direction the Gays are going!