It's never easy to find the perfect Christmas present for a friend or a loved one, but if they're a wine lover, here's a list of gifts that will certainly be to their taste!
Price: Starting at £10

If you're looking to give the gift of wine and food travel, you're in good hands. Beautifully presented, the Winerist gift cards can be used to book any tour on Winerist.
---
Price: £249

Photo Credit: Coravin
Coravin is the only tool worldwide that allows you to pour a glass of wine without pulling the cork. It gives you the freedom to drink any wine by the glass, any time without committing to the whole bottle. A tool for the more sophisticated wine connoisseur.
Treat yourself (or someone else) to one!
---
3. Kelvin Duo Wine Monitor
Price: £49.95

Photo Credit: Kelvin
The Kelvin Duo monitors the core temperature of your bottle, wherever it is, and uses a simple colour indicator to let you know the perfect time to enjoy your wine. K1 comes pre-programmed with temperature advice for all 10 wine styles (3 Red, 4 White, 2 Sparkling and Rose) and includes adjustment for personal preference and memory functionality .
If this takes your fancy, don't wait any longer!
SHOP NOW
---
Price: £69.95

Photo Credit: Coravin
The Coravin Aerator, used with your Coravin Wine System, enhances your wine experience by immediately mixing the right amount of air with the wine as you pour.
This lets your glass of wine breathe without lengthy decanting, while ensuring the rest of the bottle remains perfectly preserved.
Enjoy a smoother and more aromatic wine!
---
5. Wine Check Elite Luggage
Price: £132.07

Photo Credit: Lazenne
The Wine Check Elite provides a convenient way to transport 12 bottles of wine, champagne, beer, cider, spirits, or olive oil. Equipped with two wheels and a telescopic handle, this handy suitcase can be manoeuvred on most terrains. What's more, you can remove the padded insert to make space for any luggage, not just bottles. It is also collapsible and can be folded into another suitcase for convenience.
Give your wine the safety it deserves!
SHOP NOW
---
6. Zalto 'Bordeaux' Wine Glass
Price: £35

Photo Credit: https://www.wineware.co.uk/
A Zalto glass is the ultimate vinous enhancement. The Austrian crystal masterpieces combine stunning design with aromatic amplification and palate delivery. This beautiful mouth-blown lead free crystal glass is ideal for all red wines as well as full-bodied whites.
---
7. Corney and Barrow Party Case
Price: £130

Photo Credit: Corney and Barrow
Corney & Barrow, one of London's best loved and longest-lived wine merchants, are offering this party case to wine lovers all over the world. If you are looking for a truly global selection , look no further than this mixed case. This tempting offering includes wines from Peru, New Zealand and Argentina, as well as France and Spain!
Get yourself a Party Case!
SHOP NOW
---
Price: £9

Simon woods is one of those rare breeds: a wine expert who speaks in normal English like a real human being. In his new book '101 Wine FAQs', he answers just about every question that always gets asked in a wine tasting, from 'should I buy wine by the glass in a restaurant?', to 'how is rosé made?, to 'how do I get wine stains out of my shirt?' The questions are grouped into similar themes in a simple, easy-to-read fashion. It's that perfect stocking present, secret santa idea or just something to keep by your bed.
Get one for yourself, or buy three and get 20% off!
---
Price: £9.71

Photo Credit: Avina
The Avina Wine Stopper allows you to keep your wine fresh and lock in all its flavours even after opening the bottle. Thanks to its hygienic, air-tight and leak-proof rubber seal you can easily store your opened bottle in the fridge and drink it the next day without losing out on any aromas. Fits all standard wine bottles.
Stop throwing out good wines gone stale!
---
10. Corkcicle Air
Price: £18.66

The all-in-one solution for perfect wine every time. Perfectly chills your wines to the ideal temperature each and every time. Just store in your freezer for 90 minutes and insert into your favourite bottle of room-temp red or chilled white. Convenient pour-through feature enables you to serve wine easily and elegantly.
---
11. PREMIER CRU Supersoft Sweatshirt
Price: £39

Photo Credt: FWP by Rae
This lightweight sweatshirt is extremely comfortable and, as its name suggest, super soft. Available in two colour-ways (Grey/Red or Navy/Gold), this women's jumper would be the ideal gift for any proud wine lover.
SHOP NOW
---
Price: £9.99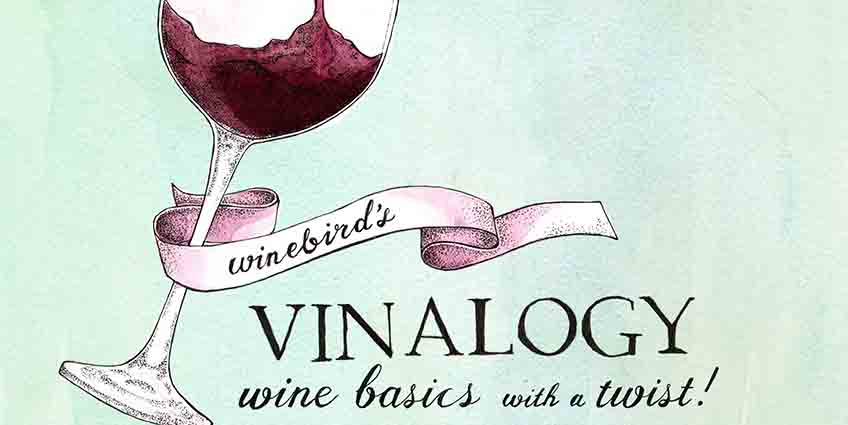 Winebird's Vinalogy is a beginner's guide to wine with a difference. This highly visual book give you the steps to follow when you want to learn about wine, starting with the key grape varieties. With each grapes having a memorable personality, illustration and colour reference, this time, you'll actually remember what you've learned…
You can buy a copy from THE BOOK DEPOSITORY or AMAZON and most online book stores.
---
13. Wine Condoms
Price: £12.99

Photo Credit: Firebox
You should always use protection, especially when it comes to your wine. These bespoke wine condoms have a shrink-to-fit technology which creates a water tight seal on any bottle without adding any height, which might save you some frustrating fridge-cramming.
Protect your beloved bottles!
SHOP NOW
---
14. The Scotch Malt Whisky Society Annual Membership
Price: £65

Photo Credit: Scotch Malt Whisky Society
For wine lovers who don't limit themselves to only one type of alcohol, the Scotch Malt Whisky Society annual membership is the perfect gift. It includes access to reserved locations in London and Edinburgh, 20 whiskies and spirits in the monthly outturn, discounted prices and more!
---
15. Tôtes Bags
Price: £6

Photo Credit: Wine Carboot
These fun and quirky bags are Tôte-ally worth it, with two different options: Tôte Rotie or Tôte du Rhône. They can even double up as a practical stocking, which you can fill up with as many as 6 bottles thanks to the sturdy gusset!
To get your hands on these bags, simply send an email to hello@winecarboot.com.
---
16. 'Please Bring Wine' personalised socks
Price: £15

Photo Credit: Not On The Highstreet
Ever wanted to be brought a drink without having to ask? If you have, then these socks are for you! Simply pop your feet up on the sofa (or near someone's face if you're feeling impatient) and let them read the message on the bottom, which says 'if you can read this' on the left sock and features a personalised message of your choosing on the right (such as 'Bring me wine' for example).
Wait no longer and get your own pair!