While the classic cocktail may or may not have originated at its namesake social club for a banquet hosted by Winston Churchill's mother in the 1870s, what is sure about the Manhattan is that its perfect mix of two parts rye, one part sweet vermouth, two dashes bitters, up with a cherry has stood the test of time. When venturing through the Big Apple, stop at a place that knows how to make it best; no weekend in the City is truly complete without one. Here's our guide to the best places in Manhattan for a Manhattan…
A Prohibition favorite deserves a speakeasy setting. Enter Employees Only, a stunning West Village spot with serious roaring 20's inspiration—and happens to be the place to go for the best traditional Manhattan in, well, Manhattan. Using Rittenhouse rye whiskey with Italian vermouth, Grand Marnier and Angostura bitters, this speakeasy's mastery of this libation shines in its inherent simplicity.
With guru Audrey Saunders at the helm, this SoHo joint's east-meets-west locale is a favorite among cocktail enthusiasts. And since no drink menu is complete without a great Manhattan, the Pegu Club has the "Little Italy," a delicious twist on the traditional libation, using Cynar—Italian bitters made with artichoke—in place of traditional bitters.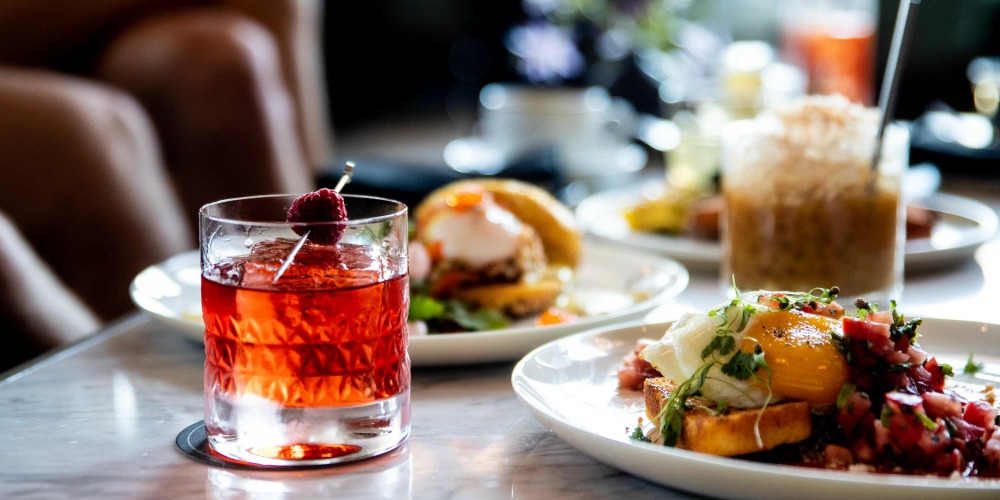 Credit: Death + Co
As far as ambiance goes, Death & Company is the personification of a good Manhattan. It's luxurious and moody, dominated by black walls and cushy leather booths. Their bar menu is on the move every couple months, but the bartender will whip up a perfected Manhattan any day of the week—served in a champagne coupe and all.
4. Little Branch
What list of Manhattan cocktail bars would be complete without the influence of Sasha Petraske? The man who revived modern cocktail culture left a legacy of libations, especially at his West Village speakeasy, where a jazzy ambience and creative cocktails combine in a cozy ragtime experience. The drinks here are catered to the drinker, but ask for rye and you'll get a unique twist on the Manhattan, in whatever fashion the bartender sees fit that evening.
22 7th Ave S, New York, NY 10014, USA
5. Blue Bar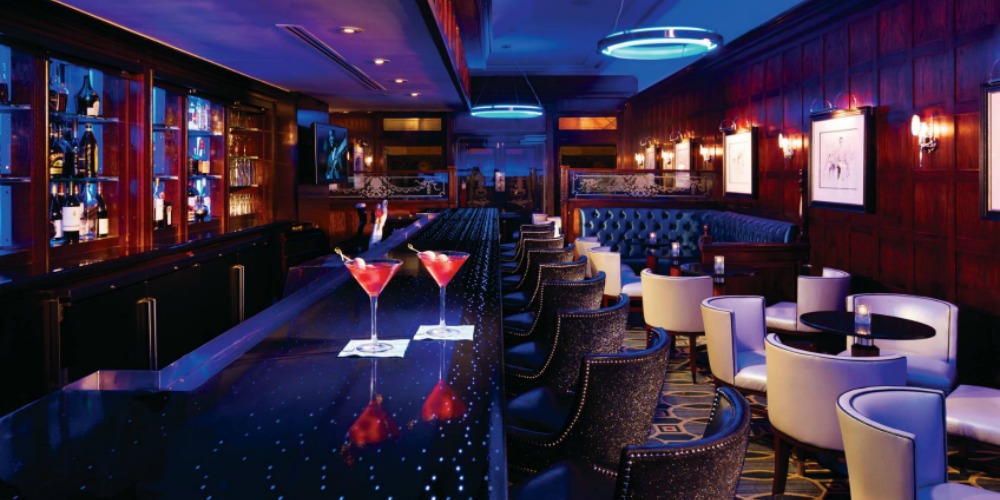 Credit: @AlgonquinHotel
The legendary Algonquin Hotel bar has been a favorite of literary greats like Dorothy Parker since its grand opening at the end of the Prohibition Era. Whether the day calls for Happy Hour or post-theater nightcaps, the Blue Bar will mix up all the classics and more. While their straight-up Manhattan is crowd pleaser, a more adventurous palate will love the Algonquin, made with rye, dry vermouth and pineapple juice.