Let's get one thing out of the way: the journey to Hackney Wick can be a bit of a schlep. But since the opening of Beer Merchant's Tap earlier this year, the area boasts enough craft beer cred to tempt even the most hardened homebodies beyond the end of the Jubilee line. That said, Beer Merchant's Tap would be worth visiting no matter how remote.
Historic Pubs, Food and Beer Tour in…
From £79 / person
More than just a drinking destination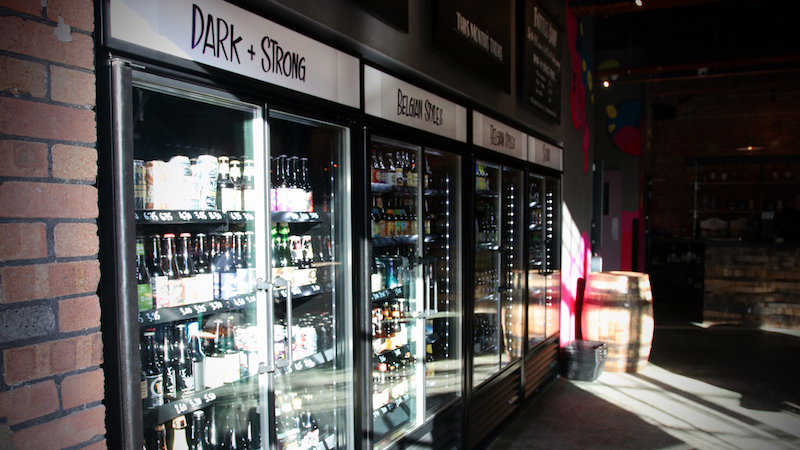 Credit: Anthony Gladman
This is no mere craft beer bar. This is a drinking destination backed by some serious ambition. The bar boasts 20 taps and two cask lines. Notable options when I visited included Polyamorie by Dutch brewery Oedipus – a mango infused Berliner Weisse/American Pale Ale hybrid – and of course their own house beer, Huis. This is a collaboration brew with big-hitters Burning Sky, Wild Beer Co, and Duration. There will be many versions of this. I tasted V1, which was an easy-drinking pale with a nice touch of floral hop bitterness on the finish balanced by a gentle yeast character.
And if that range isn't enough for you, there are seven large chiller cabinets chock full of bottles, all humming quietly to themselves along the walls. Each one is labelled with the character of the beers within: lager and wheat beers, pale and hoppy ones, sours, Belgian style beers, and dark and strong beers. All told there are 600 different beers to choose from, with more to come – a prospect that is at once thrilling and faintly terrifying.
Rare bottles to sip and savour
And then there's the lambic cage, where rare bottles are aged. They sit in full view, tempting thirsty drinkers and making mouths water. Beer Merchant's Tap is owned by importers and distributors Cave Direct. This puts them at a big advantage with access to, and often first dibs on, some of the best Belgian beers to reach these shores, alongside great craft beer from all over the UK.
The strong relationships Cave Direct have built up with brewers and makers means Beer Merchants Tap is able to put on some unique events that other venues will struggle to match.
'Tap Takeovers' are an established proposition now in craft beer bars and bottle shops up and down the country – Beer Merchant's Tap have taken this concept further by hosting monthly residencies, featuring not just the beers but the brewers as well.
Half-Day Walking Food Tour in London East…
From £64 / person
What's on?
In July it's the turn of Cardiff's Tiny Rebel Brewery. The team offers beer and dessert pairing sessions occasionally, and you can come and meet the brewers at the Tap Takeover this weekend. Residencies also include a regular influencer's night. For these, brewers host guided tastings of their own beers, plus the beers from other breweries that inspired them. I like this nod to the importance of being inspired by what others in the industry are doing: it provides fertile ground for exploration and offers a new dimension of understanding to bring to the beer you're drinking.
I'm all about the beer (had you guessed?) but I will mention that there is a deli counter (a deli counter!) and a decent wine selection to choose from too: eight white, eight red, two rose, two sparkling – including natural wines. Stand-out choices during my visit included Blaufrankisch Weingut Dolle 2012 and a young white Rioja from Bodegas Taron (2016).
Beer Merchants Tap
99 Wallis Road, Hackney Wick, London E9 5LN
020 3222 5592
New to beer? Find out about which styles you might like best before you go to Beer Merchant's Tap here. Not London-based? Try a beer tour somewhere else in the UK – here are our picks!