There are few champagnes more luxurious and exclusive than Champagne Armand de Brignac – which is unsurprising when you consider that the brand is owned by none other than Shawn Carter, otherwise known as Jay-Z! One of the many drinks brands now owned and endorsed by A-listers, Armand de Brignac is truly a superstar in its own right, with a range of high quality prestige and ultra-prestige cuvées produced each year in such limited numbers that this has become one of the most sought after Champagne brands in the world.
The Winerist team were therefore very honoured to be invited to Harrods recently for an exclusive tasting of the house's latest release, the ultra-prestige Blanc de Noirs Assemblage Three (A3). This is the third issue of the house's iconic Blanc de Noirs blend (Blanc de Noirs champagne is dominated by the Pinot Noir grape), following on from two incredibly successful prior releases; the first ever release of this cuvée was awarded #1 Blanc de Noirs Champagne in the world in 2016!
Armand de Brignac Blanc De Noirs Assemblage Three – Tasting Notes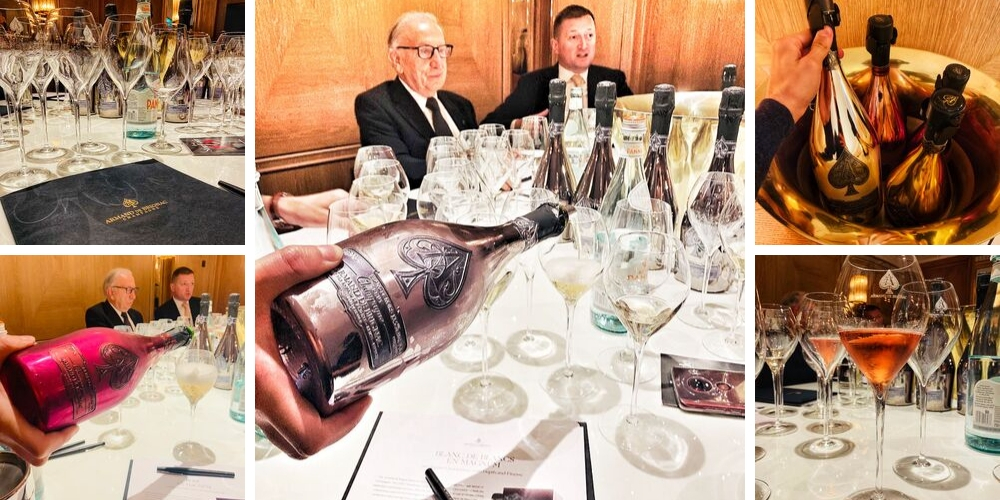 We were treated to a superb tasting by the Champagne house and are very pleased to report that this cuvée more than lives up to expectations. With some of the very highest quality grapes from prestigious sites such as Bouzy and Chigny-les-Roses, this 100% Pinot Noir champagne is a fruity delight.
Fragrant and fruity, this wine has an exuberant nose of fresh strawberries, red cherry and some delicious aged notes of butter and vanilla cream … bright, bouncy bubbles give a vibrant texture with fabulously opulent notes of white blossom, blackberry tart and sugared almonds adding depth and complexity. It' powerful and complex, with an impressive depth and weight that makes it so much more than an aperitif – pair with creamy chicken dishes or a hint of spice such as a Moroccan tagine.
In true exclusive Armand de Brignac style, there are only 3,535 individually numbered and hand-finished bottles of the Assemblage Three available in the world. So, if you want to be amongst one of a tiny number of very lucky drinkers, there are limited quantities available for purchase at Harrods at £1,095 for a 750ml bottle.
If you enjoyed this article, then why not read Chef's Sven-Hanson Britt experience at Armand de Brignac?