Lynn Meuting is our intrepid food and drinks writer with a keen eye on the LGBTQI scene. She's given us her pick of gay friendly spots in San Francisco, Russian River and Sonoma and now she looks closer to Winerist HQ in London. Here's how she found the gay-friendly food spot, Nine Lives in Bermondsey, London.
Let's face it, Bermondsey is not an obvious choice for first time LGBTQI visitors in London. In fact, I doubt many Londoners think of Bermondsey as a particularly Gay destination either. However, while you won't find many (if any) rainbow flags or designated gay bars and pubs, there are many gay people who actually live in this area, which definitely contributes to Bermondsey's lively and inclusive vibe.
With loads of great places to eat like authentic Spanish tapas at José and Pizarro, or classic bistro-style French at Casse-Croûte, excellent gastro pub at The Garrison and the eclectic Village East, Bermondsey has been long established as a foodie haven tucked in near London Bridge tube.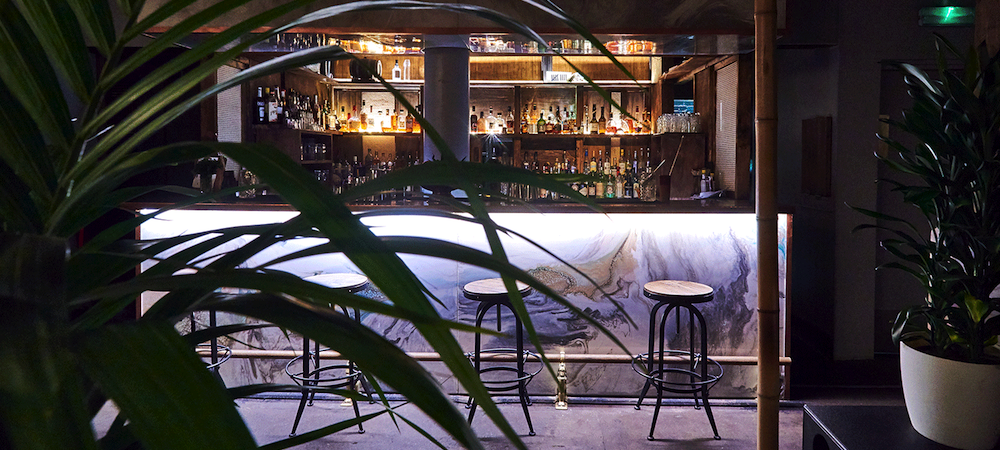 One local hidden gem that has recently grabbed my attention is the Nine Lives Bar, which spills out from its basement location on Holyrood Street just across from one of London's original Industrial Revolution rail lines. This is a bartender's bar with interesting and high quality cocktails designed by owners Allan Gage, Emma Hutchison and Tim Soden along with the team of tastemakers at Sweet&Chili (arguably one of the hottest drinks agencies in the world). The cocktail list is inventive, extensive, nearly all top-shelf, and completely reflective of how you prefer to spend. For example the 'House' Vodka is Ketel One but for a nominal budget increase you can go 'Special' with Circo, Reyka or Zubrowka and if you are feeling flush you might skip to 'Premium' with Absolut Elyx, Beluga, Belevedere or Grey Goose vodkas. This same cocktail construct informs each category be it Gin, Rum, Tequila, Bourbon or Scotch. A great cocktail takes time but your patience will be handsomely rewarded!
On the night we started with an Espresso "Cat's Whiskers" Martini which gave a nice kick-start to the evening with a mellow blend of Ketel One Vodka, White port, Amaro, Bergamot and Kuka Cold Brew.  We followed that up with a 'Kelross' Daiquiri, which was a deliciously well-balanced blend of honey, Bramley apple juice and Bacardi Quatro rum. The wine list is brief, but bar manager Melanie Hubbold tells me they plan to add more premium and natural wines to the menu. An overarching theme of sustainability flows throughout Nine Lives's activities with their own veg & herb garden providing the bar with its botanical extras and a compost system reducing waste and in turn feeding the veg garden.
The basement bar is well designed with a distinctly cosy tiki décor, or as they like to call it, 'Tropicalifornication,' with loosely structured areas for conversation.  However, it's the end of street location that allows their regular Saturday night party to make the most of the bar's killer sound system with resident and guest DJs taking to the decks, creating a super 'mixed' street scene. To further burnish its D&I credentials, the bar, with support of Southwark Council, commissioned artists Trinity Tristan and Tim Whiting to artfully reclaim the rail works along the street with a project they call 'Ode to Liberty'.
The project is a nod to the influx of working class and LGBT 'Molly House' heroes that the rail line brought to the capital in their search of love and liberation during the Victorian age. Using clouds of (rainbow) colour to express the all-inclusive theme (and the bar's ethos), together with a soon to be abundance of climbing plants, nature will also be allowed to further the statement of hope and regeneration within this industrial space.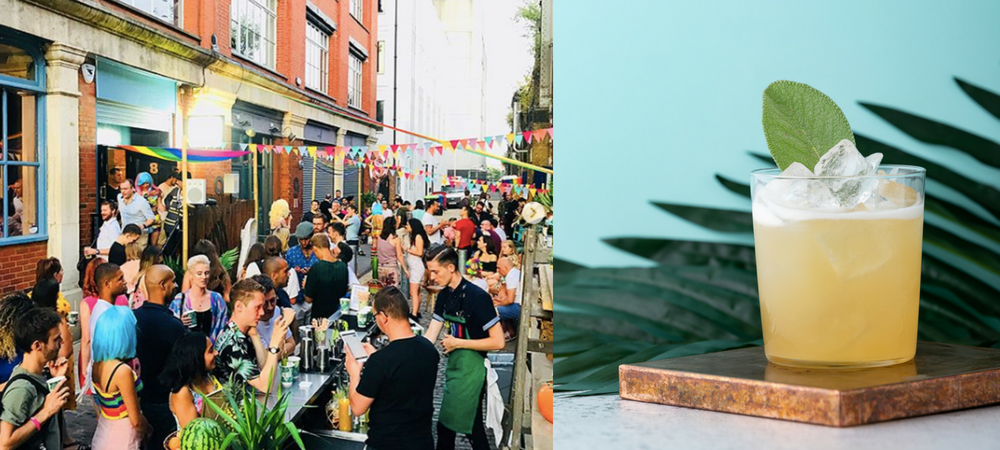 To be clear, this is not a "gay bar" per se, but more of an all-inclusive 'happening' and it's this feeling of inclusivity that we've wanted all along, isn't it?  Frankly, had I known about the Nine Lives Pride after-party (2018), I would have happily left the crush in Soho and made my way across the river to enjoy their hip & neighbourly vibe!
There is always next year… or even tonight!
Has all this got you in the mood to enjoy yourself in London more? Why not try out this Twilight Food and Cocktail Tour in Soho? If you want to find a special someone to enjoy all this with, then do look at our feature Meet my friend Charlie: The Dating Company with Wine and Food at its Heart for a bit of inspiration!