If you're a champagne lover, chances are, you'll have tasted the opulent, rich notes of Krug. If you're a true oénophile or even 'Krugiste' however, you'll no doubt have noticed the introduction of a new ID system from the house to help you find out exactly what's inside the very bottle you are holding in your hands. So if you've ever wondered what the difference between 'vintage' and 'non vintage' is and what makes Krug's Grand Cuvée with its new 'editions' so special, then read on. I tasted a few bottles at the Krug family house in Reims recently, just to be sure…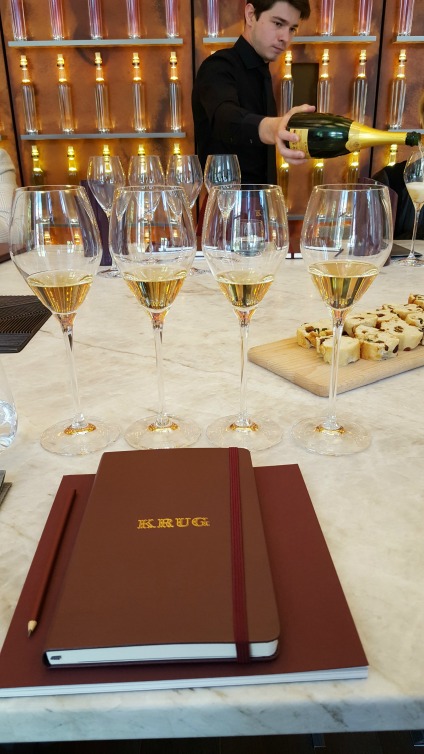 Krug Grand Cuvée: no ordinary 'non vintage'
A bottle of Krug is unmistakable, from its unique bottle shape to the golden, embossed labels. The dark gold liquid inside, once tasted, could not be from any other Champagne house with is rich, dried fruit brioche notes and infinite complexity. But how is it possible to maintain such a unique style year after year with their most famous wine, the Grand Cuvée? In a nutshell, the answer is a huge library of reserve wines and an expert master blender.
What is a 'non vintage' champagne anyway?
Let's start with the basics: a 'non vintage' (NV) champagne, or any wine for that matter, is one that's made from a blend of wines from several years. Traditionally, these NV wines are made to a house style that doesn't change, whereas 'vintage' wines tell the unique story of that one particular growing year. NV champagne is no inferior wine however and in fact, it's a lot more complicated to make in some ways than a 'vintage' wine. Here's why: one of the things that make the famous Champagne houses what they are is the enormous amount of 'library stock' many of them hold (library stock means many small parcels of vintage wines going back decades in some cases that can be used in future bottlings). The long history of the Krug family means they have a colossal 400 of these wines to play with, which 6th generation Olivier Krug compares to 'the ultimate painter's palette'. When you think of it like that, a much more accurate term for this wine should actually be 'multi vintage'. But that's a wine rant for another time…
What is Krug Grand Cuvée Edition?
While Krug do make vintage wines in exceptional years and a stunning rosé, their best known wine is the NV Grand Cuvée. This cuvée has always been made up of base of wine from the current growing year (the vintage), which includes 200 separate grower plots from other families that Krug work with, each one vinified and tasted separately. Around 30% of reserve wines will then always be added to make the final blend. With every new 'batch' that is blended each year, we see a slightly different flavour profile created, though it's clearly following a house style. Krug now call these batches 'editions' and mark the bottles with an ID number so that customers can follow the exact story of what's in the bottle, from each vintage year that has gone into it, to the blend of the grapes and vineyards. The first Grand Cuvée that was launched with its own ID as an 'edition' was the 163rd edition based on the 2007 vintage and blended from 183 wines from 12 different years (the oldest being 1990).
The other Krug champagnes in the range
Sitting alongside the famous Grand Cuvée, the Krug rosé, their vintage wines and single vineyard vintage wines (the Clos D'Ambonnay, which is 100% Pinot Noir and the Clos Mesnil, which is 100% Chardonnay), you will find the Krug 'Collection'. These 'Collection' champagnes are vintage wines that have been sitting in perfect conditions in the cellars to age on their lees for a few extra years before release. They are tasted at regular intervals until they are deemed to have reached a new level of drinkability. At this point, several years later, they are disgorged and sold as second 'revelation'. These are incredibly special wines offering a brand new, unique view on their particular vintage. It's a fabulous initiative by the Champagne house and one you may recognise if familiar with the Dom Pérignon 'Plénitude' range. Now that sounds like a taste-off waiting to happen. Let me make some calls..