Having recommended some of the best biodynamic Champagne producers to visit during this very special trip, Winerist is delighted to see the results in 'Absolutely Champers', airing this Thursday on BBC2 at 9pm. To give us a taste of what's to come in the programme, we tasked wine writer John Franklin to go behind the bubbles of Bollinger and tell us what Jennifer Saunders and Joanna Lumley got up to on their own, rather exclusive, tour of Champagne…
By their own admission (or at least that of the actresses who played them) Eddy and Patsy, during the 25 rambunctious years of Absolutely Fabulous, totally abused Bollinger. They guzzled and they gargled it, but,despite their (literal) all-consuming passion for the stuff, they never visited the Champagne region.
Finally, Joanna Lumley and Jennifer Saunders have corrected this glaring oversight with a visit to this famous corner of Northeastern France in a new documentary, 'Joanna & Jennifer: Absolutely Champers', to be shown on BBC TWO this week. It follows the pairs' exploits as they travel to Champagne and discover how grapes become the effervescent excellence they have so heartily quaffed on and (so my sources tell me) off screen together for the last 25 years.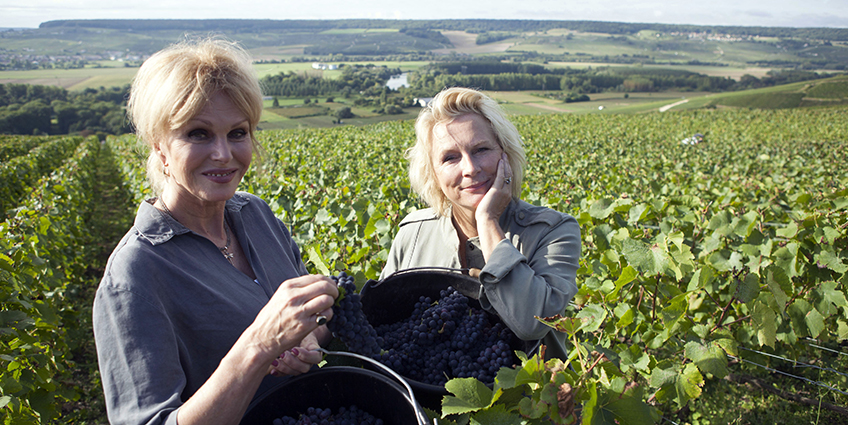 Photo Credit: BBC
Fortifying themselves with a glass of the good stuff at Searcy's Champagne Bar at St Pancras (searcysstpancras.co.uk), the longest bar in Europe, Joanna and Jennifer head off to arrive during the late summer grape harvest, the busiest time of year for the Champenois (people from Champagne). The vineyards are crawling with seasonal pickers and cries of 'pannier' when another basket is loaded to the brim with some of the most expensive grapes in the world (around £5/kg). Hardier travellers who might want to say they had a hand in a vintage year, should explore options through the numerous Champagne tour choices on Winerist.
Taking the wheel of a gorgeous vintage Citroën DS, the pair discover the de facto capital of Champagne, Epernay, and its famous Avenue de Champagne, home to a slew of the most famous Houses – Moët et Chandon, Pol Roger, Perrier Jouët – many of which are open to the public for tours and tastings, as well as smaller producer Leclerc Briant and family-owned Georges Laval, an organic 'grower' producer in the village of Cumières.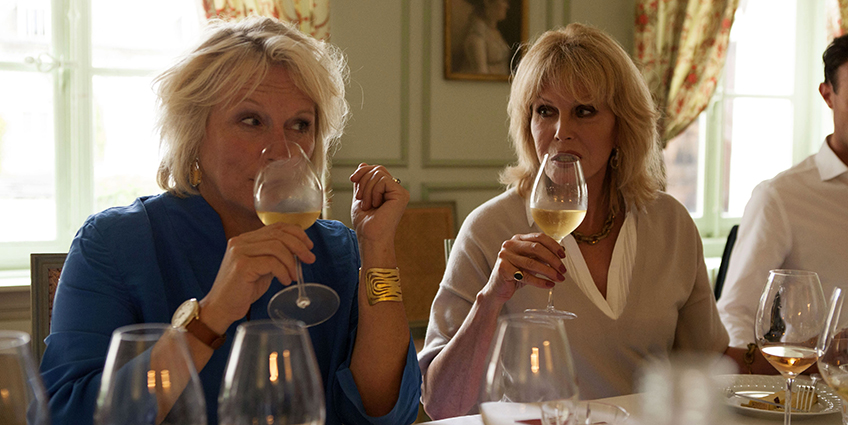 Photo Credit: BBC
This wouldn't be an Absolutely Fabulous trip without Bolly, and this rather special encounter clearly means a lot to Joanna and Jennifer. Closed to the public (but rumour has it you may be in with a chance of visiting if you join their special Club 1829), and never visited by either before, Bollinger welcomes them like old friends. 25 years of an on-screen relationship without ever having met is a long time to wait, but as Bollinger President Jérôme Philipon says, "Ab Fab is part of the DNA of Bollinger", although when questioned by Joanna he does admit that the association was initially a "bit of a shock" for the traditional, family-owned Champagne House. From exploring the kilometres of labyrinthine Bollinger cellars and seeing the collection of foundation bottles dating from 1830, Joanna and Jennifer are treated to lunch in Madame Bollinger's dining room. This, along with the rest of her house, remains perfectly preserved, a mark of respect for the woman who brought the company global recognition during her time at the helm in the mid 20th century.
Delighting in a rare magnum of Bollinger La Grande Année 1992, the year Ab Fab was first broadcast, the twosome truly evoke the spirit of Eddy & Patsy – with somewhat more decorum – as they reminisce about their Bollinger-fuelled exploits and how they never thought they would receive an invitation to this revered location.
Later, swinging in chairs at the wonderfully unique Perching Bar, flutes in hand and contemplating their voyage of discovery through the region, it is evident that Champagne has to be seen and drunk in order to understand, for there is discovery at every turn, and distinction in every glass.
Joanna & Jennifer: Absolutely Champers is on BBC TWO on Thursday 21st December at 9pm. Be sure to pop a bottle of Bolly as you watch, sweetie!