The author of the novel 'Sideways' talks to Helena Nicklin about his thoughts on the current Santa Barbara wine scene and what he's been up to since the film adaptation of the book that changed his life.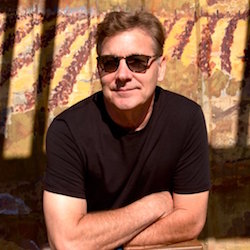 When author, playwright and director Rex Pickett speaks with his serious, California drawl, you feel as if he's voicing a documentary. We catch up just as The Wine Show airs its second series in the UK, featuring Santa Barbara in its first episode: the picture-perfect, Californian backdrop to 'Sideways' the film. I ask him he feels now, nearly eighteen years later (how did that happen?), about the region that first made him fall in love with wine, his two follow-up novels and whether we might see a Sideways 2 on our screens in the future…
Beyond Santa Barbara
"The Windmill is now called the Sideways Inn. Can you believe that?" Rex Pickett is talking about the changes he's seen since the runaway success of the Oscar-winning 2004 film directed by Alexander Payne and featuring Paul Giamatti and Thomas Hayden Church. Naturally, I can believe what Pickett says – and the fact that it was done without permission or royalties. It's undeniable that the region of Santa Barbara flourished since 'Sideways' and some places more than others. The famous Hitching Post Restaurant where the protagonist's love interest Maya worked for example, is now a mecca for 'pinotphiles' around the world, though the wine list is a little different from the days pre-'Sideways'. "They make their own wine now, so that's largely what you see on the list," he says. I ask where one should go to taste the most interesting wine in Santa Barbara and he suggests visiting the smaller, boutique producers around the region. "It's a shame that certain places didn't share the love as much as they could have done," he tells me. Detecting a slight sadness, I ask if he approached his next two novels differently now he understood what a two second 'beauty shot' could do for a wine label – or a location for that matter- if it happened to feature in the film version of the book. "I just tried to concentrate on the story, you know?" says Pickett. But yes, he still certainly approached it with caution.
The follow up novels to 'Sideways'
Rex Pickett's next novel 'Vertical', saw Miles and Jack back on the road, this time driving up to Washington State after Miles is invited to speak at a Pinot Noir festival in Oregon. The protagonist had eventually had a novel published that then got made into a very successful film. Any life parallels there, much?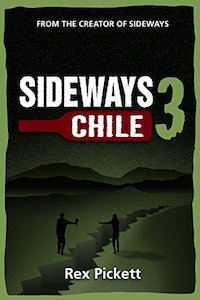 Pickett's third book, 'Sideways 3: Chile', takes Miles and Jack to a whole new continent. As the book blurb says, Miles is 'running out of money, but still surviving on the fumes of a past, but fleeting, fame.' Pickett's novels, very much like the stage play version of 'Sideways' that he penned himself, are a little darker; on a razor-thin line between truth and fiction. The vitriol that jumps from the protagonist's mouth can't help but make the reader wonder just what happened exactly for Pickett in those years since 'Sideways' came out.
A new 'Sideways' film?
We talk about the possibility of a second film and Rex comes to life. Interestingly, it is not 'Vertical' that seems to hold the most promise to make it onto our cinema screens in the near future, but his third book: the last book in the trilogy, set in Chile. "Vertical was quite raw, quite sexualized," he tells me. We discussed it, but it wasn't quite right for film. 'Sideways 3: Chile' on the other hand…'' Indeed, Chile has a whole new aspect; a burgeoning wine scene and stunning scenery, quite different from coastal California. There are new characters, new flavours, new wines to explore. Pickett himself has recently spent a lot of time down there and is even lending his likeness to a bottle of Pinot Noir (more on that when it's out). The screenplay for Chile however, has been already written and talks are being had. I ask if Alexander Payne might direct and Rex is hopeful. Having just had his first baby, Payne is spending some time with the family, but it's clear that if he were interested in directing, it could be all systems go. Fingers crossed we get a new film to swoon over very soon.
New projects for Rex Pickett
Another wine-themed project in the pipeline for Pickett is a Netflix series, which would see Rex's Bourdain-esque tones voicing his own vinous travelogue around South America (erm, can we carry your suitcase, please?). "It's about to be pitched this week," he tells me. "They are seeing a lot of wine shows right now, so we'll we see. I do have the magic 'Sideways' word behind me though, so that could help." Hopefully indeed. Having just come back from Argentina myself, I can only imagine what they could make this series look like.
We discuss what's needed for a successful TV series about wine as the new series of The Wine Show airs on Channel 5 (Fridays at 7pm). He agrees that it is hard to talk about wine in a way that doesn't feel elitiste, as how only a tenth of the one percent or so get to taste the world's very finest wines. Even so, in his television endevours, he's determined to get as far away from that elitism as possible:
"Wine is a cultural thing, like theatre or books," he says. "The difference is that even just about the lowest quintile can read War and Peace if they want to or watch Fellini's 8 and a half, but we can't all drink a Richebourg… Wine is a conduit to people. And I'm a kind of a wine socialist!"
So, the wait is on to see how the TV series fares at pitch. In the meantime, Rex Pickett is not sitting still. Well, he is, but to write another book; one that has nothing to do with wine and that is already under contract to be finished by May. It's called 'The Archivist' and is a murder mystery that starts off as an epistolary exchange discovered by a young woman going through the archives of her predecessor. Interestingly, the story began as a play first and foremost. "I'm novelising it," says Pickett. "The play was like an adaptation of a novel that wasn't written. So now I'm writing it!"
When asked if he'll miss the wine element in this particular project, he tells me, "No. It's the one I wake up to." A true writer at heart. And we wish him all the best with it.