Hartwell House is a magnificent Grade I listed stately home in a glorious setting of over 90 acres of gardens and parkland in the Vale of Aylesbury in Buckinghamshire. The award-winning hotel, home to a restaurant and spa is the ideal destination to unwind both indoors and outdoors. Buckinghamshire also has plenty to offer over a short break.
Visit the National Trust Waddesdon Manor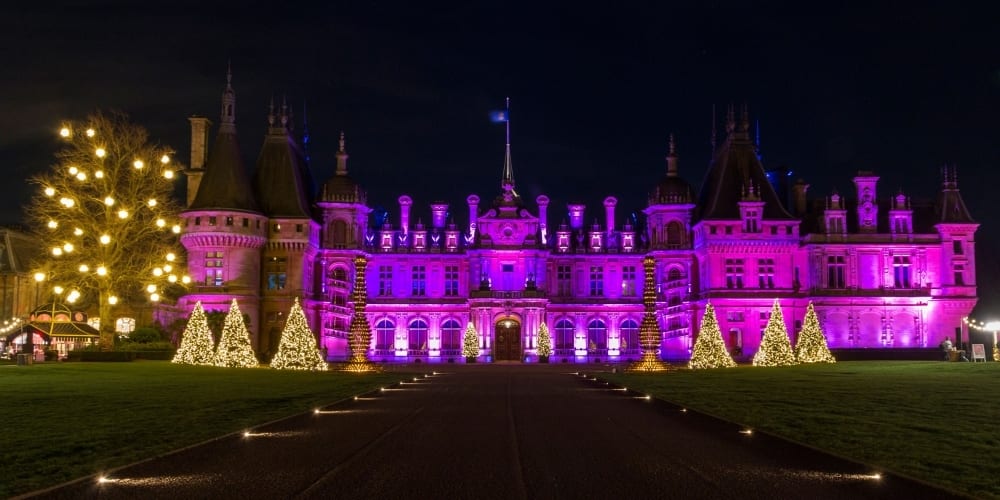 Waddesdon Manor, a French Renaissance-style château, was built by Baron Ferdinand de Rothschild in the 1870s to entertain his guests and display his collection of art treasures. It houses one of the finest collections of French 18th century decorative arts and British portraiture and has been owned by the National Trust since 1957. Set in 5,000 acres of rolling parkland, Waddesdon has one of the finest examples of a late Victorian garden in Britain. The manor is just a 15-minute drive from Hartwell House and is open Wednesday to Sunday 10am -5pm.
Walk an Area of Outstanding Natural Beauty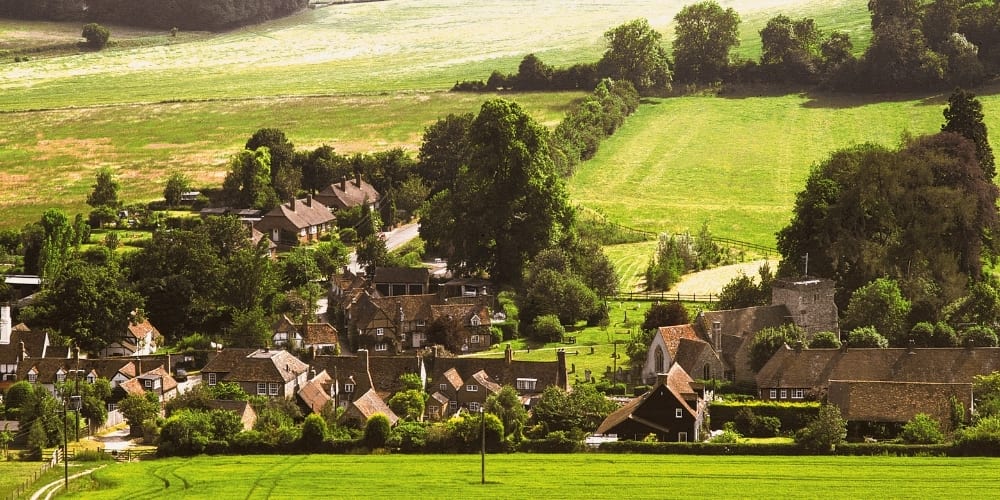 Just a 15-minute drive from Hartwell House are the Chiltern Hills. The hills stretch from the River Thames in Oxfordshire to Hitchin in Hertfordshire and are nationally protected as some of the finest countryside in the UK, being an Area of Outstanding Natural Beauty. Made up of uncrowded, rolling green English countryside, they are a fantastic place to explore all year round.
Shop at Bicester Village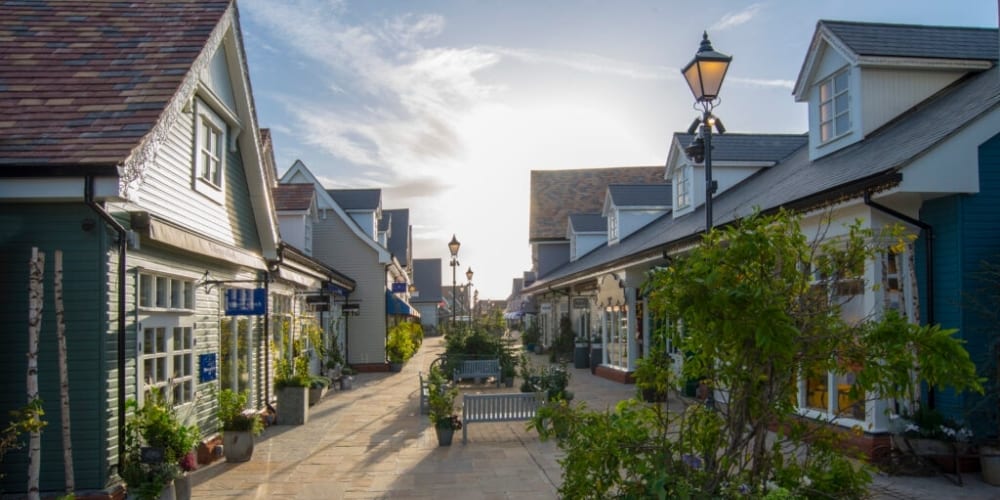 Photo credit: Drapers
Sitting in the heart of the picturesque Oxfordshire countryside, open-air shopping destination Bicester Village is home to more than 160 boutiques, all brimming with new season style. When you visit, discover famous restaurants, true five-star hospitality and a range of luxury guest services. Spacious boulevards, attentive service and a friendly, unhurried atmosphere combine to offer a truly unique retail experience. When staying at Hartwell House, please ask reception for a 10% discount card for you visit to Bicester Village.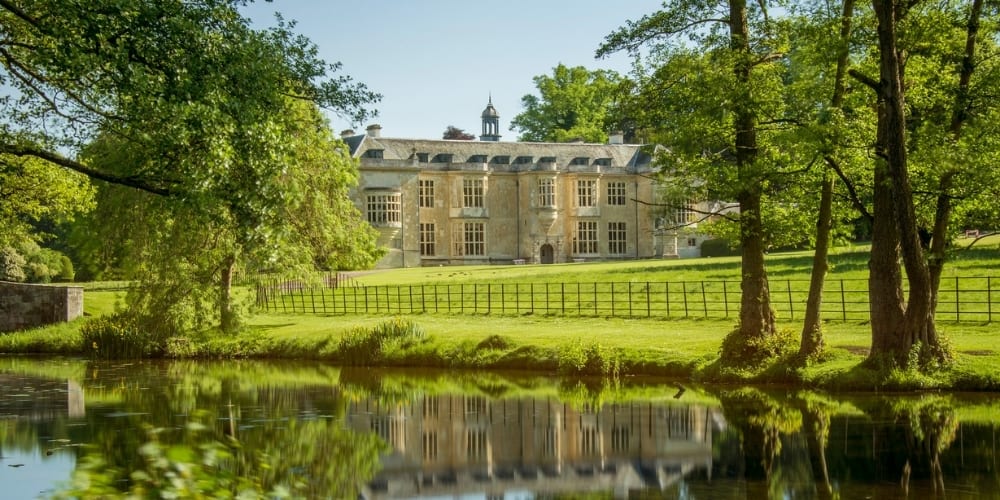 The garden was designed at the start of the 18th century. It was landscaped by a follower of Capability Brown, one Richard Woods. Today, guests can spend hours exploring the grounds which include a Gothic Tower, a Statue of Hercules, a Bridge which comprises the central arch of James Paine's Kew Bridge, Lime Avenue; a mile-long double avenue of limes and the Canal Temple home to 10,000 daffodils. A kitchen garden used by the chefs features apricot, peach, pear and plum trees. Guests can follow a trail around the grounds with a copy of their Tree Map, to identify 10 prize specimens, from a Horse Chestnut and a London Plane tree to a Giant Sequoia (an 87- ft domed conifer which bears cones all year round).
Unwind in a historic room at Hartwell House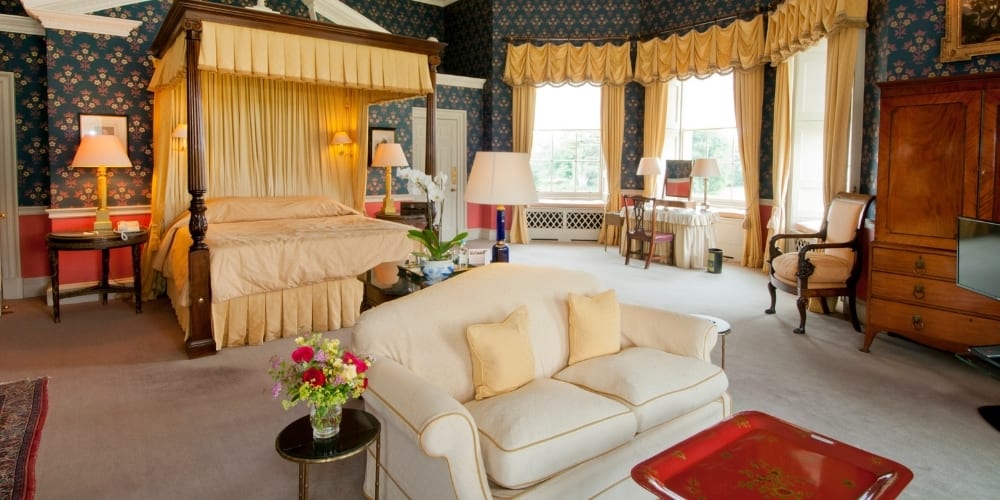 The historic rooms at Hartwell House all tell a story. The Great Hall has changed little since it was transformed in 1739 by James Gibbs. The Morning Room has fine rococo decoration. The Library's original bookcases, and the stairs combine original Jacobean woodwork and the 18th-century Gothick pastiche by Keene. Take time to observe The Stairs showcasing original Jacobean woodwork and some familiar carved historic figures. Two of the balusters are carved to represent Winston Churchill and G K Chesterton.
Enjoy award-winning Dinner and an extensive Wine List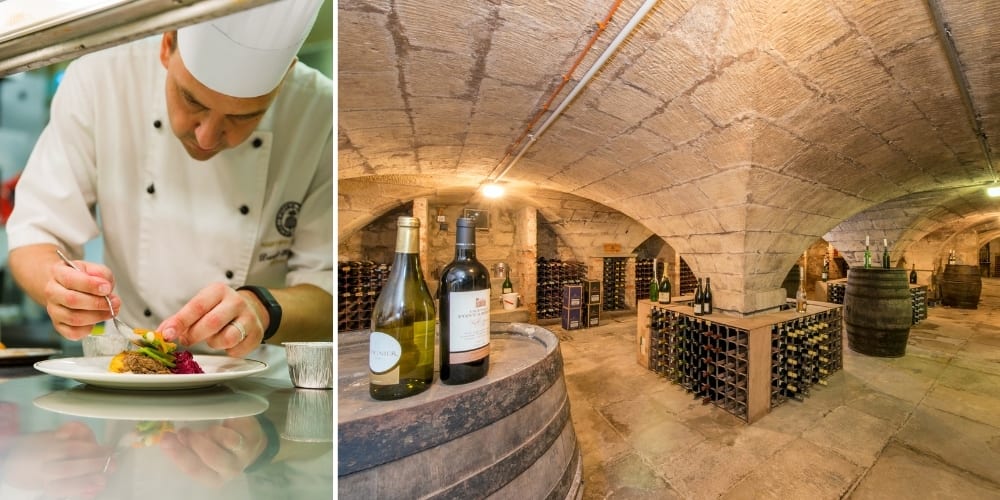 Guests and visitors can dine in style with award-winning imaginative food served in a truly historic setting. Seasonal dishes are prepared by Head Chef Daniel Richardson and his team. Daniel joined Hartwell House in 1994. Today, the restaurant holds two AA Rosettes and features menus that showcase modern British cuisine. A popular dish is Aylesbury Duckling. Aylesbury ducks are the ne plus ultra of all ducks. The duck is distinguished by its pure white plumage and bright orange feet. Lunch and afternoon tea are also served at Hartwell House. Afternoon Tea can be taken in any one of several public rooms, and the overall historic atmosphere of these rooms adds to this experience.
The 20-page wine list showcases an exciting collection of wines including vintage wines served by Coravin. The wines have been recognised by the AA and awarded a 'Notable Wine List' accolade.
Spend the night at a National Trust Historic House Hotel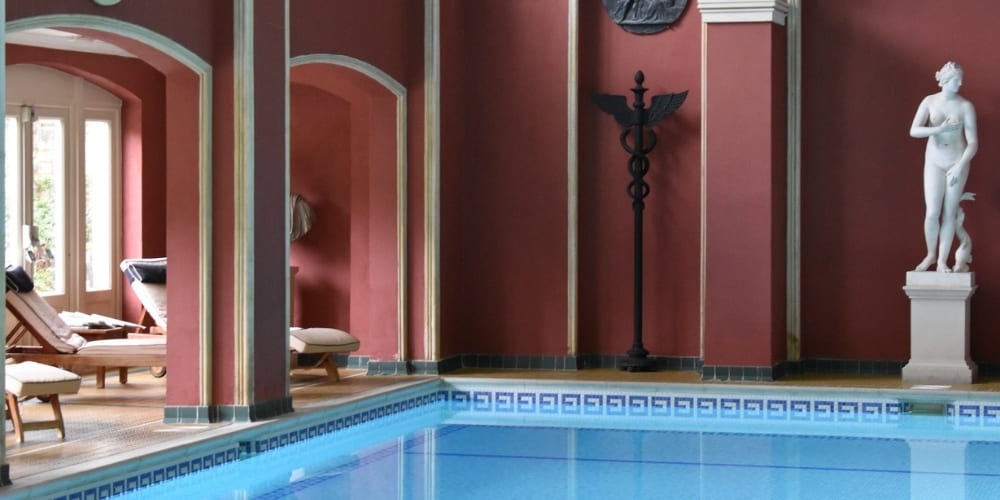 In 1809, Hartwell House was leased to the exiled King Louis XVIII of France and his court. King Louis remained at Hartwell until 1814 when the constitutional document, confirming his accession to the throne, was signed in the library by the King. Guests staying at Hartwell House will experience individually designed bedrooms and suites designed in a traditional country house style referencing the history of this Grade I listed property. Bedrooms and suites have been furnished with antiques and fine paintings and many offer sweeping views of the gardens. Hartwell Spa in the grounds has a mosaic-lined indoor pool, sauna and steam room, and gym. All weather tennis courts are also available in the walled garden.