Diana Isac is CEO and Founder at Winerist and has just returned from her visit to the Douro Valley and a two day stay at Quinta do Noval. Joined by Lee Osborne, here is a glimpse from their side into the one of the world's finest Port Houses.
About Lee Osborne: London-based creative director Lee Osborne has been in the publishing business for almost twenty years – having graduated from the University of the Arts with a Design & Photography degree. Ten of those years were spent working on luxury travel and lifestyle magazine Condé Nast Traveller, where he was lead creative of the promotions team before establishing his own luxury content studio Osborne Creative. Whilst he has directed photo shoots in all four corners of the globe, he is an experienced photographer and writer in his own right. He is a regular contributor to Wine Spectator, Condé Nast, Harrods Magazine, Harrods Man and Plaza Uomo and is the founding editor of men's style blog 'Sartorialee: Dressing the globe-trotting man' which chronicles his journey of attempting to be the best-dressed version of himself while travelling.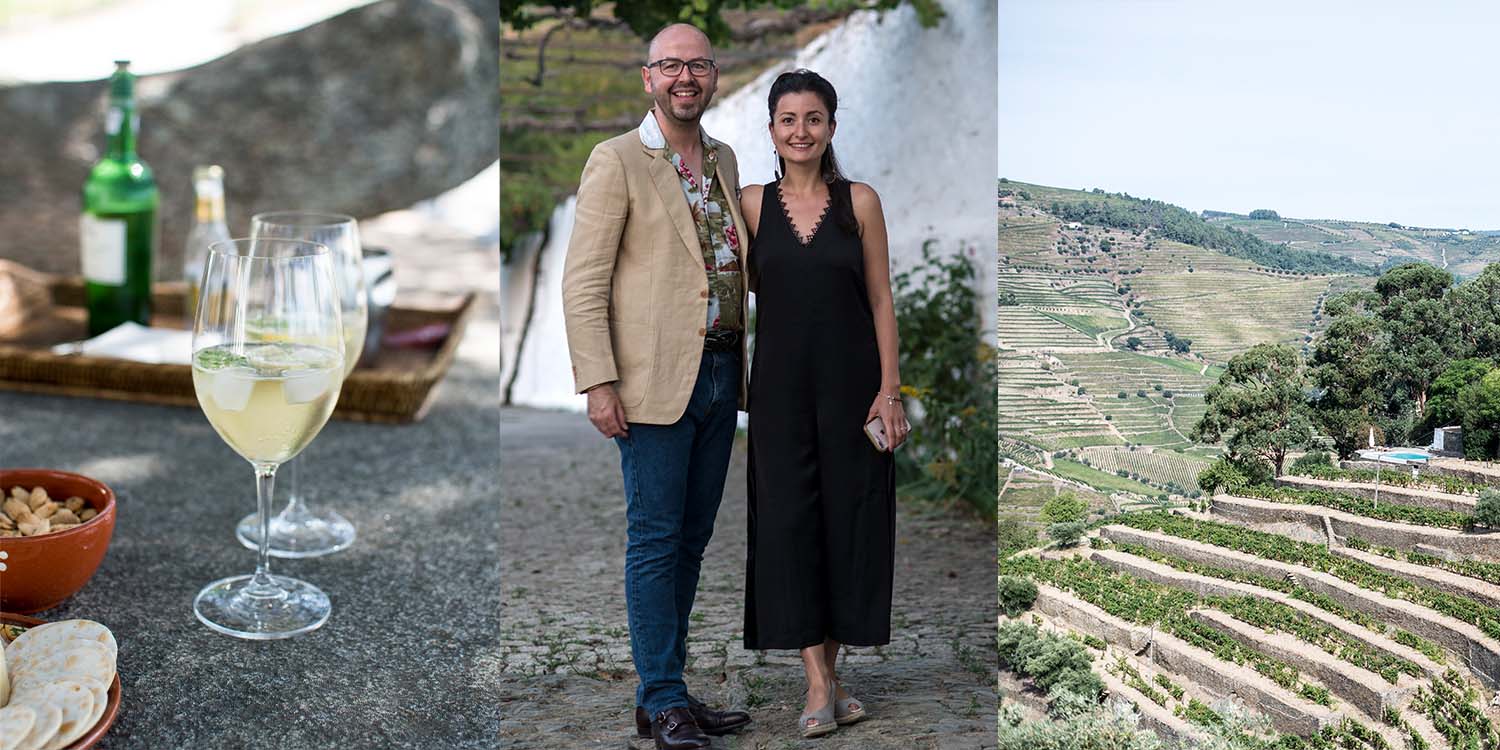 Gustav Flaubert once famously said that 'Travel makes one modest. You see what a tiny place you occupy in the world.' When you travel to the Douro Valley in Northern Portugal, you are immediately reminded that travel changes your life for the good and that in the madness of our hectic London lives to travel is to live a happier, fuller existence.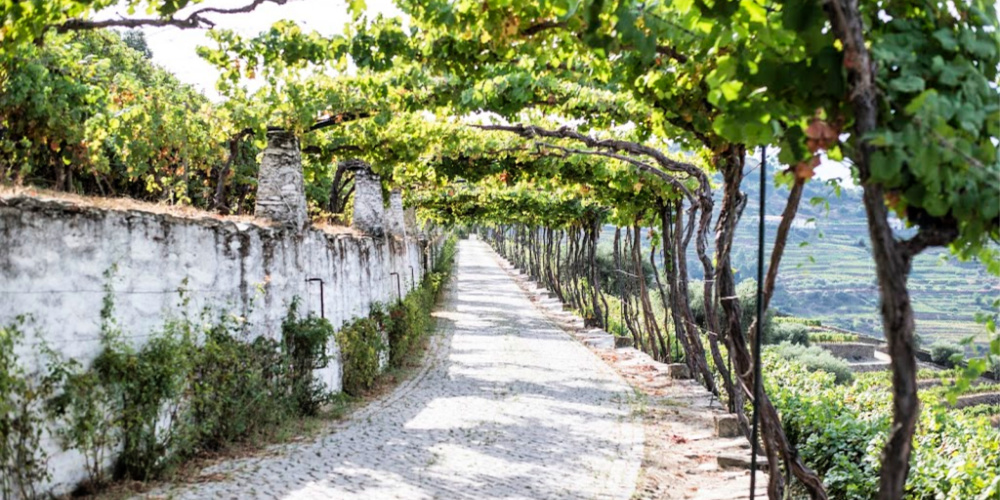 Untouched and so close to the sky…
One of Europe's best hidden secrets for many decades, the Douro Valley is one of the oldest demarcated wine regions in the world, with a UNESCO protectorate. It has slowly become a primary destination for wine lovers who are seeking that off the beaten path experience. Despite the rise in tourism, the Douro Valley remains pure when it comes to wine. A region that remains untouched and so remarkably close to the sky that sunsets here, glass of port in your hand overlooking the beautiful Douro River, are a truly humbling experience.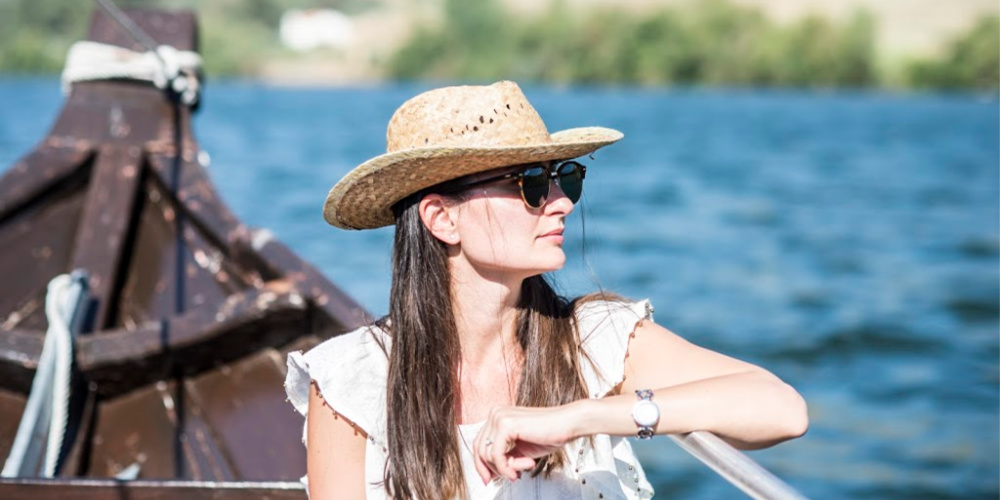 While it's my first time here, my guest, the photographer and style blogger Lee Osborne, is bordering-on veteran of these lands, having lost his heart to the Douro many years ago, first discovering the region's enchanting vistas (and wanting to keep them to himself ever since) back in 2005. With a camera around his neck and a bag full of lenses, he jumped on a train in Porto's magnificent azulejo-tiled São Bento train station to begin his pilgrimage. He has been training his lens on the region's winemakers and vertiginous terroir every year since, an area he describes as one of Europe's last frontiers. "Not only was I transfixed by the views en-route, in what is surely one of the world's finest train journeys, but the moment I got off the train in Pinhão, where the River of Gold snakes its way around the bending topography, I knew immediately that this was an incredibly special place with a serenity quite unmatched. I'm not particularly religious, but it has a spiritual-like quality. It was like going back in time, and still is. Add to that, the most incredibly kind and hospitable people, aside from my motherland, it's the only other place where I have felt most at home."

The world's most sought-after port
Quinta do Noval is undoubtedly one of the most famous port houses in the world. Run by Christian Seely who has spent the last 25 years reviving this historic Port house, Noval now makes more than just great port with still wines such as Cedro do Noval and Labrador being amongst the most recognised in the wine world.
Hidden right underneath the village of Casal De Loivos, there is not a sign pointing you to Quinta do Noval on the hairpin roads the region has become famous for! The only giveaway is the long side road, shaded by a pergola of Noval grapes that were perfectly trained to form the dramatic entrance to one of Douro's most sought after wine estates.
Welcomed by Patricia Bastos, one of the newest additions to the Quinta do Noval family, who is not only an aspiring winemaker but proves to be the most fabulous host for our stay. Two glasses of white port tonic in her hand, Patricia encouraged us to leave our well-travelled suitcases on the beautiful sun-kissed Noval porch, in the shade of a beautiful cedar tree. We indulged in a delicious wine-pairing platter of local olives and toasted almonds – the latter of which are a truly heavenly match to the white port, and always one of Lee's go-tos while in the region. Followed by a generous tasting of Portugal's iconic soft-centred Serra de Estrella cheese and white port tonic top ups.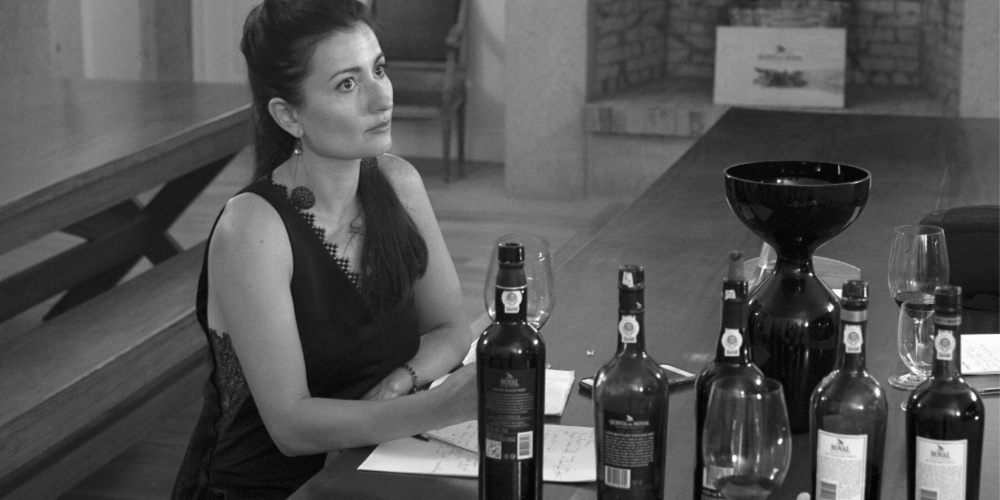 After a quick swim in the pool that overlooks Noval stenciled terraced vines and, that bend in the river Douro, there was time to unwind in Noval's generously proportioned private guest rooms. Featuring old-school four-poster beds and intricate tiled bathrooms, the rooms (as we are to discover later) are quite simply cocoons of sleep induction (if the port hasn't already imbibed you enough). We were treated to a delicious dinner of grilled chicken, roasted potatoes and rice in Noval's palatial Dining Room. As with most of the wine estates here, food is prepared by local, often live-in cooks. The fare is often simple and hearty, yet so beautiful and flavoursome, proper Mama's-style home cooking, that's always paired with a generous amount of wine – in this case, a bottle of 2006 Cedro do Noval. After a treat of pancakes and port reduction, we were invited to witness the most anticipated part of the day – the harvest.

Experiencing harvest in the Douro Valley is something quite special. We watched the men and women harvest the grapes all day. In 35 degree, hot summers, this is an effort that needs more than admiration. It is hard work and it is not for the faint hearted. In the cellar, grapes go through a second selection once they have gone through a thorough check in the vines. Like most of the well-known Douro Valley port estates, harvest here is done by hand.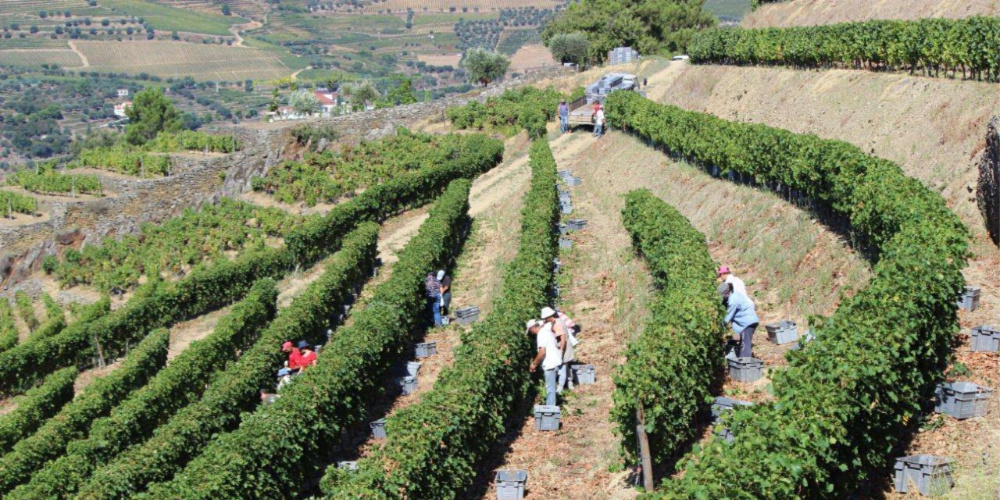 Treading the grapes
After a day of harvest, the best part of the day arrives. At sunset, the lagares are filled with grapes where 7-10 men and women will join arms and jump in for 2 hours of foot treading – one hour of slow, carefully instructed movements and one hour of freestyle where music will play and everyone will dance in the hope that the vintage will be delicious, and a very happy one too especially when it comes to resting in those big port barrels.
Quinta do Noval believes that grapes trodden by foot make exceptional wines. It is an expensive exercise, but all the Port houses that take this approach, speak of the difference this makes to their wine – even if machines today always mimic the foot treading motion. In winemaking we are once again reminded that people are everything. And despite the technology advancement and investment in machines, you simply are better off leaving the lagare work to the experts.
Port tasting under the stars
As we step outside for a tasting of port under the stars, we understand why Christian Seeley calls this the happiest place on the planet. There is so much happiness in the silence that the Douro Valley gives you – as well as the uninterrupted sleep it pretty much guarantees to leave you fully rested for the next day's wine adventure.
Did you know that Winerist offer wine and food experiences all over the world? Click here to find your next adventure. Want to know more about Portuguese wine and food? Check out our article on how to eat and drink like a local in Portugal.